Applying to WCU? Here's How To Get a Western Carolina Application Fee Waiver
Western Carolina University (WCU) is a public institution located in Cullowhee, North Carolina. The facility is a part of the University of North Carolina (UNC) system, and it offers more than 120 undergraduate and graduate programs.
To get admitted to one of WCU's various programs in the arts, science, business, education, humanities, or healthcare, you have to pay an application fee. If you have questions about the Western Carolina application fee and fee waivers, you're in luck since DoNotPay has all the answers.
Why Do Some Colleges Have Application Fees?
The main reason colleges have application fees is the number of applications every university has to deal with during the admissions season. Processing applications, whether they are submitted online or via letter, is not a one-person job, and it has to be compensated accordingly. The primary purpose of college fees is to cover the processing costs.
How Much Is the Western Carolina University Application Fee?
The cost of applying to Western Carolina University is $65. The fee is non-refundable.
What Are College Application Fee Waivers?
When applying to colleges, many students decide to try their luck with several universities. High school counselors often advise students to apply to at least seven colleges—two safety, two reach, and three target schools.
Some colleges don't have application fees, but those that do charge from $25 to $100 for applying. When added up, these fees can cause a large dent in your finances. Beside application fees, other college-related expenses can lighten your wallet, such as:
Campus visitations

Private tutors

SAT and ACT fees
For students experiencing financial hardship, universities offer application fee waivers. If you meet the college's requirements, you can avoid paying the application fee.
Who Is Eligible for the WCU Application Fee Waiver?
Western Carolina University offers a limited number of fee waivers for each term. To apply for a fee waiver at WCU, you have to show the evidence and significance of financial need. You can do that if you have at least one of the following:
You can also apply for a WCU fee waiver if you are their full-time or permanent employee. If you serve in the United States Armed Forces or are a veteran, you are eligible for a fee waiver, provided you have the required documentation.
How To Apply for the Western Carolina Application Fee Waiver on Your Own
You checked the requirements and discovered you are eligible for a WCU application fee waiver? Take a look at the following table to see how you can apply:
Can I Apply for a WCU Fee Waiver
Yes/No

On the official website

Yes

Via phone

No

In person

No

With DoNotPay

Yes

With

Common

/Coalition App

No
Western Carolina University requires their prospective students to submit their fee waiver requests online, before any application deadline. Here is how you can do it:
Access the official website of Western Carolina University

Select the

Apply

tab

Go to

Undergraduate Admissions

Open the

Admission Policy for Application Fee Waiver Requests

section

Click the

Waiver Request

button

Enter your full name, date of birth, and address

Add a phone number and email

Select what you're basing your fee waiver request on

Upload supporting documentation

Hit the

Submit Form

button
The Office of Undergraduate Admission will inform you by phone or via email when they process your request.
Obtain the Western Carolina Application Fee Waiver With DoNotPay
Applying to multiple colleges is a time-consuming process, especially considering all the bureaucracy. Having to deal with fee waiver requests on top of that can be so overwhelming it may cause you to make a mistake in one of the forms or forget to submit some important document. DoNotPay comes to the rescue with a handy College Application Fee Waiver feature!
How Does Our Feature Work?
Using the most comprehensive database of all universities in the States has allowed us to work with every college in America. Here is what we can help you with:
Transfer student fee waiver

Enrollment deposit fee waiver

New student application fee waiver

If the desired college requires the signature from your high school counselor to confirm the financial hardship you're experiencing, we can obtain it for you in a flash.
How To Get a Fee Waiver Using Our Feature
The process of requesting a fee waiver with our feature is as fast and simple as it gets:
Log in your DoNotPay account from a

Choose a type of fee waiver you need

Select desired colleges and answer a few questions about your finances

Indicate if you need the signature from a high school official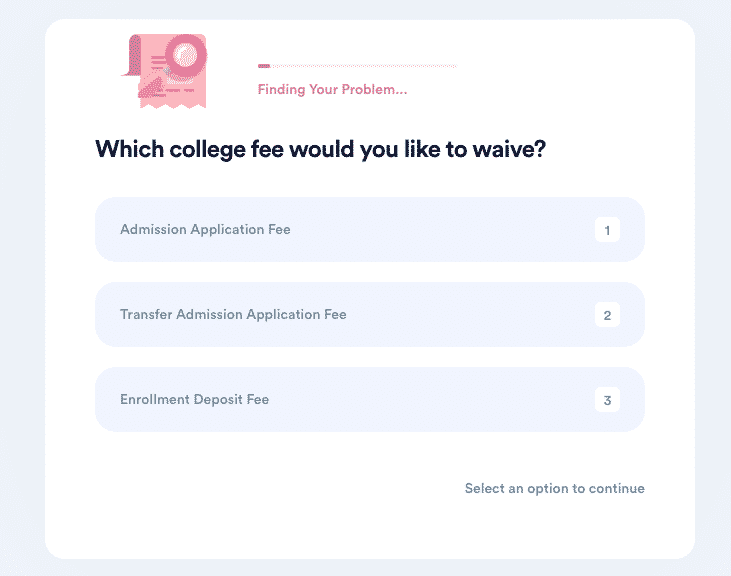 We will fill out the form and send it to the university's admissions office on your behalf. Once they process your request, we will notify you about the results.
Your Online Safety Is Our Priority
The benefits of the internet are numerous, but so are the opportunities for scams of all kinds. DoNotPay can help you fight scammers left and right with easy-to-use features, highly customizable to match your needs.
Our app can provide invaluable resources for fighting:
If you're an avid online shopper, we have your back. In case something goes wrong, we will help you contact customer service without holding, request a refund, or even sue the company in small claims court.
Diversity Is Our Middle Name
DoNotPay doesn't stop at online safety. Do you need to set up an appointment at the local DMV, but keep procrastinating because you know how awful the lines are? Are you a prospective college student trying to save on application fees? Have you lost track of all unnecessary subscriptions and memberships that keep draining your bank account?
If the answer is yes, DoNotPay is the right platform for you. Whether you're preparing for government-issued tests or looking for ways to lower your bills, our app will be of assistance.