Top U.S.
Colleges and Fees
They Involve
College life might be exciting, but all the fun stops when you face exorbitant college fees. Even before you enroll in a college, you have to pay application fees, which can pile up quickly. 
Learn what fees you might expect as a college student and see how DoNotPay can help you save money on admission application fees.
What
College Fees
Do Students Need To Pay?
College students spend the most on tuition, housing, food, and books. These expenses are the common ones, but colleges charge other kinds of fees students might not expect. Here are some fees you might need to pay:
Fees
Coverage and Cost

Orientation

Orientation advice and pre-registration sessions

From $50 to $300 

Lab 

Costs of the microscope and other equipment repairs

Can be around $150

Campus services

Campus maintenance, student programs, and facilities

Can be more than $1,000 

Campus spirit fee

College's athletic programs

Around $100

Tech fee

Access to Wi-Fi, computers, and printers

The fee amount depends on the college

Transportation fees

Travel around the campus

From $50 to more than $150

Wellness fees

Health programs 

Can be more than $90

Freshmen fees

Student support programs and services

Price is different from college to college
College Fees Most Students Worry About
When choosing colleges to enroll in, you should pay attention to the amount of:
Application fees

Tuition
Application Fees for Colleges
Colleges incur application fees to cover the costs of reviewing each application. Having application fees also helps institutions reduce the number of applicants. The average cost of college application fees is $44, but they can amount to $100. These fees add up easily because students usually apply to five or more colleges.
College Tuition Fees in the USA
The price of tuition varies from college to college. Tuition at private colleges is much higher than at public ones. According to U.S. News, the average cost of tuition at private colleges is $35,087, while in-state public schools have an average tuition of $9,687. Out-of-state students need to pay around $21,184 for tuition at public colleges.
Check out how much you need to pay for the application fee and tuition at some of the top colleges in America:
What Kind of Financial Aid Can College Students Get?
Many students find it impossible to pay tuition and give up on applying to their dream colleges. To avoid losing talented students from low-income families, most colleges offer financial aid. You can apply for grants, loans, scholarships, and work-study jobs. Check out what kind of financial aid your college gives or apply for some federally-supported programs. 
If you can't pay for college application fees, you can request a fee waiver and lower your expenses. To get a fee waiver, you need to meet certain financial criteria.
Who Can Qualify for College Application Fee Waivers
Students who are struggling financially can apply for an application fee waiver. Colleges have different criteria that establish who is eligible for a waiver, but most of them approve waivers for students who:
Live in a foster home

Receive public assistance

Are homeless, orphans, or wards of the state 

Participate in financial aid programs, such as

Upward Bound

Come from a family that lives in a federally subsidized public housing

Are eligible for the

Pell Grant

or the Federal Free or Reduced Price Lunch (FRPL) program
Another criterion applies to students who belong to a family with an annual income at or below the USDA Food and Nutrition Service's guidelines:
| | |
| --- | --- |
| Number of Household Members | Annual Income |
| One | $12.760 |
| Two | $17,240 |
| Three | $21,720 |
| Four | $26,200 |
| Five | $30,680 |
| Six | $35,160 |
| Seven | $39,640 |
| Eight | $44,120 |
You can also use your SAT, ACT, or NACAC fee waiver when applying to most colleges.
How To Request an Application Fee Waiver by Yourself
If you want to get a college application fee waiver, you can request it in the following ways:
With DoNotPay

Through

Common App

or

Coalition App

Via the application form on the website of the college you want to apply to

By asking a school counselor to fill out the necessary forms and submit them

By contacting a college's Admission Office and explaining your financial situation
The methods of applying for fee waivers differ from college to college. You should check what options the colleges on your wishlist accept.
Filling out the forms on the Common App, Coalition App, or colleges' websites can take a lot of your precious time. You may also have to wait for a while for your counselor to deal with all documents.
If you want to submit a fee waiver request in the fastest way possible, use DoNotPay!
DoNotPay Helps You Request College Fee Waivers Fast and Easily
If you want to submit a fee waiver request effortlessly, use DoNotPay! With our app, you can request fee waivers for:
New student applications

Transfer student applications

Enrollment deposits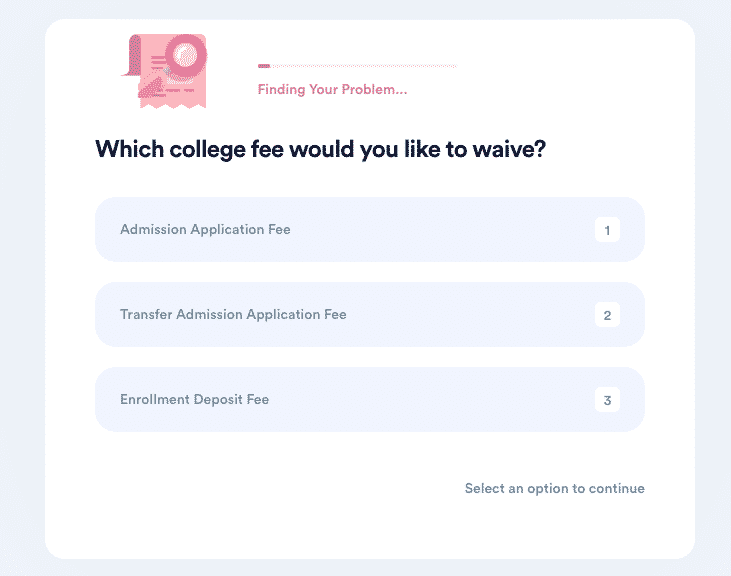 Our AI-assisted app can fill out the required forms on your behalf and send the fee waiver request to the college of your choosing. We have an extensive database of U.S. colleges, including Purdue University, Boston University, Cornell University, Columbia University, University of Pennsylvania, and many others.
To request a fee waiver via DoNotPay, all you need to do is:
Access DoNotPay from any

web browser

Select the

College Application Fee Waiver

feature

Choose the fee you want to waive

Pick a college and answer the questions about your financial status

State whether you would like to obtain a counselor's signature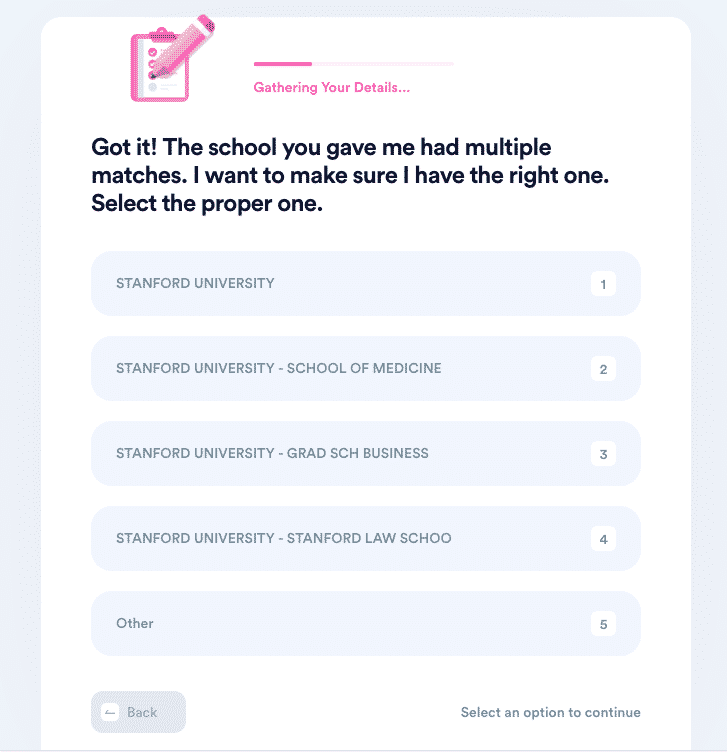 DoNotPay Boasts Other Money-Saving Options
DoNotPay is the winner of the American Bar Association's Louis M. Brown Award for Legal Access for 2020. This reward comes as a recognition of our efforts to simplify dealing with bureaucratic issues for everyone. 
With our app, you can solve your other student issues. We can help you unsubscribe from Mathway, request a refund from Adobe, or start your Amazon Prime Student free-trial in a risk-free way. 
DoNotPay can also give you more information about dealing with student loan bills.
We have much more in store for you! Use any web browser to access DoNotPay and get our assistance in:
Disputing speeding tickets

Fighting traffic tickets