Get a Stanford Application Fee Waiver and Save Money
Leland Stanford Junior University—also known as Stanford University—is one of the most popular private research universities in the U.S. Stanford has three schools with 40 departments for undergraduate studies and four schools dedicated to graduate students—law, education, medicine, and business.
If you want to save money on the application fee for Stanford University and request a fee waiver, you can rely on DoNotPay.
Stanford University Application Fee Explained
Applicants need to pay $90 for the Stanford application fee, which is pricey considering that most colleges charge around $60. Here are some of the undergraduate schools with the most expensive college fees: 
Students who want to apply to multiple colleges have to pay hundreds of dollars not only for college application fees but also various other expenses, including:
If all of these costs pose a financial burden on you and your family, consider requesting a fee waiver. 
How To Waive My Application Fee for Stanford?
Applicants can request a Stanford fee waiver in the Common App and the Coalition App. The platforms' main purpose is to enable students to apply to multiple colleges as efficiently as possible. Both platforms have a fee waiver feature that allows you to waive fees when applying to member schools, including Stanford.
If you're eligible to receive an application fee waiver according to the platforms' guidelines, you can request it by completing the required form on the Common App and the Coalition App websites.
Another option is to get an SAT fee waiver since Stanford is one of the College Board member schools. You can ask your guidance counselor to give you the SAT fee waiver form and help you complete it. He or she should also tell you if you're eligible to receive the fee waiver. 
Besides enabling you to take two SATs and six SAT Subject Tests for free, the SAT fee waiver also covers:
Two reports of Question-and-Answer Service (QAS) or Student Answer Service (SAS)

Score reports you need to send to colleges

Waived fees for any member college
Stanford Fee Waiver Requirements
To qualify to receive a college fee waiver, you have to fulfill at least one of the Common App or the Coalition App requirements. You need to:
Be eligible to get an ACT or SAT fee waiver

Participate in the federal free or reduced-price lunch program

Live in a low-income family or household that receives financial aid

Be an orphan, homeless, or live in a foster home 
Even if you're eligible to get a fee waiver, the school you want to apply to needs to decide whether or not to grant it. Stanford will waive the application fee if:
Learn About Stanford Graduate School Application Fee
Students who wish to apply to one of the graduate schools or programs at Stanford University need to pay $125. Applicants also have to pay over $200 for the Graduate Record Exam (GRE) test. Since most students apply to more than one program, getting a graduate school application fee waiver can come in handy for anyone needing financial help. 
How To Get a Stanford Graduate Application Fee Waiver
Stanford University grants three types of graduate school application fee waivers:
GRE Fee Reduction Certificate-Based

Diversity Program Participation-Based

School-Based 
To waive your Stanford grad fees, you need to complete the fee waiver form.
Here are the requirements applicants need to fulfill to get a Stanford grad school fee waiver:
Fee Waiver Type 
Requirements

GRE Fee Reduction Certificate-Based Waiver

Students who want to apply for a fee waiver need to have:

Diversity Program Participation-Based Waiver

To be eligible to get a fee waiver, applicants need to be enrolled in one of the

diversity programs

, including:

School-Based Waiver

Students who aren't eligible to receive a GRE or Diversity Program fee waiver can request to waive the fees directly from the grad school in question. The following Stanford schools grant application fee waivers:

Engineering

Earth, Energy & Environmental Sciences 

Medicine (Ph.D.)

Graduate School of Education 

Humanities & Sciences Waiver (Ph.D. & DMA)
DoNotPay Helps You Get a Stanford University Application Fee Waiver Fast
Whether you want to request an undergraduate or graduate school application fee waiver, you'll appreciate DoNotPay's College Application Fee Waiver tool. We will help you waive your fees effortlessly and save hundreds of dollars in a few clicks.
DoNotPay enables you to waive three types of fees:
New Student Application

Transfer Student

Enrollment Deposit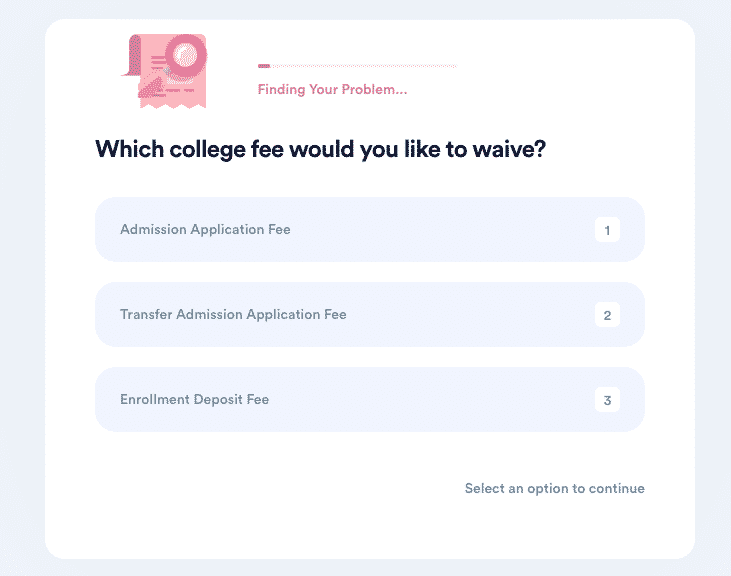 DoNotPay can obtain a school counselor's signature on your behalf and strengthen your application. 
To take advantage of our convenient tool, you should:
Open your DoNotPay account from a

web browser

Click on the

College Application Fee Waiver

feature

Select the fee you want to waive and the university you wish to apply to

Answer our questions 

Tell us if you want to get your counselor's signature
Once you submit the request, we will fill out the fee waiver form. DoNotPay will also compose an email explaining your financial situation, attach the form, and send it to your high school counselor or the university in question.
Does DoNotPay Cover All Universities?
While the Common App and the Coalition App fee waiver features are convenient, students can send their fee waiver requests to member schools only. Another drawback is that both platforms are dedicated to undergraduate schools and can't help you waive fees when applying to grad programs. 
DoNotPay's feature is the best option since it enables you to waive application fees for any grad and undergrad school in the U.S., including:
Dealing With Other Pesky Issues? DoNotPay Can Help You!
DoNotPay has a time-efficient solution for you, regardless of the issue you come across. We can help you save money by canceling services you don't use, including Hulu, Netflix, and Disney Plus. You'll appreciate this feature once the exams start! 
Do you avoid registering for free trials because you're worried about being charged? DoNotPay's virtual credit card allows you to take advantage of the free trial periods without providing your credit card info. You can enjoy Chegg, Cengage, MasterClass, and any other free trial stress-free.
Explore other handy features that DoNotPay offers—sign in to your account in a web browser, and we will assist you in: