A Simple Guide To Applying for a Brandeis Fee Waiver
If you wish to continue your education once you get your high school diploma, you need to plan well ahead. You must start collecting information and documentation as well as creating your college budget. 
Universities have their tuition costs and fees you should take into account before applying. The first item on your financial plan is reserved for application fees, and this can be a significant sum if you are planning to apply to more than one college. 
DoNotPay can help you cut costs by offering useful information on application fees and college fees in general. We can also help you ask for a college fee waiver and apply to any university free of charge.
Learn About the Brandeis Application Fee
When applying to Brandeis University, you are required to pay an application fee of $80. The amount is the same for both regular and transfer students. 
If you cannot pay this amount, you should submit a Brandeis fee waiver request, which needs to be filed before completing your application. 
You should make sure you either pay the Brandeis application fee or get it waived. Otherwise, your application will not be reviewed. DoNotPay can help you get application fees waived fast. 
What Is a College Application Fee Waiver? 
Most universities require you to pay an application or transfer fee when applying for their study programs. These fees vary from college to college and can go from $40 to $85 or $90 at some higher education institutions, such as Stanford, Duke, and Columbia. 
If you decide to apply to multiple colleges, the total amount you need to pay for application fees can be hefty. However, this is not something that should prevent you from trying. 
In case a college application fee puts you under a financial strain, it can get waived.  
Most colleges use similar eligibility criteria to review fee waiver requests, but some universities have special procedures you need to follow to get your application fee waived.
Isn't There an Automatic College Application Fee Waiver?
A college application fee can be automatically avoided in certain cases. For most colleges, your  SAT or ACT fee waiver will grant you a free application. 
If you are not eligible for these fee waivers, you should check out other eligibility criteria, e.g., if your family income meets the Income Eligibility Guidelines, as shown in the table below:
| | |
| --- | --- |
| Family Members | Family Income per Year |
| 1 | $23,606 |
| 2 | $31,894 |
| 3 | $40,182 |
| 4 | $48,470 |
| 5 | $56,758 |
| 6 | $65,046 |
A lot of colleges use the same portals, such as the Common App, for the application process. In that case, you will indicate in your online application if you got a fee waiver. 
Who Qualifies for the Brandeis Fee Waiver?
Brandeis University might send you an email inviting you to apply free of charge. In that case, you will receive a fee waiver code that you can use to have your Brandeis fee waived.
Here is what you should do if you have received a fee waiver code:
Start your online application

Go to the

Additional Information

section

Enter your fee waiver code next to this text:

If you have been given an application code, please enter it here

Continue filling out your application
If you do not have a fee waiver code, you may still be eligible for a Brandeis fee waiver in case you are a member of one of the following:
If none of the above applies to you, you do not need to worry. You can still get your Brandeis fee waived.  
Let DoNotPay Request a Brandeis Fee Waiver for You
DoNotPay can help you file various fee waivers. If you are a new or a transfer student, our app can assist in the process. When you want to get your enrollment deposit fee waived, we can help you with that, too. 
You can initiate the process by following these steps:
Access DoNotPay from any

web browser

Choose

College Application Fee Waiver

Select a fee you would like to get waived

Opt for Brandeis University and provide answers to a few questions regarding your financial circumstances

Indicate whether you need your counselor's signature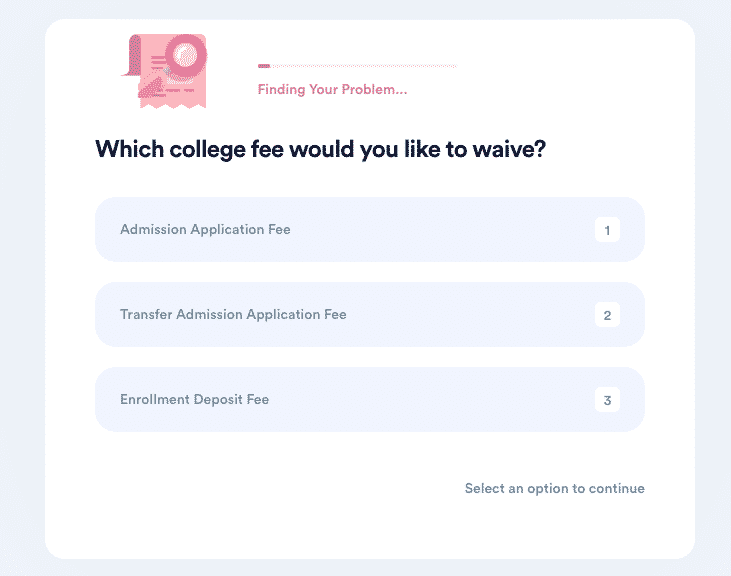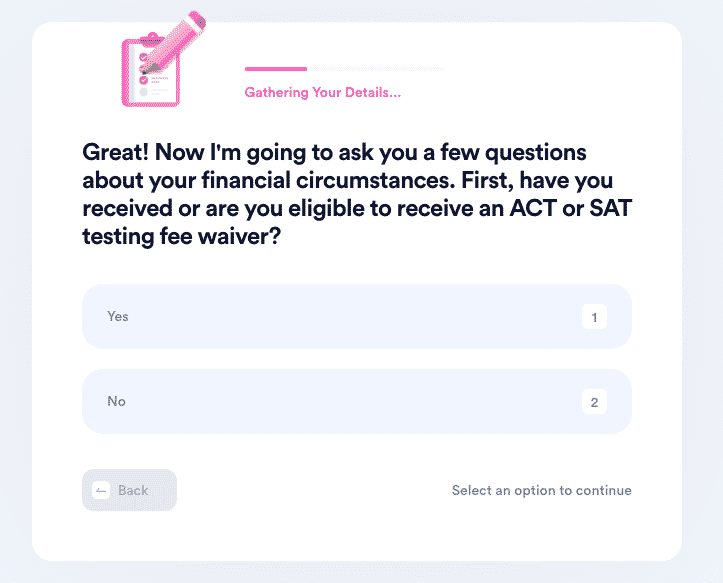 Upon completing this simple procedure, DoNotPay will automatically complete the form. Our app will send your Brandeis fee waiver request to your school counselor for a signature or directly to Brandeis University. 

DoNotPay can help you ask for all your college application fee waivers in case you are applying to multiple schools. 
If your mind is set on living and studying in Massachusetts, you should check out how you can get Boston College or Boston University application fees waived. Our app can also guide you through the process of passing a Massachusetts RMV road test and claiming your lost money in this state.  
How Can You Submit a Brandeis Fee Waiver on Your Own?
If you would like to request a Brandeis fee waiver by yourself, here is what you can do:
Get in touch with the admission office of Brandeis University

Contact the school you are applying to
Contact the Admission Office of Brandeis University
If you would like to get information regarding the fee waiver process at Brandeis University, you need to get in touch with their admission office. Here is how:
Get in Touch With a School
Brandeis University consists of five schools
Some of these schools might have special procedures, so you should contact them directly to get the instructions. 
You should be aware that your submitted application will not be reviewed until the Brandais fee is paid or waived.
When you finish your application process, you need to think about paying the Brandeis enrollment deposit of $300. If you would like to get your enrollment deposit fee waived, DoNotPay can also help you with that issue. 
DoNotPay Can Help You Solve Bureaucratic Problems
DoNotPay can help you get your application or transfer fees waived for other universities, such as Harvard, MIT, New York University, to name a few.  
Our app can assist you with a multitude of other issues. Access DoNotPay from a web browser and learn about: