A Fee Waiver Guide Like No Other—How To Get a Northeastern Fee Waiver
Northeastern University is a Boston-based private research facility that offers undergraduate and graduate programs on its campus.
Like many colleges and universities, Northeastern requires that prospective students pay a fee during the application process. With college fees and tuition increasing every year, it's understandable that many students want to avoid paying yet another fee.
The good news is that Northeastern provides application fee waivers to students under specific circumstances. The bad news is that requesting one can be a challenge, especially if you're applying for multiple colleges at the same time.
Don't fret—DoNotPay will help you draw up a request and increase your chances of receiving a college application fee waiver.
What Is the Purpose of an Application Fee?
Universities tend to receive a large influx of applications during the college admission season. Going over thousands of applications is a costly process, which is why many colleges have introduced application fees. It helps dissuade students from applying to an unnecessarily large number of colleges and finance the staff that must process the applications.
How Much Is the
Northeastern University Application Fee?
The cost of applying to Northeastern University is $75. It is a one-time, non-refundable fee.
What Are College Application Fee Waivers?
Universities and colleges grant application fee waivers to exempt certain students from having to pay extra fees. These waivers are often granted to students of low-income families that are less likely to afford them.
A single college application fee might not put a large dent in a student's finances, but most students won't apply to only one college. If they plan to try their luck at multiple colleges, the application fee costs stack up quickly. Fee waivers give students from low-income households the opportunity to increase their chances of getting into a college of their choice.
Who Qualifies for a
Northeastern University Fee Waiver
?
Northeastern doesn't have particular guidelines for application fee waivers. It uses similar criteria to the College Board and related organizations, which is why the university also accepts their versions of fee waivers.
Students are eligible for a Northeastern application fee waiver if they meet one of the following criteria:
The student is enrolled or eligible to participate in the National School Lunch Program

Their family receives public assistance

They are enrolled in a federal, state, or local student aid program

The applicant lives in federally subsidized public housing

The student lives in a foster home

They are homeless
How To Apply for a
Northeastern Specific Fee Waiver
Students looking to apply to Northeastern University may request an application fee waiver using these methods:
| | |
| --- | --- |
| Can I Apply for a Fee Waiver With | Yes/No |
| College Board | Yes |
| Third-party apps | Yes |
| ACT | Yes |
| Letter from parents | No |
| Written request from a school official | Yes |
| DoNotPay | Yes |
| Phone call | No |
Requesting a Northeastern University Application Fee Waiver Through the College Board
Students that have taken the SAT and received a fee waiver for the test are automatically granted a needs-based SAT fee waiver for college applications. Northeastern University accepts these fee waivers for their application process.
Send it alongside relevant documents when applying for the university, and you will avoid having to pay the application fee.
Senior students will receive this waiver with their SAT score results. Those that have passed the SAT during their junior year should receive it during the fall of their senior year.
Requesting a Northeastern University Application Fee Waiver Using Third-Party Apps
Northeastern University will also accept fee waivers that come from apps such as:
The Coalition Application
These apps require the same information that you submit to the College Board. Your high school counselor will be asked to verify your financial situation to confirm your eligibility for an application fee waiver.
While these apps might provide a slightly quicker method to obtain a waiver, they don't offer much else. If you want a much quicker method that adds convenience, use DoNotPay's College Application Fee Waiver feature.
Requesting a Northeastern University Application Fee Waiver Through the ACT
Since students apply for ACT fee waivers using similar economic indicators, they are most likely eligible for a college application fee waiver if they can prove their low-income status. Northeastern University accepts ACT fee waivers.
To request a waiver through the ACT, you should:
Fill out the

Request for Waiver or Deferral of College Admission Application Fee

form

Include a statement from a high school official that confirms your economic situation

Have it signed by the official
Provide this fee waiver to the university, and you won't have to pay the admission application fee.
Requesting a Northeastern University Application Fee Waiver Using a Written Request by a School Official
If your school counselor is familiar with your financial situation, they may write a request for a college fee waiver. It's similar to requesting a fee waiver through the ACT, but it's done by the school official directly. As long as the school official signs it, you should be able to use the request to waive the application fee at Northeastern University.
Get a
Northeastern University Application Fee Waiver
Using DoNotPay
If you want to avoid the overly complicated methods mentioned above, you can use DoNotPay to get a fee waiver from Northeastern University. Our app simplifies the process and lets you request an application fee waiver from the comfort of your couch. To get a waiver from Northeastern University, complete these steps:
Access DoNotPay from your

Open the

College Application Fee Waiver

feature

Choose the type of fee you want to be waived

Select

Northeastern University

from the list of colleges

Answer some questions about your financial situation and choose whether or not you want us to obtain the counselor's signature
After submitting your request, DoNotPay will fill out the form and send it to the college on your behalf. We can send it to the university's financial aid office or the university counselor if you choose to receive a signature first. The signature can help bolster your chances of getting the application fee waiver.

You can choose to waive two additional application college fees using DoNotPay:
Transfer admission application fees

Enrollment deposit fees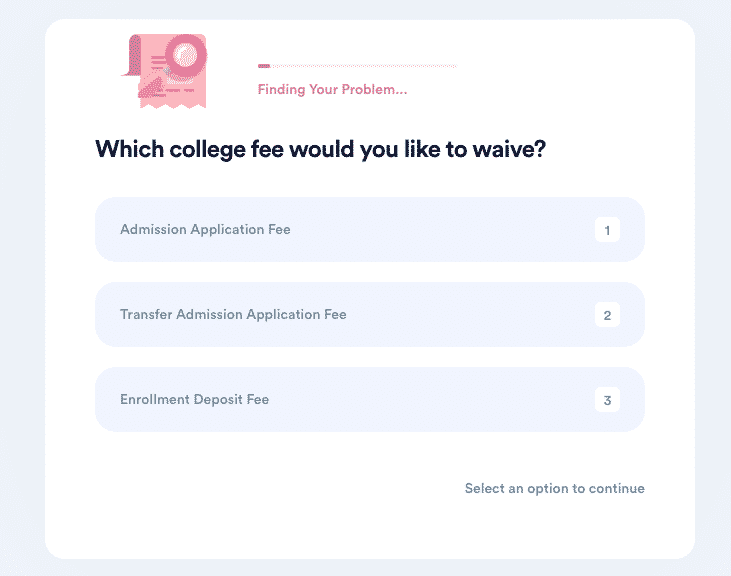 Let DoNotPay Be Your Robot Lawyer
If you want to apply for a college or university but don't want to pay their application fee, DoNotPay will help you get a waiver. Whether you want to apply to Harvard Law or one of the colleges in the American Association of Colleges of Osteopathic Medicine, we'll be able to help you.
Besides providing you with a straightforward way to get fee waivers, we can also help you cancel educational apps like Chegg or Course Hero if they prove ineffective.
Once you open our app in your , you'll have access to a plethora of useful features that can simplify many mundane daily tasks. Take a look at this list of tasks we'll help you with:
Fighting speeding tickets

Disputing traffic tickets