DoNotPay Explains How To Check a Justice Gift Card Balance and Turn It Into Cash
Justice gift cards are a great present for any tween girl, but they're also usually forgotten after a use or two. What most people also forget is that they can redeem the remaining balance on their used gift cards for cash.
DoNotPay is here to show you how to check a Justice gift card balance and get cash for it without a hassle!
What Is a Justice Gift Card?
Upon closing their stores and switching to an online-only platform, tween clothing brand Justice has released gift cards. They are available only in electronic form and can be used on the company's official website.
Justice gift cards can be loaded with any amount between $10 and $150.
Own a Justice Gift Card? Check the Balance and See if You Have Any Leftover Funds Left
Justice offers only one way of conducting a gift card balance check, and that's calling their customer support. You will need to dial them at (855) 655-2514 and:
Give the customer support representative any info they need, such as your gift card number or your name
Ask them to check how much funds you have left on your used gift card
Note that the Justice customer support team is available Monday to Friday from 9 a.m. to 9 p.m. ET and from 10 a.m. to 8 p.m. during the weekends.
Check Your Justice Gift Card Balance With DoNotPay the Easy Way!
Why spend hours waiting for a customer rep to pick up when you can have our app do the work for you? We'll contact Justice and see how much money you have left at your disposal in no time! Here's how to get started once you :
Pick the

Check Gift Card Balance

feature

Upload photos of your Justice gift card (front and back)

Confirm your email address
Can You Redeem a Justice Gift Card for Money?
Justice gift cards aren't redeemable for money, and they're not refundable. You can only use them at the official Justice online shop.
How To Use the Remaining Balance on a Justice Gift Card
You've checked how much money you have left on your Justice gift card, and now what? There aren't many options, but you can still make the best of it by:
Spending the remaining amount
Selling the gift card online
Exchanging the card
Spending the Remaining Amount From a Justice Gift Card
You can spend the leftover funds on your Justice gift card by purchasing any product at the Justice online store! Here are some of the items you can find in their shop:
Tops
Bottoms
Activewear
Dresses & jumpsuits
Swimwear
Sleepwear
Bras & undies
Shoes & accessories
Selling the Justice Gift Card Online
If you don't want to spend your Justice gift card balance on the company's products, you can sell your card online. Here's how you can do it:
Go to an online marketplace such as eBay or Facebook
Put your gift card up for sale
Wait for a potential buyer
Keep in mind that selling your card will require patience as it will not be sold instantly. You also won't receive the full value of the card, but only a percentage.
Exchanging the Justice Gift Card
If you don't feel patient enough for trading your gift card, you can get cash for it instantly by exchanging it online. Numerous websites deal with gift card exchange and offer money for used gift cards. Note that you will receive only a portion of the remaining balance on your gift card by exchanging it.
Have a Gift Card With Unused Balance? Use DoNotPay and Get Money Back Fast and Easy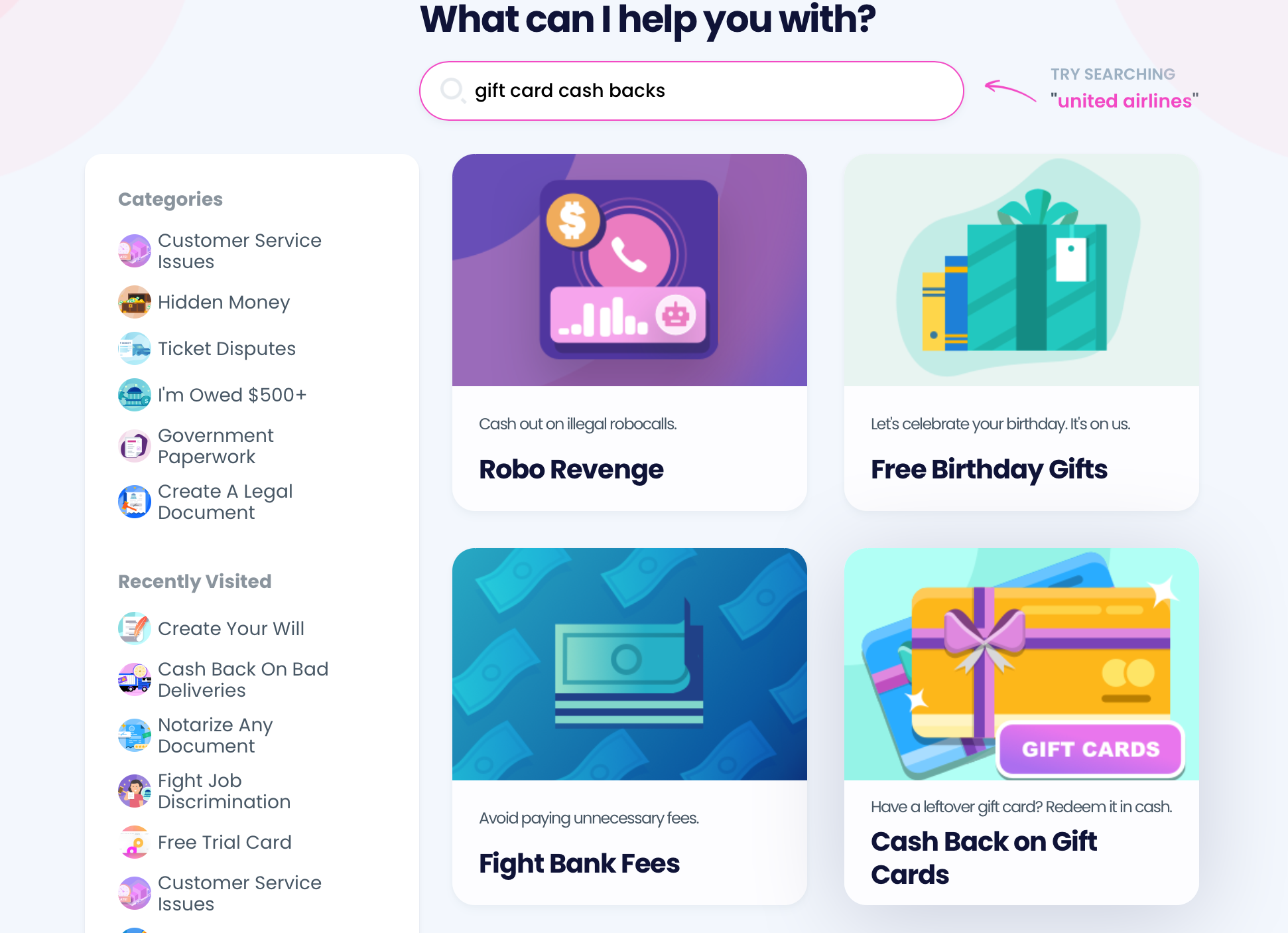 Turning gift cards into cash is a tedious process. DoNotPay is here to make your life easier! Using our Gift Card Cash Back product, you'll be able to redeem your used gift card for cash in a few clicks. Here's the drill:
Select the Gift Card Cash Back product
Enter the important gift card details, such as:

The company name
State where the card was issued
Gift card number and PIN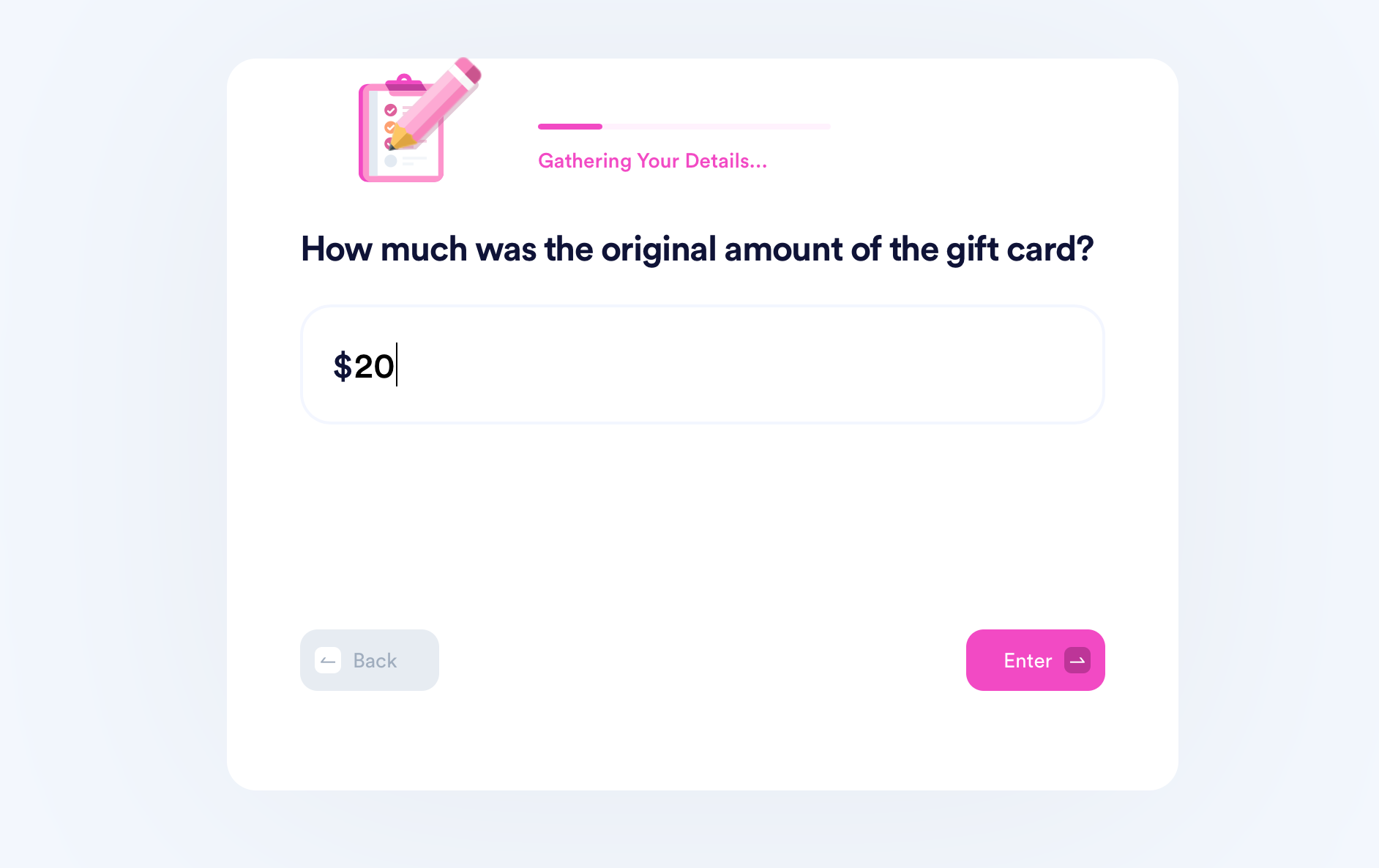 Once we process your request, we'll see if the company that issued your gift card offers cash back. If it doesn't, we'll check if they have an office in Puerto Rico or one of the 11 cash back states and forward the request there. You should receive your money within two weeks.
Need More Help With Gift Cards? Check Out DoNotPay's Learning Center
DoNotPay has various articles regarding gift cards that you might find helpful. Learn about:
That's not all! If you need assistance with gift cards from other companies, check out the table below and learn how to get your cash back:
DoNotPay Resolves Both Bureaucratic and Legal Issues
One of our app's best qualities is its versatility. You can use your personal AI-powered assistant to overcome both legal and bureaucratic obstacles without breaking a sweat. No more waiting in lines or breaking the bank due to sky-high lawyer fees!
Take a look at what you get access to for a low monthly fee:
Can DoNotPay Do Anything Else?
The world's first robot lawyer is capable of so much more! No matter if you want to find your unclaimed money, apply for clinical trials, get rid of email or text spam, prepare for a government test, fight workplace discrimination, or get gift card cash back, DoNotPay can help!
What are you waiting for? Sign up for DoNotPay now to enjoy our nifty products!