How To Check the Regal Gift Card Balance Effortlessly
Gift cards make great presents—especially if it's a gift card for your favorite movie theater—but spending every last cent of your balance can be challenging.
Do you have a drawer full of used Regal's gift cards with a few dollars remaining that you don't have the heart to throw out? What if you could exchange those gift cards for cash?
DoNotPay can teach you how to check your Regal gift card balance and exchange the gift card balance for cash in a few easy steps!
What Is a Regal Gift Card?
A Regal gift card can be used for purchasing movie tickets or snacks at Regal locations. They can be physical and digital, and you have the option to choose from various card designs. If you want to personalize the gift card, you can upload your own image along with a message to send to your loved ones as a gift.
Possible amounts on Regal gift cards range from $5 to $100. If you want a larger amount, you are required to call customer service at 1-800-784-8477, but you can't get a gift card with a value of more than $500.
How Do I Check My Regal Gift Card Balance?
If you want to check the available balance on your Regal gift card, you have the following options:
Ways To Check the Remaining Balance on a Regal Gift Card
Brief Explanation
Visit any Regal location
If your card does not have a PIN code or has been damaged, here's how to check your balance at a Regal location:

Go to your nearest Regal cinema
Hand over your gift card to the cashier
Request them to check your available gift card balance

Call the customer support team
You can follow these steps to ask for your remaining balance over the phone:

Dial 1-888-244-1285
Request to speak to a customer support representative
Provide details, including your name, gift card number, and PIN code
Request the agent to check your remaining balance

Go to their website
To check your balance on the website, follow these instructions:

Head over to the Regal website
Click on the Gift Cards tab, scroll all the way down, and click on Gift Card Balance
Enter your gift card number and PIN code
Hit Check Balance
Important Details About the Regal Gift Card Balance
Here are a few important details about the Regal gift card:
Expiration date—Regal gift cards don't have an expiration date. You can use them at any time. There are promotional gift cards provided as a bonus that have expiration dates. Before getting the gift card, confirm with a salesperson whether it has an expiration date
Extra fee—You do not have to pay any extra fees while purchasing or using the gift card
Restrictions—Regal cards can be used anywhere in the United States, except the Cayman Islands locations. Gift cards can be used for all movie tickets, except for Premiere Tickets, Ultimate Movie Packs, private screenings, or group sales
Cash back—Regal does not provide cash back on gift cards. If you have a balance available on your gift card, you can either use your card or discard it
At least, that's what Regal wants you to think. When you , you will have an ace up your sleeve. Most companies strive to stop you from getting your rightful cash back, but we can help you out!
DoNotPay's Cash Back Feature Can Help You Get Your Money Back Without a Hassle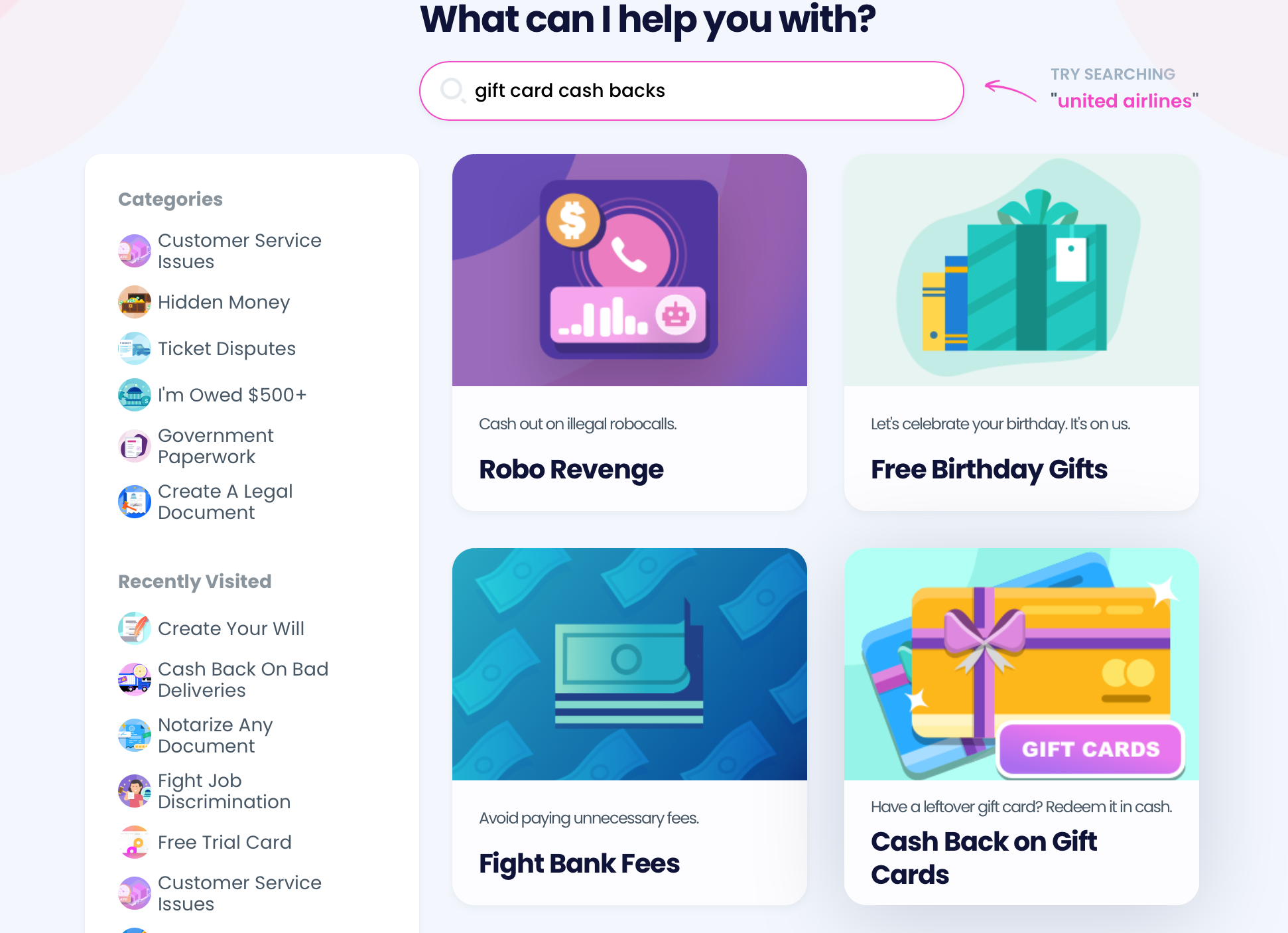 Use DoNotPay to turn your Regal gift card balance into cash! Our exciting new feature helps you do that by following these simple instructions:
in your web browser
Search for the Gift Card Cash Back feature
Enter details about the company, your gift card number, and the available balance left on the card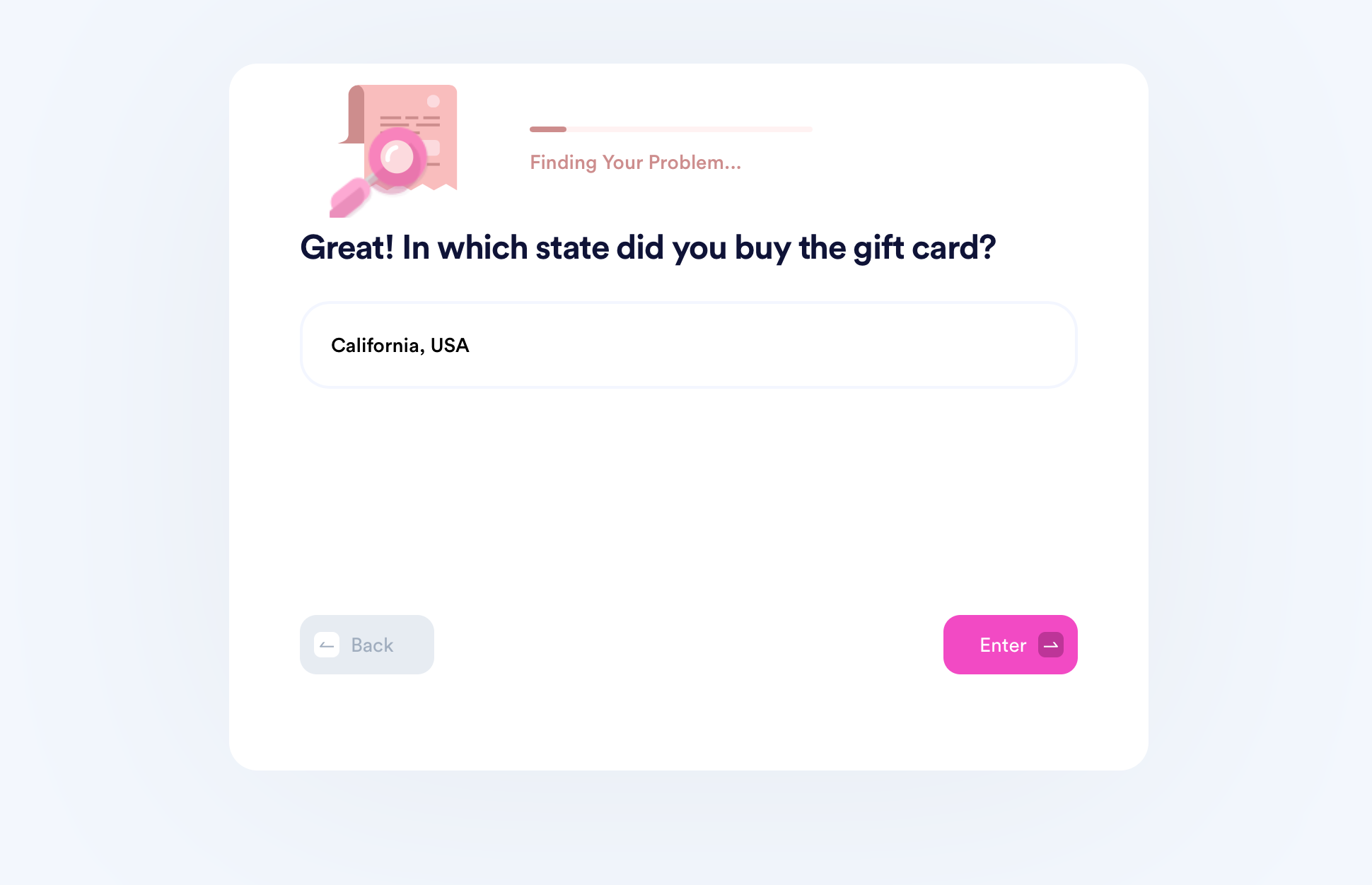 If your state has a cash back policy, you'll get your cash back in 14 business days. If it doesn't, we will check if the company has an office in one of the 11 cash back states or Puerto Rico and send a request over there. Either way, you should receive your cash back soon after.
State laws specify caps on the amounts that qualify for this procedure. In most states, you won't be able to request your cash back if the balance is bigger than $5, but in California, any gift card balance lower than $10 can be turned into cash.
Do you want to know how to get free gift cards or sell the ones you have? DoNotPay can provide you with all the information you need.
What Happens if I Lose My Gift Card?
If your gift card gets lost or stolen, you need to provide proper identification, including your name, gift card number, and PIN code, to get a replacement card. The replacement card will hold the same value as your original gift card, provided you have proof of the remaining balance.
When You're In Over Your Head, DoNotPay Swoops In
With your virtual assistant extraordinaire, many tasks will be a breeze to deal with.
No fax machine? No problem! Use DoNotPay to send faxes online. If you don't want to waste time waiting in lines or on the phone, we come to the rescue with many of our products that will help you:
What Else Does DoNotPay Have in Store for You?
You can count on our assistance when you want to get rid of:
Our app has even more to offer—try out our hacks that will save you money and do the heavy lifting in numerous tasks: