How To Check Your BJ's Gift Card Balance With Zero Hassle
If you have a hard time remembering whether you have any funds left on your BJ's Wholesale Club gift card, you are in the right place! Let this guide walk you through all the ways to check your BJ's gift card balance and retrieve the remaining credit fuss-free.
How To Perform a BJ's Gift Card Balance Check Online
The most accessible way to keep track of the funds left on your BJ's Wholesale Club gift card is to check the balance yourself online. You can do it anytime by following the steps below:
Access the homepage of the BJ's Wholesale Club website
Find the Quick Links section at the bottom of the page
Select Check Gift Cards Balance
Input your gift card details—the gift card number and the PIN from the back of the card
Tap on Submit
You will be redirected to the page showing the current value of your gift card.
What Should You Do if Your Gift Card Doesn't Have a Security Code?
If you can't find the PIN on your BJ's Wholesale Club gift card or you can't access the company's website for any reason, you can still inquire about the remaining funds by:
What Can You Do With a Partially Used BJ's Wholesale Club Gift Card?
Should your used gift card from BJ's Wholesale Club contain some extra dollars, there are various ways you can use them. Check out a few suggestions in the table that follows:
| | |
| --- | --- |
| Option | Explanation |
| Use the remaining balance when you make a purchase | A few dollars can sometimes make a significant difference—bring your card the next time you visit any BJ's and redeem it to get a discount |
| Trade the card for another one from a different company | If you prefer to get a gift card you can redeem in other stores, you can try to exchange the one you have for one that will be more to your liking |
| Sell the card online | Some websites offer to buy your used gift cards, but you should approach this option carefully since BJ's doesn't encourage unauthorized reselling |
| Sell the card in person | There are special kiosks where you can insert your gift card and get cash for it instantly. You can also turn to gift card bin stores or sell your card in a local Target store |
| Reclaim the unused credit | DoNotPay can help you cash out a small balance left on your card in record time |
Can You Get Cash Back on Your BJ's Gift Card?
BJ's Wholesale Club allows customers to return used gift cards for money only if the state they live in has a gift card cash back policy. Not all U.S. states have this privilege—this type of statute is approved only in some of them and in Puerto Rico.
Check out the maximum cash back amount you can get at those locations in the table below:
| | |
| --- | --- |
| Location | Cash Back Limit |
| Vermont | $1.00 |
| Rhode Island | $1.00 |
| Connecticut | $3.00 |
| Washington | $5.00 |
| Missouri | $5.00 |
| New Jersey | $5.00 |
| Massachusetts | $5.00 |
| Colorado | $5.00 |
| Maine | $5.00 |
| Oregon | $5.00 |
| California | $10.00 |
| Puerto Rico | $5.00 |
According to the cash back policy, merchants are required to redeem used gift cards for cash if you request it and if the amount doesn't exceed the state-specific threshold. This rule doesn't apply to free gift cards you received as a prize or a donation.
Don't Give Up on Your Gift Card Money—Reclaim It Swiftly With DoNotPay
It may seem like the problem is solved if you discover that the cash back method is approved in the place where you live, but the matter can get more complicated than expected. Claiming your gift card funds usually involves much effort and tedious phone calls with the company's customer support, but you can skip all that by giving DoNotPay a go!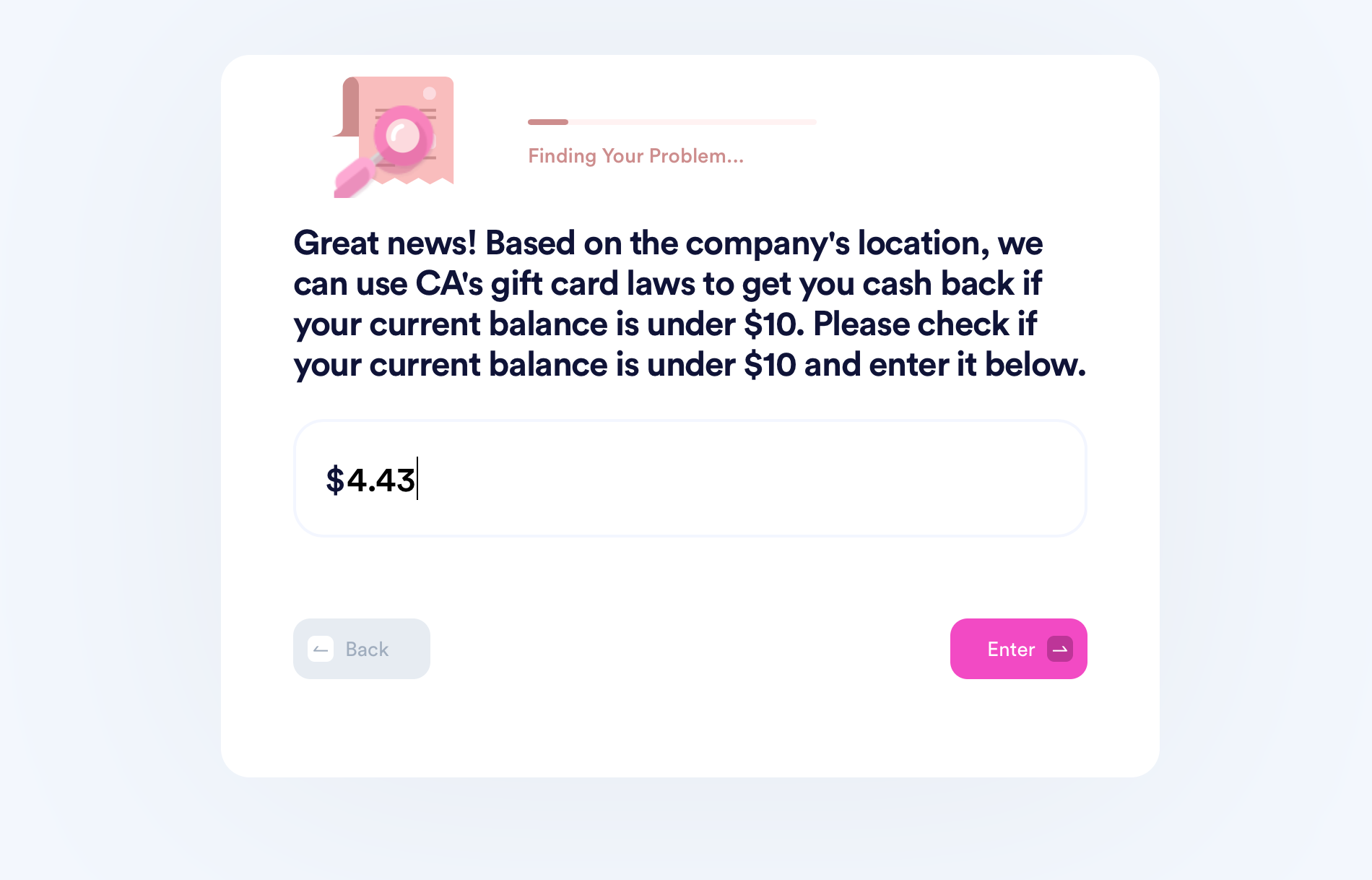 Our award-winning app helps you raise a gift card cash back claim by composing a personalized request letter. Here's how you can use our service:
in any web browser
Select Gift Card Cash Back
Go through a brief questionnaire with our chatbot to help us collect the necessary info
Living in a state where cash back rules don't apply? Worry not—we will check whether the retailer has a branch at any of the 12 approved locations and send the claim to it!
DoNotPay can also help you get the remaining gift card money from any other merchant, including: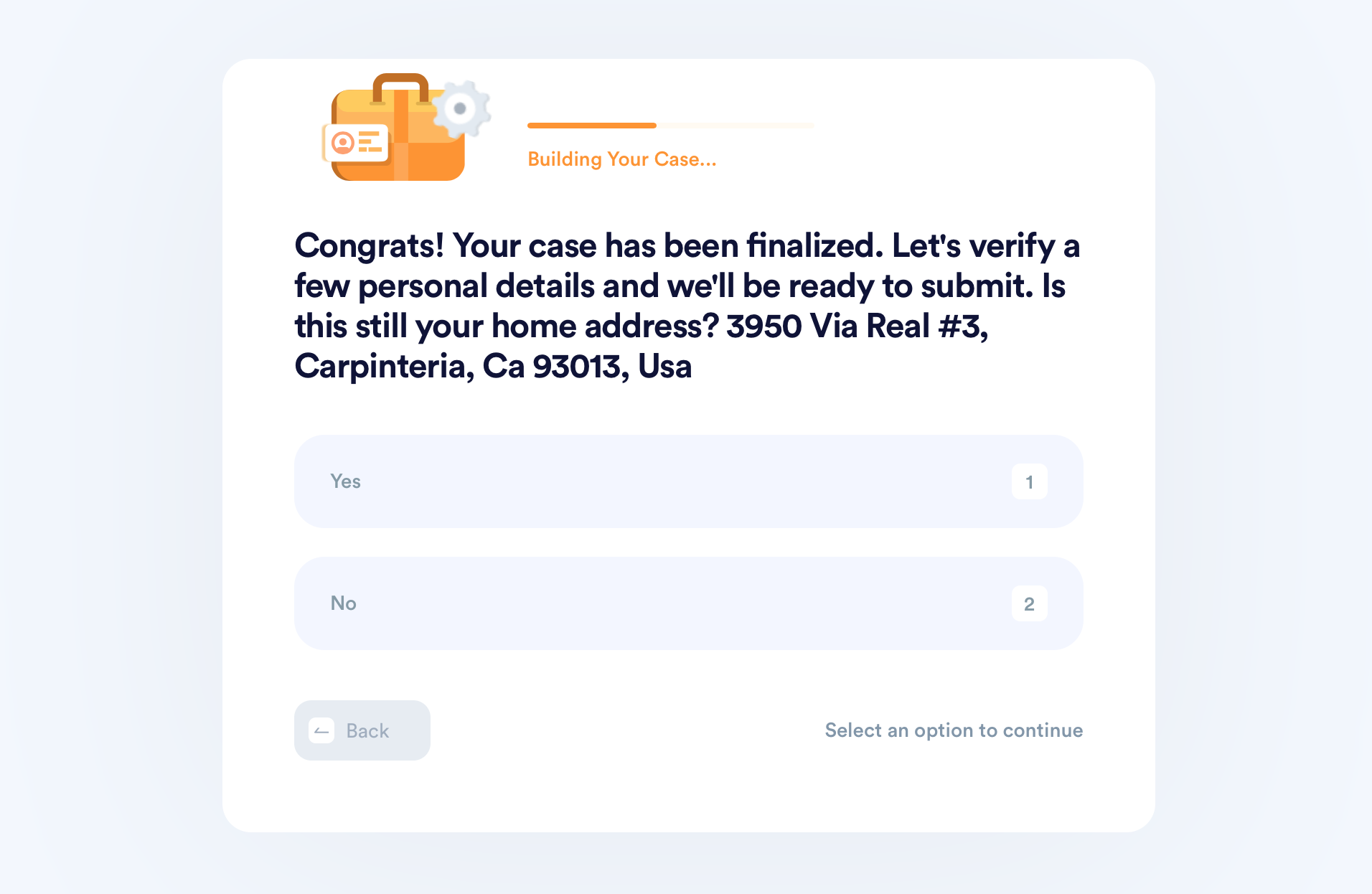 Rely on DoNotPay To Solve Your Administrative Issues
Getting your documents notarized, drawing up legal paperwork, appealing parking tickets, and similar activities usually require a lot of effort. DoNotPay offers various useful products that can help you deal with administrative problems quickly and save a lot of time. We can assist you with:
Protect Your Consumer Rights With DoNotPay
Companies complicate cancellation and refund processes intentionally, hoping that consumers wouldn't want to spend hours trying to solve the issue they're having. DoNotPay knows how important consumer rights are, and that's why we created numerous products that can help you:
Many people forget to cancel their free trials on time and end up paying for the services they don't even use. To prevent that, DoNotPay has developed a nifty virtual credit card that will allow you to enjoy free trials risk-free. Our virtual credit card will also help you avoid spam email notifications by generating a random email address that you can use when signing up for a free trial.