Need a Bradford Notary? Book an Online Notary With DoNotPay
Just because you live in Bradford, PA, doesn't mean you have to look for a Bradford notary. There are different types of notaries that can notarize your documents, even remotely.
This article will explain how notary service works in Bradford and Pennsylvania in general and show you how signing up for DoNotPay fast-tracks the notarization process.
What Does Notary Service in PA Entail?
Notaries in Pennsylvania can perform the following notarial acts:
Certify

copies

Witness signatures

Take

acknowledgments

Administer oaths and affirmations

Note a protest of a negotiable instrument

Take verifications on oaths or affirmations
A document must have a notary section so that the notary can finalize the notarization process.
Regardless of the document you want to notarize—an affidavit or a power of attorney—the notary will:
Check your ID or other acceptable identification

Ask a few questions to verify your identity

Check for signs of fraud or coercion

Determine you are of sound mind

Witness the signing

Sign

and stamp the document
Types of Notaries in Bradford
Besides the notaries who perform in-person notarization of paper documents, you may find other notaries, such as:
Electronic notaries

—notarizing electronic documents in person

Mobile notaries

—performing notarization at the client's or other location

Online notaries

—notarizing electronic documents via a video call with the client
How Can I Find a Bradford Notary?
To find a notary on your own, you can check the following:
Public Places
Websites

AAA

stores

Courthouses

Credit unions

Police departments

Money transfer stores

Real estate agencies

Insurance companies

Accountant offices

Office supply stores

Law offices
How Much Are Notary Services in Bradford, PA?
PA notaries can choose how much to charge for their services, but the Department of State imposes a limit on the notary fees. The maximum fees are:
Notarial Act

Fee

Taking acknowledgments

Certifying a copy or deposition (charged per certified copy)

Witnessing a signature (charged per signature)

Administering oaths or affirmations

$5

Noting a protest of a negotiable instrument (charged per page)

$3

Taking acknowledgments for each additional name

$2
Notaries can also charge extra for any additional services, such as traveling to the client and copying and delivering documents.
Online Notarization Explained
In October 2020, Pennsylvania officially passed remote online notarization (RON) into law, which was first temporarily allowed due to the COVID-19 pandemic.
While online notarization is safer than the traditional one, it is also more convenient and faster since you don't have to visit a notary.
The process of RON is almost the same as any notarization, but it requires some additional steps. A PA notary must be in Pennsylvania, whereas the signer can be anywhere in the country. The notary has to inform the Department of State about performing online notarization beforehand.
Other important details of notarizing documents remotely are the following:
Skype, Zoom, and FaceTime are not allowed—the notary must use the approved online platforms

Both the notary and the signer have to be able to see and hear each other during the notarization

The notary has to film the notarization and keep the recording for at least ten years

The notarial certificate must state that the notary performed remote online notarization
Get a Document Notarized Online Using DoNotPay
Our app makes online notarization even more convenient than it is because you won't have to look for a notary by yourself. With a few clicks, you'll book your notary appointment.
Once you , follow these steps:
Search for our

Notarize Any Document

product

Upload the document you need to get notarized

Type in your email address

Follow the link you receive via email
The link will take you to a page where you can schedule and confirm your virtual appointment with a notary.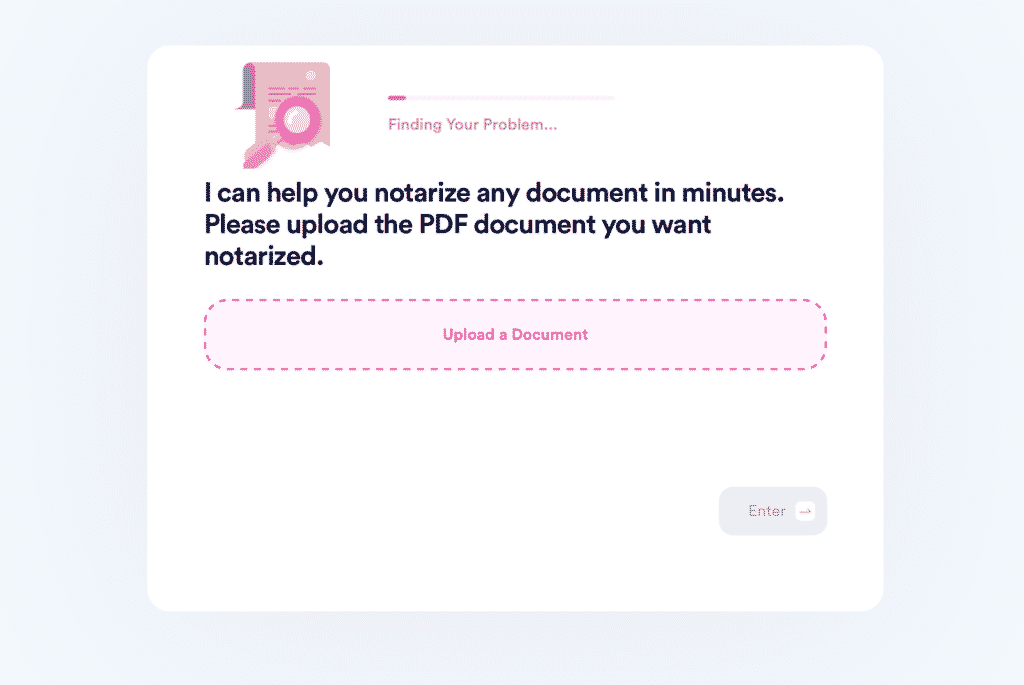 Aside from helping you notarize documents, DoNotPay comes in handy when you have questions or concerns about notarization. Our learning center covers numerous matters, including:
More Benefits of Using DoNotPay To Book a Notary
gives you access to all our products, including Standardized Legal Documents. In three simple steps, we'll draw up a customized contract or agreement for you. You can then e-sign it or fax it with our assistance.
Check out how to use DoNotPay to create legal documents:
Type in the document you want the app to draft

Answer a few questions to personalize it

Download your document
Admin Issues Giving You a Headache? Resolve Them With DoNotPay!
Scheduling a DMV appointment, applying for clinical trials, requesting refunds from companies, and getting in touch with your loved ones in prison are all difficult and time-consuming tasks. You have to take many steps before you can get any of these over with, and that's why our robot lawyer app is here to help.
No matter if you need assistance with appealing parking tickets, signing up for free trials, canceling various subscription services, or maybe preparing for government tests, DoNotPay will provide you with easy solutions.
Having Financial Struggles? Rely on the World's First Robot Lawyer
Many Americans struggle to make their ends meet at the end of each month. With that in mind, we've created plenty of features that will save you both time and money in the most efficient way.
Using our AI-driven app, you can get help with bills, get refunds from airlines, find unclaimed money in any state, or earn off annoying robocalls or stalkers and harassers. If you want to fight for your right, DoNotPay will also assist you in suing any person or company in small claims court.
No matter the admin task at hand, our robot lawyer will provide swift and effective assistance.