AT&T Account Suspended—Learn How To Recover It
AT&T is a company that manages millions of internet, cable TV, and phone accounts. If you got your AT&T account suspended, you can rely on DoNotPay to help you make an appeal.
In this article, we've gathered all the information about the AT&T account suspension and possible solutions for the issue. If you are wondering whether you can appeal a suspended account and why you got suspended in the first place, we provide the answers.
AT&T Suspended Account—Possible Reasons
In its terms of service, AT&T states that it reserves the right to change, suspend, or terminate user accounts for any reason. The most common reasons for getting your AT&T account suspended are:
AT&T Acceptable Use Policy violations
Going over the AT&T data limit
Lost and stolen AT&T device
AT&T Suspended Account—The AT&T Use Policy Violation
Any misuse of AT&T services and actions that go against the AT&T Acceptable Use Policy are reasons for an AT&T account suspension. Here are some examples of what that encompasses:
Abuse and threats directed towards customer representatives or employees
Fraud and illegal use of AT&T services
Inaccurate or misleading user credit information
Violation of intellectual property rights
Violation of privacy policy
Failure to make the required payments
AT&T Suspended Account—Lost and Stolen AT&T Device
If you report to AT&T that your wireless device is stolen or lost, the company can temporarily suspend service to your account. Once you get a new device, you can get unsuspended by contacting AT&T customer support.
AT&T Suspended Account—Going Over the AT&T Data Limit
If you are using AT&T off-net services, you should know that they have limitations you should not exceed. You will get suspended if you exceed the limits of the following offline data:
Using more than 750 minutes per month
Going over 3,000 messages per month
Exhausting over 100 megabytes per month
If you went over any of these data limits, AT&T will send you a warning before a suspension.
How To Get Your AT&T Account Back After the Suspension
Your AT&T account may be suspended if you were:
Late with payments
Hospitalized or incarcerated
Serving the military
How To Get Unsuspended After a Non-Payment Suspension
If you got suspended because you failed to make a payment for your AT&T service, you can easily get your account back by following these steps:
Pay the entire amount of your past-due balance
Wait five minutes
Restart your device to get the service back
How To Get Your AT&T Account Unsuspended After Hospitalization or Incarceration
To reactivate your AT&T account when you get released from hospital or jail, you have to:
Contact AT&T customer service
Provide information about the date of your release
Unsuspension Process for Military Suspensions
If you had your AT&T account suspended while you were serving the U.S. army, you should contact AT&T customer service. An AT&T customer representative will help you reactivate your account.
What To Do if You Get Your AT&T U-verse Account Suspended?
In case you are using AT&T U-verse TV services, your account may get suspended if you:
Fail to pay monthly fees
Exceed your service limitations
Violate the terms of service
Engage in illegal or fraudulent actions
If you get suspended for any of these reasons, you will have two options:
Follow the reactivation procedure for non-payment suspensions
Contact AT&T customer support
Sometimes, these actions will not be enough. You may pay your past-due balance and even contact customer service to file an appeal and not get unsuspended.
To make sure AT&T representatives notice you and process your appeal faster, and let our app draft you a demand letter!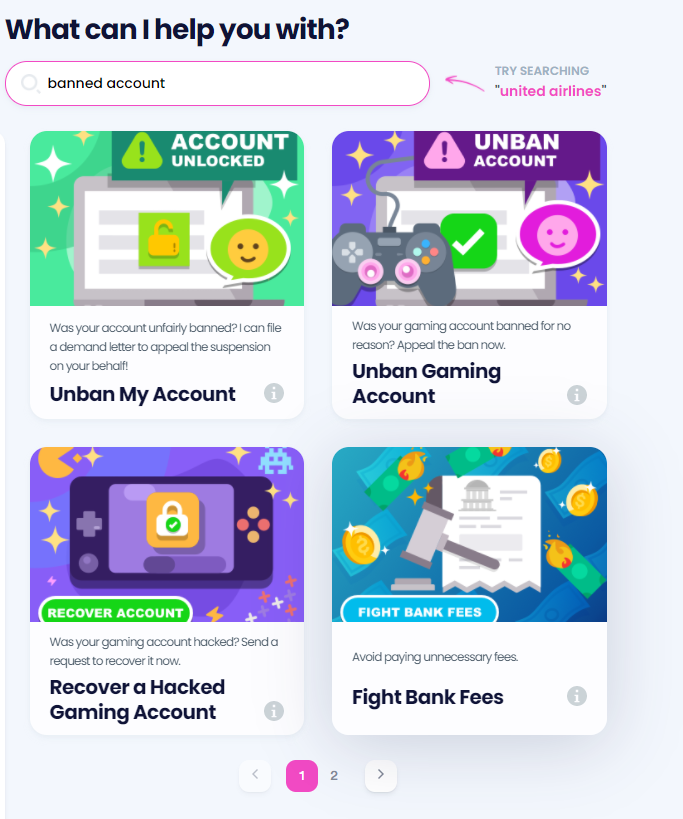 DoNotPay Helps You Get Access to Your AT&T Account in a Trice
Our app can make sure AT&T takes your appeal seriously. We will do that by drafting a demand letter and sending it to AT&T on your behalf. In this letter, we will request AT&T to take a look at your appeal and reconsider its decision. All you have to do is:
Locate the Unban My Account feature
Provide our chatbot with information such as:
Name of the platform that suspended your account
Suspension date
Reason for your suspension
Type of service and whether you want a refund or not (if it is a paid service)
When you answer all of our questions, verify your signature and hit Submit.
DoNotPay will then create a personalized demand letter within minutes, and we will send it to AT&T right away. The letter will include a two-week deadline for AT&T to respond.
DoNotPay Provides Solutions to Any Ban or Suspension!
Our app is the perfect solution if you have a suspended or banned account on any shopping, gaming, or social media platform. We can help you get unsuspended from other wireless service providers, such as Verizon and Metro by T-Mobile.
DoNotPay can help you create a demand letter that will make any company pay attention to your appeal. Knowing how frustrating it can be to figure out all of the rules, we prepared these helpful guides on how to lift a suspension or get your account unbanned:
Get an Extra Buck or Two With DoNotPay
Besides being able to assist you with almost any legal issue, DoNotPay can also help you get some extra money! We can cancel any unused memberships and prevent you from being charged after free trial periods are over with our virtual credit card.
Can't claim a warranty or get cash back for a gift card? Subscribe for DoNotPay and consider it done! We can also help you return items to almost any company or even help you get a refund in a few clicks!
Helping you jump the customer service queues is also not a biggie for us, as well as taking the company that wronged you to small claims court!
No Problem Is Unsolvable for DoNotPay
By subscribing to our platform, you get access to a plethora of handy features that can help you with:
Drafting legal documents

Creating POA agreements

Reducing property taxes