Verizon Account Suspended?—Non-Payment Suspension Resolved in a Flash!
A functioning telephone and internet connection are essential. This is why it is immensely frustrating to have your Verizon account suspended. Non-payment is a frequent reason for suspension, but the problem is easily solvable.
You can appeal your suspension by contacting Verizon customer support, but they might take some time to answer due to the high workload.
DoNotPay is here for you if you wish to speed up this process and have your account reinstated more quickly and easily. to lodge a complaint in a few minutes and receive a prompt response.
What To Expect if Verizon Suspended My Account
None of your services will be available if your Verizon account got suspended. What this means is you:
Can't receive or make calls
Can't receive or send text messages
Won't be able to connect to the Wireless carrier
Won't have any signal on your phone
If you haven't paid your Verizon bill in a while, this is the most probable reason why the company cut you off.
Other Reasons Why Verizon Suspended My Account
Forgetting to pay your bill isn't the only issue that can get you suspended from Verizon service. There are several others, such as:
Suspicious activity
Unauthorized login
Violation of the Fair Usage Policy, including using Verizon services in a way that:

Is harmful to minors
Is unlawful, fraudulent, or deceptive
Involves threats to others, harassment, or abuse
Is ethnically, racially, or in any other way offensive to others
Includes obscene behavior or pornographic content
Is an invasion of other people's privacy
Infringes on Verizon's or a third party's copyright content, confidentiality policy, or other rights
Promotes violence or criminal activities
Can be interpreted as advertising or promotions of different sorts
Involves collection or usage of other users' personal information
Provides material or another form of support to terrorist organizations
Counts as reverse engineering with the aim of discovering the source code for the computer systems that operate Verizon's service
Involves accessing any of the company's resources by any other method than the one provided via the user interface
Uses malware to disrupt the company's resources
Involves copying or reselling of the company's resources
Verizon Account Suspended—Non-Payment Suspension Solution
If piled-up bills are the only reason behind your suspension, you need to pay all the bills that are overdue. This should reactivate your account automatically.
You can pay your bills in a few ways:
A Trick for Avoiding Verizon Account Suspension Due to Non-Payment
Verizon offers a convenient feature that enables you to pay your bill after the due date and still keep access to all services. This option is called a payment arrangement, and it has two forms. You can:
Schedule a payment—Set up an automatic payment from your bank account for the date that suits you
Promise to pay—You only provide a date when you'll be able to pay, but don't set up an automatic payment. This requires you to go to a physical store or make an online payment before the new due date
Both these options also allow a split payment arrangement—splitting your bill into two parts and setting a payment date for each part. You can also use DoNotPay to find the best option to lower your Verizon or Verizon Fios bill.
Get Your Verizon Account Suspension Smoothly Removed via DoNotPay
In case your account isn't reinstated once you've cleared all outstanding bills from Verizon, you should reach out to their customer support and lodge a complaint.
Bear in mind that you may have to wait for days before you hear from the company's support team. This isn't unusual considering the number of messages they get, but you still deserve better treatment.
DoNotPay's got your back! and gain access to our Unban My Account feature that helps you compose and send a customized and effective complaint letter. This way, you'll put additional pressure on Verizon's support team to take your case seriously and give it a priority.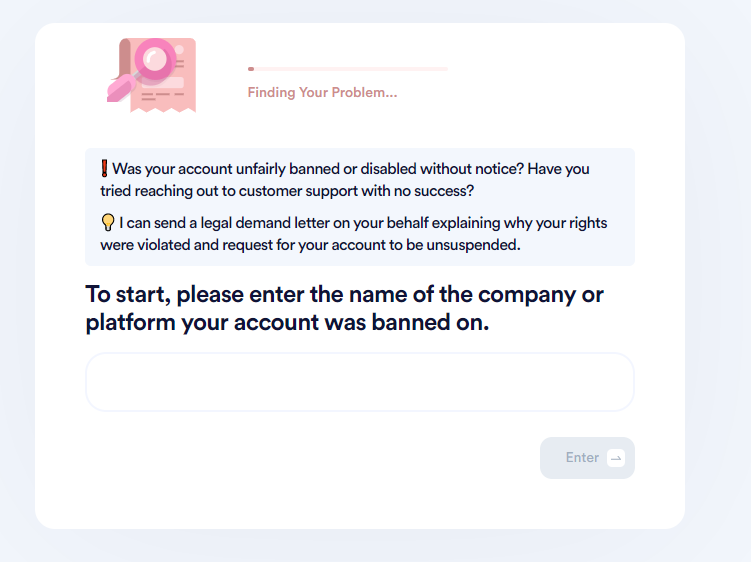 Here is how to use our unbanning tool:
Type in the name of the company that suspended your service
Provide your account details:

Account ID
The email address connected to it
The date your issues started

Let us know if you have any concerns about being discriminated against on the basis of color, gender, nationality, etc.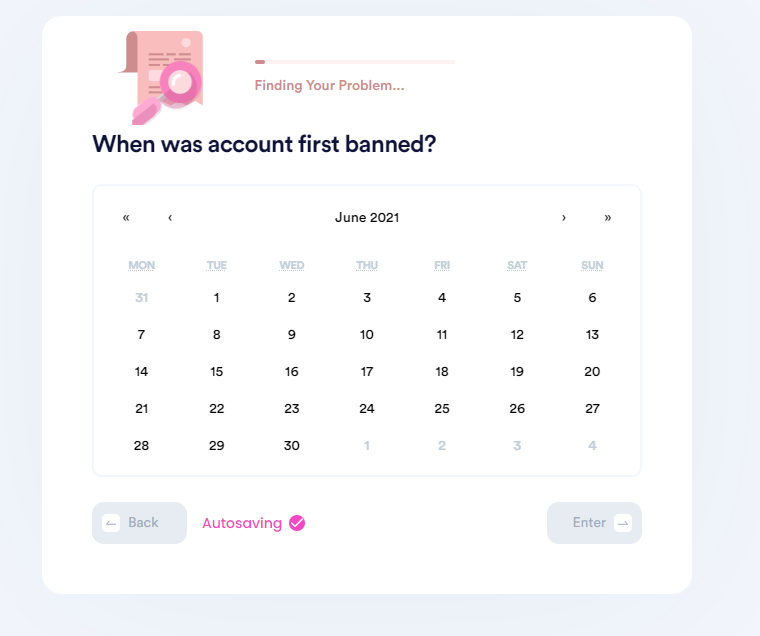 Our app will use all this data to create a demand letter and send it to Verizon with a two-week reply deadline.
DoNotPay can also help you recover your access to AT&T and MetroPCS services.
DoNotPay Offers Unsuspension Services for a Wide Array of Platforms
Our app doesn't only focus on solving suspension problems on services such as Verizon. Unban My Account helps you get unbanned and unsuspended from many other platform types, such as social media, streaming, and emailing.
Take a look at the examples of different platforms that we help you with:
We also offer a similar feature called Unban Gaming Account that assist you in writing and lodging a complaint to different gaming services, including:
DoNotPay Is Committed to Solving All Kinds of Problems for You
Are you lost in the sea of administrative tasks? By subscribing to DoNotPay, you gain access to many products and features that can assist you in:
Check Out What Our Robot Lawyer Can Do for You
Not too skilled at drafting contracts and agreements? Keep calm and let DoNotPay, your virtual assistant, do it for you! Our app can generate various legal documents, including divorce settlement agreements, child travel consent forms, and powers of attorney. All it takes is to click a few times or answer several quick questions—we do all the rest!
Besides providing personalized documents, DoNotPay takes over other tiresome legal tasks. These include having your documents notarized, filing lawsuits in small claims court, requesting crime victims' compensation, or submitting HR complaints.