A Step-by-Step Guide to the Williams Sonoma Return Policy
A typical Williams Sonoma order can set you back four figures, so it's vital you know how to return a faulty or unwanted item if it ever arrives at your doorstep.
In this article, you'll get the breakdown of the Williams Sonoma return policy and learn when it applies to your purchase and what to do to get a refund. We'll also reveal how DoNotPay's AI tool can .
Williams Sonoma Return Policy—A Bird's-Eye View
Customers typically have 30 days from delivery to return an unwanted item to Williams Sonoma. For Quick Ship upholstery items, the return window is seven days. To qualify for a return, all items must be in as-new condition and come with the original proof of purchase—a gift receipt or original receipt.
Customers can return Williams Sonoma items by:
Shipping them back
Returning them to a store
Contacting customer support for non-custom furniture and other oversized items
Customers can contact Williams Sonoma using these methods:
Contact Method
Instructions
Phone (General customer service)
Call 1-877-812-6235
Phone (Gift Registry Support)
Call 1-800-541-0015
Fax
Send a fax to 1-702-363-2541
Email
Send an email to customerservice@williams-sonoma.com
Mail
Send a letter to:

Williams-Sonoma, Inc.

3250 Van Ness Ave.

San Francisco, CA 94109 USA

Website
Take the following steps on the Contact Us page:

Fill in your name
Provide your email in the Email and Confirm Email fields
Enter your ZIP code and phone number
Select the reason for contacting Williams Sonoma from the drop-down menu
Input your order number
Type in your message
Hit Send
How To Return a Williams Sonoma Item by Mail
You can send back your items via UPS. You'll need to bring your item to a UPS location with a UPS shipping label. Follow these steps on Williams Sonoma's Returns page to get your shipping label:
Scroll to the Start Return Process section
Select either Purchase item or Received as gift—you may have to cover the shipping costs depending on the reason for return
Click Continue
Enter your Order Number—find it in the top-right corner of your packing slip
Fill in your billing ZIP code
Click Search and follow the on-screen instructions
If your purchase does not have an order number, contact Williams Sonoma's customer service to assist you.
If you lose your shipping label, you can reprint it from the Returns page. Take these steps:
Fill in your Return Reference Number
Select what information you wish to provide from the drop-down menu—you can choose between your ZIP code, name, and order number
Fill in the requested information
Click Search and follow the prompts
The Return Reference Number field is for returns processed online at any point in the last seven days.
Returning William Sonoma Items to a Store
Most William Sonoma purchases can be returned to the company's retail stores—this does not include William Sonoma outlets. You must come to the store with a receipt for regular or gift purchases. You can find a list of all William Sonoma retail stores on the Store Locator page.
Williams Sonoma does not accept returns of Williams Sonoma Home products purchased online to any retail stores or Williams Sonoma Home Outlets. For assistance, contact William Sonoma's Customer Care Team.
Williams Sonoma Return Policy—What Items Are Non-Returnable?
There are several items in Williams Sonoma's catalog that are ineligible for returns or exchange:
Personalized or monogrammed items
Items that show signs of wear and tear
Made-to-order items, like custom rugs, custom upholstered furniture, etc.
Vendor-direct special order items from SMEG and La Cornue
Perishables
Mattresses
Outdoor grills
Final sale items with prices ending in .97, .98, and .99
How Are Returns Refunded Under the William Sonoma Return Policy?
The way your return is refunded will depend on your original payment method and the value of your return item:
Items with an original receipt are refunded to the original payment method
Items with a gift receipt will be refunded as merchandise credit equivalent to the price on the gift receipt
Cash or check purchases of more than $100 will be reimbursed as a company check mailed to the customer—this could take 14 business days
Purchases over $10,000 eligible for the merchandise credit refund will be issued the same day as Merchandise Credit Cards in the value of $10,000 and additional cards mailed to the customer to cover the outstanding amount
For Williams Sonoma Gift Registry returns, it will take up to 90 days of your event or the purchase date—whichever date is later—to receive a merchandise credit refund.
Williams Sonoma does not refund shipping fees and does not make price adjustments.
DoNotPay's AI Tool Can Smooth Out the Wrinkles in Your Return Process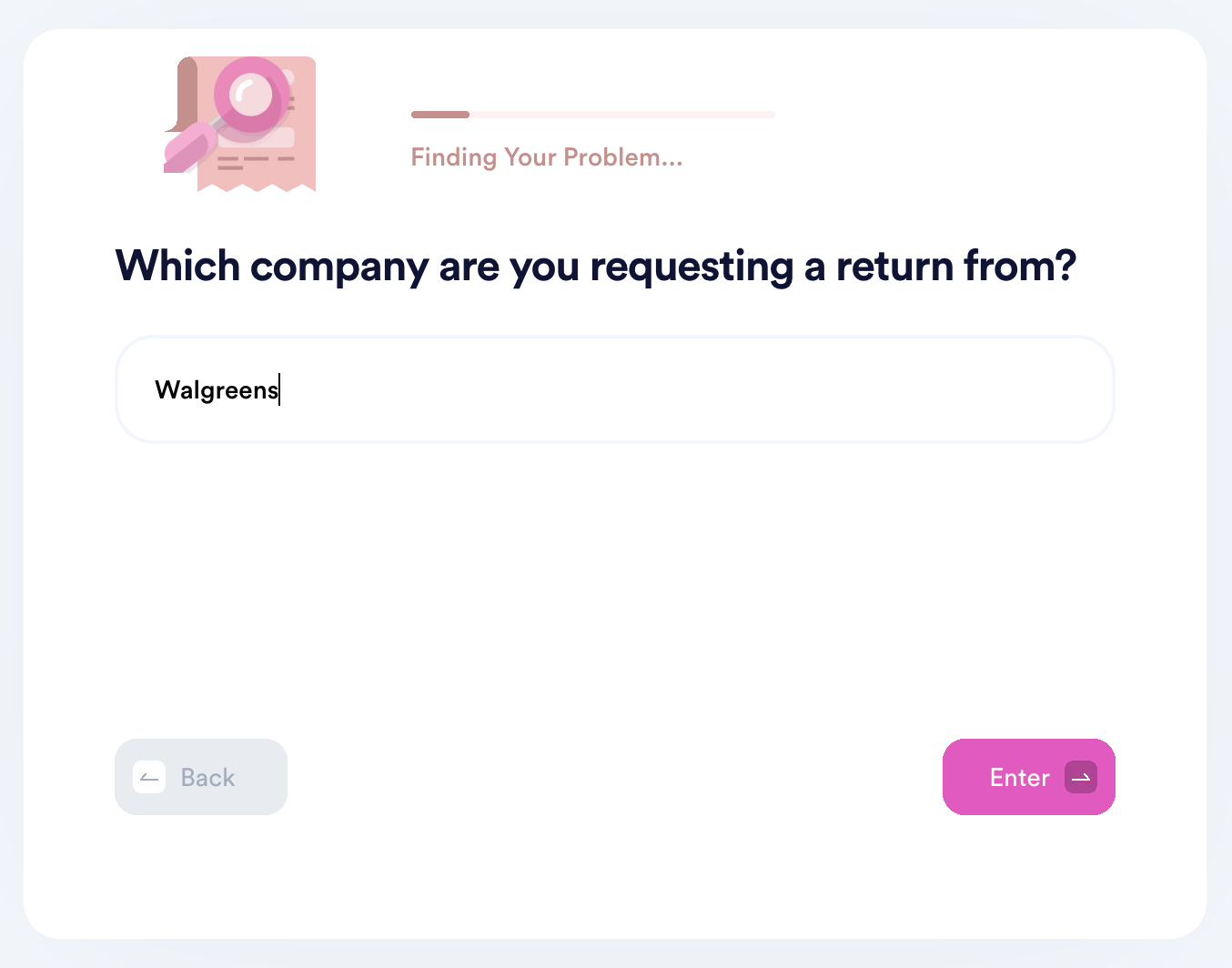 Our AI tool has condensed the return process to a few clicks. To use DoNotPay's Return My Purchase product and send a return request letter, follow these few steps:
via a web browser
Look for the Return My Purchase tool
Answer a few questions related to your purchase
Submit the request
That's it. DoNotPay will create a custom return request letter and send it to the merchant with a deadline to urge the seller to process your request swiftly. You'll also receive a return label so you can send back your items without paying for shipping.
DoNotPay has an immense learning center where you can find out about the return policies of many companies people purchase from daily:
Sick of Dealing With Companies? We'll Take Over
Companies that don't respect your consumer rights are the reason why DoNotPay exists—our range of AI-powered products is here to help you fight for justice.
If you want to demand a refund for a rescheduled flight, cancel your free trial using our virtual credit card, sue any company or individual in small claims court, appeal your parking tickets, protect your work from copycats, claim warranty and insurance, rely on your AI-driven personal assistant.
Don't want to pay sky-high lawyer fees for simple legal tasks? You shouldn't—use DoNotPay to draw up any legal document, including a child travel consent form, divorce settlement agreement, power of attorney, and many more.
Complete All Tasks From the Comfort of Your Home
As soon as you subscribe to our versatile app, you'll be able to do all of the following without leaving your home: