Answered—What Happens if You Get a Scholarship and Don't Go to College?
Tuition fees in the United States cost thousands of dollars at both college and high school levels. When paired with other education-related expenses, fees can reach a number that only a small portion of students can pay on their own. The rest have to rely either on loans or financial aid in the shape of scholarships and grants.
But what happens if you get a scholarship and don't go to college? In this article, we'll explain the process during such occasions, and we'll also show you where and how you can find financial aid programs with little to no effort.
How Scholarships Work
Financial aid programs offer students help with paying their tuition fees so they could afford a degree. Scholarships are separated into different types based on two aspects:
Award providers

Federal and state governments
Educational institutions
Companies and private donors

Requirements for eligibility

Merit-based scholarships
Need-based grants
Award Providers
Federal and state governments and organizations provide help to students that belong to their target audience. Usually, students need to be U.S. citizens or permanent residents to get a federal scholarship, but some programs provide aid to international students as well.
Another source of scholarships is the high school or college a student is enrolled at. Schools and universities offer programs designed exclusively for their students, regardless of the level of study—from high school freshmen and juniors to college undergraduates, graduates, and doctoral degree students. Some colleges also offer scholarships for high school seniors who have the ambition to enroll at the same college.
Companies and private donors run scholarship awards for students who fit a certain profile. That could revolve around a specific field of study—e.g., architecture, computer science, teaching, engineering, accounting, foreign languages—or a student's background, such as being a:
Student of faith, for instance:
Scholarship Requirements
Merit-based scholarships provide financial help to students who demonstrate academic excellence and individual achievement. To judge these categories, scholarship providers take into consideration the following:
Need-based grants allow students to get financial aid even if they don't excel academically. To obtain need-based awards, they have to prove their financial need by filling out the Free Application for Federal Student Aid (FAFSA) form or the College Scholarship Service (CSS) profile.
Once a student fills out the required form, scholarship providers can determine the student's Expected Family Contribution (EFC), which shows their family's yearly income. Only students with EFCs below a certain amount are eligible for these grants.
What Happens When You Get a Scholarship?
If a scholarship provider accepts your application and decides to award you, you will receive money. Scholarships aren't paid directly to students, which means that the money won't come in the form of a check. A scholarship provider will send the funds directly to your student account, reducing your overall tuition fee.
Only a small percentage of scholarships offer to cover the costs of attendance in their entirety. So, what happens when you get a scholarship that offers only a little boost—say $500 or $1,000? Nothing is stopping you from applying for multiple scholarships and adding up the rewards to lower or eliminate any expenses on your part.
What Happens if You Get a Scholarship and Don't Go to College?
Most scholarships are nonrepayable, so you don't have to worry about debt unless you fail to meet certain expectations you agree upon when you receive an award. In that case, you will have to return the funds invested in you.
Reasons for which scholarships demand a refund include:
Changing your major
Not achieving the minimum GPA
Participating in illegal activities
Dropping out or withdrawing from classes
If you stop going to college, you will have to give the money back unless the reason for your dropping out is one of the following:
Illness
Death of a family member
Taking care of a dependant
You can also be a high school senior who landed a college scholarship but has changed their mind about enrolling or decided to take a year or two off to travel. In that case, since the aid provider hasn't already put funds into your account, you won't have to pay anything back.
The scholarship will expire, and you will have to find another program once you decide to return to your studies.
Where To Find Scholarships
Before you can apply for scholarships, you need to do your research and find the ones you're eligible for. This can be a tedious task, as it can take you months to find out about all the available scholarships out there. If you have trouble finding financial aid programs, this table can help you with your research process:
| Where To Look | How It Works |
| --- | --- |
| Your school's financial aid office | Most schools and colleges in the U.S. have financial aid offices that help students find scholarships. When you visit them, they will go over your academic performance and financial status to give you examples of programs you can apply for |
| Your school's website | Universities have financial aid sections on their websites to present their students a list of scholarships they can get, provided they meet the criteria |
| | If you don't want to look for scholarships manually, you can use DoNotPay to get a custom list of all available scholarships you're eligible for within minutes |
What Happens When You Use DoNotPay To Find Scholarships?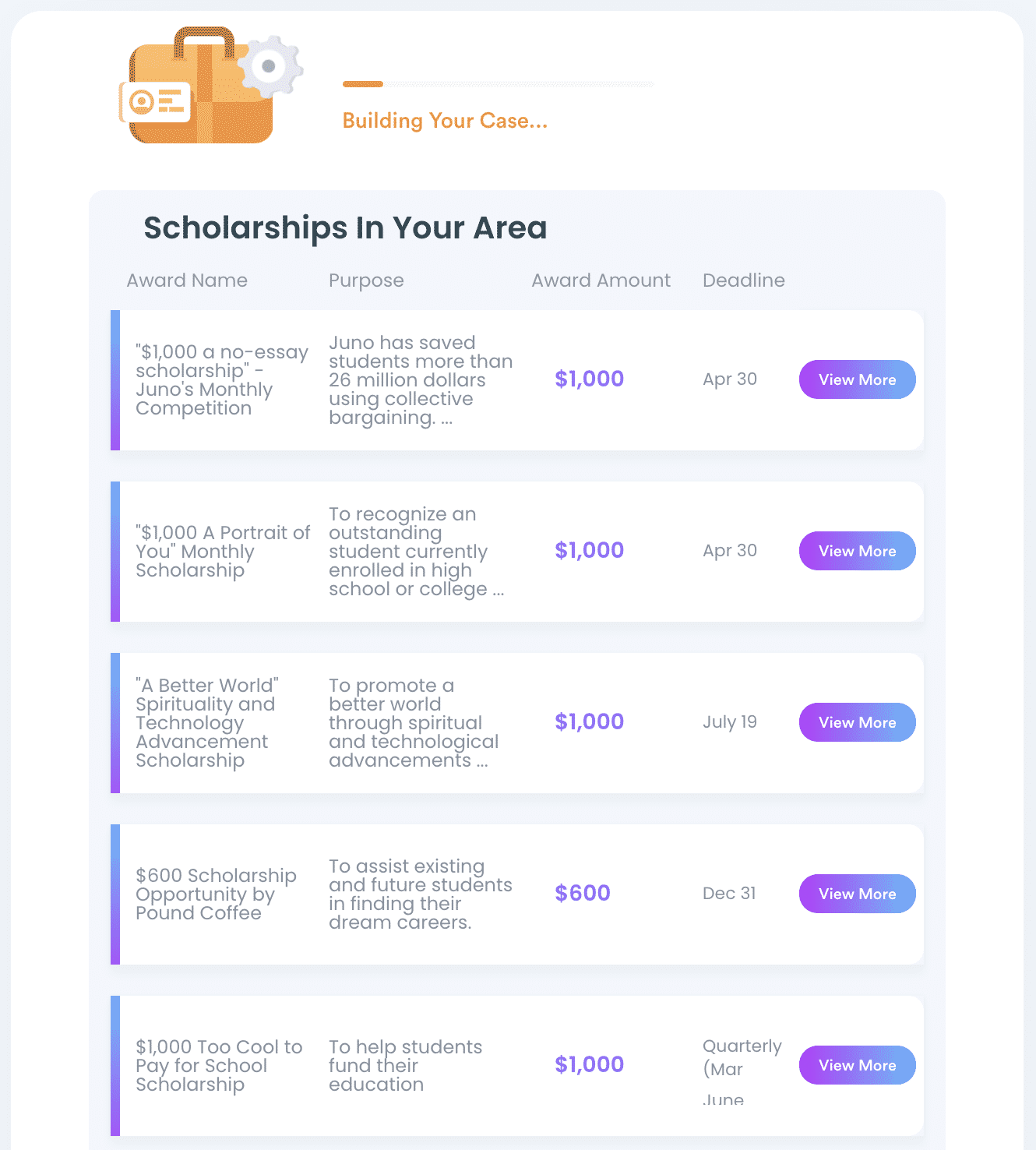 Obtaining a scholarship consists of two processes—research and application—and DoNotPay can help you with both! With our app, you will be able to complete the entire research in under five minutes and apply for no-essay scholarships automatically.
Why waste hours searching, visiting financial aid offices, or browsing the Internet? Use DoNotPay and receive a comprehensive list of scholarships you're a good match for in a few clicks. You only need to:
using your browser
Go to the Apply for Scholarships product
Answer a few questions
Choose the type of scholarship you're interested in
We will provide you with a list of all scholarships you can apply for, together with the necessary information about the programs. You can use our app to skip the application process if there's a program that doesn't require a written essay.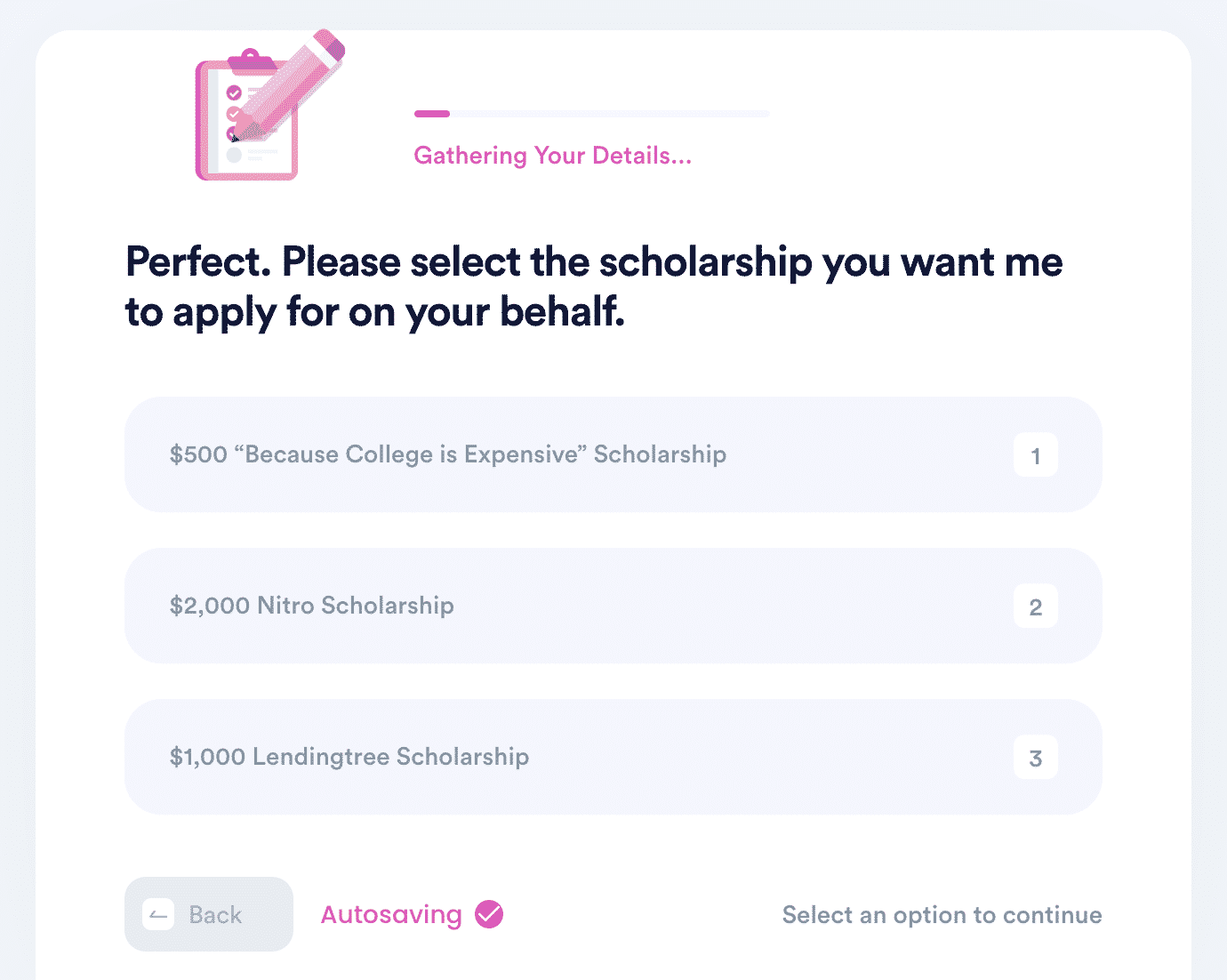 DoNotPay Turns Any Tiring Task Into a Piece of Cake
Are you tired of dealing with bureaucratic or legal matters on your own? You no longer have to—as soon as you subscribe to DoNotPay, we'll take any exhausting task off your plate.
Our app is capable of drawing up legal documents—including marital settlement agreements, child travel consent forms, powers of attorney, defamation demand letters, and affidavits to homeschool—getting them notarized remotely, filing complaints against companies, suing any individual or corporation in small claims court, sending FOIA requests, and so much more.
The World's First Robot Lawyer Offers So Much More
DoNotPay's capabilities don't end there—we can also:
Help you get a tourist visa