Here's Everything You Need To Know About the West Marine Return Policy
Are you not quite satisfied with the purchase you made at West Marine? You ordered the items online, and they came damaged or incomplete? Don't worry—West Marine allows you to return the item in question, but to be able to do so, you need to follow certain rules stated in their return policy.
We will explain the West Marine return policy to help you understand how to return your item and get a refund and show you how to use to facilitate the process.
The Ins and Outs of the West Marine Return Policy
All items bought at West Marine can be returned within 30 days of purchase for a full refund issued to the original payment method. The store will refund items returned after the 30-day window, too, but only with a West Marine Gift Card.
The item you would like to return must be:
Unused
In its original packaging
Returned with proof of purchase
If you do not have proof of purchase, the store will try to verify it if you reach out to them in one of the following ways:
Dial 1-800-BOATING
Communicate through the LiveChat found on the website
Send an email to wmCustomerService@westmarine.com
West Advantage Rewards Members do not need to show receipts to get refunds or exchange their items.
Note that some items are non–returnable, namely:
Gas, electric, and trolling motors
Installed products
Flares, charts, publications, and any other item whose expiration date has passed
Registered items (boats, EPIRB, PLBs, SPOT)
ACs, generators, appliances
Open computer software
Special orders
Items that are cut or customized—cables, rope, hose, chains
Refund Methods
West Marine offers refunds, West Marine Gift Cards, or company checks, depending on the original payment method. See the table below for more details:
Methods of Payment
Refund Options
Debit cards:

Master Card
Visa Insignia

Full refund to the debit card used for the original purchase
Other debit cards or cash payments over $100

West Marine Gift Card
Company check
Returning the Item You Ordered Online
You can return the item you bought online to the store closest to your location, provided that you have proof of purchase. You can provide the following as proof of purchase:
Receipt
Order number
Order confirmation email
If you are unable to return the item to the store and wish to send it via mail, you can start the process by going to West Marine's website and entering your order number to find your order.
DoNotPay Will Help You Return Products Quickly and Easily
West Marine's return process can be complicated and lengthy. Instead of going through the trouble of completing the return request yourself, let DoNotPay simplify the process with the Return My Purchase tool.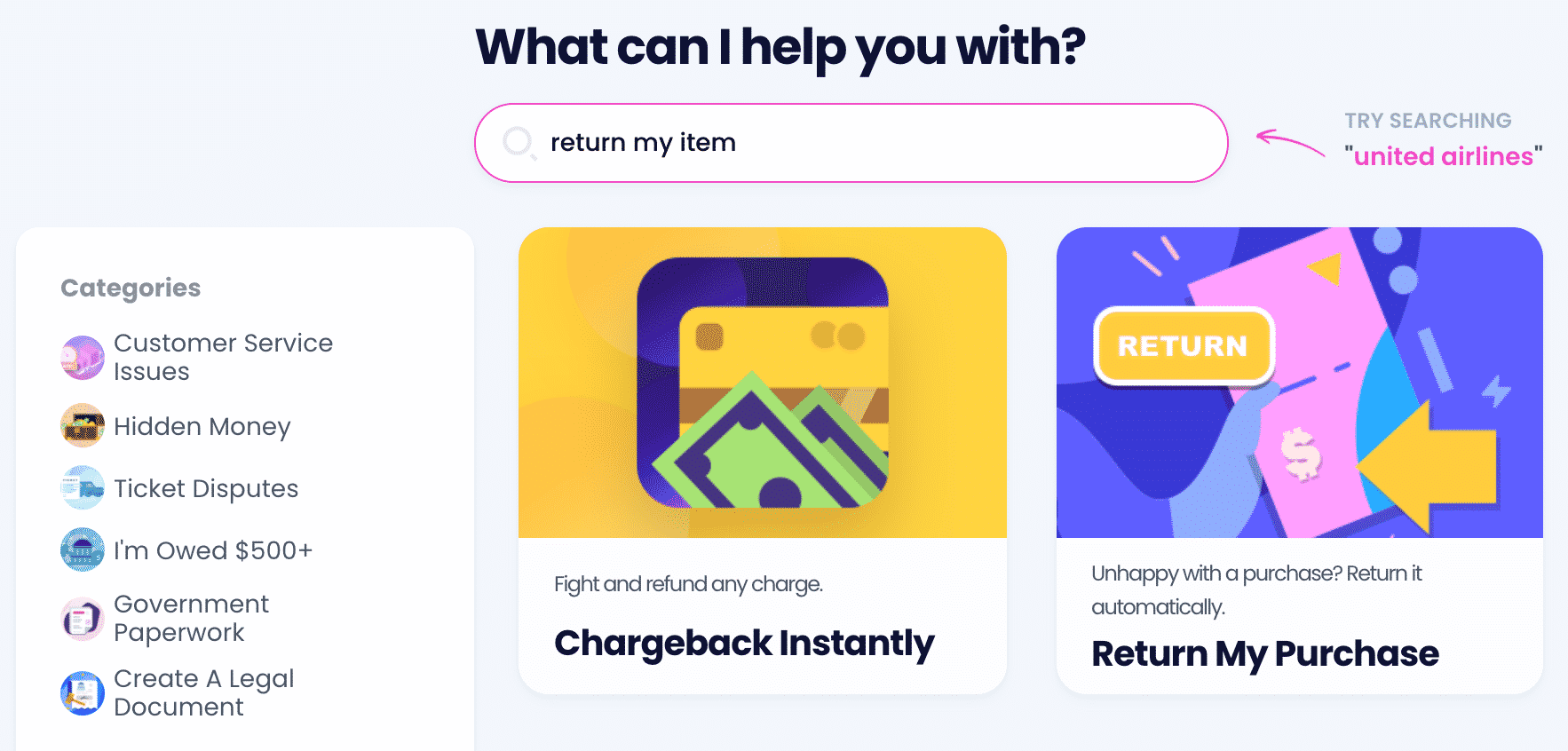 All you need to do to use DoNotPay's product is:
Go to the Return My Purchase page
Answer our questions
Provide photos if you have them
Click on Submit
We'll draft a customized return request letter and send it to West Marine. If you're concerned that West Marine will take too long to process your claim, relax—DoNotPay will include a deadline to make sure the store processes your request as soon as possible.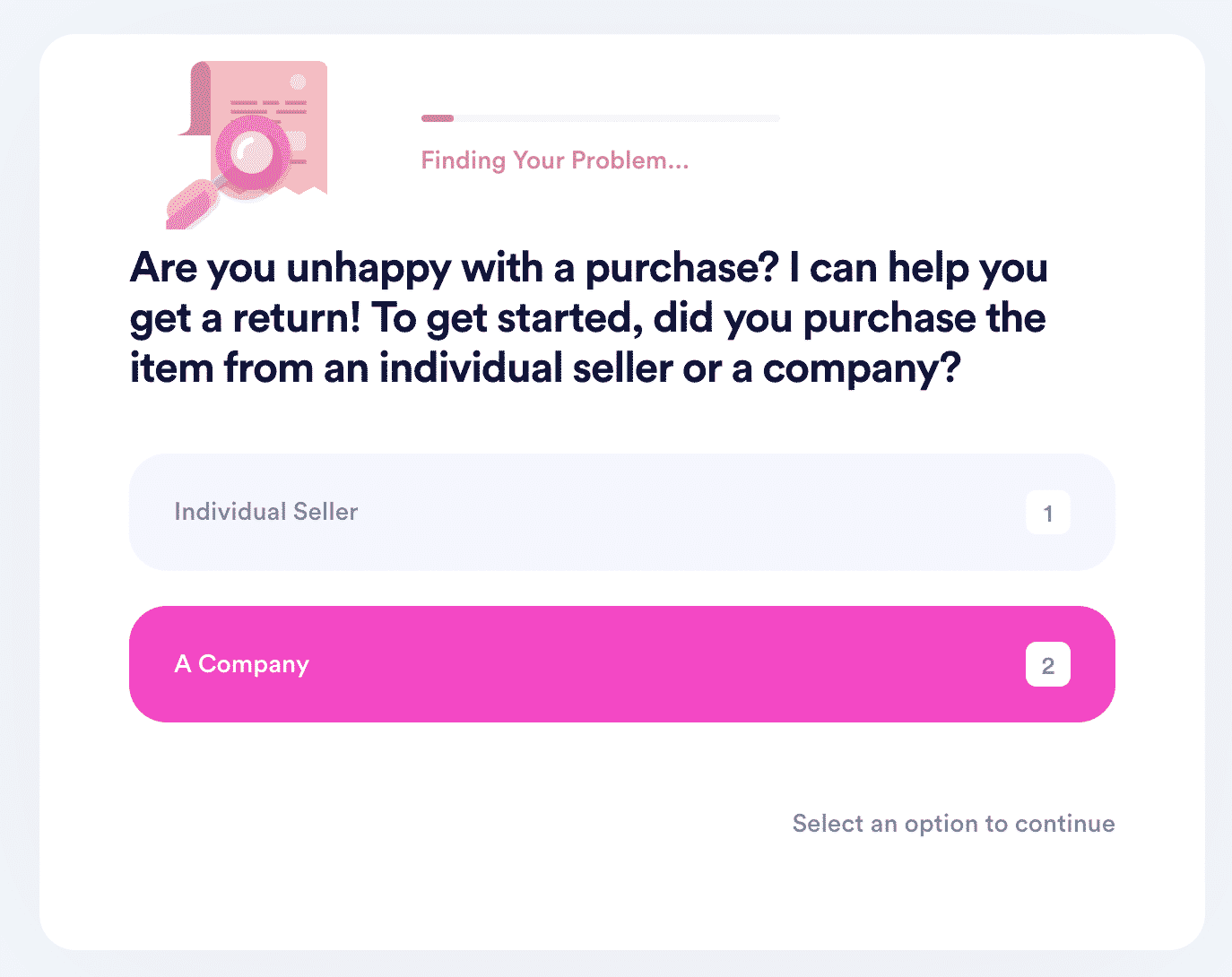 If you wish to speed up return processes with other retailers, consult the table to see some of the merchants DoNotPay can help you with:
Is the Situation With the Merchant Getting Messy? Take Them to Small Claims Court!
If you feel like the merchant has wronged you, our AI-driven app recognized by the ABA Brown Award will help you sue them in small claims court! You don't need to worry about filling out lengthy court forms or collecting evidence for your case—we'll step in and do it for you!
You can use DoNotPay to generate any legal document you may need for the lawsuit, add legal weight to it through online notarization, and fax it to the court—all in a matter of mere minutes.
Facing any other legal issues? Check out how our app can assist you in:
We Can Help in Many Other Ways!
No matter what kind of assistance you need DoNotPay to provide, you can rely on it to solve any admin or legal issues you may have.
You can use our app to jump the phone queue when contacting any support team, skip the line at the DMV, get cash back on gift cards, create a valid passport photo, appeal any banned account, file an insurance or warranty claim, and get in touch with a loved one in prison in a snap.