Is a Virtual Google Play Card the Right Solution for You?

You've seen ads on your web browser and watched them during a break on your favorite show. You've heard about them from your peers. They hook you with the promise of the best deals and satisfaction. While a  can help, you are trapped, and before you know it, a chunk of your moolah is gone! 
That's the dark reality of free trials, and the catch, you must provide your credit card information. Once you give it and start enjoying the free trial, you lose focus and forget to cancel on time.
The business automatically rolls you over to a subscription tier and starts charging you! In the worst cases, canceling the subscription becomes an entirely new nightmare. You can avoid all that hassle by using a virtual credit card with the help of DoNotPay.
What Is a Virtual Google Play Card?
A  is a digital card preloaded with a monetary value you can use to purchase apps, movies, books, video games, and any other app-related merchandise within the Google Play store app or online store.
These cards are non-reloadable. Once you deplete the card's face value, your only option is to purchase another card. Nevertheless, Google Play offers reloadable cards to corporate customers at Omnicard.
Are Virtual Google Play Cards Free?
Virtual Google Play cards are free. While the card doesn't have a purchase or activation fee, Google Play will charge you a face value.
Depending on your preferences, you can purchase the card online or in stores countrywide. The virtual card comes in denominations of $10m $15, $25, $50 and $100.
Benefits of Using a Virtual Credit Card
Virtual credit cards, such as virtual Google Play cards, are lifesavers. They can help you avoid a deep dark void of unwanted charges and renewals.
Before you refute the need for a VCC, consider these benefits:
Increased control. You create the VCC only when you need to make payments to a specific vendor for specific times and specific amounts. This gives you control over your funds.
Subscription control. It's a breeze to analyze each subscription by using a VCC. Single out that greedy merchant overcharges you or charges before the due date. Track your subscriptions, and when the time is right, you can cancel them by deleting the VCC.
Budget insights. When you link a VCC to your bank account, you'll keep track of your expenses individually. If any of them goes beyond your budget, nip it in the bud.
Anti-Fraud and anti-theft functionalities. While your VCC is linked to your bank accounts, your personal identifiable information stays hidden. The tech encrypts your info and tokenizes data, making it challenging for prying eyes and malicious entities to use the card.
Efficient account payable processes. The standard account processes are marred with archaic methods and paper trails. All VCC-related processes are digitized and online, eliminating the need for paper and annoying processes.
Drawbacks of Using a Virtual Credit Card
Despite the many perks of a VCC, we must point out what challenges you might face with this tech.
Some shortfalls of VCCs include:
Challenges with returns. After paying for an item online and finding it's faulty or below acceptable standards, it's best to return it. Unfortunately, the VCC you used no longer exists since it expired once you exhausted the funds. So, where will the merchant credit the funds?
Impossible to verify a transaction. Certain transactions, such as hotel reservations, might require you to present a physical card during check-in. The lack of a physical CC might make it challenging for you to prove ownership which might also land you in trouble.
Needs more popularization. While the technology has existed for almost a decade, many businesses don't know the ins and outs. Therefore, all stakeholders must invest in publicizing VCC if they want more convenience for their customers' payments.
How Safe Is a Virtual Google Play Card?
The harsh truth is your virtual Google Play card isn't 100% safe. According to Fraud.org, they have received numerous complaints of scammers attempting to scam consumers with their cards. In some cases, they have succeeded at ripping off consumers some cash. 
According to the watchdog, the top security scams you should watch out for come in the form of:
IRS and Government impostor
Tech support
A family member in an emergency
Discounted goods and services
Email requests
To protect yourself and your loved ones, avoid buying and sharing the card's redemption codes via phone call to anyone.
If you or anyone you know have been victims of such a scam, immediately report to:
Don't be afraid to speak up if you feel someone is threatening your safety.
Where Can You Get a Virtual Credit Card?
Virtual credit cards have revolutionized how customers are paying for their bills. Additionally, you can't deny that the perks are convincing enough to adopt this tech.
You can get one directly from your bank, if it offers a virtual credit card service. You can also link your current card to an online service. Another way is to get one from DoNotPay.
Banks
If you need to make online purchases, source your VCC from:
DoNotPay
A VCC from DoNotPay gives you the best advantage you need to fight and avoid the entrapment of free trials. The VCC lets you enjoy any free trial peacefully with no worries about auto-renewals and paid subscriptions.
However, you must know a DNP's VCC cannot hold any real money. It's not connected to your bank account, so you can't use it to make online purchases.
On the brighter side, the DNP's VCC is ideal for:
What Is the DoNotPay Free Trial Card?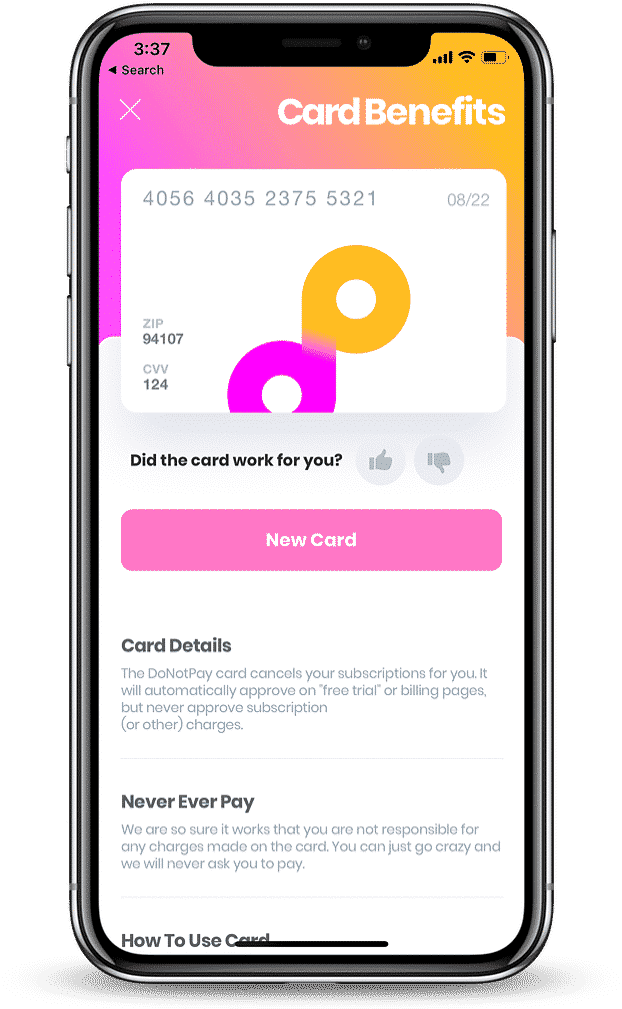 A DoNotPay free trial card is not any different from your standard physical credit card. The DNT free trial card is a VCC like any other, but with added functionality. The standard physical credit card uses a single-use token sent to the merchant whose bill you pay.
On the other hand, a VCC is a random 16-digit number tethered to an existing account number or credit card. You can create the VCC for single or multiple uses. A virtual credit card generator generates this random number, together with the expiration date and card verification value (CVV). When you produce these three to the merchant, their systems record them valid, and your transaction will go through.
The same applies to DoNotPay's free trial card. In this case, the virtual credit card generator generates the number and a random email address that you can use when registering your subscriptions and free trials.
Any vital information the subscription service needs to relay, it will do so via this 'fake' email address that'll send that info to your actual email address. The cherry on top, this service is free to you, and it's super easy to make it happen and enjoy the perks, especially saving you time and resources.
Access DoNotPay from your web browser and choose the virtual card option. Leave the rest to us to:
Generate a random card number for you
Automatically approve free trials and billing pages
Halt and disapproving auto-renewals or any additional charges
Cancel your subscriptions
It's hard to spot a malicious website or fraudulent merchant looking to commit credit card fraud or theft. Fortunately, none of them can use your VCC since the card is programmed chiefly for single-use targeting a specific vendor and for a specified amount.
Where Can I Use DoNotPay's Free Trial Card?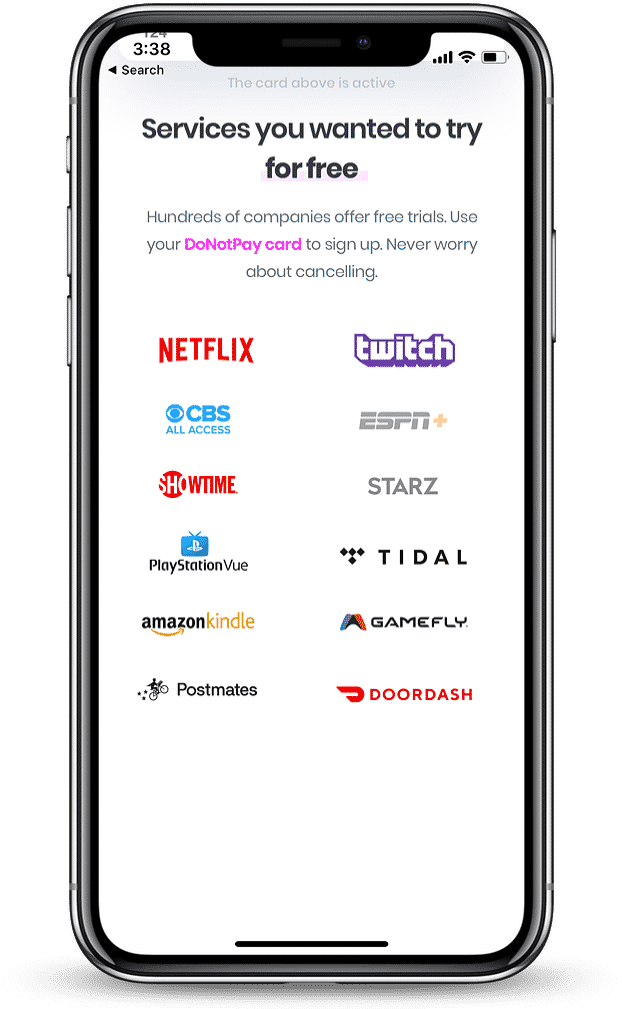 Unfortunately, merchants don't care or understand you forgot to cancel a free trial. They'll automatically charge your account. It's worse when you try to cancel the subscription, and the merchant will introduce some weird rules.
Now, there's a convenient way to avoid such disappointments by using DoNotPay free trial card for:
Free trials
Card, not present transactions
Hotel booking and reservations
Car rental
To be specific, you can use DoNotPay VCC to pay for the following merchants and services:
What Else Can DoNotPay Do?
Now you have the information you need about virtual google play cards. Our efforts don't end with that. We have designed our platform to be versatile and assist you in numerous challenges such as: