Eno Capital One Virtual Credit Card—A Safer Way To Shop Online

Online shopping is fantastic. It's easy, comfortable, and it saves you from having to roam around stores with a million other people. Despite its unmatched convenience and numerous benefits, online shopping does have a few rather dangerous pitfalls.
The primary concern has to do with the security of your financial details. Giving away your bank account and credit card information proved to be risky, as it leaves you vulnerable to fraud. Even if the merchants you are buying from are legitimate, hackers are a real threat. With cybercrime and cyber fraud becoming our new reality, the need arose for a safer way to conduct online shopping.
Virtual credit cards (VCCs) are an ideal solution to enjoy all the benefits of buying products and services on the Internet without risking any of your funds or your personal data. They add an extra layer of protection by generating a random credit card number, expiration date, CVV, and other parameters, allowing you to shop online without disclosing your actual credit card information.
Virtual credit cards are typically issued by major banks and other financial institutions and are a perfectly legal and legitimate alternative to chip credit cards for online purchases. Capital One Eno is one of the most popular VCCs available to U.S. citizens. We'll show you how Eno from Capital One works, how you can get one, and what its major advantages and drawbacks are, so you can discern whether it's the right choice for you.
What Is
Capital One Eno
and How Does It Work
?
Capital One's virtual credit card, Eno, relies on a virtual credit card generator to create a random Capital One credit card number that you can use for online transactions. It meets all the demands of a proper card number and comes with its unique security code and expiration date.
To any merchant, Eno Capital One will appear as a regular chip card, with one major difference—it doesn't disclose your bank account or credit card details.
Capital One uses a credit card number generator to produce unique VCCs for each payment or online merchant.
Your Capital One virtual credit card will come with:
A 16-digit card number

Security code

Expiration date
You can provide Capital One Eno details at the time of the transaction, and the funds will be charged as if you paid with your regular Capital One card. The difference is that the merchant will not see or be able to store your bank account details, so even if they are fraudulent or a victim of a cyber-attack, your account will be safe.
How Do I Use My Capital One Virtual Credit Card??
If you have a Capital One online account, the process is rather straightforward. All you need to do is log into your account and navigate to Capital One's virtual assistant—Eno.
If you don't have an account but are using Capital One card services, visit Capital One's homepage and click on Set Up Online Account.
To start using Capital One Eno for online purchases, follow these simple steps:
Open Eno on your web browser

Sign up using your Capital One online account information

When the time comes to pay for your items, click on Eno and generate a VCC

Use the details to pay

Check the transaction on your VCC report or your regular Capital Eno account
You can add the Eno extension to your browser (it works on Edge, Chrome, and Firefox), and the virtual assistant will pop up automatically once you hit Pay. That way, you won't have to login every time.
Capital One offers VCCs that are linked to a specific merchant. You can have an Amazon card, a Netflix card, a Walmart card, etc. You can also name the cards as you see fit. You won't be able to mix cards and online businesses, so you'll need a designated card for every website you buy from.
Eno allows you to view your transactions, check expiry dates, and close or block your VCCs. It is relatively easy to keep track of everything because the website is user-friendly.
Where Can I Use the Capital One Virtual Credit Card?
You can use the Capital One VCC to pay for all your online shopping. Since the card appears to merchants as a regular credit card, there are no limitations to what and where you are allowed to buy.
When it comes to restrictions, you should be aware that you cannot use a virtual card for in-store shopping. VCCs are only eligible for purchases over the Internet. The same goes for Capital One virtual cards. You won't be able to buy anything offline or withdraw cash from an ATM with them.
What Are the Benefits of
Capital One Eno
?
Instant approval virtual credit cards like Eno offer numerous benefits, with the most prevalent being:
Safe online purchases

Better overview of your spending habits

Budget control
Improved Safety of Your Banking Information
The primary purpose of the virtual credit card from Capital One is to ensure that you won't fall prey to fraudulent merchants and malicious hackers. Since the card is designated to a particular retailer or service provider, it cannot be used for other payments. For extra safety, you can even create single-use cards for one-time purchases.
Eno will ask for your permission for every transaction conducted by your VCC, so you can instantly detect any suspicious activity. Although it is relatively easy to spot unauthorized payments even with regular cards, VCCs serve as an additional buffer.
In case there is something dodgy going on with your chip card, you can report it and cancel your card. Unfortunately, it takes time to get a new one, and your account details must be changed as well.
With VCCs, the process is much simpler. You can close the virtual account yourself in a matter of minutes, and since the real account is not visible to the fraudsters, they can't access your funds. You can then create a new Eno Capital One virtual credit card and continue shopping online.
Spending Habits
It is surprising how many consumers have no idea how much they spend and where, especially when it comes to online shopping. With various virtual accounts assigned to particular retailers, you can have a clear picture of where your money goes.
Capital One allows you to view your accounts separately, so you can track the amounts you spend at a specific online store. It comes in handy if you want to check or adjust your consumer habits.
Budget Control
One of the best features of VCCs is that you can set limits on them. Specifically, you can restrict them to:
Service providers

Limited amounts of money

Specific expiry dates
This means that you can predetermine how much you are going to spend and where. You can also set expiry date, so no purchases would be allowed after a particular time. That way, you can control your budget, and it is an excellent feature if you have a joint account with someone.
Are There Any Disadvantages To the Virtual Credit Card From Capital One?

The biggest drawback of the Capital One VCC is that it cannot be used for in-store shopping. If you are not a passionate online shopper, then this card will not be particularly interesting to you.
Although it is useful for purchases over the Internet, you should be aware of a few issues that may occur when you use a virtual credit card. Don't use the card in case:
You may have to ask for a refund

You are buying airline tickets or booking accommodation

You seek long-term subscription to a specific service provider
Refunds With Capital One VCC
Some retailers will ask for the card used for the purchase to make a refund. If your card expired, you wouldn't be able to meet such a demand. This may force you to accept credit at the store, but it's not the same as getting your money back. When you buy things with VCC, make sure that the expiration date is set at least a month from the time of the purchase.
Tickets and Vouchers
If you are paying for airline tickets, accommodation, or other tickets and vouchers, always check the pick-up policy of the merchant. Some companies will ask for the credit card that was used for the purchase as identification. Since your regular Capital One card does not have the same number as your VCC, it won't do the trick. You should use a plastic card for this type of payment.
Virtual Cards and Long-Term Subscriptions
If you are subscribing for something and you are sure that it will be a long-term service, paying with your VCC may not be a good idea. You should pay close attention to expiration dates because the service will be terminated if your Capital One VCC expires, and the provider uses that data to renew your subscription.
For a better overview of the pros and cons of a Capital One VCC, check the table below.
| | |
| --- | --- |
| What is good about a Capital One virtual card? | What is not so good about a Capital One virtual card? |
| Data protection | No in-store shopping available |
| Connection to a specific website | Not suitable for tickets and vouchers |
| Limitation possibilities | Relatively short expiration dates |
Does
Capital One Eno
Guarantee Total Safety?
Although it keeps your bank account and credit card information protected, VCC from Capital One does not guarantee complete safety. The amount of money that you authorized for purchase can be stolen if you are dealing with a fraudulent merchant.
Eno will ask you if you would like to make the payment, and if you say yes, it won't check the credibility of an online business. You should double-check all the merchants you are dealing with before you decide to make the payment.
What VCCs can do for you is make sure that the rest of your funds are unavailable to fraudsters. You are not responsible for unauthorized payments, though, and all the funds used in such transactions will be returned to your account.
DoNotPay's Free Trial Card—A VCC That's Not Connected To Your Chip Card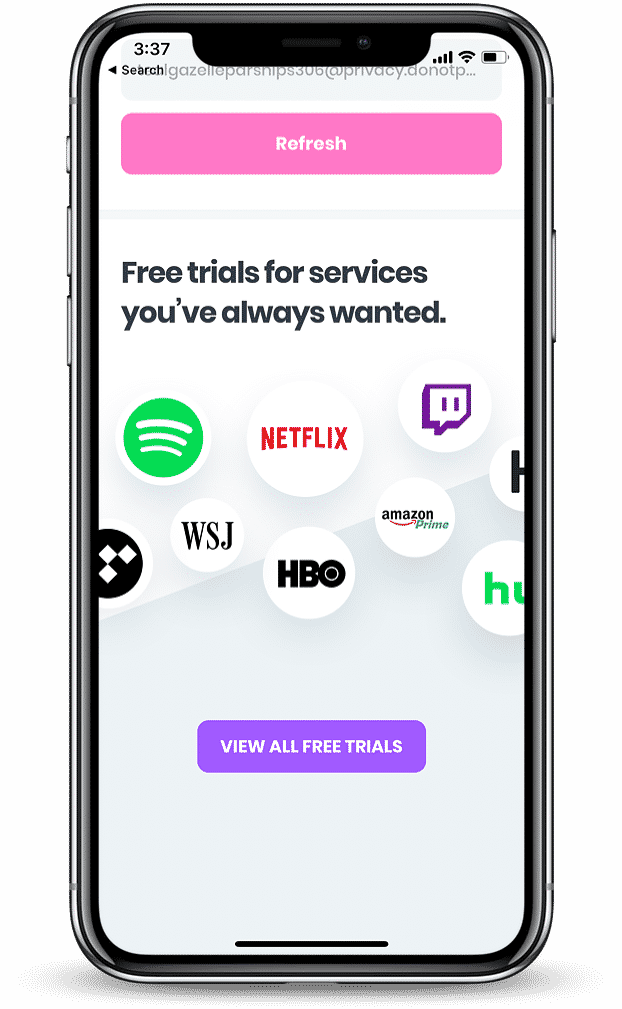 is the perfect solution for you if you want to try out a bunch of online services without having to fear unwanted charges, hidden fees, and automated subscriptions.
It is not uncommon to see subscription fees from a provider whose services you canceled miraculously appear on your bank statements. Some merchants make their cancelation policy so complicated that you cannot figure out how to unsubscribe from it.
While Capital One does send notifications when your subscription or free trial is about to expire, DoNotPay goes a step further. Since our Free Trial card isn't connected to your chip card, service providers won't have access to your banking details and will be unable to charge you or misuse your baking information in any other way both during and after the free trial. It is a unique VCC that allows you to subscribe to and check a variety of online services with a virtual card that does not require any funds to be deposited on it.
How Does the DoNotPay Virtual Card Work?

DoNotPay designed a card that is not linked to your account or your real card. It is a virtual card number that appears to the merchant as a standard credit card but is valid for registration purposes and trial periods only.
The process of getting the Free Trial Card is quite simple:
Log on DoNotPay via your

Select Virtual Credit Card option

Ask the app to generate a virtual card number for you
Once the time comes to hit that Subscribe button, just provide the details of your Free Trial Card and get started with the service. You don't have to worry about anything because DoNotPay has all the angles covered.
The Free Trial Card cannot be charged, and the app will check if you are subscribing for an actual free trial. If not, it will automatically cancel the subscription. DoNotPay will disable any automated subscriptions as well.
You should be aware that the Free Trial Card cannot be used for real purchases or subscriptions as it is not associated with your account or credit card. In case you would like to continue the subscription after the free trial, you must provide your actual details to the provider.
| | |
| --- | --- |
| Standard VCC | DoNotPay virtual card |
| Doesn't protect from automated subscriptions | Blocks automated subscriptions |
| Has funds deposited | No deposits required |
| Doesn't check the websites | Checks the websites for hidden subscriptions |
Where To Use the DoNotPay Virtual Credit Card?

You can sign up for free trials with many streaming giants and other online service providers by using the DoNotPay virtual credit card. If you are interested in any of the following, the Free Trial Card will get you started:
Showtime

Apple Music Premium

Postmates

Netflix

Jira

Doordash

Disney+

Kindle Unlimited

HBO
What Else Can DoNot Pay Do?
DoNotPay uses AI to help people who are struggling with fines, automated subscriptions, red tape, and anything else that requires lawyers, or any other pricey consultants. The app is entirely free. Access DoNotPay via your .
In case you are dealing with any of the above, ask the world's first robot lawyer to help. We at DoNotPay are excellent at:
Disputing traffic tickets

Fighting speeding tickets