Learn How to Start an HBO Max Free Trial With No Risks
HBO (short for Home Box Office) is a U.S. cable television network owned by WarnerMedia Studios & Networks. Launched in 1972, HBO is the oldest subscription-based TV service in America.
The network caused a seismic shift in the world of television in the late 1990s when it started producing its own content, some of which rose to cult-classic status. During this time, HBO created extremely popular TV shows such as The Wire, Sex & The City, and The Sopranos, changing the world of TV and media consumption for generations to come.
Can You Get an HBO Free Trial?
Yes, HBO offers a free trial period for each of its services.
There are three types of HBO free trials you can sign up for:
HBO Max (available through Hulu)

HBO Now

TV channel
The trial period for HBO TV and HBO Go is valid for seven days, while you can test HBO Now and HBO Max for a whole month. During the trial period, you can enjoy all the benefits of a regular, paid subscription.
How you go about obtaining your free trial will depend on the HBO service you wish to try out. Below is a detailed guide for each of the four main services.
HBO Max Free Trial
Update: Unfortunately, HBO Max Free Trials are now only available through Hulu. The standard HBO Max free trial offer has expired, and most providers have excluded it from their subscriptions. If a provider chooses to include an HBO Max free trial as a part of their promotional offer or subscription, you'll be able to see it on their sign-up page.
HBO Max is an online streaming service and an upgraded version of HBO Now. Customers who have an HBO Now subscription can upgrade to HBO Max free of charge.
The trial period for HBO Max is valid for 30 days.
Sign Up for a Free HBO Max Trial (Through Hulu)
Here's how you can get your HBO Max free trial through Hulu (for new subscribers only):
Press the "Start Your Free Trial" button.

Select which Hulu plan you want.

Enter your registration information and make an account.

Enter your credit card information.
If you change your mind about HBO Max, you can always cancel it at least two days before it turns into a paid subscription.

HBO Now Free Trial

Similar to HBO Go, HBO Now allows you to watch HBO content via the internet. You can use HBO Now without a TV subscription to HBO.
Unlike HBO Go, this platform doesn't stream HBO-produced materials exclusively but comes with a wider array of shows and films, including WarnerMedia hits like Friends, The Lord of The Rings, and more.
This free trial lets you use HBO Now for 30 days. If you aren't satisfied with the service, we've got a shortcut to canceling HBO Now.
Get the HBO Now Free Trial
To test out HBO Now before you commit to a paid subscription, follow these simple instructions:
Access

HBO Now

from a web browser, smartphone, or an Amazon Fire tablet

Select the free trial option

Provide your credit card information
Again, you should cancel the subscription at least two days before the trial ends, or you will be charged for using the service after 30 days.
HBO TV Channel Free Trial
Most TV providers offer a seven-day free trial that grants access to HBO channels on TV.
Some providers will even include additional channels owned by HBO production, such as Cinemax. You might also get HBO Go and HBO TV free trials as a package deal. Reach out to your TV carrier for more details.
How to Try the HBO TV Channel Out for Free
To take HBO TV for a test ride, contact your television service provider and ask them if they offer HBO, then request a free trial for one week.
If HBO TV didn't turn out to be your cup of tea, inform the carrier that you wish to cancel the service at least two days before the trial ends.
Will the HBO Subscription Free Trial Automatically Renew Into a Paid Subscription?

Yes, subscriptions for all HBO services automatically turn into paid subscriptions. You will need to cancel the subscription at least two days before the trial expires to avoid being charged.
If you don't cancel on time, you will pay for at least one month extra, and you will not be eligible to get a refund. When you cancel the subscription you paid for, you are allowed to use the service until the end of the paid billing period.
How Much Does HBO Max Cost After the Trial?
Depending on the service you tried out, a different monthly fee will be charged to your account after the trial is over.
Refer to the table below for more details:
| | | |
| --- | --- | --- |
| Type of HBO Service | Duration of the Free Trial | Monthly Cost After the Free Trial |
| HBO Max free trial | 30 days | $15 |
| HBO Now free trial | 30 days | $15 |
| HBO TV free trial | 7 days | Up to $10 |
What Are HBO Charges Going to Look Like on My Statement?
If you decide to keep the service after the free trial, HBO's subscription charge will appear on your bank statement. This is what it will typically look like:
| | | |
| --- | --- | --- |
| HBO NOW (855) 942 | HBO NOW (855) 942- HBO.COM | HBO DIGITAL SERVICES |
| GOOGLE *HBO DIG SV INC | GOOGLE *HBO DIG SV I855-836-3987 CA | HBO Dig Sv |
| HBO NOW (855) 942-6669 8559426669 | HBO Dig Sv In CA | GOOGLE *HBO DIG SV I G.CO/PAYHELP# CA |
| HBO DIG SV | GOOGLE *HBO DIG SV INC 8554925538 CA | GOOGLE *HBO DIG SV INC 855-836-3987 CA |
| HBO DIG SV INC | HBO NOW (855) 942-6669 | HBO NOW (855) 942- HBO.C |
| GOOGLE *HBO DIG SV INC 8558363987 CA | GOOGLE *HBO DIG SV INC 855-492-5538 CA | GOOGLE *HBO DIG SV INC XXX-XXX-3987 CA |
| TWX*HBONOW NY | HBO NOW (855) 942-6669 HBO.COM | HBO NOW (855) 942-666 HBO.COM NY |
| HBO NOW 855 942-6669 | HBO DIG SV I855-836-3987 | HBO |
| TWX*HBONOW | Hbo Now (855) 94httpshbo.comny | GOOGLE *HBO DIG SV IN 855-836-3987 CA |
Avoid Automatic Renewal With DoNotPay's Virtual Credit Card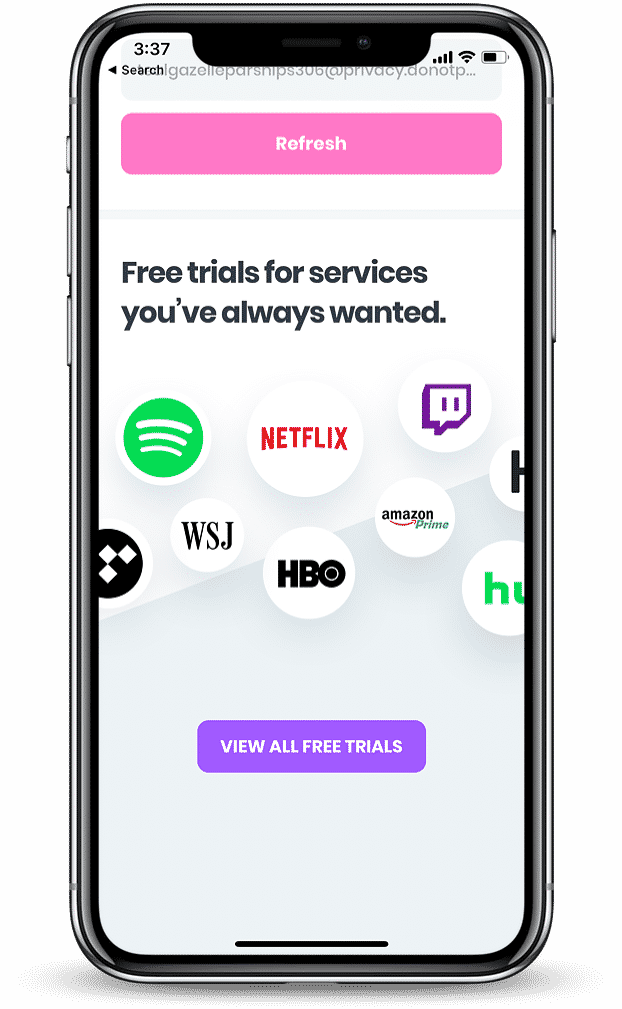 Many of us tend to forget to cancel free trials on time, and as a result, end up paying for something we didn't want or need.
This is where DoNotPay steps in with its Free Trial Card, a virtual credit card designed exclusively to sign up for various online trials. Our card generates a random, temporary card number that you can use as your payment method. You can also use DoNotPay's virtual credit card generator to quickly create a new credit card you can use once and forget about those pesky unwanted charges.
The Free Trial Card is not linked to your bank account and has no money on it, which makes your sign-up process 100% risk-free. When the service provider tries to charge you, the transaction will be denied, and you will be unsubscribed from the service automatically. Check out how you can do it with Starz, YuppTV, Willow TV, and CBS All Access.
How Else Can You Use DoNotPay?

DoNotPay is an indispensable resource for all kinds of administrative chores and bureaucratic issues.
Whether you're grappling with unsubscribing from a service or disputing a traffic ticket, let us know, and we'll go the extra mile to help. Cutting down on your streaming- or TV-related costs is much easier with our app, whether you need help with canceling your Sling TV, lowering your DirecTV bill, or suing them in small claims court.
You can access DoNotPay in just a few clicks from your and get assistance with:
Dealing with speeding tickets

Challenging traffic tickets