Digital Wallet—A Wells Fargo Virtual Credit Card Alternative
If you agree with us that you can never be too cautious when you're buying something online, then you've probably looked into obtaining a virtual credit card from your bank. If you're banking with Wells Fargo, you may be aware that they offer several digital wallet options that increase the convenience and security of your transitions.
Is There a Wells Fargo Virtual Credit Card?
Technically, the answer is no—but Wells Fargo offers a similar alternative solution to its customers who want to do their online shopping more safely. You can download a digital wallet on your phone and link your Wells Fargo cards to it. One of the main features of the bank's digital wallet application is its ability to generate a unique digital card number that acts as your actual card number.
Wells Fargo Digital Wallet Options
You can install a Wells Fargo digital wallet on your phone through these platforms:
Apple Pay
Google Pay
Samsung Pay
The Wells Fargo digital wallet comes with a variety of benefits, including:
Secure payments
Ease of use
Great accessibility
Secure Payments
By using one of the three digital wallet options with your Wells Fargo debit and credit cards, you will be able to make purchases using a unique digital card number. Vendors will not be able to see your actual card number, so there's no risk of misuse or your bank account information falling into the wrong hands in the event of a data breach. Wells Fargo also states that, with your digital wallet, you will continue to have the added security of 24/7 fraud monitoring and Zero Liability protection.
Ease of Use
Using the Wells Fargo digital wallet option on your phone is super simple. To enable the feature, confirm your identity either through a PIN, pattern lock, face ID scan, or fingerprint check. To complete a purchase, all you need to do is put your device on the contactless payment terminal in-store or select the digital wallet logo when shopping online.
Great Accessibility
Your Wells Cargo digital wallet widely accepted—simply look for the Contactless Payment symbol at checkout or at any Wells Fargo ATM, or the digital wallet logo when you're shopping online.
How To Get Started With Your Wells Fargo Virtual Credit Card
If you're not sure how to use your Wells Fargo credit or debit cards as part of your digital wallet app, follow these steps:
Depending on which smartphone you own, download Apple Pay/Google Pay/Samsung Pay
Add your eligible Wells Fargo debit or credit cards to the digital wallet on your phone
When you're ready to pay for your purchase in-store or online that supports contactless payments, open the digital wallet app on your phone
Next, choose the Wells Fargo card you would like to pay with
Tap and pay! You'll soon receive a payment confirmation on your phone
Now that was easy, wasn't it?
What is a Virtual Credit Card?
A virtual credit card is a more secure version of your physical, chip credit card. Its primary benefit lies in the fact that it can randomly generate a pseudo credit card number you can use in place of your actual credit card number. This creates an extra layer of information between you and the merchant, preventing them from seeing your real credit card details, thus making the transaction safer and minimizing the chances of cyber theft.
Your virtual credit card can also be used to fend off robocalls, another widespread type of scam.
Apart from Wells Fargo's digital wallet option, virtual credit cards are also offered by Citibank, Bank of America, and Capital One—to name just a few options. They each have some unique features, so do a little bit of research before deciding which one of these virtual credit cards is the right choice for you.
How Does a Virtual Credit Card Work?

The U.S. takes the unfortunate lead as the most credit card fraud-prone country in the world, with 38.6% of reported card fraud losses in 2018, according to Shift Credit Card Processing. With these alarming numbers on the rise, it is of utmost importance to amp up your security while shopping online.
Your first course of action should be to obtain a virtual credit card. The principle on which it works is simple, yet incredibly effective. When you use your virtual credit card online or over the phone, it creates a number—a 16-digit, single-use number that's sometimes also referred to as a controlled payment number. To the merchant, this will look like information from your actual credit card. With only a virtually generated number, you will be protected from a potential theft of your financial information online because your real credit card information hasn't been revealed. Quite ingenious, isn't it?
Why Applying For a Virtual Credit Card Is a Good Idea
If you're on the fence about applying for a virtual credit card or downloading the digital wallet app for your Wells Fargo cards, know that it's one of the most effective ways to safeguard your financial data while purchasing remotely, without having your card physically on you. In addition, applying for a virtual credit card is free with most providers and doesn't require an elaborate approval process.
We have listed the most important advantages of owning a virtual credit card:
Cyber theft protection
Improved privacy
Ability to limit spending
Ease of cancelation
Cyber Theft Protection
By hiding your real credit card number and providing a temporary 16-digit number instead, you are preventing scammers and cyber thieves from stealing your financial details and selling them on the dark web. Spare yourself the trouble of having to report the case to the police and cancel the stolen card—not to even mention the financial damage you might suffer.
Improved Privacy
Were you aware that, according to Statistic Brain, 12 million Americans fall victim to cyber identity theft every year? It's a sobering figure that all but highlights the importance of enhanced cybersecurity. If the online vendor you're purchasing from doesn't have a robust security system in place, you are potentially at risk of a data breach and identity theft. This includes having your financial information stolen, as well as other sensitive information such as your phone numbers, home and work addresses, various passwords, social security number, and more. Using a virtual credit card is your best bet in protecting your identity and privacy from malevolent online hackers.
Ease of Cancelation
Canceling your virtual credit card is as simple as ABC, and doesn't involve canceling the bank account it's tied to. It is unlikely that you will want to cancel your virtual credit card at all—but in the odd case you do, you will not have to wade through mounds of red tape to do it!
Ability to Limit Spending
A virtual credit card has one additional benefit, especially if you tend to find it difficult to resist big sales! With this type of card, you can limit the number of transactions you make, as well as cap the maximum spend amount.
How Is DoNotPay's Free Trial Card Different?

Think about the last time you signed up for an online subscription free trial, but weren't exactly overwhelmed with the service. You were absolutely planning to cancel your subscription on time, only things got really hectic, so you forgot. And, before you knew it, an auto-renewed subscription charge slipped through the cracks.
It's a scenario familiar to most of us. With the average American already spending $237.33 a month on assorted subscription fees—a figure revealed by a West Monroe partners study—it is financially wise to keep a close track of your subscription costs. While a few dollars here and there may not seem like a big deal, they can add up quickly and could even amount to several hundred dollars' worth of unwanted charges during the course of the year.
Using DoNotPay's virtual credit card for free trial sign-ups is a fool-proof way to prevent any auto-renewed subscription fees charged to your bank account.
In brief, this is how our Free Trial Card works:
Generates unique and random credit card information
Gets automatically approved on "free trial" pages
Doesn't get approved on "subscription" pages
To enhance your privacy further, DoNotPay also offers the option of a random email address that you can use while signing up for the free trial. This spares you from having to provide your real email address and getting inundated by oodles of annoying marketing emails. Not to mention that the subscription provider will not be able to track your location and use your private information for sales leads. You can also rest assured that you won't miss any meaningful emails, as we will sift through all the messages and forward only the important ones to your real email.
Try Out These Services at Zero Cost With DoNotPay
There's a lot of fish in the sea of Internet subscriptions. Before you commit to a monthly subscription cost, make sure you take the shiny new service for a test ride. You can use DoNotPay's virtual credit card to sign up for the free trials of:
Postmates
Doordash
ESPN Go
Disney+
Apple Music Premium
Get Started With the Free Trial Card
Get the wheels in motion and apply for DoNotPay's Free Trial Card in a few short steps. All that you need to do is the following:
Open the DoNotPay homepage in your
Select the Virtual Credit for Free Trials option
Your temporary virtual credit card number will be generated
How Does DoNotPay's Free Trial Card Compare To Your Bank's Credit Card?

Think of DoNotPay's Free Trial Card as a perfect sidekick for your bank's credit or debit card. Instead of using your conventional credit card to sign up for free online trials and risk hefty and unwanted subscriptions fees, sign up for any number of trials with an ease of mind by providing the temporary number provided by DoNotPay's virtual credit card. Here's how these two types of cards compare.
| | |
| --- | --- |
| Your bank's credit card | DoNotPay's Free Trial Card |
| Allows unwanted charges | Doesn't allow unwanted or automatic charges |
| Shows your credit card information | Hides your credit card information |
| Carries the risk of cyber theft and data breach | Safeguards you from any fraudulent activities |
| Doesn't offer an associated email address | Offers a free email address to be used for free trials |
Best Uses for Virtual Credit Cards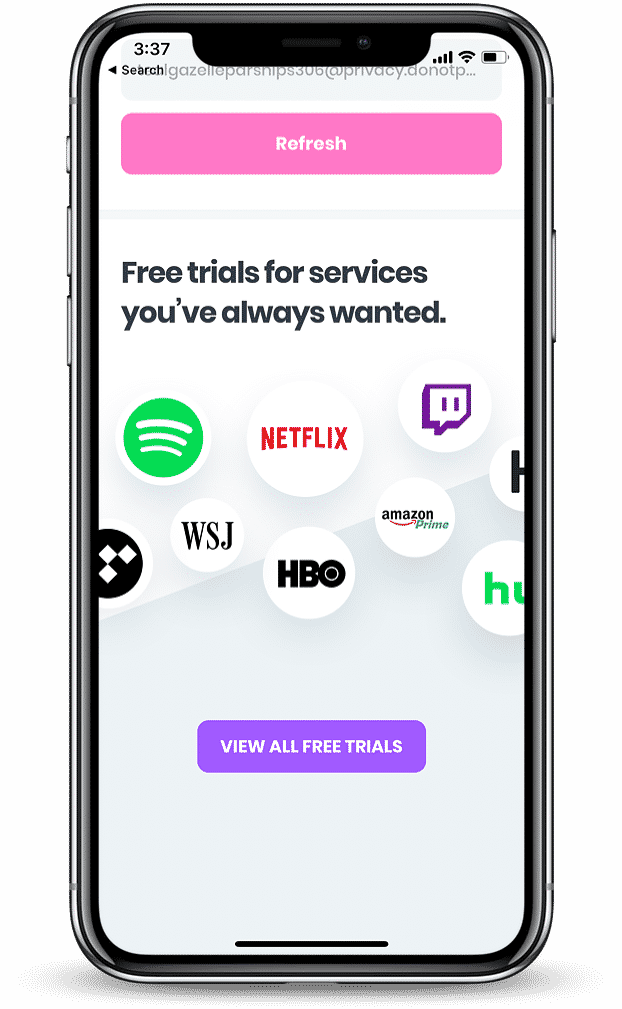 What's the best time to use your virtual credit card? We've jotted down three main instances in which your virtual credit card will be of most use.
Signing up for a free trial online
Paying for a non-recurring online purchase
Purchasing from an unknown vendor
Signing Up for a Free Trial Online
When you're signing up for a free online trial, DoNotPay's virtual credit card will generate a temporary number that's associated only to one transaction or a single merchant. This will prevent any unwanted fees from happening if you decide not to continue the subscription, but forget to cancel on time. Our Free Trial Card takes it up another notch and even rejects approval on websites that offer sign-ups for paid subscriptions only (no free trials).
Purchasing From an Unknown Vendor
You probably wouldn't take your business to a fishy-looking brick and mortar store, so apply the same principle for unreputable online shops. Websites that are generally safe to buy from should have a lock icon in the URL bar and start their address with "https:" (the "s" in the end means "secure"). If you must buy something online but are not sure if the merchant is legitimate, use your virtual credit card for a minimum-risk transaction.
Paying for a Non-Recurring Online Purchase
The rule of thumb is simple. If you're paying for something online or over the phone and it's not a recurring payment, it is much safer to do so with a virtual credit card.
Cons of Using Virtual Credit Cards
In which cases should you not use your virtual credit card, and should opt for a conventional card instead? We have listed the most common instances below.
When you need to verify your card information at a later stage
When you need to receive a return or a refund
When you need to set up a recurring payment
When You Need To Verify Your Card Information at a Later Stage
If you've used a temporary credit card number to pay, let's say, for a rental car reservation or a B&B accommodation, you may end up in a tangle if asked to provide the actual credit card for verification purposes. Obviously, the two numbers will not match. It is, therefore, always better to use your actual credit card on such occasions.
When You Need To Receive a Return or a Refund
Merchants tend to issue chargebacks using the same credit card information you provided when you purchased the item or service. If you are requesting a refund, make sure you provide your real credit card information so that it can safely make its way to your bank account.
When You Need To Set up a Recurring Payment
It's best to use your conventional credit or debit card for when you need to set up a recurring payment, such as a monthly subscription service. The practicality of virtual credit cards is best exemplified when you're making a one-off online purchase.
Advantages vs. Drawbacks of Virtual Credit Cards
There are plenty of reasons to obtain a virtual credit card. There are some minor drawbacks too, but they can be easily managed if complemented with a conventional credit or debit card as issued by your bank.
| | |
| --- | --- |
| Pros | Cons |
| Increased fraud and cyber theft protection | Complications related to obtaining refunds |
| Ease of cancelation | Inability to set up recurring payments |
| Ability to conceal your real card number | Inadequacy about verification purposes |
| Option to set maximum amounts and limit the number of transactions | Inability to withdraw cash in most cases |
Here Are a Dozen Other Situations in Which DoNotPay Can Help You Save Time and Money

Not only can DoNotPay generate virtual credit card numbers when you're signing up for free trials online, but it can also:
Dispute traffic tickets
Challenge speeding tickets
Who couldn't use some DoNotPay in their life? Our app is available on any .