The Easiest Way To Get a Grammarly Free Trial
Grammarly is an online grammar-checker and writing tool that helps you improve your writing by flagging grammatical and stylistic errors in your documents. It comes in several versions:
Free

—for personal use

Premium

—with advanced features

Business

—which comes with team management tools
With 6.9 million users, Grammarly is the most popular grammar checker in the world. The free version only catches typos, grammatical errors, and punctuation mistakes. To perform an advanced check, which provides insights into the tone, the writing style, and other subtle writing errors, you will have to upgrade to a paid version of the tool.
Does Grammarly Premium Have a Free Trial
?
Thankfully, Grammarly offers a free trial for its Premium version, although this option isn't available from the get-go. In fact, there is no mention of the free trial anywhere on the tool's homepage.
To start a free trial, you must first complete several steps. Before you're presented with the free trial option, you will need to have a week-old free account. After a week of using Grammarly, an option to refer it to friends will become available. The company will provide you with a link that you can share with friends and coworkers.
Fulfilling these two requirements unlocks a reward—up to six weeks of using Grammarly Premium for free.
There is an alternative to this time-consuming process. If you want to start a free trial immediately, you can contact the Grammarly team on their Twitter account, Facebook page, or their website, and request it.
How To Start a
Grammarly Premium Free Trial

There is another way to try out Grammarly Premium with minimum risk. While the tool does not offer a standard free trial for the Premium version, it does come with a seven-day money-back guarantee.
In other words, you can sign up for Grammarly Premium and cancel your subscription within the first seven days to get your money back. This way, you technically get to check out the tool for free.
Here's a step-by-step guide to starting a Grammarly Premium free trial:
Navigate to the official Grammarly website

Go to the

registration/sign up

page

Fill in the details—name, email address, password

Click

Sign up

Click

Get Grammarly Premium

Click on the

monthly plan

Insert the payment method: PayPal, Visa, or Mastercard

Complete payment transaction
That's it! Your seven-day "free trial" begins, and you should use it to evaluate the product. A couple of things you should keep in mind:
If you have an old account, you can't use it to start a free trial. If you are using a free account, close the browser, or sign out. In case you are using Chrome, relaunch it and clear the cookies and cache

In case you have an existing free Grammarly account, you will need to sign up with a different email address

Remember that this is a one-week money-back guarantee, so you'll have to cancel your subscription during those seven days if you want to get a full refund
Seven Days Later
Before the first week of using Grammarly Premium ends, you should contact the tool's customer support.
If you decide not to continue with your Premium free trial, you'll have all your funds returned—no question asked.

Once your account is downgraded to a basic, week-old free account, you'll be able to access the

Grammarly referral program

with your invite link.

To find the

Get Premium for Free

page, you need to navigate to the Grammarly add-on for your web browser and click on

Invite Friends

link
Grammarly will provide you with your personal invite link, so any friend of yours who uses that link to sign up for a new free account will get a one-week Grammarly Premium free trial—and so will you. You'll get to enjoy the Premium version of the tool for up to five weeks, free of charge, provided you refer five different friends.
Will My
Grammarly Free Trial
Renew Automatically?

If you don't cancel your free trial on time, it will be renewed automatically. Also, if you cancel the service before the end of the trial, you waive your rights to the remaining trial period, unless you signed up for it via the Grammarly iOS app.
This means that you can—at least in theory—sign up for Grammarly Premium through the iOS app and immediately cancel it to get the money back, while still getting to enjoy the app for seven full days.
When you cancel a free trial at any point, Grammarly will not permit you to participate in any further free trials, except those that the company may allow under special circumstances at its own discretion. Canceling within the first seven days of paying for Grammarly Premium will result in getting a full refund, regardless of what your reason for discontinuing the membership may be.
How Is Grammarly Priced After the Trial Period?
You can choose to pay for Grammarly Premium monthly, quarterly, or annually. The monthly price is $29.95, while the annual Premium subscription comes down to only $11.66 per month—a 61% discount. Keep in mind that this is the price for a single user.
The pricing plans aren't as straightforward for the Business account. The subscription fee depends on the number of team members that will be using the program. For a team of ten people, you'll be looking at $250 monthly, or half as much if you opt for the annual subscription model.
| | |
| --- | --- |
| Grammarly Plans | Prices |
| Free | $0 |
| Premium | $11.66 per month—billed annually |
| Business | $120.83 per month for 10 members—billed annually |
The Benefits of DoNotPay's Virtual Credit Card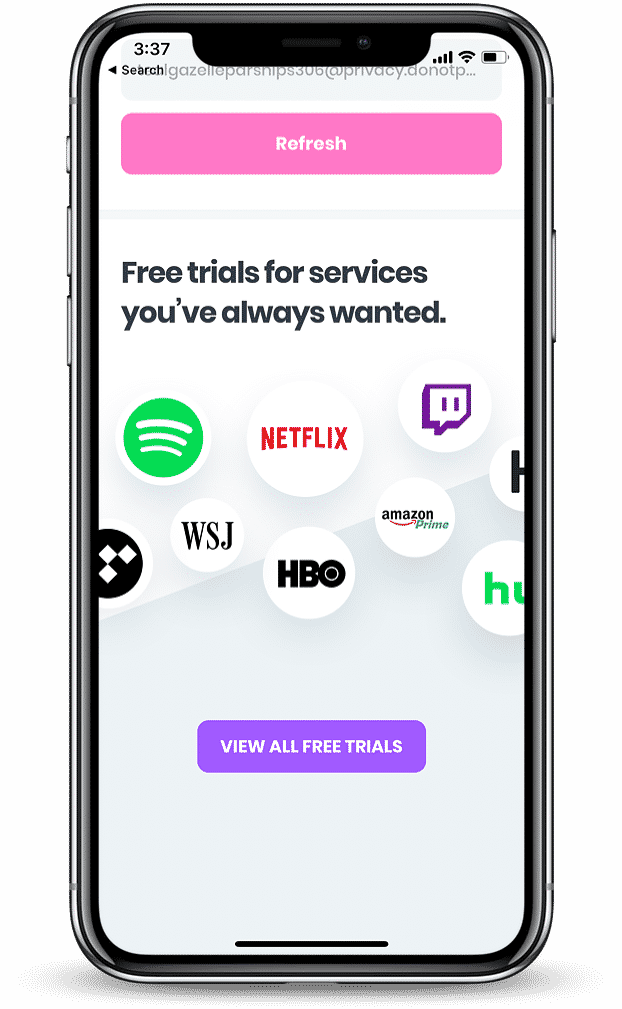 Does this sound familiar—you signed up for a trial period, forgot about it, and ended up paying for the service you didn't use and are not planning to use in the future? If that happens more often than you'd like to admit, a virtual credit card is the best option for you.
DoNotPay has developed a Free Trial Card that enables you to try out all kinds of software solutions and services completely risk-free! The best robot lawyer in the world will help you save a ton of time and money while enabling you to sign up for free trials with zero stress. You can access DoNotPay from any
Virtual credit cards are unique and randomly generated credit card numbers that aren't connected to your actual bank account. When you use DoNotPay's Free Trial Card, you can input any email address or name, which means your private data is safe and secure.
You can also use DoNotPay's virtual credit card generator to quickly create a new credit card you can use once and forget about those pesky unwanted charges.
DoNotPay will provide you with the virtual credit card number and expiration date. In other words, our Virtual Credit Card has the same functionality as an actual credit card, but there's no risk of getting charged since it holds no funds.
Avoid Being Charged After a
Grammarly Premium Trial
With DoNotPay's Virtual Credit Card

The DoNotPay Free Trial Card helps you save money and time by:
Generating a random credit card number, name, and email address

Not approving subscriptions and other charges

Canceling the subscription
Unfortunately, this does not apply to Grammarly Premium since the company doesn't offer a classic free trial. Before you can start using the Premium version of the tool, Grammarly has to charge your credit card. If the attempt fails, you won't be able to use the program.
Although there's no workaround that will allow you to try out Grammarly Premium without first paying the monthly subscription, DoNotPay can help you cancel the service in less than 30 seconds. This way, you can get your money back if you decide that you don't want to continue using Grammarly Premium at any point during the first week.
DoNotPay Can Also Give You a Hand When Dealing With Other Legal Issues

Aside from helping you avoid unwanted charges and automatic subscription renewals, DoNotPay can give you a hand in dealing with other legal issues. Our goal is to protect your consumer rights. We can help you whenever you are not sure what the requirements for a particular issue are or don't have the time or the means to deal with it yourself.
You can access DoNotPay from any . DoNotPay helps you with:
Disputing your traffic tickets

Fighting speeding tickets
How Grammarly Charges May Appear on Your Statement
| | | |
| --- | --- | --- |
| GRAMMARLY 888-318-, 8883186146 | GRAMMARLY (888)318-6SAN FRANCISCO CA | GRAMMARLY 888-318 |
| GRAMMARLY - Purchase | GRAMMARLY CO*YSCR | DEBIT CARD PURCHASE - GRAMMARLY xxx-xxx-xxxx xxx-xxx-6146 CA |
| GRAMMARLY 888-318-6146 8883186146 CA | GRAMMARLY CO5WYD-ZBEF 8883186146 | GRAMMARLY CO*CELO-2BGN SAN FANCISCO CA |
| GRAMMARLY COHNQR-S | GRAMMARLY 888-318-6146 888-3186146 CA | PAYPAL *GRAMMARLY 888-318-6146 CA |
| GRAMMARLY 888-318-6146 8883186146 | GRAMMARLY CO0SZK-X | Payment To Grammarly.com |
| GRAMMARLY 888-318-6146 SAN FANCISCO CA | GRAMMARLY CO6AYU-P, GRAMMARLY.COM | GRAMMARLY CO*SMJM-DL2, LONDON GREAT BRITAIN |
| GRAMMARLY SAN FRANCISCO CA | GRAMMARLY CO4ITE-R | PAYPAL *GRAMMARLY |
| PAYPAL ECHECK GRAMMARLY WEB ID: PAYPALEC88 | GRAMMARLY 888-318-6146 8883186146 CA 94104 USA | GRAMMARLY 888 318 61SAN FANCISCO CA |
| GRAMMARLY 888-318-6146 | GRAMMARLY 888-318-6146 888-318-6146 CA | GRAMMARLY (888)318-6146 |
| GRAMMARLY 888 318 6146 SAN FANCISCO | GRAMMARLY COZTDD-0 | GRAMMARLY CO*O6OH-X12H SAN FANCISCO CA |