How To Get a Virtual Credit Card With a U.S. Billing Address
Virtual credit cards are an excellent way to protect your personal information and your money. They gained momentum in the last couple of years, primarily due to a couple of major hacks revealing the vulnerability of the traditional credit card system.
The main issue is that many merchants from the States only allow for a virtual credit card with a U.S. billing address that's linked to a chip credit card, if you want to make online purchases or subscribe to their services.
One would think that globalization will allow us to buy and subscribe anywhere in the world, but that's not the case; at least not yet. The question is, can you get a virtual credit card with a U.S. billing address if you are not residing in the States? The short answer is yes, but there will be restrictions attached to such a card. Let's go through the options.
What Are Virtual Cards and Why Are They Popular?

Virtual credit cards are randomly-generated card numbers that you can use for online shopping. They have all the necessary parameters—the card number, expiration date, CVV—and are linked to your chip credit card, but do not reveal your real banking information when you're shopping online.
To any merchant, the virtual credit card will look like any other card. While the VCC is linked to your actual credit card, it appears as an independent means of payment during the transaction. Your details remain unavailable to the merchant, making it impossible for them to misuse your funds in any way.
Most online retailers remember your account details, which makes it easy for you to shop without re-entering your details all the time. Although this is quite convenient, it leaves a lot of room for fraud and theft. Virtual credit cards require you to provide the card details every time you make a purchase, but you are 100% safe from hackers and fraudulent merchants in return.
How Do Virtual Credit Cards Work?
Before we give you a few options for signing up for a U.S. virtual credit card, it's important that you fully understand how virtual credit cards work.
VCCs are generated by an online app that creates a one-time numerical code that serves as a payment method. Some issuers call it a token. Unlike regular cards, tokens are not reusable, so the data will not be stored. It will also not be available to the merchant once the purchase is over.
The communication between the bank and the merchant will verify the transaction, but your bank details will remain hidden. This means that if the retailer is shady—or a victim of a hack—your account is invisible, so the information you provided cannot be used for further purchases or transfers.
Let's say you are shopping online, and you are ready to pay for your items with your virtual card. Instead of just using your standard account details, you will need to do the following:
Open your VCC website (some banks and issuers have browser extensions, but it is not a general rule)

Sign up using your credentials

Generate a one-time token (it will have a virtual card number and a security code)

Create an expiration date (some issuers will generate one for you)

Use these details to pay for the purchase

Check the payment details on your bank statement (if your VCC is linked to your actual card)
You should be aware that VCCs are only suitable for online and over the phone purchases, and you won't be able to use them for in-person shopping. None of the issuers offer a real plastic card as a VCC.
The Pros and Cons of a
U.S. Virtual Credit Card
As great as they are when it comes to safety and privacy, virtual credit cards are not suitable for every type of payment or merchant. You can use it with any online retailer, but when a physical card is required, VCC won't do the trick.
You should pay special attention to the following:
Purchase of airline tickets

—Some airliners require a credit card used for the purchase as proof of identification

Buying goods that you may want to return

—Some retailers will require the same card for the refund and for the purchase, so check with your VCC if that is possible
What is excellent about virtual credit cards is that they allow you to set specific limits to the online and telephone purchases, so you can control how much you spend and where. Even though they are usually designed as one-time tokens, some VCCs can be used again. This is what you can do:
Limit the amount that you want to spend

Limit the card to just one merchant

Set an expiration date (up to one year)

Restrict the card to only one purchase
These features are useful if you want to set limitations on your purchases, or if you are sharing an account with another person.
| | |
| --- | --- |
| Pros of VCCs | Cons of VCCs |
| Data privacy | No in-store shopping |
| Safety from hacking | Additional fees |
U.S. Billing Address Virtual Credit Cards
One of the biggest downsides of virtual credit cards is that they are still linked to your actual bank account. This means that certain merchants from the States can deny their services if the bank is unable to confirm that you have a U.S. billing address.
Most people would like to enjoy products and services from the States, and they are looking for ways to bypass the restrictions some of the U.S. based retailers impose regarding the location of the customer. There are a couple of things that you can do to get a VCC with a billing address in the USA.
In case you were ever issued an American social security number, you can get a card with the U.S. billing address (you would have to rent a mailbox in the States)

If you have someone who does have such a card, they can share the account with you

You can get a VCC from an issuer that will provide a U.S. billing address for you
If option number three is what you're looking for, here are a few ways to get a virtual credit card with a U.S. billing address:
US Unlocked Virtual Visa Card

Payoneer

EcoVirtualcard by EcoPayz

LeoPay
US Unlocked Virtual Visa Card
US Unlocked enables you to unlock many services restricted to those who have credit cards with U.S. billing addresses. It will provide a virtual Visa debit card that you can use with almost all popular online merchants. Since they will attach a valid billing address located in the States, you will be able to order products and not just services. This, of course, means that you will have to pick up the purchased items from one of the warehouses located in the USA.
Although quite convenient, this solution does come with a price, so you will need to pay $15 when signing up plus a monthly fee of $3.5. There is a top-up charge as well, and it depends on the way you choose to deposit funds.
Payoneer
If you are looking for a less expensive solution, you should check Payoneer. This international financial institution issues a virtual Mastercard that will allow you to get some of the services available only on the American market. With an annual fee of $29.95, Payoneer enables you to unlock a variety of U.S. based online shops.
What's great is that you can buy additional virtual cards for different countries, so you can easily shop all over the globe. You should check Payoneer's policy regarding any cross-border purchase because specific fees may apply. Adding money to your virtual card is easy because Payoneer is linked to your bank account.
EcoVirtualcard by EcoPayz
EcoPayz allows you to make purchases in the USA via its EcoVirtualcard. This VCC is a one-time token, so you don't have to worry about theft or fraud. It's excellent if you want to buy something from an online store that appears suspicious to you.
You will have to pay an issuing fee in euros (€1.8) and a 4% fee on every transaction. The good news is that you can open three cards at once, and pay in USD, GBP, and EUR. This allows you to shop in different countries at the same time.
LeoPay
What's interesting about LeoPay is that it provides an actual plastic card. This means that the card is valid for multiple purchases, and makes it potentially less safe than classic VCCs. You will be able to unlock some U.S. reserved services with it because it comes with a billing address in the States.
LeoPay offers ten currencies, so you can shop all over the world. The E.U. residents can upload the money to this card without any charges, while others will have to pay 2%. You should be aware that a KYC check is mandatory before the card is approved.
DoNotPay's Free Trial
Virtual Credit Card With a U.S. Billing Address

In case you are looking for a card that will allow you to test the services of various merchants and benefit from free trials available in the States, you should consider getting the DoNotPay virtual credit card.
It is vital to understand that this is not an actual card that you can use to make online purchases. The Free Trial Card is a substitute card that helps you avoid being charged or bound in any way once the initial free trial is over.
DoNotPay is a free app designed to help people with administrative tasks, intricate red tape, and hidden fees or charges attached to supposed free trials and subscriptions. The app uses A.I. to deliver a multitude of services that help in untangling the bureaucratic web our lives have become.
One of those services is a DoNotPay virtual credit card that allows you to use various free trials without giving away your actual bank account or credit card details to service providers.
All you need to do is access DoNotPay in your and search for the credit cards option. You'll have a VCC you can use to sign up for free trials in seconds, and you'll never have to worry about being charged automatically again.
Why Use DoNotPay Free Trial Card?

Free trials are great because they allow you to check the features of a particular service and figure out if that's something you would like to use regularly. Since they usually last for 30 days, you get a month-long free ride.
Things are not quite as fantastic once you start using those trials because you often:
Forget to cancel the service once the free trial expires

Try to cancel on time but face a complicated procedure that is impossible to follow

Manage to cancel, but the fee still keeps miraculously appearing on your bank statement
If you have ever signed up for free trials, the chances are that you experienced one or all of the above situations. DoNotPay is there to help you avoid such inconveniences and unnecessary expenses. With the amount of free trials people sign up for, the fees and fines can amount to $100 per month, which is not a minor item in the budget.
You can use our Free Trial Card to test different services. Rest assured that giving up will be as easy as enrolling. Since the DoNotPay card does not have actual money on it, and it isn't linked to your bank account, once the trial is over, the provider won't be able to charge anything from it. Without the funds, the subscription or membership simply stops.
How Does the DoNotPay Free Trial Card Work?

Our virtual card works like any other VCC except that you don't have to link it to an existing bank account or an actual credit card. The app generates a card number that you can use to sign up for various free trials.
The good news is that you can use any address, name, or expiration date provided by the app. This includes U.S. billing addresses, which allows you to unlock free trials reserved for U.S. residents.
Another excellent feature is that it generates a random email address that protects you from endless promotional and advertising material providers tend to spam you with. The emails will be forwarded to your actual email address, so you can receive the information from the provider. Once the trial is over, the communication will be disconnected.
The Benefits of DoNotPay's Virtual Credit Card

The main advantages of using our Free Trial Card come in the form of security and anonymity. On top of that, the DoNotPay app does all the work for you, so the entire process is hassle-free!
Once you enter the virtual credit card details and hit that Sign Up or Subscribe button, DoNotPay will:
Check the code and verify that it is an actual free trial

Deny the request if it's not

Sign you up for the free trial period with a virtual credit card number

Cancel any automated subscriptions when the free trial is over
The table below shows the benefits of using the DoNotPay VCC if you decide to give a new online service a go. You should remember that you will not be able to use the Free Trial Card for actual purchases or to renew your subscription.
| | |
| --- | --- |
| Regular card | DoNotPay Free Trial Card |
| Information available to merchant | All information protected |
| Allows automated subscription after the free trial | Blocks any subscriptions |
| Allows additional charges after the free trial | No charges are allowed |
What Services Can You Test With DoNotPay's VCC?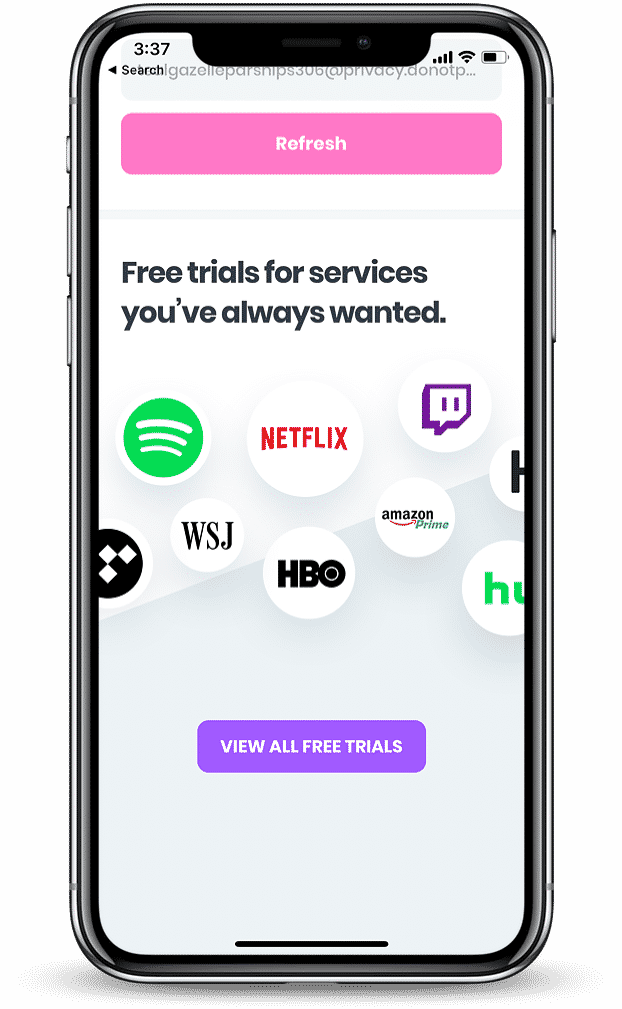 You can use our Free Trial Card to try any of the following services:
Postmates

YouTube Red

PlayStation Vue

CBS All Access
Regardless of the cancelation policy, hidden fees, or automated subscriptions from any of the above services, DoNotPay will make sure you can walk away without further complications as soon as the free trial expires.
DoNotPay can help with other issues
It is not just about free trials and shady prescriptions. DoNotPay can assist with numerous administrative or merely mundane tasks that take a lot of your time and money. The process is simple, and you can ask for help by logging on the DoNotPay app through your .
Talk to us in case you need assistance with:
Fighting speeding tickets

Disputing traffic tickets