Everything You Need to Know About Amazon Prime Free Trial
Amazon Prime is a premium subscription service that has existed since 2005. It offers its members a variety of benefits. With a paid membership of $119 per year or $12.99 per month—depending on the plan of your choosing—you can get a fast and free shipment, Prime Video, Prime eBooks, Prime Music, and more. Amazon prime has 112 million members worldwide, according to a survey from December 2019.
Amazon has a free trial program for new subscribers.
What Is
Amazon Prime Free Trial

Amazon Prime Free Trial is a period during which you can use Amazon Prime for free with all Prime users' benefits. All you need is an account with a valid credit card and an email that has never been used for Amazon before. In these few easy steps, you can enjoy your Amazon Prime experience for a month:
Go to

Amazon Prime Free Trial

Click on Try Prime

Create an account

Follow the site's further instructions
You will be required to leave your credit card information. Amazon will not charge you a fee until the trial period is over. If you come across any problems, you can contact Amazon customer service, and DoNotPay can also help you jump the queue with other companies' customer service teams.
How Long Is Amazon Prime Free Trial Membership?
Amazon Prime's free trial lasts for 30 days. It gets you all the same perks that the paying members have. Keep in mind that after the trial period is over, the service will automatically upgrade you to a paid membership.
You can always cancel Amazon Prime in a few easy steps, and Amazon will send you a reminder in an email 24 hours before your free membership expires. Their policy is such that if you cancel your free trial in the middle of your 30 days free trial period—on the 15th day, for example—they will close your account, and you'll no longer be a member. This means you will lose all your benefits. If you cancel a few days before the date of expiration, you'll have more time to use the free trial. Another one of their policies is that they do not give refunds to people who forgot to cancel their subscription and were automatically billed. DoNotPay may be able to help you with an Amazon prime refund.
Sign Up for Amazon Prime's Free Trial With a Virtual Credit Card via DoNotPay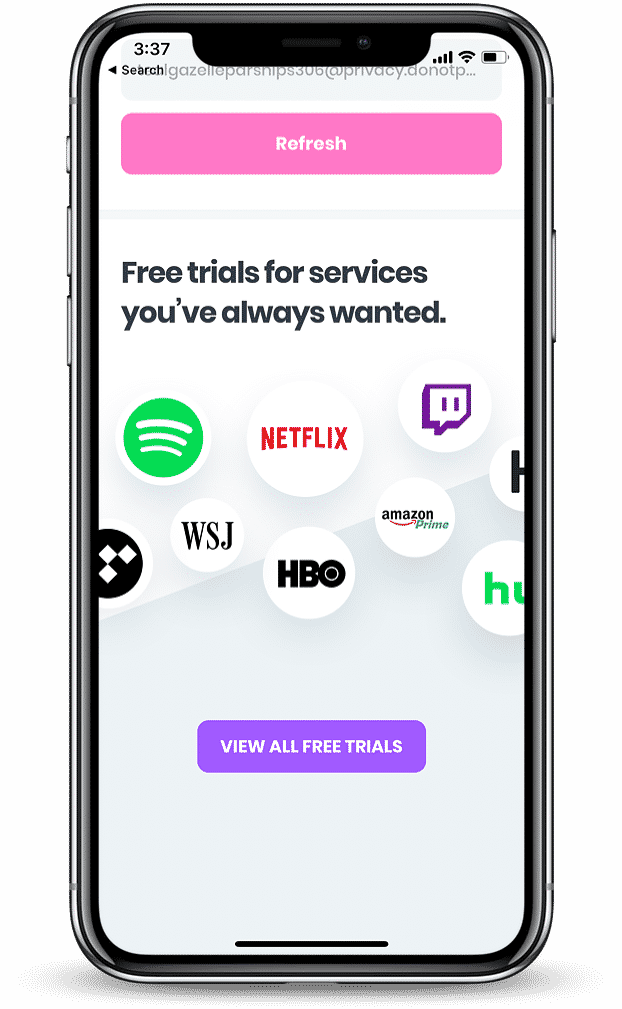 Getting an Amazon free trial without using a credit card is possible—you can do it by using DoNotPay's virtual credit cards.
Our virtual credit card also stops Amazon from billing you the fee according to your chosen plan in case you forget to cancel your free trial in time.
What Are Virtual Credit Cards in General?
What are VCCs? They are generated, temporary account numbers that you can use to shop online. They are linked to your credit and debit cards, and they help you protect your personal information from CNP (card-non-present) frauds. If the service you're using gets hacked, you will be safe because your account information will no longer be available.
DoNotPay' virtual credit cards are a little different from some other VCCs.
DoNotPay's Virtual Credit Cards

Has it ever happened to you that you wanted a free trial with some company badly, but you changed your mind once they've requested your credit card information on the submission form? Imagine being able to start a free trial without feeling unsafe about your information. With DoNotPay this is a realistic option. How do DoNotPay virtual credit cards work? Our virtual credit card generator creates a temporary account number and a fake email address, and the company sees them as real. You start your free trial without leaving any personal info.
Our virtual credit cards don't contain any money, so when your free trial ends, the company can't charge you, and you get unsubscribed without having to go through the cancellation process yourself. The following is what DoNotPay does for you:
Generates a random credit card number

Authorizes free trials immediately

Stops automatic charges and auto-renewals

Cancels subscription for you
How Much Does Amazon Prime Charge You After a Free Trial
Amazon offers you three options when it comes to payment plans:
| | |
| --- | --- |
| Amazon Prime Plan | Billing |
| Prime Video | $8.99/month |
| Prime Monthly | $12.99/month |
| Prime Annually | $119/year |
Prime Video, which is $8.99 a month, doesn't offer you the same benefits as the other two. With it you get only Prime video benefits, such as:
Movies

TV Shows

Sports

Live events
As for Prime Monthly and Annually plans, the benefits are:
Fast and free shipping—two days or on the same day

Prime Video

Ad-free music streaming

Free PC Games with

Twitch prime

Unlimited photo storage

Unlimited reading

Unlimited access to audiobooks
How Often Can You Get a Free Trial of Amazon Prime
and Other Amazon Options
You may get a free trial only once, but Amazon allows free trials for its customers every 12 months. So if you want to use the same email again, you have to wait a year. Be careful not to reactivate your account too early, though, because Amazon will charge you the fee automatically.
If you're a student, though, there are other Amazon Prime perks you could consider.
Amazon for Students
When it comes to student benefits, it turns out that it's good to be a student on Amazon. Students get a six-month trial with free two-day shipping on eligible purchases. How can you join Prime Student?
Visit the sign-up page

Follow the instructions in the sign-up form

Confirm your .edu email and complete the process
Students get a discount on Amazon Prime after their six-month trial ends. The discount lasts for four years, or until they graduate. Prime student perks are:
Free two-day shipping on eligible items

Prime Video—unlimited streaming of movies and TV shows

Prime Music—a variety of music playlists

Prime photos—unlimited storage for photos
Once they graduate, it will automatically be upgraded to full paid Amazon Prime membership if the subscription isn't canceled.
What Will Your Charges From Amazon Look Like on Your Statement
In the table below, you may find a preview of your charges from Amazon on your credit card statement:
| | | |
| --- | --- | --- |
| VP AmazonPrime Membership amzn.c | Store Purchase AMAZONPRIME MEMBERSHIP | Check Card: AmazonPrime Membership amzn.com/prme WA |
| AmazonPrime Members / amzn.com/prme WAUS : POS Transaction | AmazonPrime Mem amzn.com/prme /WA US CARD PURCHASEAmazonPrime Mem amzn.com/prme /WA US CARD PURCHASE | AmazonPrime Membersh |
| AMAZONPRIME MEM AMZN.COM/PRME W | AmazonPrime Membersh | AmazonPrime Membership amzn.co |
| Card Recurring Pmt AmazonPrime Member | AmazonPrime Mem | POS/Check Card Withdrawal / AmazonPrime Membership amzn.com/prmeWAUS |
Has Amazon Mistreated You? See What DoNotPay Can Do About It
You are frustrated by Amazon's treatment of you, we're here to help you take them to court. We understand that it's a long and tiring process and this is exactly why we started DoNotPay. To help consumers, such as yourself, get justice with great and powerful corporations. As your personal virtual robot lawyer, DoNotPay can help you sue anyone in small claims court.
What Else Can DoNotPay Do for You?

At DoNotPay, we fight for the rights of the customers and make large companies treat their users fairly. Are we the right fit for you? There's only one way to find out—dive into the countless options we have for you! Why do tedious things yourself, when there's a private virtual assistant right in front of you? Use your to find us. This is what we'll do for you:
Help you deal with any speeding tickets you might have

Fight the traffic tickets