Get Hulu Free Trial Without Giving Your Credit Card Information
Owned by The Walt Disney Company and Comcast, Hulu is one of the leading American premium streaming services offering live and on-demand TV, series, movies, kids shows, and so much more.
If you are considering taking Hulu for a test run, read on to learn how to do it.
Does Hulu Offer Membership Free Trials?
Yes, it does to new and eligible returning subscribers. The duration of each depends on the subscription plan you select.
The time window for each plan is as follows:
Hulu: 30 days

Hulu (No Ads): 30 days

Hulu+Live TV: seven days
During your trial run, you will have the full-service experience covered by the plan you have selected.
Will Hulu Notify Me That My Free Trial Has Expired?
No, Hulu won't send any notifications regarding the free trial expiration. It will transition into a paid subscription automatically.
In case you want to avoid getting charged for a subscription, you should cancel before the free trial runs out.
What Steps Should I Take to Register for a Hulu Free Trial?
To sign up for a Hulu trial run, you should take the following steps:
Visit the Hulu

plans page

on your PC

Tap the

Start Your Free Trial

button

Choose a plan

Provide your email address, password, and personal info

Select your payment method and tap

Submit

You can log in to any supported device, personalize the recommendations, and watch Hulu
Keep in mind that you won't be charged during your free trial. Hulu requires your payment details to ensure that they are valid by placing an authorization hold. This allows the company to automatically transition your free trial into a full membership if you decide to use the service.
Holds are usually for $1, but the amount can vary. Hulu typically reverses the transaction immediately, but it may take up to five days for your statement to reflect the change.
How Much Will My Membership Cost After the Trial Period?
Once your trial run is over, you can decide if you want to continue your subscription. The prices and benefits are listed in the table below.
Subscription Plan

Cost

Benefits

Hulu

$5.99/month

Up to six user profiles

Stream on two different screens at the same time

Watch on your TV, phone, tablet, or laptop

Access to Hulu Originals

80,000+ TV episodes and movies

The latest episodes the day after they air

Hulu (No Ads)

$11.99/month

Everything included in the Hulu plan plus:

Download and watch

No ads

Hulu+Live TV

$54.99/month

Everything included in the Hulu plan plus:

Live TV guide

65+ channels on Live TV

Record Live TV with 50 hours of Cloud DVR storage
Run a Free Trial With DoNotPay's Virtual Credit Card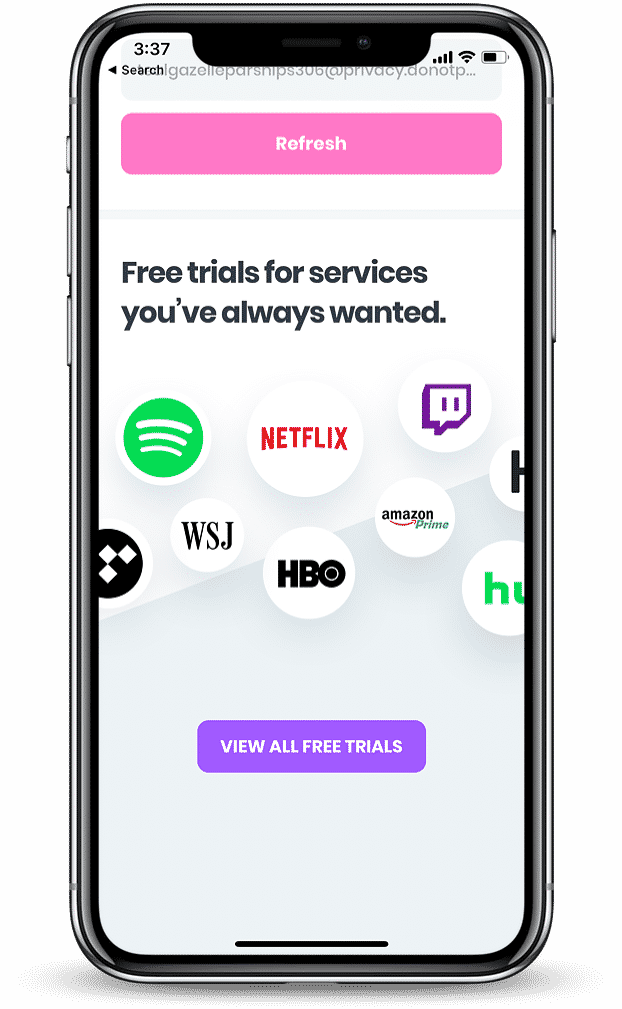 If interested in testing a service, you should know that many free trials come with a catch—asking for payment details. As nearly every free trial automatically turns into a paid subscription, DoNotPay has introduced a fantastic tool, the Free Trial Card, to prevent companies from charging you in case you forget to cancel their services before free trials expire.
DoNotPay's virtual credit card generator enables you to create a new credit card number that you can use to sign up for services and verify your payment info without worrying about information abuse and theft.
You can use our virtual credit card to register for free trials on numerous subscription services without hidden fees. This DoNotPay functionality will produce a standard 16-digit dummy card, which will look legit to any merchant.
You may want to use it because it is:
Not linked to any funding source

Approved on free trial pages

Automatically declined on subscription pages
Access DoNotPay from your and take advantage of various free trials.
Note that our virtual credit is only applicable to services offering free trials without placing an authorization hold. As Hulu will test your payment method during sign-up, providing a virtual credit card number won't do the trick.
Can I Cancel or Pause My Membership?
You can cancel your Hulu subscription any time you want and renew it if you choose later on. It will become effective on the first day of your next billing period.
Once you have initiated the cancellation, your status will read Your subscription is about to cancel, but you will continue to have service access until the end of your current subscription period.
If you cancel the service during your free trial, you will lose access to Hulu immediately.
In case you find the Hulu cancelation process too complicated, you can discontinue your subscription with DoNotPay's help.
You can pause your membership for the maximum period of 12 months.
Once the specified pause duration expires, your Hulu subscription will reactivate automatically, and the reactivation date will become your next billing date going forward.
Does Hulu Offer Refunds?
Hulu reserves the right to issue refunds at their sole discretion. Should they decide you are eligible for a refund, it will show in your Hulu account's Billing History section.
If you want to avoid dealing with the Hulu customer service but still request a refund from the company, you can do it the easy way with DoNotPay.
Note that Hulu does not issue (prorated) refunds for canceled subscriptions.
What Are the Most Popular Alternatives to Hulu?
Perhaps you are considering switching from Hulu membership to another one? You can review some of the most popular alternatives in the table below.
Streaming Service

Cost

Benefits

$20/month

50+ channels

Unlimited DVR

Add-Ons

Stream on up to three devices simultaneously

Basic: $8.99/month

Standard: $12.99/month

Premium: $15.99/month

Unlimited movies and TV shows

No commercials

Download and watch offline

Stream on different devices

Netflix Originals

$64.99/month

Six accounts and three streams per household

Unlimited cloud DVR storage

Pause, rewind, and fast forward capabilities

NBA and MLB networks

PBS, BET, MTV, Comedy Central, and Nickelodeon
Monitor Your Subscriptions With DoNotPay

Have you ever wondered how much you spend on subscription services? Let us give you a hint by telling you that, according to the West Monroe Partners' 2019 study, an average American spends $237.33 per month on such services alone.
To help you better manage your subscriptions, DoNotPay has introduced an ingenious feature—Find Hidden Money.
Here's how it works:
You connect your bank and email addresses to our app

We audit all your subscriptions and flag the ones you barely use

You decide if you want to cancel them
What Else Can DoNotPay Do for You?

Do you need assistance with lowering your internet bill or paying your student loans bill? Are you desperately trying to declutter your inbox from spam? Are you getting harassing phone calls in the middle of the night and wondering how to report them?
Do not fret—DoNotPay has got your back! The world's first robot lawyer can help you tackle a range of administrative and bureaucratic problems in the most efficient way possible.
Team up with your robot lawyer by accessing it from any and it will help you with:
Contesting traffic tickets

Disputing speeding tickets