Get Your Xfinity Wi-Fi Free Trial Without Giving Your Credit Card Info

Xfinity is a great service. They have a lot to offer, but it isn't right for everyone. For many viewers, Xfinity just doesn't fit the bill. That's when the trouble usually begins.
Does Xfinity Offer a Free Trial?
Xfinity offers several trial offers in an attempt to suit a variety of viewer habits and preferences, none of them are currently free, however. Xfinity does offer some pretty hefty discounts during their trial periods. While they do give you a big break in price, it doesn't assure that you will enjoy the service. A big price break also doesn't ensure viewers won't want to cancel or get a refund.
Xfinity X1. This package allows you to watch live TV, including sports. It also includes on-demand and streaming services. The package comes with the use of the app so any digital screen can be an Xfinity screen. There is the option to add a DVR to record live and streaming shows and movies.
This package also comes with a voice-enabled remote capable of searching across all content and apps. All you have to do is say it to see, says the Xfinity website description. The app and your homepage are easily personalized so you can always find what you want and get suggestions that you'll actually want to see.
Xfinity Internet. Xfinity Internet is offered at various deals throughout the year. Most often they charge only $15 per line as a beginning discount to lure in customers. They will usually offer a lower price for their middle-tier program for approximately one year. They may also offer streaming channels free for a specific amount of time or hardware, such as streaming boxes, free.
How Can I Get an Xfinity Free Trial?
There are two ways to get a free trial from Xfinity:
Call customer service
Sign on using the website
Getting a free or discounted trial period from Xfinity is fairly easy. Interested customers can simply call their customer service number, 1-800-934-6489, or go to their website. Either route you take, you will find a customer service agent who will explain the types of services they offer and their current pricing. Once you choose the services you want, you'll be asked for your credit card numbers to keep on file. The card you leave on file will be charged at the end of your trial period.
You may also want to call Xfinity  for a few other reasons, including:
Phishing emails
Scam calls
Overcharges or wrong charges
Changing plan or channel lineup
Do Xfinity Trials Automatically Renew Into a Paid Subscription?
Yes. Xfinity trials, whether they're free or discounted, absolutely do turn into paid subscriptions that are charged to your credit card on file when the trial period ends. To stop this charge, customers are urged to cancel their subscriptions before the due date. It's best to cancel at least 48 hours before, but 24 hours before the end of the trial date is typically sufficient.
Xfinity claims they do not issue refunds if you forget to cancel a subscription on time, even if it's just by a few minutes.
Avoid Automatic Renewal With DoNotPay Virtual Credit Card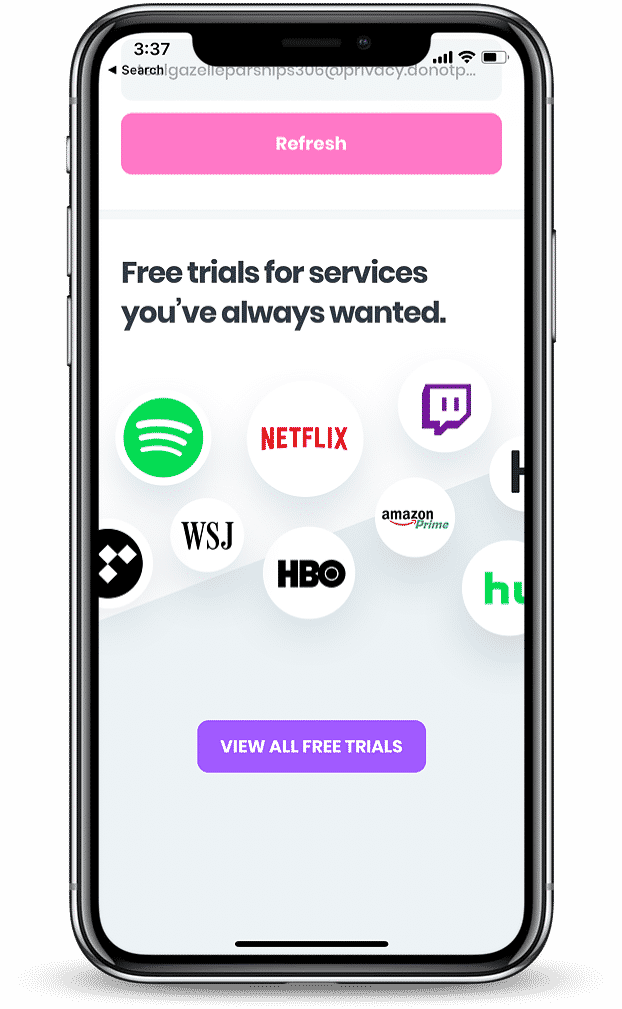 Excruciatingly large subscription payments are taken from unsuspecting consumers every single day. It's not easy to remember every trial offer you sign up for and when those trials are over. But it isn't a smart idea to sign up for anything without first taking advantage of their free trial offers.
Month after month, these subscription charges rack up on your bill, and all too often, you don't even realize it's happening. There are ways to cancel your account, however, and DoNotPay is here to help.
DoNotPay offers a virtual credit card when you're afraid you'll be charged despite canceling or if you think you may forget to cancel. With a virtual credit card, you can get access to many subscriptions and trials that require a credit card to sign up, without the fear of being charged. Here's how it works:
DoNotPay generates a random number and credit card info that you can use to subscribe to any service like Xfinity.
Once the free trial period ends, Xfinitycan't charge you because there's no money on that card, so you get unsubscribed automatically.
The virtual card comes with temporary account details for the merchant that are valid only for one purchase. This prevents Xfinity from charging you should you forget to cancel your free trial on time.
With a virtual credit card, there's no risk to you, ever. It doesn't get any safer or easier than that to try a free trial.
How Much Does Xfinity Cost After the Trial?
Xfinity's charges change every few years. They also change periodically due to sales and special offers. The typical pricing rates are:
| | | |
| --- | --- | --- |
| Offer | Speed | Price |
| Lowest | Up to 50 Mbps | $50 |
| Mid-Priced | Up to 600 Mbps | $50 |
| Highest | Up to 1200 Mbps | $70 |
What Will Xfinity's Charges Look Like on my Statement?
When you purchase a monthly subscription from Xfinity, no matter what type of service it is, internet, mobile devices, live TV, or streaming entertainment, it will be charged on your credit card, and you'll see them on your statement.
The charges will say Xfinity and be close to whatever package price you've chosen. For instance, if you've chosen the smallest internet package, the charge on your card will be roughly $50, give or take any amount for discounts or add-on packages. There will also be charges for taxes and other state and local fees. It's possible that they will also send you emails about services you don't have, which can be disruptive.
What Else Can DoNotPay Do?
DoNotPay can help you with almost anything, including: