A Step-by-Step Guide to Showtime Free Trial—No Credit Card Needed
Showtime is a U.S. premium television network owned by ViacomCBS Domestic Media Networks. In 2015, the network launched a streaming service under the same name.
Showtime as a streaming service offers various content produced by the network, including TV series, feature films, documentaries, and sports events.
You might know the network through some of its most famous shows, such as Homeland, The Affair, Shameless, Ray Donovan, and many others.
What You Need to Know About a
Free Showtime Trial
You can sign up for a 30-day free trial of Showtime and get unlimited access to the network's original series, movies, and more. You can access the content through Showtime's website or its mobile app.
Where Else Can You Watch Showtime for Free?
Showtime has deals with several other platforms and streaming services. This means that you can watch your favorite Showtime series, films, and specials not only on Showtime, but also on Hulu, Roku, Sling, and many others.
All services offer a seven-day free trial of Showtime, except for Roku that allows you to try it out at no cost for a whole month. The price is the same across the board—$10.99/month.
Check out which services include Showtime original content in their catalogs:
Service

Details

Showtime on these services is free for seven days, then available for $10.99/month

Showtime on the Apple TV app is free for seven days, then available for $10.99/month

Apple TV Plus users can subscribe to Showtime and CBS All Access for $9.99/month

Showtime on Roku is free for 30 days, then available for $10.99/month
How to Get a
Showtime Free Trial
?
Signing up for a Showtime free trial on its website is as simple as following these straightforward instructions:
Click on the

Start your free trial

red button

Add payment information

Confirm and enjoy the free trial!
If you would like to sample Showtime through a third-party streaming service, click on any provider in the table above and follow the sign-up instructions.
Does the Showtime Free Trial Automatically Renew Into a Paid Subscription?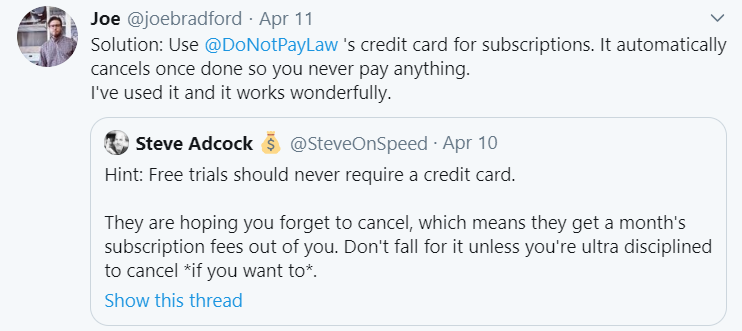 Your Showtime free trial will turn into a paid subscription at the end of the 30-day period. To avoid an unwanted charge, you have to cancel your free trial before it runs out.
Note that you will not receive a refund if you cancel the service. On the plus side, you will be able to access Showtime's content until the end of your current subscription period.
Forget About Auto-Renewed Charges With DoNotPay's Virtual Credit Card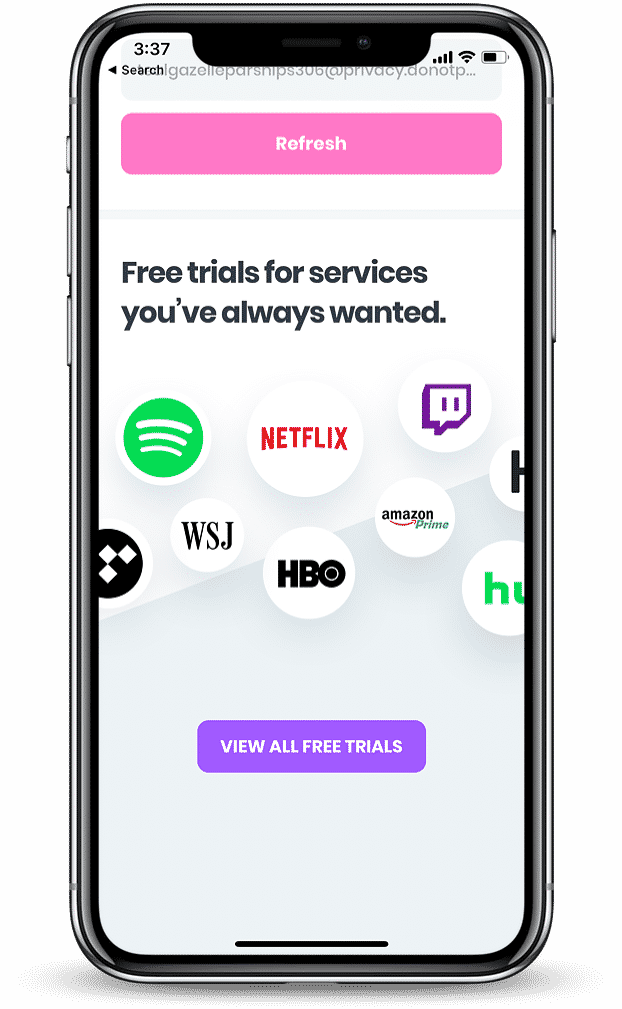 You've signed up for a flashy new subscription service, tinkered with it a few times, then the whole thing completely escaped your memory. The next thing you know, a month has passed, and your free trial has turned into an expensive subscription!
Things can get even more complicated and costly. Some companies are known for giving their customers a hard time when they attempt to cancel the free trial or paid subscription—in fact, they keep adding unauthorized charges to their subscribers' credit cards.
With DoNotPay's Free Trial Card, you will never have to worry about this happening to you again.
The way any virtual credit card works relies on its ability to generate a one-off, temporary credit card number that can be used while shopping online. This creates an additional layer of information—a degree of separation—between the buyer and the vendor, which keeps the buyer shielded from internet fraud and data theft.
The Free Trial Card is DoNotPay's version of a virtual credit card that has been designed to be used for free trial sign-ups.
The Free Trial Card creates unique credit card details that, to the vendor, look like they belong to a credit card issued by the bank. As opposed to other virtual cards, the Free Trial Card keeps your money safe. Because it's not linked to your bank account or any other funding source, your finances are safe from unplanned, undesired subscription-based charges when your free online trials come to an end.
How to Keep Showtime From Tracking Your Location and Sending You Spam Emails

Our virtual credit card goes above and beyond to keep your money and privacy safe when applying for free trials. DoNotPay comes up with a random email address that you can use during the sign-up, so you don't have to submit your actual email address.
Not only do you not have to divulge your payment information, but you will also dodge annoying marketing newsletters designed to spam you and spy on you.
By using the email address that DoNotPay provided, you will:
Not have to deal with any spam emails from the company in question

Prevent the company from tracking your location

Stop the company from using your private data as a sales lead
Of course, we'll forward you all the relevant emails from the company whose services you signed up for, such as messages about your account servicing.
Did Showtime Mistreat You? DoNotPay Can Help You Take Them to Small Claims Court

We understand how frustrating it is when a company wrongs you and ignores your rights as a consumer. While certainly unfair, most people throw in the towel because seeking justice in court seems way too time-consuming and out of their pocket.
For that very reason, we created DoNotPay, the world's first robot lawyer that makes suing people and companies in small claims court much more accessible than it was previously. The American Bar Association honored it with the 2020 Louis M. Brown Award for Legal Access.
You don't need to hire a lawyer or be a legal expert yourself to take a stand against a company or individual that breached your rights. DoNotPay's chatbots will study your case, prepare the required documentation on your behalf, and suggest the best legal argumentation you should engage in court. Protecting your legal rights has never been so quick, easy, and efficient.
DoNotPay Protects Your Privacy and Finances
Sharing your credit card details online comes with certain risks, and it's getting more difficult to tell good and bad websites apart. With DoNotPay's virtual credit card generator, you will be able to protect your identity and bank account from cyber scammers.
Whenever you run into a suspicious email or website, generate a virtual credit card and proceed without worries. Our virtual cards also work like a charm if you want to avoid automatic payments after free trials.
DoNotPay Helps You in More Than One Way

If you're a TV aficionado, DoNotPay can help you manage various aspects of your TV and streaming subscriptions. Whether you need to cancel Hulu, cancel Redbox, get an HBO free trial, or deal with Netflix spam emails, our app can give you a hand with all that.
Open DoNotPay in your and allow us to tick off a bunch of stuff on your to-do list, including:
Appealing speeding tickets

Fighting traffic tickets