5 Facts About The Dave Virtual Card
There are so many financial and banking apps that it is hard to keep up with them all. Dave is not a banking app but it provides financial services. One of those services is the Dave virtual card. Although the Dave virtual card is no more a credit card than Dave is a bank. If you want to know more about the Dave virtual card, then this article is for you. After you learn about Dave, find out about other ways to save with DoNotPay.

What is Dave?
The Dave app is a financial management app. When you link your bank account, the app will monitor your spending and send notifications and alerts according to your needs. Dave offers a Spend account which must be linked to another bank account and allows direct deposits up to two days early. You can also request cash advances of up to $250.
What is a Dave Virtual Card?
When you sign up for a Spend account, you will receive a physical debit card for using your funds. You are also given access to a virtual card that links to the same Spend account. Your virtual card is for use while shopping online or paying bills by phone. You can also use your virtual card if your physical card gets lost or has not arrived yet.
Is a Dave Virtual Card Free?
The Dave virtual card is included with a Dave Spend account and the account comes with no credit check, minimum balance, or banking fee. To get a Dave Spend account, you must be a Dave member though. As a Dave member, you agree to pay a $1 a month membership fee. This fee is to maintain your bank account's connection with Dave and to fund account monitoring notifications.
You can opt to expedite disbursement of your Advance by paying an optional fee or the "Express Fee".
| | |
| --- | --- |
| Advance Amount | Express Fee |
| $5.00 or less | $1.99 |
| $5.01 to $15.00 | $2.49 |
| $15.01 to $20.00 | $2.99 |
| $20.01 to $74.99 | $3.99 |
| $75.00 to $99.99 | $4.99 |
| $100 to $200.0 | $5.99 |
How a Dave Virtual Card Works
A Dave card works much like a debit card, but it is a little more difficult to add money to because of the lack of a physical bank. A Dave virtual card is a Dave debit card with limited use. These are the uses of the Dave virtual card
Online shopping
Online bill payments
Virtual wallet
Bill payments by phone
Get a Dave Virtual Card
If you want to get a Dave virtual card, here is what you can do
Search for Dave online.
On the website, you can sign up for membership.
You must link your bank account and agree to the $1 a month membership fee.
Once you are a member, you can request a Dave Spend account.
When your Dave Spend account is opened, you will be sent a physical card by mail but your virtual card information is available right away.
What is the DoNotPay Free Trial Card?

The DoNotPay free trial card is a different kind of virtual card. This virtual card allows you to sign up for free trials with no risk of getting charged when the trial ends.
Unlike the Dave virtual card, there is also no need to disclose your current account information for a service you are not sure if you want to keep.
Once you have used a DoNotPay virtual card to verify your account, the card is deactivated. You will not be charged once your free trial ends and the company providing the trial never has your account information. But that is not all. This card can even cancel the trial for you once it expires. Here is more to learn from the Credit Cards product series.
Where to Use DoNotPay Free Trial Card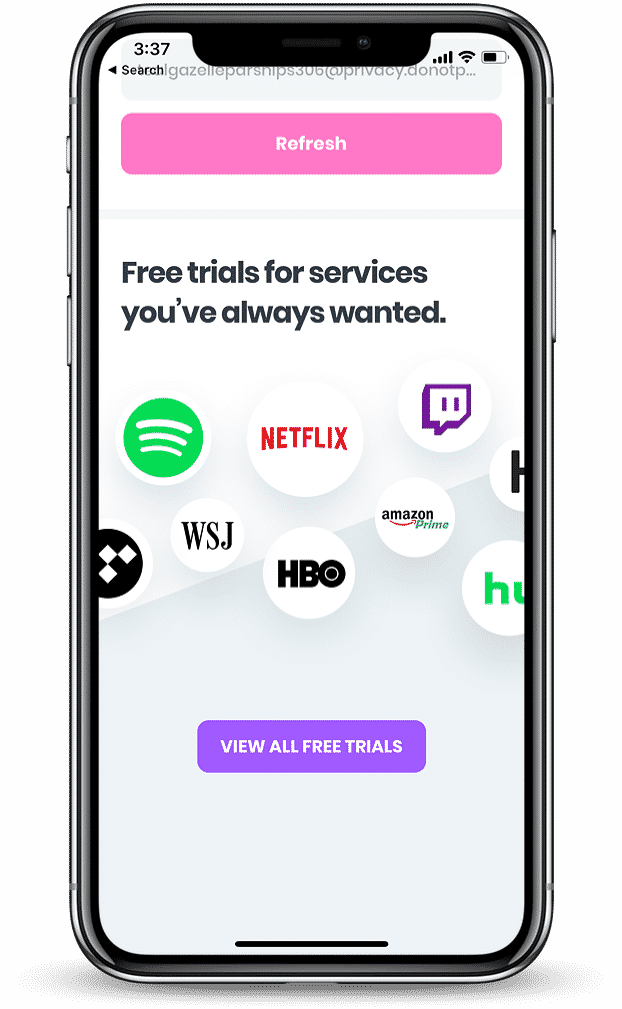 There are many reasons to use a DoNotPay free trial card when signing up for online accounts and trial services. The biggest benefit of a free trial card is that your account information remains private. These are a few of the places you can successfully use the DoNotPay free trial card
More to Do With DoNotPay
Do you need even more ways to save time and money? DoNotPay has lots of ways for you to save. Check out these product series pages to find out even more that you can do with DoNotPay.