Does Hotelbeds Have a Virtual Card?

More than just a travel solution, Hotelbeds has made a name for itself as the world's Bedbank. If you are not sure what that means you are not alone. Read on to learn more about Hotelbeds, virtual credit cards, and Bedbanks. We will also discuss DoNotPay and the range of products that may be able to offer some assistance.
What is Hotelbeds?
You may have thought that Hotelbeds was just for booking a vacation, but the company is actually more than that. In fact, Hotelbeds has declared itself the world's bedbank. So just what is a bedbank?
What is a Bedbank?
Because the Hotelbeds brand is able to source different resources in different places where others may not be able to, the company works to arrange B2B transactions between companies who might otherwise have never known of each other. The company works as a middleman aligning clients based on resources and resource needs.
As a consumer, you probably won't deal directly with Hotelbeds very often. But the hotels you stay at might use the tool to refer you to other hotels, car rentals, tours, and so on.
What is a Virtual Credit Card?

A virtual credit card is not a physical card. It is a card that is generated specifically for use online. Here are some of the benefits of using a virtual credit card from DoNotPay.
Benefits of DoNotPay's Virtual Credit Cards

Added security features for safer online shopping.
You do not have to give out your actual account information.
Cards can be one-time use or reloadable.
Maybe generated for use up to a specified limit or for a limited amount of time.
Allows you to get free trial offers without getting charged.
Where Can You Get a Virtual Credit Card?
There are several financial institutions that offer virtual credit cards to use. Generally, these cards will link straight to the actual account information but they will limit what the merchant can charge or how long the card is valid. These cards can be issued for single-use or reloadable purposes. Here are some of the virtual cards you may be interested in.
Stripe- Your Stripe account will allow you to generate as many virtual credit cards as you want. The cards are available for use immediately and you choose between a reloadable card or a single-use card.
Netspend- Your Netspend account will allow you to generate a virtual credit card that is time-limited You can generate up to six accounts at a time.
Chase Virtual Card- When you generate a Chase virtual card you set a specific merchant, the amount limit, and a time limit for use.
Walmart Money Card- You can generate up to four accounts at once. These cards are easy to use and easy to reload.
 Where Can You Use Virtual Credit Cards?
Virtual credit cards are generated for online use and using them in a store is usually not allowed unless you can make the purchase over the phone. Here are some of the places and services where you may be able to use a virtual credit card.
Free trials- Taking advantage of a free trial offer does no good if you forget to cancel the trial in time. Using a virtual credit card can allow you to accept the free trial offer without concern of getting charged in most cases.
Streaming services- Using a virtual credit card for streaming services ensures that your card information is not compromised online.
Make purchases online- Any purchases made online can be made more securely with a virtual credit card.
Get free trial offers from these services with the virtual credit card from DoNotPay.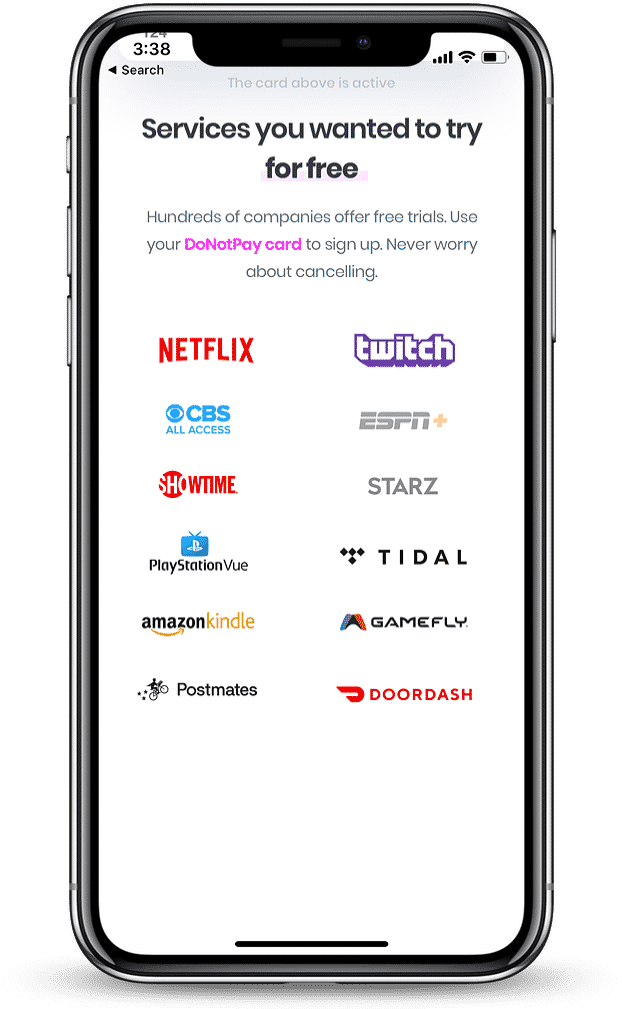 Will All Virtual Cards Work for Hotelbeds?
No. The virtual credit cards issued through your financial institution or that are prepaid accounts should have no problem working with Hotelbeds, but the virtual credit card from DonotPay is not the same type of virtual credit card.
DoNotPay Offers Virtual Credit Cards
The virtual credit card offered by DoNotPay is specifically for use to obtain free trial offers and you can be sure you will not be charged because the card is not actually linked to your account. You can never be charged unexpectedly because the card can not be charged as there is no monetary value on it.
Check out more articles from the credit cards product series.
What Else Can DoNotPay Help You Accomplish?
Need to cancel a subscription? There is a product for that. What about some help with the bills? Credit card issues can be fixed quickly just like parking tickets and traffic tickets. Reach customer service without all of the waiting or make DMV appointments with ease. Get compensated for delayed flights or file a small claims court suit against any companies that won't comply. All of these are possible with the products from DoNotPay.