Is the Expedia Virtual Card the Right One for You?

Often, when you want to sign up for a free trial online, you are required to share your credit card information. Then, if you don't cancel soon enough, you get charged.
You can avoid this by using a virtual credit card like the . Expedia is a travel shopping company where you can do things like book flights and hotels. If you're someone who travels a lot, you might benefit from getting an Expedia Virtual Card.
The virtual cards are temporary, so you don't have to worry about them being charged down the line. If you want to get a virtual credit card, DoNotPay can help. You can even easily generate a virtual credit card through DoNotPay with an instant approval process and no deposit.
What Is an Expedia Virtual Card?
An Expedia Virtual Card mimics a credit card. When someone books a property, an Expedia virtual card is loaded up with the amount of the room. Every time someone makes a new reservation, they get a new virtual card. Each Expedia Virtual card is deactivated six months after your check-out.
Are Expedia Virtual Cards Free?
There is no charge for an Expedia virtual card. You are automatically assigned one whenever you make a booking through Expedia.
How Does the Expedia Virtual Card Work?
Whenever you book a place to stay through Expedia, you are automatically assigned an Expedia Virtual card. It is then used to put the amount you owe on it, and when you check out, it is automatically released to the place you are staying. Your Expedia Virtual Card comes with a variety of information that you can find in several places, including the reservation details page and the EVC Lookup tool in Partner Central.
The Expedia Virtual Card

Can use for reservations
Yes
Gives Invoice
Yes
Your card number
Yes
Status/Decline reasons
Yes
The security card/CVV
Yes
Authorization codes
Yes
The card activation date
Yes
The expiration date
Yes
Hidden Fees
$0
The card balance
Yes
Your booking total
Yes
Percentage Fees
Yes
The transaction date
Yes
90-day transaction history
Yes
How to Get the Expedia Virtual Card
Follow these steps to get an .
Go to Expedia.com
Make a booking somewhere.
You are automatically assigned a card.
You can find the card information in one of these places.
Reservation Page
Lookup tool in Partner Central
Does the Expedia Virtual Card Guarantee 100% Safety?
Virtual credit cards are generally considered to be safer than traditional, physical cards since they are only used online. However, there are certain drawbacks to using virtual cards. Here are some examples.
If you need to make a return, the store might require that the refund be placed on the card you used to buy the product. If your virtual card is expired, you won't be able to do that.
If you set a certain amount of money on your virtual card, you could still lose it if you encounter a fraudulent merchant.
If you need to verify something like a rental car or hotel room that you used your virtual card on, you might have issues if you try to use a different card to pay for it.
What Is the DoNotPay Free Trial Card?
A DoNotPay Free Trial card is used to gain you access to a free trial without having to give the merchant your personal credit card information. You go to DoNotPay and for whatever service you are trying to get. Then, DoNotPay will create a virtual card for you to use. Here are the benefits.
Easy use
Billing pages will automatically accept it
Merchants will not be able to charge anything to the card
You will automatically be unenrolled from the subscription when the service tries to charge your card.

Where Can I Use DoNotPay's Free Trial Card?
There are a lot of different applications for a DoNotPay Free Trial Card. Here are some examples.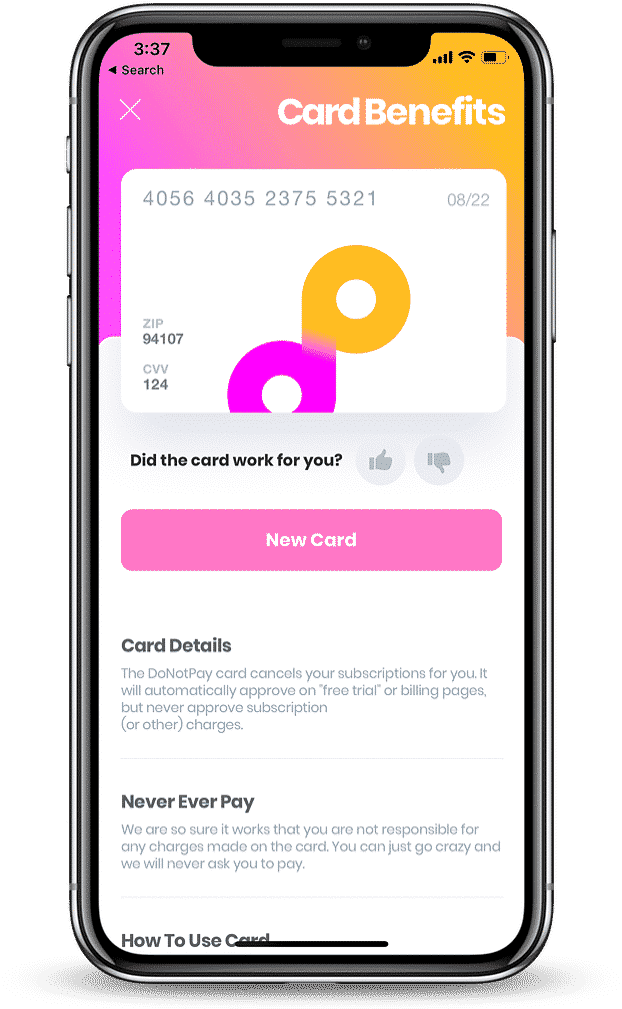 What Else Can DoNotPay Do?
At DoNotPay, we work with many companies/entities, which allows us to help you with a variety of tasks. Here are some examples of ways we can make your life easier.
Make appointments at the DMV
Get compensated for a poor airline experience
Cancel a subscription or service you are no longer using
Conclusion
Access to free trials is often gated by having to enter your personal credit card information. The company hopes that you will forget to cancel your free trial before it lapses, and then they can legally charge you for their service. Thankfully, there is a way around this. You can get a virtual credit card to use to sign up for a free trial. A virtual card has all the important information a traditional credit card has, but nothing can be charged to it. There are quite a few ways you can access virtual credit cards, such as through Expedia, but DoNotPay offers a simple one.
All you need to do is visit DoNotPay and request a virtual credit card. We will generate a one-time card for you to use to get a free trial. Then, if you come across a trial for a different service, later on, you can get a new card for that one as well. Contact DoNotPay today for more information about how we can get you set up with a virtual credit card.