Amex Virtual Credit Card—Convenient, Secure, and Transparent
It is estimated that, by 2022, virtual credit cards (VCCs) will account for $355 billion in annual purchases! More and more large businesses started to use VCCs as payment devices because of the convenience, security, and transparency they provide.
That being said, you do not have to be a large business owner to understand the benefits of virtual credit cards. DoNotPay's Free Trial Card, for example, solves a lot of problems that most Americans are facing, including unauthorized subscription charges. You set out to test a particular service via the offered free trial, and one month later, you find out that your account has been charged for a monthly subscription fee.
VIrtual credit cards put a stop to this, and many other relevant issues.
Amex Go
—Sharing Is Caring
Like many other major banks, American Express offers its cardholders virtual credit card services through a program called American Express Go.
This program is suited for business owners, as it offers a fast and effective expense management solution.
The American Express virtual card has a 15-digit number, CVV, expiration date, and a billing zip code, just like any other physical credit card. The difference is that these virtual credit cards allow defining business-specific amounts and time frames.
To start using these services, you need to create a profile on American Express Go's portal. After you do this, you will have the option to share the virtual credit card with your team so that they can use it for various online purchases. Employees will also have the opportunity to add funds to the virtual credit card if need be.
To get started with American Express Go, you can:
Download the American Express app
Use your virtual credit cards for online purchases
If you are using a mobile wallet, you can add your virtual credit card to it
Closely monitor your expenses and check the balance by using the Amex app
Is There a Physical Amex Card, And Can It Be Reused?
If you prefer the option of having a physical credit card, American Express can issue it for you to use for offline purchases. Even though some virtual credit cards cannot be used at a later date, Amex's virtual card can be.
Can the Amex Virtual Credit Card Be Used Internationally, and What Are the Fees?
The Amex virtual credit card can be used for international purchases as long as the service provider or retailer supports American Express cards. Keep in mind that international processing fees will be included. When you set up an American Express Go profile, a one-time $2 fee will be charged to your account as an activation charge for online purchases only! If you want to use your card for offline purchases as well, the fee goes up to $5.
Understanding Virtual Credit Cards and How They Work
Virtual credit cards are digital substitutions for physical credit cards. They come with a legitimate card number, expiration date, and security code but are typically used for online purchases only. VCCs are used as payment devices with improved data security because—unlike static credit cards—they do not reveal your real banking information.
Depending on what you need, VCCs can be used as one-time deals for authorizing a particular transaction, or you can use them to set up a recurring monthly payment plan. In most cases, you can put a maximum charge limit on your credit card, define its expiration date, or even lock it to a single online merchant.
Nowadays, almost all major banks and third-party companies provide virtual credit card services. Some issuers tend to charge registration and processing fees, whilst others offer these services free of charge, like DoNotPay. Usually, you would install the issuer's digital app on your mobile device, and use it to generate and use your virtual credit cards.
DoNotPay's Free Trial Card—How It Works and Why You Should Use It!

We specialize in keeping more money in your pockets. Our Free Trial Card aims to spare your account from unauthorized subscription charges by nipping the fraudulent merchant's intents in the bud.
First of all, our virtual credit card services are completely free of charge. Secondly, you are free to choose any available account number, expiration date, and security code for your newly generated card. Unlike most other VCC issuers, we will not require that you link your physical credit or debit card with your virtual one. Your safety is our top priority.
If you thought that your identity could not be more protected, think again. DoNotPay goes the distance in terms of user security, by providing you with a temporary email address that stops dishonest marketers from putting your real email address on spam lists. Rest assured that this "fake" email will readily forward new messages to your real email address.
Getting access to our virtual credit card services is extremely easy. All you have to do is visit DoNotPay via a web browser.
Here are all the things our Free Trial Card can do for you:
Randomly generate a new virtual account number
Approve free trials and billing pages
Cancel subscription for you
Prevent unauthorized charges to your account
Are Virtual Credit Cards a Double-Edged Sword?
Virtual credit cards are by no means perfect, but when you put their upsides and downsides side-by-side, it becomes apparent that you gain more than you lose by using them:
| | |
| --- | --- |
| Pros | Cons |
| VCCs keep your personal information hidden | VCCs can only be used for online purchases |
| Data breaches do not compromise your personal information | You cannot withdraw cash from a VCC |
| You can set up a maximum charge limit on your virtual credit card | In some cases you will have to enable eCommerce services on your VCC manually |
| You can lock your virtual card to a single online merchant | |
| You can use a VCC for recurring monthly payments | |
What Good Is a Virtual Credit Card?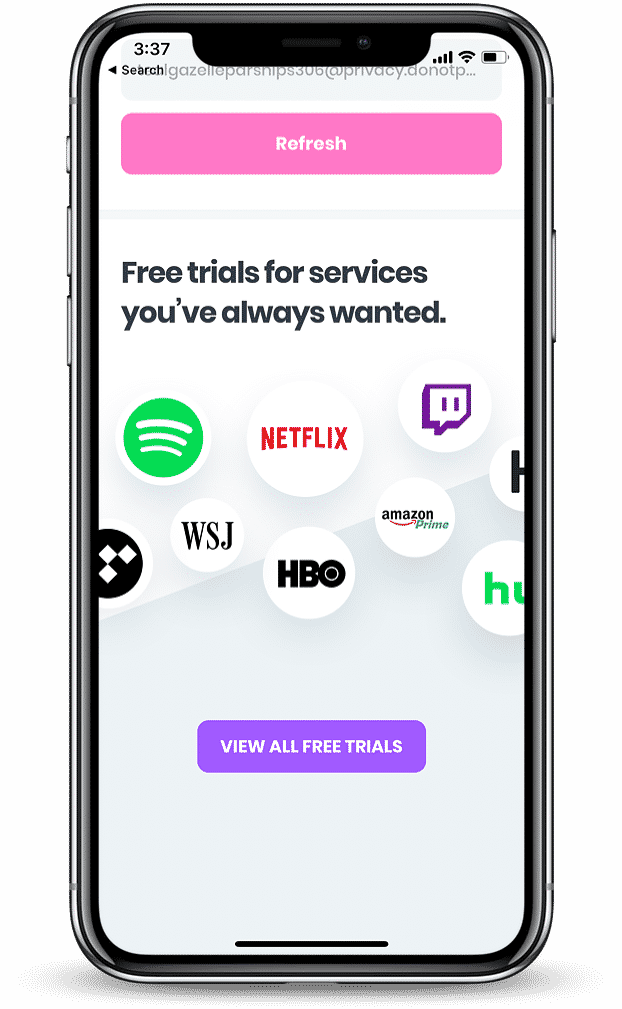 Data security is not the only reason why countless Americans use virtual credit cards. These cards pack a plethora of useful features that allow you to:
Stop free trials from becoming unauthorized paid subscriptions
Set a maximum charge limit on your account and prevent fraudulent merchants from overcharging you
Hide your personal information by using a randomly generated account
DoNotPay's Free Trial Card Puts a Stop To Unauthorized Charges
We take pride in the fact that our app saves American citizens hundreds of dollars each month by preventing unauthorized charges! 
Many service providers offer free trials to new members, but what they do not inform them about is that their trial is not exactly free. If you fail to cancel your subscription manually before the billing date, your account will get charged for the subscription fee. DoNotPay puts a stop to these shady schemes. 
Our app generates a random account number to verify the transaction but ceases to be valid as soon as the verification is over. This way, it becomes impossible for the provider to charge your account when the free trial expires! 
The best part is, DoNotPay's instant approval virtual credit card is completely free! You are not required to link our Free Trial Card to your chip card, so your private banking information remains 100% safe and secure, and you don't have to make a deposit to use our VCC to sign up for free trials.
Here are some of the services you can subscribe to with our app:
You Decide How Much You Will Get Charged
Having the option to set a maximum charge limit to your account is incredibly important. By doing this, you prevent fraudsters from overcharging your account. This feature comes in handy when you are trying to set up a recurring monthly payment plan. You match the charge limit with the amount you are paying for a certain service or product, and you are good to go. Even if the retailer gets hacked, the hacker will not be able to overcharge your account!
Your Personal Information Is In Safe Hands
Most virtual credit card issuers provide this service in a certain way. Card numbers, CVVs, expiration dates, they are all randomly generated, with the goal of hiding your real personal information. Since data breaches are happening more and more each year, this feature alone makes a strong case for why you should start using a virtual credit card ASAP.
Not Sure if Virtual Credit Cards Are Better Than Physical Ones?
Breaking with tradition can be a difficult task. Though most of us  are used to using static credit cards instead of virtual ones, there are plenty of reasons why you should reconsider opting for DoNotPay's VCC:
| | |
| --- | --- |
| DoNotPay's virtual credit card | Physical credit cards |
| Prevents your personal information from ever getting compromised | In case of a data breach, your personal information gets compromised |
| Make sure that you lose $0 annually | Static credit cards can lose you hundreds of dollars per year |
| Stops unauthorized charges to your account | Unauthorized charges can happen with physical credit cards |
| Keeps your personal data protected | Credit cards reveal your personal information |
Pros and Cons of Virtual Credit Cards
If you are worried about identity theft, settling for a virtual credit card might be the ideal solution for you.
Advantages of Virtual Credit Cards
Here are some the benefits of using a virtual credit card:
You can lock your VCC to a single online merchant
You can set a maximum charge limit on your VCC
VCCs are suitable for setting up recurring monthly payments
You can use a VCC to prevent unauthorized charges to your account
VCCs are widely accepted
Disadvantages of Virtual Credit Cards
Regardless of how convenient VCCs may be, there are certain shortcomings you will simply have to live with. To name a few:
You cannot use a virtual credit card to withdraw cash
Some issuers will not automatically enable eCommerce service on your VCC
VCCs can only be used for online purchases
Amex Is Not the Only Option

Due to the state of data security in recent years, virtual credit cards have become fairly easy to get a hold of. Almost all major financial institutions provide these types of services, as do many other third-party companies like DoNotPay. We understand that Amex virtual credit cards may not work for you, but luckily, there are plenty of options to choose from:
| | |
| --- | --- |
| VCC issuer | Service overview |
| DoNotPay | DoNotPay's Free Trial Card is the ideal solution for putting a stop to unauthorized subscription charges to your account. We will not even ask you to link your physical credit card to the virtual one. To keep your identity completely hidden, we will provide you with a temporary email address and spare you from dealing with shady marketers! |
| | Capital One provides its cardholders with a digital assistant called Eno. Eno packs a ton of useful features, but generating virtual credit cards is one of the best ones. You can install Eno as a web browser plugin, and it will automatically pop-up during check out, asking you if you want to use a new virtual credit card for the forthcoming transaction. Eno is super easy to use, but you will not be able to set a maximum charge limit on your virtual credit cards. |
| | Neteller is a great option if you are using PayPal frequently. You can use Neteller's platform to verify your PayPal account as well as make PayPal transactions. To register for their services, you need to fill out a form on their website and get in touch with the customer service. Keep in mind that you will also have to upload your ID to Neteller as proof of identity. |
| | Citibank, unlike most other credit card issuers, provides its users with short-term virtual credit card services. If you want to use a VCC for setting up a recurring monthly payment plan, Citibank's VCC will not be of use to you. Applying for Citibank's virtual credit card program is straight-forward, as you can do it by simply logging in to your account and clicking enroll. |
DoNotPay Makes a Difference

For a while now, the digital assistance landscape has been extremely bleak. That is why we have decided to create an app that can provide you with a wide variety of useful services. Apart from generating virtual credit cards, our app can help you with:
Fighting speeding tickets
Disputing traffic tickets