The Best Free Online Checking Accounts With Virtual Debit Cards

Having an online Checking account is one of the ways you can conveniently keep your money in a brick-and-mortar bank. An online checking account enables you to see your account balance, pay bills, and transact money between accounts without having to visit your bank. You can also deposit a check or even cash without necessarily going to the bank.
You can use your virtual debit card to make online purchases and access your checking account. However, whether it is a virtual or physical debit card, money will directly be deducted from your checking account.
DoNotPay offers virtual credit cards that help you manage your online payments in a safer way.
What is a Virtual Credit Card?
It is a digital card that is designed as a way to mask the numbers of your actual credit card. Using a virtual credit card to carry out your purchase makes the retailer only access and store information of the temporary card, thus protecting your factual card information.
Virtual cards are essential since they add security for any online transaction you make. A fraudster cannot access your actual credit information making your bank information secure. Most credit card issuers have nowadays extended the opportunity to generate virtual credit cards, which online merchants accept.
Virtual cards are flexible in that you have the freedom to create a new card number to use in different stores. Similarly, you can delete a card number without affecting your real account. Though a credit card is used primarily for online purchases, it can also be used for phone transactions.

What Is a Temporary Card?
When you create a virtual credit card or change your number, you are given a temporary card that you can use to make purchases. A merchant only sees your temporary card number when you transact with them. Take note that temporary card numbers do not last for long but end within a very short period. They usually last for 24 hours though some providers can extend the usage of a credit card up to one year.
Learn How to Request for a Virtual Card
In most cases, many issuers require you to have a physical card from a credit card company before requesting a virtual credit card. In other cases, like Citi Credit card, you need to log in to your account online or either via the web and look for a virtual credit card option. By following this procedure, you will be able to generate a virtual credit card. There are cases when you are supposed to download a specific app for the virtual credit card.
Once you have generated your virtual credit card, you have room for modification, including setting your spending limit or the card expiration date. After making all the necessary adjustments, you can start using your card.
Discover the Drawbacks of Using a Virtual Credit Card
The use of credit cards come with some setbacks, which include:
Fraud vulnerability
It cannot be used everywhere not suitable for recurring payment.
They have a limited availability
Fraud Vulnerability
You are not entirely safe when using a virtual credit card since some fraudulent vendors can still overcharge you. However, if that happens, the company cancels your card and allows you to get a new account number.
Cannot Be Used Everywhere
In cases where you want to pick an item physically, you cannot use a virtual credit card since the card number will not match with that on your actual card.
Not Suitable for Recurring Payment
A virtual credit card is not ideal for paying recurring bills such as telephone or internet bills since the card might expire early. Virtual cards are ideal when used in specific situations, like when you don't trust a website, among other uses.
They Have a Limited Availability
Though virtual credit is one of the latest developments in business today, not all companies have embraced it, and thus its usage is limited. Only a few large companies are known to embrace the use of virtual cards, namely Bank of America and Discover, among others. The limited usage makes VCC an unpopular method of carrying out transactions.
Learn About Benefits of Using Virtual Credit Card
They are free. You can use virtual cards without being charged an extra fee, thus making it a suitable way of transaction.
Protects your account information. It protects your actual card details, and therefore a vendor cannot steal them.
Time and payment limits. You can set a time limit when your card will expire and select an expenditure limit either monthly, weekly, or annually.
Peace of mind. You feel safe when using a virtual credit card to purchase online since chances of fraud are limited.
It helps you learn how to:
Real Credit Card vs Virtual Credit Card
| | | |
| --- | --- | --- |
| Features | Real Credit Card | Virtual Credit Card |
| Security | Reveals your info | Protects your info |
| Advantages | Good | Better |
| Easy Application | Good | Better |
| Reliability | Potentially dollars lost | Lost $0 |
Learn How DoNotPay Virtual Credit Card Works
You can use DoNotPay VCC to subscribe to online services or transact online since:
It creates a random credit number.
Approves billing pages automatically.
Ensures that your subscriptions or other charges are not applied to your account.
Cancels any subscription for you.
It can be downloaded via App.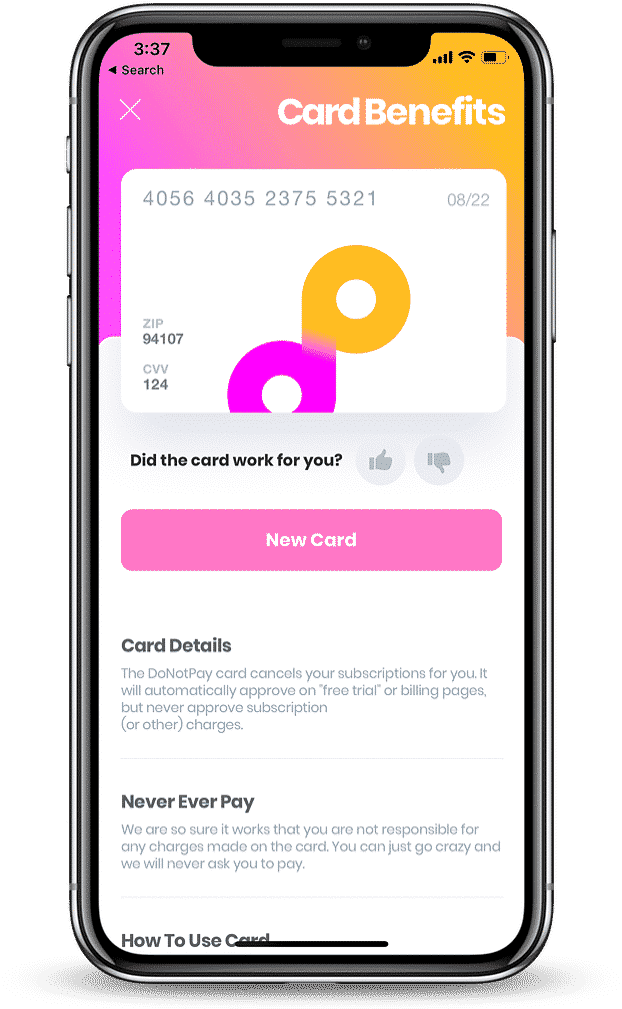 What Other Solutions Can DoNotPay Offer to You
DoNotPay can also help you:
DoNotPay is the best remedy that tackles your virtual card-related problems. Sign up today!