Is the
Citi Virtual Credit Card
the Best Choice for You?

Have you had your eye on virtual credit cards for quite some time, but cannot decide which one to get? Citi is among the few American banks that offer virtual credit cards to their customers. The Citi Virtual Account Numbers feature generates a random credit card number that makes it practically impossible to steal your credit card details online. 
With the Citibank virtual credit card, you can also set expiration dates and spend limits as you see fit. You can use the Citi virtual credit card for over-the-phone and Internet purchases and can even make reservations, much like you would your chip credit card. 
The bank explains that all purchases made with the temporary Citibank credit card number will appear on your monthly bank statement, and will also include the unique Virtual Account Number used for each transaction.
How to apply for
Citi Virtual Account Numbers
Citi Virtual Account Numbers feature is available to owners of eligible Citibank cards. Unfortunately, the bank doesn't state which of their cards qualify for the feature. To apply for one, take the next steps:
Click on

the Virtual Account Numbers web page

Click on the

Enroll In/Get

blue button

Sign in to your Citi online account

Choose between the web-based access, or download the PC version

Select the credit card you want to use with the Virtual Accounts Number

Click

Generate
From this point on, you can easily use a new temporary account number generated by the Citi virtual credit card every time you make an online or phone purchase.
What Is a Virtual Credit Card and How Does It Work?

The main feature of any virtual credit card is its ability to produce a one-off, randomly generated credit card number that you can use when you're shopping online. 
This is done by employing a virtual credit card generator which creates parameters such as the card number, expiration date, and CVV, that align will be recognized as valid by merchants. 
This creates an additional layer of security. Although your chip card needs to be connected to the Citibank virtual account number, your real banking information is never shown to the merchant, which in turn makes you less susceptible to Internet fraud and theft of your credit card details.
Your virtual credit card is like a standard credit card that has been designed to improve the security of your transactions. Every time you use the virtual card online, it creates a 16-digit temporary pseudo-number (also known as "controlled payment number") similar to your actual credit card number. Put simply, the Citibank credit card number generated by the bank's virtual credit card protects your privacy and shields you from potential identity theft.
Your physical credit card does that with a chip that creates a single-use token when you're using it in a store. When you're buying with it online, you need to enter your real credit card information, which opens up the risk of having your card details stolen. 
Americans seem to be particularly vulnerable to cyber-theft of their financial details. According to Sixgill, nearly two out of every three stolen debit or cards that were for sale on the dark web in 2019—more than 15 million of them—were issued in the U.S.
How Does DoNotPay's Virtual Credit Card Work?

DoNotPay has pioneered the Free Trial Card—a virtual credit card that has been designed primarily to sign up for free trials online. Similarly to other virtual credit cards, it creates a unique and random credit card number for your every use, which looks like actual credit card information. 
The one key distinction between DoNotPay's VCC and other virtual cards, as well our card's biggest advantage, is the fact that it does not require you to link your chip card to it. This means you can freely sign up for free trials, knowing that your money will never be on the line. DoNotPay's Free Trial Card protects you from unwelcome, subscription-based charges when you sign up to try out services online.
It is based on three simple yet effective rules:
Generating unique credit card information 

Getting approved on "free trial" pages

Not getting approved on "subscription" pages
You may be wondering why you should use a separate virtual card just to apply for online free trials with it. Think of the number of times you wanted to try out a subscription or a service for free, only to forget about it/not like it/not find it useful. The next thing you know, a month has gone by, and your free trial has auto-renewed into a hefty subscription fee! 
Some companies even give you a hard time when you try to cancel your subscription and keep adding unauthorized charges to your card. With DoNotPay, this is no longer something you have to tolerate or worry about. Access DoNotPay through your browser and get your Free Trial Card in minutes.
To bolster your privacy, our app will also generate a random email address that you can use for the sign-up, so you don't have to submit your actual email address. Don't worry—we will still forward important messages to your real email. By creating a random email address for the free trial, we ensure that nobody is tracking your location and that your real email doesn't end up on any unsolicited marketing lists.
With DoNotPay, Free Trials Are Genuinely Free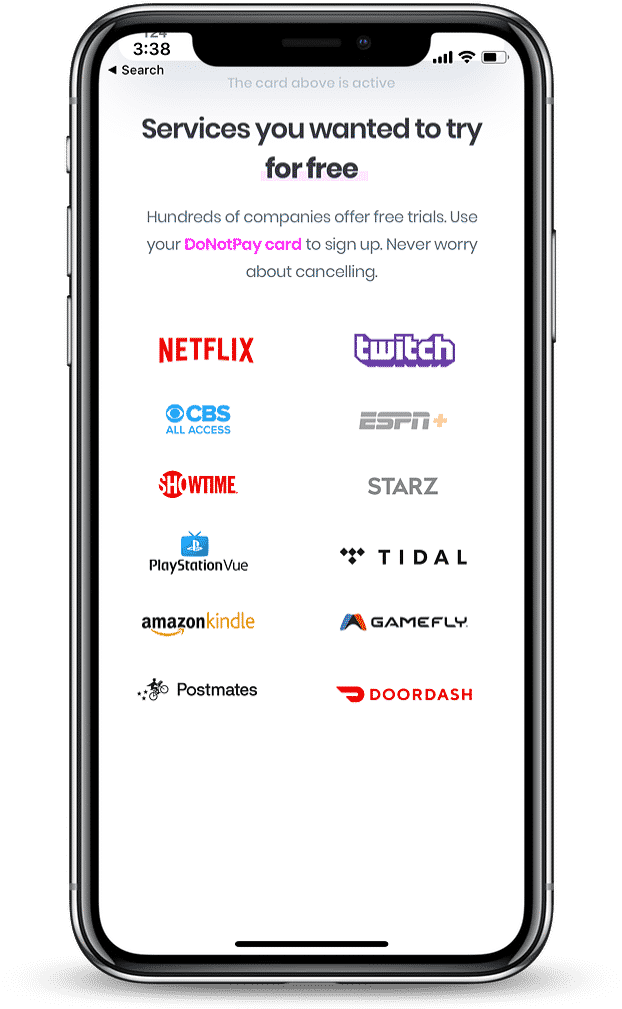 It's like being a kid in a candy shop again, browsing the seemingly endless subscription services the Internet has laid at our feet. You can use DoNotPay's virtual credit card to sign up for the free trials of: 
Twitch

Doordash

ESPN Go

Showtime

PlayStation Vue

Postmates

Tidal

Jira

Apple Music Premium

Spotify Premium

Disney+

GameFly

Kindle Unlimited

HBO

Netflix
Access DoNotPay through your web browser.
The Many Pros of Getting a Virtual Credit Card

The "new normal" way of life set in motion by the COVID-19 pandemic has increased our dependence on online shopping to new levels. As we continue to enjoy the convenience of shopping on the Internet, it has never been more important to think about the security of our virtual purchases. A virtual credit card adds a crucial safety measure between you and the online merchant and provides many other special features compared to your conventional credit card. We have listed the most important ones: 
Protects you against cyber theft

Safeguards your privacy

Makes it easy to cancel

Lets you sign up for free trials risk-free

Allows you to set the maximum spend amount 
Protects you against cyber theft
A virtual credit card safeguards your real personal account number (PAN) card details against any online theft, fraud, or double-charges.
Did you know that over 270,000 cases of credit card fraud were reported in 2019? Keeping your financial transactions secure should be at the forefront of your mind every time you're making an online purchase, and a virtual credit card does exactly that. By not revealing your real personal account number, it effectively protects you from cyber threats affecting your identity and finances.
Safeguards your privacy
Your credit card details are a part of your personal information, and therefore one of the most vital elements of your online privacy. This is becoming a prevalent issue—according to Statistic Brain, 12 million Americans fall victim to cyber identity theft every year. If the merchant you're buying from hasn't set up a solid security system, you are vulnerable to a data breach that could lead to your financial information being stolen. What's more, hackers can access other sensitive information through your credit card info, like your passwords, phone numbers, addresses, and more. Using a virtual credit card dramatically reduces the chances of identity theft. 
Makes it easy to cancel
Should you want to cancel your virtual credit card, it is easy to do so. As opposed to a virtual card, the process of canceling a debit or credit card can be much more convoluted and often involves canceling the bank account the card is linked to. 
Lets you sign up for free trials risk-free
When a free trial you signed up for with your virtual credit card comes to an end, you don't have to fear any auto-renewed subscription charges. On the other hand, the trials you enrolled in with your actual credit card most often than not result in an unwanted subscription fee.
Allows you to set the maximum spend amount
A virtual credit card allows you to limit the number of your transactions (per day, week, or month), and limit the maximum spend amount per every purchase. This can be a problem with conventional debit or credit cards—if they fall into the wrong hands, you can suffer great losses before you manage to report the theft and cancel the card. 
Most Common Uses for Virtual Credit Cards
Your virtual credit card is best used when: 
Signing up for a free trial online

Making a non-recurring online purchase

Buying from someone for the first time
Signing up for a Free Trial Online
If you haven't committed to purchasing a subscription, whether monthly or annual, it doesn't make sense to give away your real credit card information to apply for a trial. The only reason why an online merchant would ask for credit card info during the sign-up process is because they fully intend to charge your credit card as soon as the free trial ends, whether you want to continue using the service or not. 
You can avoid these unwanted charges with DoNotPay's instant approval virtual credit card. A virtual credit card produces a temporary number that's limited to a single transaction or merchant and ensures that your free trial doesn't auto-renew into a paid monthly subscription that results in an unwanted charge on your bank account. DoNotPay's Free Trial Card goes one step further and proactively blocks approval on websites that offer sign-ups for subscriptions without a free trial.
Making a Non-Recurring Online Purchase
Hackers are constantly targeting people's personal and financial details online. With purchasing a product or a service that doesn't involve a recurring payment, you can use a Citibank virtual account number to ensure the safety of your credit card information. 
Buying From Someone for the First Time
When you're buying from an online merchant you have never purchased from before, you should apply the "proceed with caution" rule and use your virtual credit card for security's sake.
Avoid buying from suspicious-looking webshops and vendors altogether. Reputable websites should have a lock icon in the URL bar and start with "https:" (the "s" in the end standing for "secure"). They will also never ask for unnecessary personal information, such as your Social Security Number.
Drawbacks of Virtual Credit Cards
Although an excellent way to protect yourself from unwanted charges and identity theft when shopping online, the Citi virtual credit card (and other VCCs, for that matter) cannot be used for some purposes. 
We've listed a few drawbacks of the Citibank credit card number and other VCCs below:
Inability to verify your card information at a later stage

Inability to receive a return or a refund

Inability to use for recurring payments 

Inability to withdraw cash
Inability to verify your card information at a later stage
If you use a single-use credit card number produced by your virtual credit card to make an online reservation or to purchase, say, an airplane ticket or travel accommodation, it may cause complications later on. During the check-in process, you could be asked to show the credit card you paid with online for verification purposes. Obviously, your virtual and actual credit card numbers will not match.
Inability to receive a return or refund
When you ask for a refund for an online purchase, the vendor will most likely send you the funds using the same credit card information you entered when you paid for your item. Your random, pseudo credit card number will be already expired by then, thus preventing the refund from landing into your bank account. 
Inability to use for recurring payments
If you like the convenience of recurring payments for services that you're using on a regular basis, you should continue using your actual credit or debit card for that purpose. Virtual credit cards are best used for one-time purchases that aren't renewed every month. 
Inability to withdraw cash
As a general rule, you cannot use virtual credit cards to withdraw cash from ATM-s. Some banks might allow it, but such transactions usually come with a high usage fee.
Citi Virtual Credit Card—Should You Get It or Not?
Are you still on the fence with regard to applying for a virtual credit card? We have summarized its main advantages and drawbacks, so it's easier for you to make a decision.
| | |
| --- | --- |
| Pros | Cons |
| Increased protection from fraud | Difficulty with obtaining refunds |
| Concealment of your personal information | Inability to be used for verification purposes |
| Ease of cancelation | Failure to support recurring payments |
| Ability to set maximum amounts and limit the number of transactions | Inability to withdraw cash |
How Does DoNotPay's Virtual Credit Card Compare to Your Physical Credit Card?

DoNotPay's Free Trial Card isn't a substitute for the physical credit card that was issued by your bank. You should use both in combination, but as a general rule of thumb, we recommend you use DoNotPay's card every time you sign up for a free online trial. Here's a side-by-side comparison of our card and your bank's credit card:
| | |
| --- | --- |
| Your bank's credit card | DoNotPay's Free Trial Card |
| Allows charges | Doesn't allow charges |
| Displays your credit card information | Doesn't reveal any of your personal information |
| Makes you vulnerable to the risk of cyber theft and fraud | Keeps you secure from cyber theft and fraud |
| Doesn't come with an associated email address | Offers a free email address to use for free trials |
| Potential unwanted charges | No unwanted charges |
Allow DoNotPay to help with other things, too
Apart from generating a virtual credit card for you, DoNotPay has many other strong suits. It can:
Dispute speeding tickets

Fight traffic tickets
DoNotPay is available for download on your web browser.