Best alternatives to Bank of America Virtual Credit Card
As the problem of credit card fraud has become more and more common, people have started looking for a more secure way of paying by card. In addition to the risk of identity theft, users often fear that they may be charged after free trial periods. This, in particular, is quite common, so they are afraid of it for a reason. Luckily, there's a solution for everyone who doesn't want to take any risk by leaving their real credit card information—virtual credit cards. They can also be used to stop robocalls, which is another common form of scam.
There are quite a few institutions that issue virtual credit cards. But before we tell you a little bit more about your options, let us address a more important question at the moment—what is a virtual credit card, to begin with?
What is a Virtual Credit Card, and how does it work?

A virtual credit card is a randomly generated string of numbers that looks just like a real credit card. Your virtual credit card can be connected with the real one, so you are able to shop online. Even in that case, it does not reveal any of your sensitive information. As an owner, you get to limit the amount of money that can be withdrawn from your real card through the virtual one. You can also set the expiration date and security code.
A virtual credit card can be described as a disposable credit card that is valid only for one transaction. If you need it for several transactions, that's possible to set, too. In this case, though, you might be required to limit yourself to one merchant only.
Does Bank of America have a virtual credit card?
The Bank of America used to offer a virtual credit card called ShopSafe, but they decided to retire this service. You can no longer ask for a new virtual credit card to be issued, and you can't use previously saved virtual credit card numbers, either. Those who saved their virtual card numbers with specific merchants or for recurring payments have to update their accounts by providing real credit card information, thus removing the extra layer of security they had with virtual cards.
Best alternatives to Bank of America Virtual Credit Card

If you were planning to get a ShopSafe card, or you already have one, but you can no longer make use of it, there's no need to despair. There are plenty of other places where you can get a virtual credit card and enjoy all the free trials you want stress-free. Some of the best alternatives to consider include the following:
DoNotPay

Citibank

Capital One

Token
DoNotPay
DoNotPay can provide you with a Free Trial Card that allows you to sign up for a free trial period for a wide range of services without entering your real credit card information. That way, there's no risk of you being charged either during the free trial or when it expires. You can access DoNotPay via your .
Some service providers might send you an email to remind you when your free trial is about to expire (or at least they promise to do so). But what if you miss that reminder? Or they never send it, and you completely forget about it? It could be months before you realize that they have been taking money off your account every month. When those charges add up, you can waste hundreds or even thousands of dollars. This is particularly risky for those of you who like trying out services for free, so you eventually have so many free trials active at the same time that you can't keep track.
Why take any risk of going through such complications when our virtual credit card is here to save you from all the trouble and make it possible to enjoy every second of your free trial?
Citibank
Citibank is one of the major institutions that still issue virtual credit cards to its users. To get one, you need to sign in to their website and send a request for a virtual credit card. You can set the expiration date, and you get a three-digit security code for protection. There are some drawbacks that you should be aware of, though. These include the following:
The trick with the Citi card is that you have to be a Citibank user to be eligible for a virtual credit card. Sort of. To be more precise,

not even all Citibank cardholders can enjoy the benefits of Virtual Account Numbers

. The available benefits differ from cardholder to cardholder, so before you get your hopes up, you need to log in to check what you have at your disposal, depending on your specific card.

If you manage to find your way through the screening process and you eventually get a Virtual Account Number, keep in mind that you won't be able to use it for ongoing subscriptions that you are planning to renew.

You still have to be on the alert as your Virtual Account Number remains connected to your real credit card.
Capital One
Capital One also offers a virtual credit card called Eno. Eno allows you to shop online without revealing your real credit card information. The option to use a virtual card number appears when you're at the checkout, so you get to use a unique virtual card number for that specific website. What's convenient when using Eno is that you don't have to update your information manually even when you get a new credit card—this is done automatically on every site on which you've used a virtual card number.
The downside to using Eno is that you have to be a Capital One customer to qualify for this benefit. Another inconvenience is that you can only use it by adding Eno to Chrome. Let us remind you that this is not the case with DoNotPay—you can access our app via a . If you opt for Capital One, your real credit card information may not be visible, but Eno is still linked to your real card. Finally, you don't get to set a spending limit on your Eno card. The limit is the same as on your real Capital One credit card that Eno is connected to.
Token
Token is an app that you can use to generate alternative credit card numbers if you don't want to reveal your real info when shopping online. This app is available only for iOS and Android devices for the time being. Each virtual card is valid with one retailer only.
It is somewhat inconvenient to use because, when you create your account on one device, you have to use the same device every time you need the app in the future. Plus, you will be required to go through a two-step verification process every time you want to open your Token account. The app doesn't store your personal information, but your Token card still has to be linked to your real credit card to enable online transactions.
How does DoNotPay Virtual Credit Card work?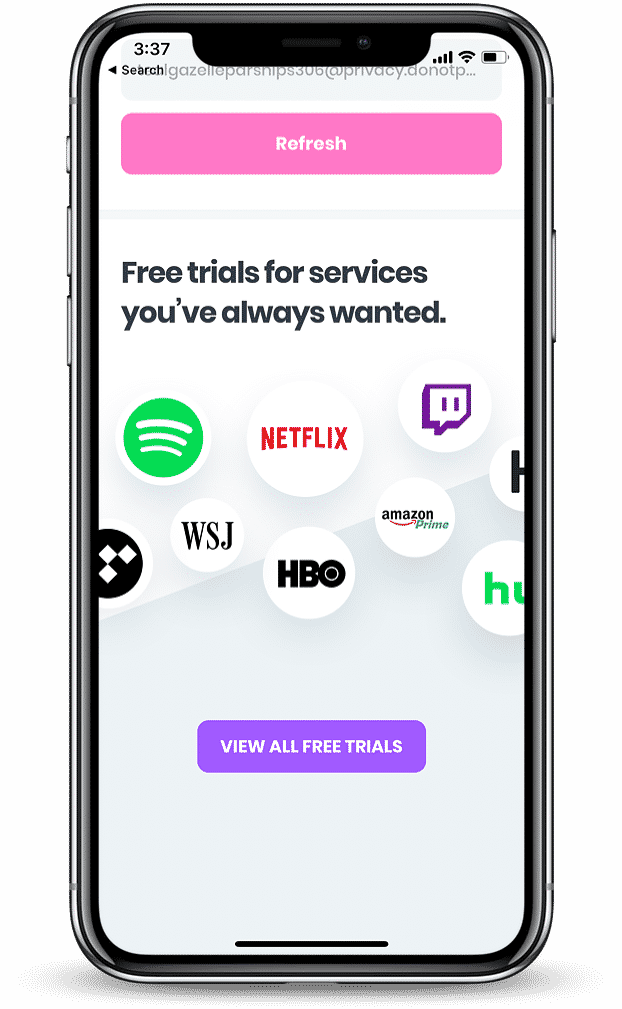 When you get the gist of how chip credit cards work, you can easily understand what the method behind our virtual Free Trial Card is. With chip credit cards, a single-use token is sent to the merchant or service provider whose product or service you want to buy. This token changes every time you use your card. Even if the merchant or service provider tries to misuse your card at any point in the future, that won't be possible because there will be a new token protecting you from fraud.
Our Free Trial Card operates on pretty much the same principle. DoNotPay generates a new temporary credit card number for each future use. That way, it's impossible for a fraudulent service provider to misuse it and cause you any damage. The ability to limit a virtual credit card to one merchant or one purchase only protects you from any attempt of an unauthorized purchase.
In addition to the virtual credit card number, our app also generates a random temporary email address. When signing up for free trials, service providers will also require your email address. Why leave them any piece of real information that can lead them to you when you do not have to? You can pair a temporary credit card number with a temporary address for full protection. When you leave this random email, you also avoid being spammed by the service provider's ads, as they usually take advantage of your information to put you on their email marketing list.
How to get and use DoNotPay Virtual Credit Card

When you rely on DoNotPay, getting a virtual credit card is a smooth and easy process. For a start, you just need to take the following steps:
Access DoNotPay via a

Select

Virtual Credit for Free Trials

among the services

Get your unique virtual credit card number
Our app will generate a random set of numbers that has nothing to do with your real credit card. When you get it, it's time to start those free trials you've wanted to check out for so long. When the service provider in question asks for your credit card, all you need to do is type in your virtual Free Trial Credit Card information, and you're good to go. Even if you forget to cancel the free trial or the service provider tries to charge you before this period expires—which is also an option—you don't have to worry about that at all. There's no way they can access your real information, so there can't be any charges.
Advantages and disadvantages of using virtual credit cards
Just like any other solution, virtual credit cards come with certain downsides. In most cases, people agree that the advantages outweigh the disadvantages without a doubt. Here are some of the good and the bad sides, so you can weigh the pros and cons yourself:
| | |
| --- | --- |
| Advantages | Disadvantages |
| Your account information is fully protected as you don't have to expose any of it | Verification may be a problem when you book something using your virtual credit card, but you're required to give the real one on the spot |
| You can sign up for a free trial of any service and not worry about being charged for it when the free trial period expires | Not all merchants accept a virtual credit card instead of a regular credit card |
| You don't have to fear malicious merchants and scams | There is a potential problem with refunds—a refund is usually made directly to the account used for the purchase, so you may not be able to get it if the card expires in the meantime |
| Many providers offer virtual credit card numbers free of charge | Some providers still charge a monthly fee when your balance is below $25 |
| You can set a spending limit | Limited spending is not always convenient for recurring payments |
| You can set the expiration date that works best for you | The limited expiration date can cause you additional trouble with recurring payments that you want to continue making after that date |
When can you use a virtual credit card?

Now that you know how a virtual credit card works and what the advantages of using one are, the next question to answer is when you can use it. Most commonly, virtual credit cards are used for:
Online shopping

Over-phone purchases

Recurring payments

Single payments

Free trials
Speaking of free trials, you should know that there is a wide range of services that you can try out for free and not worry about potential charges afterward. For instance, you can sign up for a free trial on Netflix and get access to their entire catalog of your favorite TV shows and movies, and enjoy those at ease, knowing that they won't be able to charge you after the free trial. When you have your DoNotPay Free Trial Card, many other services are at hand, such as:
Spotify

Twitch

ESPN Go

Doordash

Jira

PlayStation Vue

HBO

Amazon Prime

Hulu

Adobe

Postmates

Showtime
The difference between a regular credit card and DoNotPay Virtual Credit Card

Since virtual credit cards are still gaining in popularity, some people are still confused when they need to draw a clear line between these and real credit cards. The main difference between them is that virtual credit cards are used only for online shopping, but there are other points that need to be taken into account to get a clear picture. If you still have any doubts about using DoNotPay Virtual Credit Card, make sure you consider the following differences and keep them in mind before you reach your final decision:
| | |
| --- | --- |
| Real Credit Card | DoNotPay's Free Trial Card |
| Your credit card information cannot be protected | Your real credit card information is completely safe |
| Your credit card is not safe if the website where you left the info is hacked | Even if the site is hacked, they cannot hurt your real credit card |
| You risk being charged if you forget to cancel a service or membership | You cannot be charged after the free trial period |
| You could end up wasting thousands of dollars | There's no risk of losing any money |
Know the difference between mobile wallets and virtual credit cards
When it comes to finding a safe way to shop online, use free trials carefree, and protect your credit card, there are some alternative solutions, such as mobile wallets. For a start, it's important to remember that these two terms are not interchangeable—mobile wallets are not the same as virtual credit cards.
What are mobile wallets?
A mobile wallet is a virtual wallet that allows you to make online payments safely and efficiently. If you have a mobile wallet, your credit card information is stored on a device—your smartphone or a tablet. That makes it somewhat less secure than virtual credit cards, as you still reveal your real credit card info. Keep in mind, though, that you can only use your mobile wallet if the merchant you need to pay is connected to a mobile wallet service provider.
What else can DoNotPay do for you?
In addition to helping you avoid charges after free trial periods, DoNotPay can give you a hand with many other issues. Whether you're having trouble with an unfair parking ticket or you need help with bills, we've got you covered. Here are some other things that we will be more than happy to do for you if need be:
Dispute traffic tickets

Fight your speeding tickets