Is a PNC Virtual Wallet Debit Card My Best Option?

If you've been considering whether it's wise to sign up for a , we understand your quandary. While virtual credit cards are great for fighting robocalls and signing up for free trials and offers without risking your real credit card info, they can also come with some drawbacks.
You may be wondering if PNC's virtual wallet debit card option is the best one for you. You may also be concerned about hidden fees or drawbacks. Today, we're here to give you all the information you need to make an informed decision. We're also here to fill you in on how DoNotPay can help!
What Is a PNC Virtual Wallet Debit Card?
PNC's Virtual Wallet Debit Card is a debit card that is issued when your PNC Virtual Wallet account is opened.
Are PNC Virtual Wallet Debit Cards Free?
Because a debit card comes included in your PNC Virtual Wallet service, there is no charge to receive or activate this debit card. There are, however, some added/optional fees associated with this type of debit card.
| | |
| --- | --- |
| Transaction | Charge |
| Change/upgrade to the American Cross Visa Debit Card | $5.00 per year |
| Replace a lost card | $7.50 per replacement |
| Expedited card delivery | $25.00 each |
How to Get the PNC Virtual Wallet Debit Card
In order to obtain a PNC Virtual Wallet Debit Card, you will simply need to sign up for a PNC Bank Virtual Wallet. Visit the website and follow the instructions to complete your application and see if you qualify.
Are There Any Drawbacks to PNC Virtual Wallet Debit Cards?
Not that this is a drawback, but it's important to know exactly what you're getting into with the PNC Virtual Wallet Debit Card.
Unlike some virtual credit cards or virtual debit cards, this is not an option that allows you to sign up for services or give an account number for risk-free trials.
This is an actual, literal debit card that will be charged to your account if/when you use it. Because it is associated with a service called "Virtual Wallet," some customers have entered into the agreement with false assumptions. If you know what you're getting into, however, it could be that this card is the right one for you.
If you're hoping to find a virtual credit card number that will give you more freedom and some risk-free options, that's where DoNotPay comes in.
Perhaps the DoNotPay Free Trial Card Is Right for You

If by this point you've discovered that isn't what you're looking for, never fear. DoNotPay's Free Trial Card could be exactly what you're looking for.
Open your web browser
Log into DoNotPay
Choose the "Virtual Card" option
Follow the steps
DoNotPay will create a credit card number and associated information that will allow you to sign up for free trials and promotional items without risking your own credit card information. Because there is no money associated with the credit card number you submit, you will not be charged if you forget to unsubscribe or cancel your free trial. All you have to do is enjoy!
Where Can I Use DoNotPay's Free Trial Card?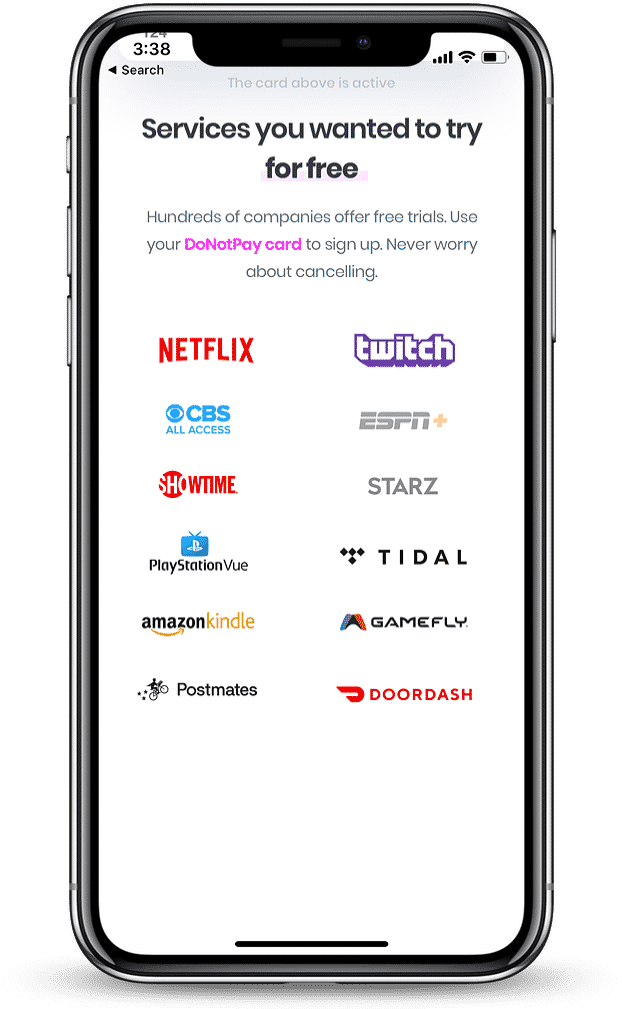 DoNotPay's Virtual Credit Card numbers work for more or less all products and services, including Doordash, Postmates, Showtime, Amazon Prime, HBO, Hulu, Jira, and Spotify.
This is an important service. One-third of Americans are currently paying for subscriptions they don't want. For some of them, that's because they no longer use the service but keep forgetting to cancel it from month to month. For others, they're still paying for services because they forgot to cancel after signing up for a free trial.
One of the easiest ways to avoid paying extra or unwanted fees because you forget to cancel service after the free trial is by using DoNotPay's Virtual Credit Card feature. The process is fast, easy, and effective. In moments, you will have your own VCC to use whenever you want to sign up for a free trial or sample service without risking extra payments!
DoNotPay Has Your Back
When the time comes to deal with issues related to credit cards or virtual credit cards, you don't have to handle things on your own. DoNotPay is here to help.
And that's just a taste of what we do. DoNotPay understands the trials of life. That's why we've created a wide array of products and services to help you solve problems quickly and efficiently.
Come see all we have to offer.