How to Get Money off a Visa Card

You aren't alone if you have been lured into a subscription service through free trials. It's terrible that these renewals might drain your account, and you end up looking for how to get money off a . Well, we have a solution for you. DoNotPay offers a virtual credit card that can help you get any free trials without getting charged.
What Is a Visa Virtual Credit Card?
A (VCC) is a prepaid card that you load with a specific amount of funds. You can use it to make multiple for as long as the card's monetary value remains. Unlike other credit cards, a Visa VCC isn't tethered to your bank account. Instead, the card is non-reloadable and prepaid with a value equal to the amount you initially loaded during its acquisition.
Can Get Cash From a Visa Virtual Credit Card?
You cannot card through an ATM machine, because there is no physical card. But you usually can make a transaction at your bank that allows you to transfer funds into your account, and withdraw them from your bank.
Are Visa Virtual Cards Free?
Unfortunately, a isn't free. Like other bank-issued VCCs, a Visa will charge you when you acquire the card to cover third-party expenses such as stores, program managers, and processors.
However, there are various ways in which you can save for the Visa VCC and cover the purchase costs, such as watching out for discounts, Egifting, staying on top of gift card deals, and purchasing a Visa VCC with rewards.
The purchase fees are as follows:
| | |
| --- | --- |
| Gift Card Value | Purchase/Activation Fee |
| $10.00 - $74.99 | $2.95 |
| $75.00 - $149.99 | $3.95 |
| $150.00 - $249.99 | $4.95 |
| $250.00 - $349.99 | $5.95 |
| $350.00 - $500.00 | $6.95 |
Keep in mind while the gift value remains constant, the activation fee might differ depending on the purchase location, especially stores. For instance, a $50 card at Walmart will cost you $3.88, while the same card will cost you $5 at Target.
Drawbacks of Using a Virtual Credit Card
Every technology comes with challenges. Learning how to withdraw cash from a virtual Visa credit card isn't different. While it's a fantastic technology for businesses and consumers, here are the demerits of a virtual credit card:
Taking time to catch up – VCC technology has been around for a while now. Sadly, not every business has invested in technology. Some are unwilling to do so, either due to a lack of resources or need more convincing.
Resistance to change – while change is good, some customers and businesses might oppose implementing VCC technology despite the few benefits. This is most common among the folks who aren't tech-savvy and feel the VCC is complicated for their understanding.
Friction with returns – under normal circumstances, when you buy an item online and fail to meet your expectations or standards, you can return, and the vendor credits your account. In the case of a VCC, refunds might be challenging since the card might cease to exist after you make the purchase.
Benefits of Visa Virtual Credit Cards

It's always a welcome thought to have the technology to streamline your purchases. VCCs is that tech. Whether a business or personal purposes, a virtual credit card has the following benefits:
Improved security – while using a VCC follows the same principle as a physical CC, the VCC tech encrypts data, so your Personal Identifiable Information stays hidden. Also, the VCC number is single-use and tied to a specific bill and amount, making it useless when a malicious website or fraudulent merchant steals it.
Boost cash flow management – a VCC gives you a bird's eye view of all your accounts and transactions. You can track your credit account against all your expenses. If any costs go against your budget, you can discontinue the service.
Breezy withdrawal – various ways to transfer money from a virtual card to a bank account. If your bank account doesn't have enough funds, transform a Visa gift card into cash through avenues such as PayPal, CashApp, Venmo, MoneyGram, among others.
Easy to create and use – once you have the tech, in most cases, an app, creating the VCC is easy, and using it is more accessible and convenient.
Enhanced accountability – tracking your expenses, purchases, and subscriptions create accountability for you and the merchants. You become more responsible, and the merchants become more open with their deductions.
Where Can You Get VCCs?
Most banks and credit unions are now offering VCCs. You can also get them through Mastercard and Visa. DoNotPay offers a virtual credit card, too.
Use DoNotPay's VCC for:
Improved security on your money and credentials
Does the Visa VCC Guarantee 100% Safety?
No, it doesn't, no virtual credit card does. Currently, it's challenging for an identity thief or fraudulent vendor to steal the Visa VCC details and use them for unauthorized purchases owing to the security measures.
But technology is evolving at unprecedented rates. If the vendor is tech-savvy enough, they can secure some purchases with the funds in the card. They might even transfer the cash to their bank accounts.
How to Use DoNotPay's Free Trial Card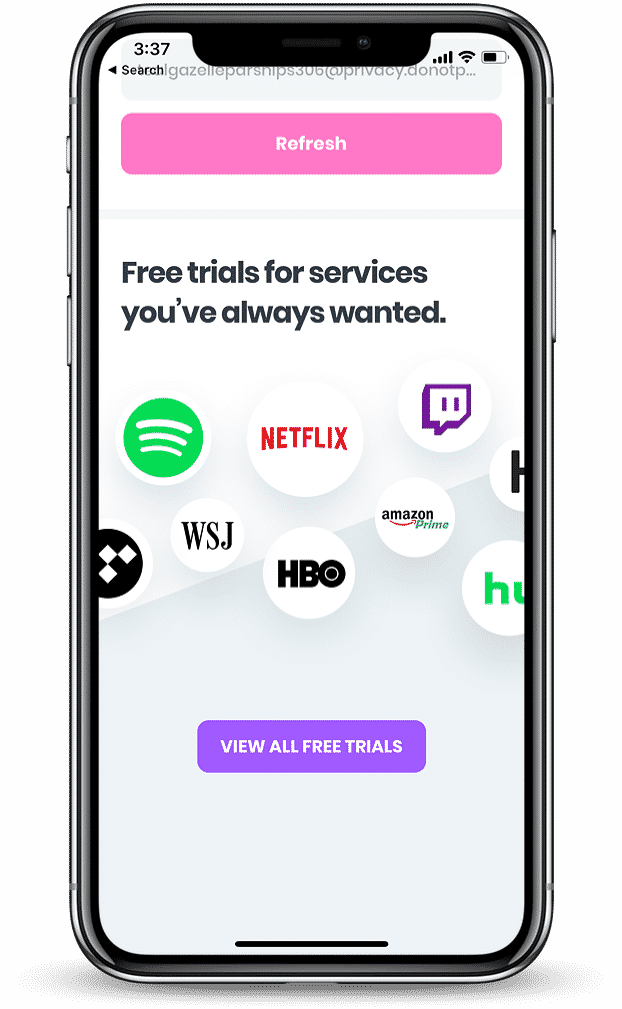 Around 70% of Americans waste money on unnecessary renewal on subscriptions since they forget to cancel. Before you fall into that category, here's a solution for you. DoNotPay's free trial card is a card you can use when subscribing to a service's free trial. It's a virtual credit card, so it works like any other VCC and physical credit card. While a physical CC uses a single token to enable a vendor to charge the card, DNP's VCC (and other VCCs) use a 16 digit randomly generated by a virtual credit card generator.
The generator also provides an expiry date and card verification value (CVV), which, when scanned together with the VCC number by the vendor's payment systems, your transaction goes through.
DoNotPay's free trial card has a bonus. The app also generates a random email address that you can use when registering for all your subscriptions. Using your actual email enables vendors to send you spam emails. Furthermore, the card isn't in any way linked to your bank account. So you can rest assured your account details are safe.
In summary, DoNotPay's Virtual Card Option can:
Generate a random card number for you
Automatically approve free trials and billing pages
Stop all auto-renewals or any additional charges
Cancel your subscriptions
This way, we save time and resources for you to undertake other essential projects.
Where Can I Use DoNotPay's Free Trial Card?

A virtual credit card from DoNotPay works anywhere. You can use it to sign up for trials risk-free, make restaurant reservations, and make payments when you don't want to share your real credit card information. More specifically, you can use a DoNotPay virtual card at:
And remember, virtual credit cards are only one service DoNotPay offers.
What Else Can DoNotPay Do?
The short answer; plenty. DoNotPay is the first platform of its kind to have the sort of capabilities to assist you in tackling bucket loads of challenges. Check out our other services below: