How to Get the Robinhood Virtual Card the Easy Way

The Robinhood trading app has been quickly gaining popularity since its introduction in 2015, mainly for its ability to facilitate the trade of stocks, exchange-traded funds, and cryptocurrencies at no commission. Despite these advantages and the availability of a free version of the app, the need for a Robinhood virtual card is still important should you decide to try out their premium service, Robinhood Gold.
DoNotPay helps to generate a virtual Robinhood card to ensure that you do not incur subscription fees should you forget to cancel your subscription.
What Is a Robinhood Virtual Card?
The Robinhood virtual card is simply a temporary card number that you can use to bypass the financial information requirements needed when signing up for the service Robinhood Gold.
You see, there are two tiers of Robinhood subscriptions. There is the free version of the product, where you can trade for free on the app without incurring monthly subscription charges.
Robinhood Gold has additional features you can access by paying a $5 monthly subscription fee. You are, however, allowed a 30-day free trial, after which the subscription fee is automatically charged at the beginning of each billing cycle unless you cancel your subscription beforehand.
You may thus end up paying a lot in subscription fees if you stop using Robinhood Gold and forget to cancel your subscription. DoNotPay Virtual Cards ensure that you are not charged for your forgetfulness.
How Does the Robinhood VCC Work?
Unlike other subscriptions that ask for credit card information, Robinhood will ask you to link your bank account. This is where the deductions will be made to make your trades and pay for your monthly subscription. If you had already signed up for the free account and attached your bank account information, and would like to upgrade to Robinhood Gold, there is an option to edit your bank information to ensure that the subscription fee is not automatically charged from your account once the free trial period has elapsed.
You can edit the information by following the steps below.
iOS
Open the Robinhood app on your IOS device
Tap the account icon in the bottom right corner of the screen
Tap transfers
Scroll down to access the Linked accounts
Tap the bank account you want to unlink
Tap the red unlink option
Confirm the removal by tapping the green unlink
Android
Steps 1,2 and 3 for unlinking your bank account on the Robinhood app are not different from those on the IOS device. However, once you have scrolled down and seen the accounts you want unlinked, you need to tap and hold momentarily until the unlink option pops up. Tapping the unlink option will unlink your bank account without further confirmation.
Web
If you are doing it on your browser, simply:
Click the account option in the top right corner of the webpage and select banking from the ensuing menu.
Under the linked accounts, click the unlink button next to the account you want to unlink.
Once you have unlinked your account details from your Robinhood account, you can enter the details on your virtual credit card. You will then be able to carry out trades on Robinhood Gold and not worry about monthly charges if you don't wish to discontinue your participation at the end of the 30-day free trial.
The virtual card is usually connected to your bank account, but does not reveal your account information should the merchant encounter a security breach.
How to Get a Virtual Credit Card
You can get a virtual credit card by creating a privacy account following the steps below.
Enter your email and provide a password
Link your bank account to your privacy account
Choose the mywallet on privacy.com
Create a virtual credit card
Privacy, the platform that generates these virtual credit cards, uses plaid to communicate with your bank every time a transaction takes place and, therefore, cannot use your bank information to access your account.
If you need assistance:
| | |
| --- | --- |
| Robinhood Customer Support Number | Request a call via the Robinhood app, and you will be given the number that you will be called from. |
| Robinhood Support Email Address | support@robinhood.com |
| Robinhood Cancellation FAQ | FAQs |
Does the Robinhood Virtual Credit Card Guarantee 100% Safety?
Should the trading platform be hacked, your financial information will remain safe from unauthorized hands as they will only be able to access made-up details that they cannot directly use to access your finances.
While the virtual card resembles a genuine card and will bypass verification tests, no funding source is tied to it, meaning no money can be drawn. The card can, however, not be used in an actual physical store to make purchases and attempts to, so this could see you rack up legal charges
What is the DoNotPay Free Trial Card?

The DoNotPay free trial card is an avenue to access free trials without disclosing bank information. While the free trials may seem enticing, most of them usually turn into automated subscriptions that charge fees to unsuspecting subscribers who forget to cancel their subscriptions for services they no longer use.
Even when you are willing to cancel, the process can be overly protracted, forcing you to seek an audience with unresponsive customer service. Using the free trial cards to bypass authentication can help you avoid all this in the first place, as your banking information is safe and unexposed to automatic deductions.
All you need to do is log onto our web browser, select the virtual card option, and we will create a card number that you can use for free trials without linking your actual money source. DoNotPay can help you get instant approval for a virtual credit card.
Where Can I Use DoNotPay's Free Trial Card?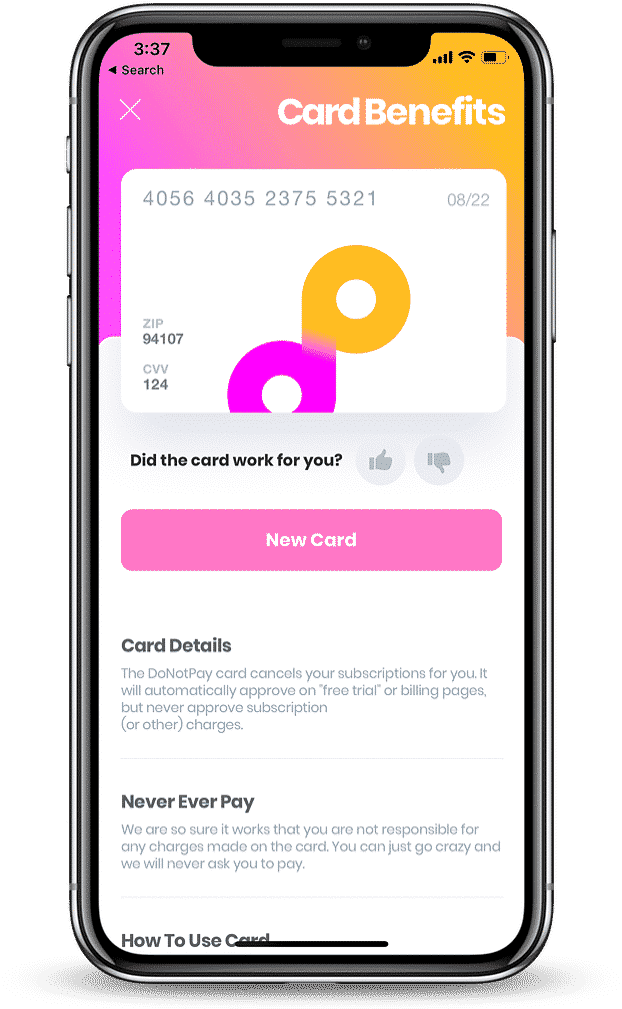 You can use the card when registering for most subscriptions that offer a free trial. These include:
What Else Can DoNotPay do?
Aside from protecting your private financial information online, we can also assist with endeavors such as the following:
Sign up with us to enjoy these and more product offerings.