What Is the Jassby Virtual Debit Card?

Virtual credit cards are being used widely to protect personal information, cancel subscriptions, and sign up for free trials and not get charged. DoNotPay has been helping people, just like you, save money, time, and exposure by offering virtual credit cards quickly and easily through our website.
DoNotPay's credit card number generator, gives you a verifiable credit card number, expiration date, and security code that allows you to relax and never worry about canceling trials and subscriptions when the free period expires.
The is a card generated to use as a teaching tool for children and is a free family finance app. They claim that parents can control their child's spending, offer allowance incentives, and can get them started on budgeting and learning how to handle money.
How Can I Get the Jassby Virtual Debit Card?
You can get the by downloading the free family finance app. This app simplifies giving your kids an allowance and controlling and monitoring how they spend it. Parents have control and many use it as a teaching tool for younger children. There are tools for budgeting and setting goals for saving money.
Since there are no physical cards that can be easily lost, your kids cannot use an ATM or make purchases in stores that do not allow contactless payments but can make purchases online.
What Are the Features in a Jassby Virtual Debit Card?
Jassby is a virtual debit card for kids who have a smartphone. There is no physical card, but by using their app, they can make purchases within their debit balance. It has some features that many other virtual debit cards do not have.
Virtual Debit Cards Powered by:
Features
Fee
Parental Control
Master Card
-There is a chore list that can be assigned to a child, listing when it needs to be done, any special instructions, and what they earn for completing the task. Example: Load the dishwasher. Due by Tomorrow. Pays $2.00.

-Jassby offers a Jassby Mall which offers more than 20,000 products from brands your kids recognize where kids can shop, as well as anywhere that take contactless payments, online or brick and mortar.

There is currently no fee to obtain and use a virtual debit card.
Parents are able to view and control the amount of money each child spends. They can set spending limits and know how the child is spending their funds.
What Are the Drawbacks to a Jassby Virtual Debit Card?
There are no physical cards, which may be great if you live in a city that has many businesses that accept contactless payments. In rural areas and small towns, however, this could limit where the card can be used.
How Do I Get a Jassby Virtual Debit Card?
If you are interested in getting for your child, start by downloading the app on your smartphone. To qualify, you must:
Be at least 18 years old
Be a US citizen or legal resident
Have a US phone number
Own a US bank account or credit card
Have an iPhone or Android smartphone
Grant permission for use by children under 13 years of age.
If you meet these qualifications, you may be asked to give your child's date of birth, as well as your date of birth and social security number. Then simply follow the steps below to set up your account on the app.
Create your profile.
Verify your email address.
Add your family members that you want to add to your account.
Verify your identity.
Link a bank account or debit or credit card.
Follow the prompts to request your kid's virtual card.
What Is DoNotPay's Free Trial Card?

Have you ever signed up for a free trial and discovered it wasn't what you really wanted? And then you forgot to cancel before the trial period ended, and your credit card was charged? DoNotPay understands that companies count on you being too busy and forgetting to cancel. We know that is how many companies get you paying for services or subscriptions that you do not want or no longer need. That's why we created the Virtual Free Trial Card.

How Can I Get a DoNotPay Free Trial Card?
Never pay for a free trial again! DoNotPay makes it easy and secure to sign up for a free trial without giving up your personal information. Enjoy your free trial while making up your mind if you want to continue using the service. Don't worry about forgetting. Don't worry about being charged. We have your back.

Getting a DoNotPay Free Trial Card is easy and quick. In minutes, you can have a virtual card to sign up for those special trial offers you want. Here is all you do:
Search free trial card on DoNotPay and enter the company you want a free trial for.
We'll automatically generate a virtual credit card that you can use for that merchant with no need to go through the lengthy approval process.
Copy the card details shown on your screen.
Use the card to sign up for your free trial and sit back to relax and enjoy!
Remember, the DoNotPay Virtual Free Trial Card is temporary and good for one use only. It is good for the validation process, but will not allow charges.
Use DoNotPay's Free Trial Card Nearly Everywhere

You can use DoNotPay anywhere where you are required to give credit card information before starting a free trial or subscription offer. Use it for:
Free magazine or newspaper trials.
Memberships like Amazon Prime
TV Streaming and Premium Channels
Services like DoorDash or UberEats
Nearly every service, subscription, or free trial offer that requires a credit card number before signing up, can benefit from DoNotPay's virtual credit card. Then you never have to worry if you do not want to continue with the service or subscription. If you decide to continue, simply use your own credit or debit card that is valid for charges.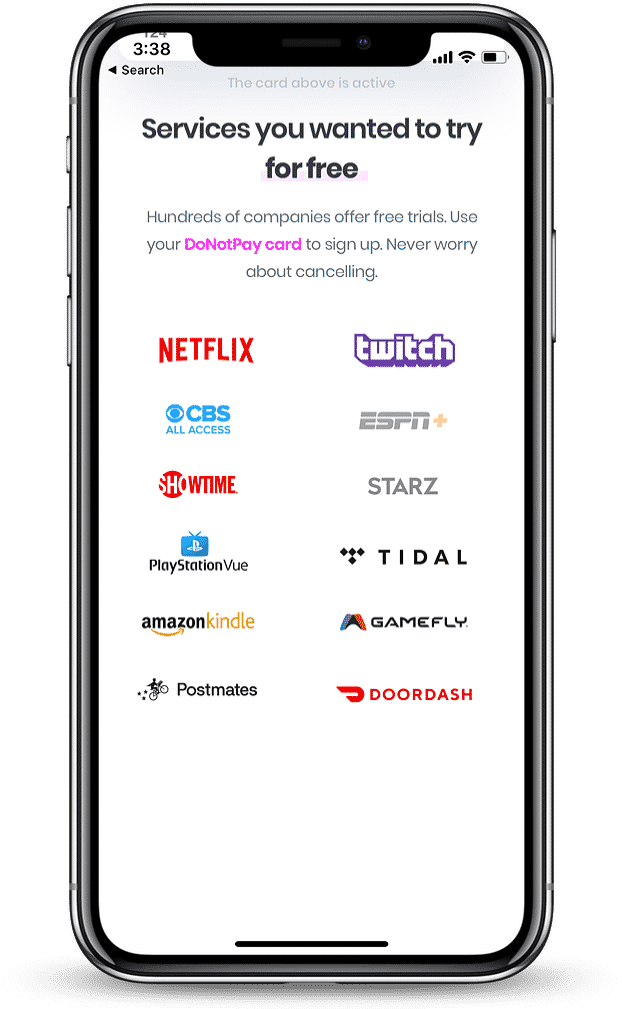 DoNotPay will help with most of the problems you face daily. In addition to virtual credit cards, we can help you fight a traffic ticket, jump the queue when dealing with customer service or sue anyone in small claims court. Let us help you today!