Sign Up for the Starz Free Trial Without Giving Your Credit Card Info
With a total of 26.5 million subscribers, Starz is a premium American cable and streaming service. It is famous for its original programming and broadcasting Lionsgate's library. If you are interested in becoming a Starz's user, here are the things you should know.
Does Starz Have a Free Trial
?
Yes, it does. Starz offers a 7-day free trial, but there are ways to turn those seven days into five weeks! Multiple services, including Amazon Channels and Hulu, are offering a 7-days free trial for Starz. You can technically stack all of the different free trial options and enjoy Starz free of charge for over a month.
Services offering 7-Day Free Trial for Starz

Directly on Starz

You can go to the Starz website and sign up for the free trial

If you use Amazon Prime, you can add the Starz 7-day free trial as a third-party subscription on your account

Sling TV

Aside from offering a 7-day free trial for their service, Sling TV offers several premium networks, including Starz, that will be included in a 7-day trial period

If you have a Hulu account, you can add multiple premium services—including Starz as a 7-day free trial—to your account

If you sign up for the AT&T's Plus or Max packages, you can start a free trial for various premium services, Starz included
What Is the Easiest Way to Get a Free
Starz Trial
?
The easiest way to get your 7-day free trial on Starz is on their platform or the app. Here's what you need to do:
Sign up

online or download the app

Initiate your 7-day free trial by using your

Google Play, Apple, or Roku ID

Create your

Starz

account
That's it. Now you can start streaming on a supported device.
How to Get Starz Free Trial With Amazon Prime
Amazon Prime members have access to Amazon Prime Video, an add-on streaming video service. There's a related service called Amazon Prime Channels that allows you to track premium cable channels, including Showtime, HBO, and Starz (for additional monthly fees).
The Starz and Amazon Prime Channels have an agreement that allows Amazon Prime members to have a 7-day free trial period for Starz.
Free Trial of Starz
on Sling TV
As the oldest Internet TV Service in the US, Sling TV has more to offer than almost all of its competitors. Both of its main packages provide a 7-day trial period, and in addition, it offers dozens of premium networks, such as Starz, that can be added to the one-week free trial.
Hulu Starz Free Trial
Hulu offers a 7-day free trial of Starz to eligible returning and new customers. To use this option, users need to sign up for the base Hulu service.
Starz Free Trial
on AT&T TV Now
AT&T TV Now is formerly known as DirectTV. Both TV's main packages include a 7-day trial period. In addition, when you are choosing your subscription options, Starz is one of the few networks that you can add to your AT&T TV NOW free trial.
How to Get a
Starz 30-Day Free Trial
?

If you want to get a 30-day free trial for Starz, you can sign up for the service when you purchase and register a new Roku device. Keep in mind that after the 30 days are up, the service will be renewed automatically using your credit card information.
Will the Starz Free Trial Automatically Renew Into a Paid Subscription?

Yes, it will. If you don't cancel Starz free trial before it's over, you'll be charged for the monthly subscription. In case you don't want to switch to a paid subscription, but you forget to cancel the free trial, Starz will not give you a refund.
Cancel Free Trials With the DoNotPay Free Trial Card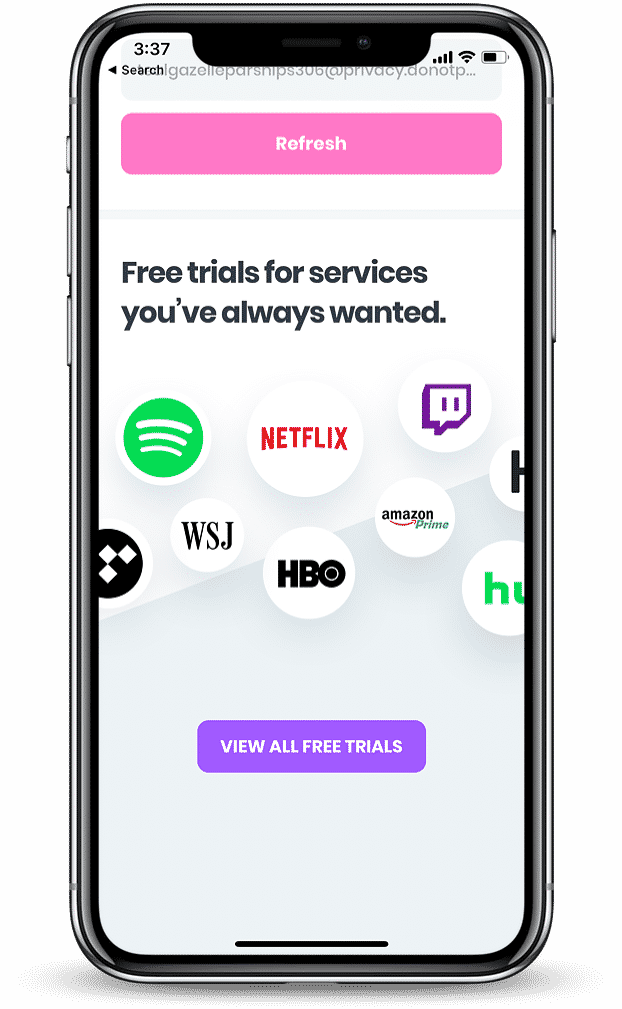 If you have the habit of signing up for free trials and forgetting about them, DoNotPay has a solution for you—the Free Trial Card. You can access DoNotPay from any .
Virtual credit cards are randomly generated, unique credit card numbers. They have all the properties of an actual credit card—cardholder name, credit card number, and the expiration date—but aren't tied to a real bank account. What this means is that you can utilize virtual credit cards to sign up for any free trial without the risk of getting automatically charged once it expires. You can use DoNotPay's virtual credit card generator to quickly create a new credit card you can use once and forget about those pesky unwanted charges.
When you use the DoNotPay Free Trial Card, you can use any name or address, and we'll provide you with the virtual credit card number and expiration date. You will be absolutely protected because the app will remove all the tracking regarding your location and other information companies use to advertise their services.
Keep in mind that you will not be able to make a real purchase with the virtual credit card, but it is ideal for free trial signups. After your trial expires, the service you signed up for will cancel your subscription automatically since they won't be able to charge you.
The DoNotPay Trial Card will help you save money by:
Generating a random credit card number

Not approving subscriptions or other charges

Canceling subscriptions for you
How to Cancel Starz Free Trial From the Amazon App
To cancel the Amazon Starz free trial, you should take the following steps:
Open

Amazon

Click

Your Account

(it's under Accounts & Lists on the homepage)

Scroll down to

Digital Content and Devices

Click

Apps and more

Under the

Manage

, click

Your Subscriptions

You'll notice the Starz subscription and a box on the right—

Actions

Turn off

Auto-renewal
The Cost of Starz After the Trial
The cost of Starz after the free trial will depend on the platform you've used to sign up for Starz in the first place.
Here are the Starz prices on different platforms:
Starz

—$8.99 per month

Sling

—$9 per month plus $15 per month for Sling TV

Amazon Channels

—$8.99 per month plus $12.99 per month for Amazon Prime

Hulu

—$8.99 per month plus $5.99 per month for Hulu

AT&T TV Now

—$11 per month plus $65 per month for AT&T TV Plus Package
What Do Starz Charges Look Like on My Statement?
| | | |
| --- | --- | --- |
| Starz Entertainm855-247-9175co | STARZ ENTERTAINMENT * CO | STARZ G.CO HELPPAY# CA |
| STARZ ENTERTAINMEN 855-247-91 | STARZ ENTERTAINM CO US | STARZ ENTERTAIN 8114 |
| STARZ ENTERTAINMENT CO | STARZ ENTERTAINMENT COUS | STARZ ENTERTAINM |
| STARZ ENTERTAINMENT | STARZ Subscription WA | STARZ ENTERTAINMENT 855-247-9175, CO, US |
| STARZ ENTERTAINMENT, 855-247-9175, COUS | STARZ ENTERTAIN CO USA | Recurring Starz Entertainm855-247-9175co |
| STARZ ENTERTAINME CO | STARZ ENTERTAINMENT US | STARZ INTERNET |
| STARZ G.CO HELPPAY#CAUS | STARZ ENTERTAINMEN CO | STARZ ENTERTAINMEN855-247-9175 |
DoNotPay Can Also Help You Resolve Other Issues

DoNotPay is the best robot lawyer in the world. Aside from helping you avoid spending money on subscriptions you are not interested in, it can help you deal with a variety of other issues.
You can access DoNotPay from any . Whenever you need it, DoNotPay is here to help you with:
Disputing traffic tickets

Fighting speeding tickets