Wondering how to lower the Verizon FiOS bill? DoNotPay has the answer! 
The Internet has become a very precious commodity. We all want lightning-fast Internet speed that can make our day-to-day lives fuss-free. All of our devices are dependent on it, and it is no wonder that we spend upwards of $500 each year on Internet bills.
From the looks of it, utility costs will not be going down any time soon. That is why we should all turn to DoNotPay for much-needed money-saving solutions. 
If you have been using Verizon FiOS for some time now and discovered that it is way too costly for you, DoNotPay will help you find a way to lower your monthly bills! 
Can DoNotPay help me lower Verizon FiOS bills?

Most certainly. Our app is super user-friendly, and you should not have any trouble navigating through it with ease. Making your life comfortable and easy-going is our top priority!
If you want us to give you a helping hand with something, all you have to do is:
Open DoNotPay via a

web browser

Click on Corona Relief

Let us know how we can help you

Provide us with some basic personal information
The personal information we will ask you for includes:
Your residential address

Your email address

Your full name
That is all there is to it. Whichever issue you are facing, we will make sure to find the perfect solution for it in record time. You sit back and relax, and we will do the hard work for you.
First things first, understand what you are paying for!
How many times have you taken the time to carefully examine your Verizon FiOS bill or any other bill for that matter? Most of us do not even know what we are paying for.
For an average person, utility bills can be difficult to comprehend. Next time you open your Verizon FiOS bill, you will know what you are looking at, and more importantly, what you are paying for!
| | |
| --- | --- |
| Item | What is included |
| FiOS TV, Internet & Phone Bundle | The first item you will encounter on your bill is related to the package you are subscribed to. FiOS' bundle includes a phone line, Internet, and HD TV. These fees will vary depending on the package you are subscribed to.  |
| Additional Services, Equipment & Discounts | This item includes fees for all the devices you are renting from Verizon. Believe it or not, this is the most expensive part of your bill. Providers, by default, overcharge their customers when it comes to the equipment! For example, if you have an HD and DVR-enabled box, you will pay a monthly fee of $16.99 for it. Alongside the rented equipment, you will see a line listing all the discounts you are eligible for.  |
| Fees & Other Charges | One thing you should know is that each jurisdiction in the United States imposes certain taxes on telecommunication services. These are listed in the Fees&Other Charges section of your bill. State and Local Sales Tax, Telecommunication Relay Service, E911, they are all in there.  |
Now you know why you might be paying more than your agreed-upon with your provider. Sometimes these additional fees and charges can increase your monthly bill by 40%, depending on the state you live in.
Finding errors is the first step towards lowering your monthly bills
Given that utility bills are hard to decipher, various kinds of errors can seamlessly find their way onto them, and force you to pay more money than you are supposed to. That is why it is a good idea to start skimming over your bills and detect the items you know should not be listed there. Some of the most common errors are:
Unremoved canceled services

Duplicate items

Unreceived charged services
Unremoved canceled services
Just because you have changed your mind and decided to cancel certain services, that does not mean your provider will take them off your bill. In case you find a service you know you have canceled a while back, immediately contact your provider and inform them about the mistake. 
Duplicate items
You would be surprised how often these oversights occur. This is probably the most common error you will encounter on your bills. As soon as you detect a duplicate item, reach out to your provider and let them know that they have made a mistake. 
Unreceived charged services
Similar to unremoved canceled services, you might end up in a situation where you are asked to pay for a service you have not received. In case this happens, you should contact your provider and ask for some kind of compensation. You can ask them to deduct the service from your bill this month, or provide you with the service next month but not charge you for it.
Ways to lower your Verizon FiOS bill

You might have opted for Verizon FiOS because of the bundle package the company provides. At first glance, it seems like a reasonable decision, but over time, users often realize that their plans are a bit too costly for their liking. Luckily, there are plenty of ways to lower your Verizon FiOS bills. These are the most common ones:
Various discounts and rewards

Plan changes

Long-term commitment to Verizon FiOS
Various discounts and rewards
Making the best of Verizon's discounts and rewards is a brilliant way of keeping some money in your pockets. For example, Verizon allows its users to gain points through friend referrals, online bill payments, movie renting, etc. There is also the Reward + program through which you can win different merchandise and Visa gift cards. 
Many companies make use of the Verizon Connections discount program through which their employees get access to various discounts. That is why it would be wise to check if your company is enrolled in the program so that you can get your fair share of the discount pie!
Experiment with plan changes
By now, you know that Verizon FiOS tends to change its plans and bundles regularly. Given that you are not required to sign a contract with Verizon to make the best of their offers, changing plans every once in a while might be a great way to save some cash in the long run. While doing this, keep considering your true needs. Do you really need that fast of an Internet connection? Do you have to have all those HD channels? Do you really need a landline? Downgrading your plan should not be something to be ashamed of. 
Long-term commitment to Verizon FiOS
You do not have to sign a long-term contract with Verizon FiOS to get access to their services. Though the company takes pride in this fact, locking in with them turns out to be a much more financially feasible solution. In the long run, by signing a two-year contract with Verizon, you can save a lot more money over time through locked rates. 
Can you get a waiver on late Verizon FiOS fees?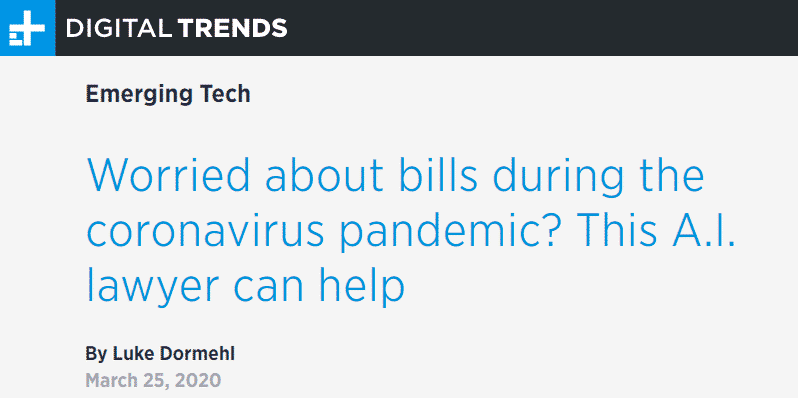 During this time of global crisis, asking for a waiver on late fees is welcomed with open arms by Verizon. Until the end of June of 2020, no services will be disrupted even if your bills are overdue.
If you are wondering how to approach this issue when the pandemic dust settles, know that there are a few options at your disposal: 
You can call Verizon's customer service 

You can send Verizon a letter

You can visit them in-person

You can consult with a consumer rights advisor
Calling Verizon's customer service might sound pretty straightforward to you, but more often than not, you will have to deal with painfully long phone queues. That is if you are not using DoNotPay. Our app packs a powerful feature that can help you jump the phone queues within seconds!
Even though we can help you jump over phone queues, letting us write a demand letter on your behalf is still the safest and most reliable way of getting a waiver on late fees. Our robot lawyer will skillfully write a waiver request letter within minutes. We will make sure that the letter informs your provider of your financial hardships, and secure you a favorable outcome. 
The whole process might take up to 48 hours, but we usually get the job done faster. Unfortunately, we have no power over Verizon's customer service response times. 
Reduce your Verizon FiOS bill through negotiation
We know what you are thinking. You have been using Verizon FiOS for a few years now, and you think that you should be getting a better deal for being a loyal customer. Not only that, but some of your friends and family members have gotten better deals from other providers, and you are expecting Verizon to match it.
Though negotiating with Verizon is not an easy feat, it can be done, and we strongly suggest that you give it a shot! To secure the best possible outcome, give the following steps a shot:
| | |
| --- | --- |
| Steps to take | What they entail |
| Reach out to Verizon and request to have your account canceled | You might think that a plain request for a better deal will get the job done. Usually, it does not. What you want to do is call Verizon's customer service and tell them that you want to cancel your membership. Tell them that your friends have gotten better deals elsewhere and that you want to make the transition yourself. There is always the possibility that they will turn down your request, but unless you make them believe that you are serious about leaving, you will not get what you are asking for.  |
| Construct a backup plan | After you call Verizon with a cancelation request, make sure to tell them to cancel your account in a few weeks, not immediately. This way, you will give Verizon enough time to call you back and offer a discount as a means to make you stay. Regardless of whether you receive this call or not, you will also grant yourself enough time to do some research on other providers in case you end up needing to make a transition.  |
| If nothing else works, downgrade your plan | Negotiating with Verizon will not always work. In case you fail to lower your FiOS bill, downgrading your plan is always a safe option. Ask yourself if you need the Internet speed you currently have or landline you are paying for each month. Cutting back on some services you do not need is a great way to put some money in your pockets. You can also ask Verizon about their deals for long-term customers. The company is not always transparent about these, but you might end up getting a better plan through them. |
Can you ask for an extension date for your Verizon FiOS bill?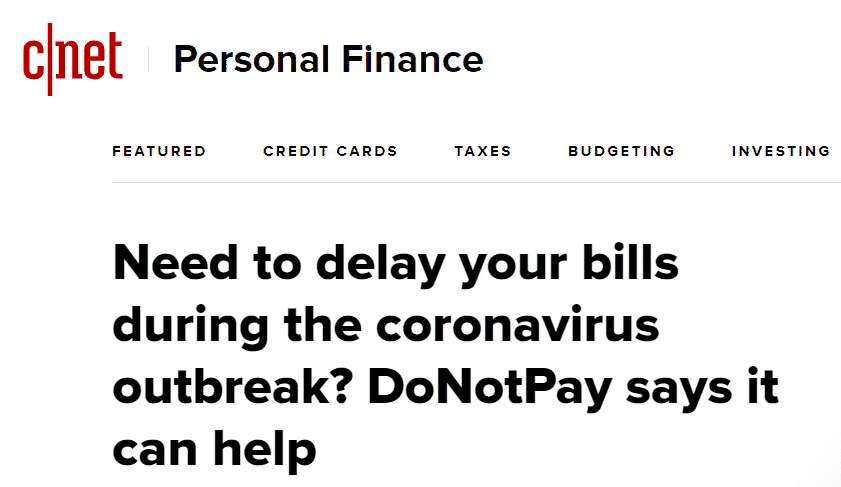 Sometimes, all you need is a simple extension date on your bills to shake off the financial pressure you are currently facing. In case of Verizon FiOS, you can get an extension date on your bill if you:
Call Verizon's customer service

Send an extension date letter
Calling Verizon's customer service
If you prefer getting things done over the phone, and you do not mind long phone queues, then reaching out to Verizon's customer service might be the way to go. These are the steps you need to take:
Call 1 (800) 837-4966

Ask for an extension date on your Verizon FiOS bill

Provide necessary account details
Modify your payment arrangement manually
We understand if you prefer doing things on your own. Though you can modify your payment arrangement manually through Verizon's website or app, you need to be a bit tech-savvy to do it without hiccups. Here is what you need to do if you are using the FiOS' app:
Open My FiOS app

Select Bill from the dashboard

Click on Options

Select Make a Payment Arrangement
In case you want to do this through a web browser, you should:
Sign in to My Verizon

Hover over the Billing tab

Click on Payment Arrangements

Select Schedule Payment Arrangement
Regardless of how you approach this, you will have two option at your disposal:
You can schedule a different date for your due payment

You can split the owed amount into two separate payments on different billing dates
Send an extension date letter
Out of all the options mentioned so far, sending an extension date letter is probably the least time-consuming one because DoNotPay can do it for you!
Our robot lawyer will carefully generate a personal extension letter that will inform your provider, sensibly, of your current financial situation, and the reasons behind your extension date request. You will need to provide us with some personal information, such as your residential address, your full name, and email address so that we can make the letter more authentic. The rest is on us!
What happens if you do not pay your Verizon FiOS bill in time?
If you fail to pay your Verizon FiOS in time, the company will first try to reach out to you and remind you that your bill is overdue. 
It is not in their best interest to temporarily shut down your Internet because they know that you will most likely pay your bill if you have access to their services. They will contact you more than once during this time, which can get annoying. 
The debt collection agency steps onto the scene after about thirty to sixty days. In case this happens, keep in mind that you will have to cover the agency's money collecting fee, as well as your overdue bill.
You generally want to avoid this, since your credit score will take a massive hit.
Paying your Verizon FiOS bill with your credit card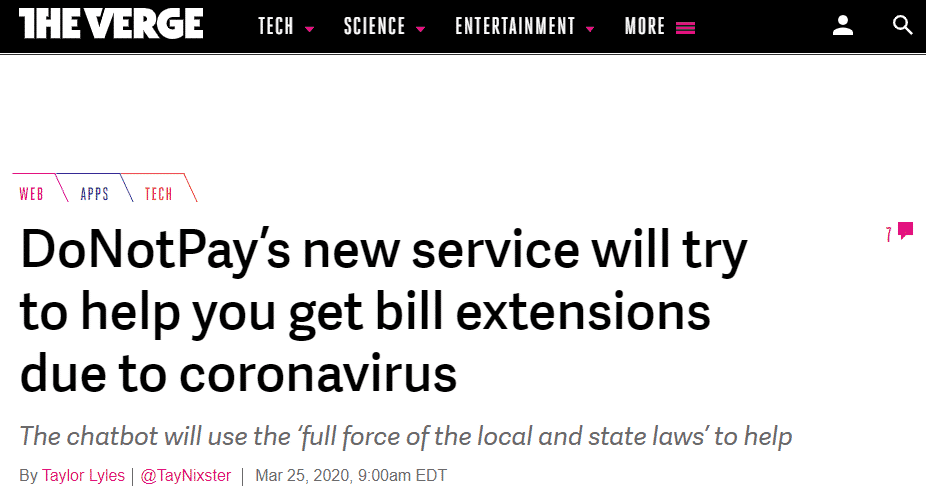 If you think that paying Verizon FiOS bills with your credit card is the best option for you, we will not be standing in your way! Just keep in mind the following caveat. Using your credit card to pay for certain utility bills can damage your credit score, and that can turn into a real nuisance. Your future landlords and employers will take your credit score into account when analyzing your applications.
DoNotPay Protects Your Privacy and Finances
Sharing your credit card details online comes with certain risks, and it's getting more difficult to tell good and bad websites apart. With DoNotPay's virtual credit card generator, you will be able to protect your identity and bank account from cyber scammers.
Whenever you run into a suspicious email or website, generate a virtual credit card and proceed without worries. Our virtual cards also work like a charm if you want to avoid automatic payments after free trials.
DoNotPay's much-needed services
Our vision was to make an app that can act as your assistant and do the hard work for you. We believe that we have succeeded at that. DoNotPay's app packs a ton of useful features that can transform the way you approach chores. Here are all the things DoNotPay can help you with:
Disputing traffic tickets

Fighting speeding tickets