eBay Item Damaged in Shipping—The Best Solutions
Careless stacking or bumpy roads can result in damaged packages and cause the contents of your long-awaited eBay order to break. In such cases, you must get familiar with the policy of the platform and check out the best ways to get compensated for the inconvenience you have faced.
The good news is—you don't need to explore all this yourself! This article offers a step-by-step guide on replacing an eBay item damaged in shipping. and some great tips for reporting other issues to couriers and requesting refunds the easy way.
What Can You Do if Your eBay Item Arrived Damaged?
eBay has a specific money-back guarantee that applies to wrong and damaged items. It means that if you receive a product that is faulty or doesn't match the description, you can request a refund or a replacement within a specified period after receiving the parcel.
When such a situation happens, the safest way to solve the issue is to return the damaged product to the seller and discuss compensation options.
How To File a Return Request if Your eBay Item Arrived Broken
The best and quickest way to file a return request for the faulty item is through your eBay purchase history. Here's how you can do it:
Log in to your eBay account and find the purchase history section
Click on Return this item
Select the reason for returning the item
Attach the photos showing the damage
Click on Send
Once you submit the return form, the seller has three working days to contact you back and offer a solution for the problem. If you don't receive a response from them during the specified period, you can contact the platform and ask for assistance.
Potential Outcomes of Your Return Request
Depending on the damage intensity and other circumstances, the seller can offer to:
Replace the faulty product with a new one—They can let you return the damaged item and send you another one in proper condition if they have more
Exchange the item for another product once you return it—You will be able to choose any other item that has the same value as the faulty one. It's usually the best solution if the seller can't issue a replacement
Issue a partial refund and let you keep the product—This is a good idea when the damage to the product is minor—such as a scratch or a tiny dent—and doesn't affect the usage of the item
Issue a full refund once you return the product—To receive the full paid amount back, you must send the product to the seller in the same condition in which you received it. In most cases, the sender will also refund the original shipping costs
Are There Any Requirements for the eBay Money-Back Guarantee?
There are a few criteria you must meet to be eligible for a refund. They are listed in the following table:
Requirements
Details
You have used an eligible payment method when ordering your goods
Approved payment methods are:

PayPal
Credit card
Debit card
PayPal Credit
Apple Pay
Google Pay
eBay voucher
eBay gift card
eBay bucks

The damaged product isn't on the excluded items list
The following items aren't eligible for refund:

Vouchers
Services
Websites
Motor vehicles
Travel tickets
Classified ads
Digital content
Intangible goods
Heavy machinery
Industrial equipment
Businesses for sale
Products sold via Sotheby's

You mustn't duplicate claims
It's prohibited to seek multiple solutions for the same issue and request your cash back more than once
The issue must be reported within the acceptable time frame
You have 30 calendar days from the estimated delivery date to inform the seller about the incident and discuss refund options
How Long Does It Take the Seller To Issue a Refund?
According to the policy of the platform, the seller must issue a refund within six business days of receiving the faulty item back.
How To Demand a Refund for Late, Lost, or Damaged Packages With DoNotPay
Contacting customer support and discussing a refund for missing or damaged items can be stressful and quite frustrating if the company doesn't want to cooperate. That's why we created a product that reports delayed, missing, and faulty parcels in the blink of an eye. That's not even the best part! We also help you file a refund claim with USPS, FedEx, and Amazon and get compensated for the trouble you have encountered without negotiating with company reps yourself!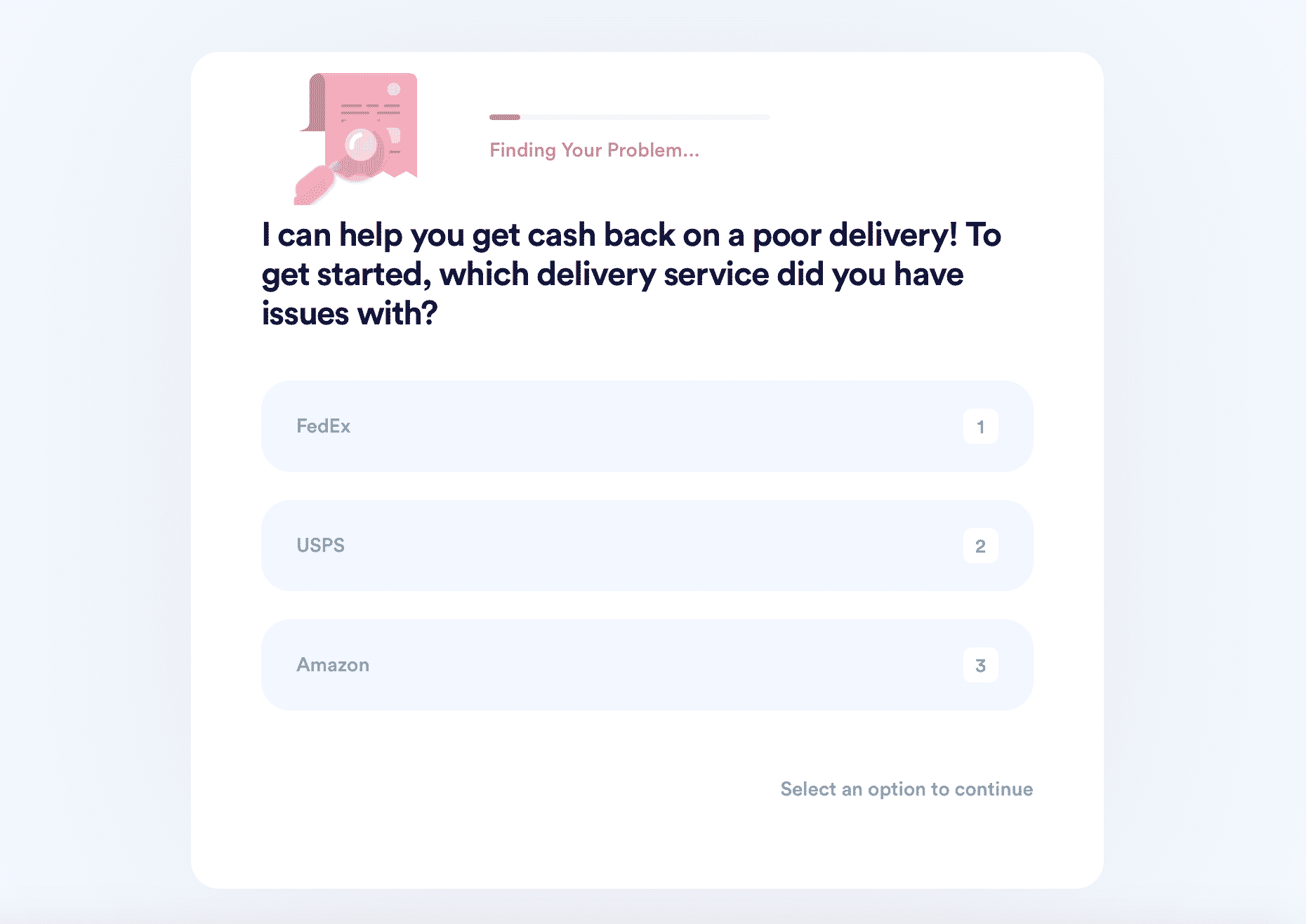 The process can't be simpler—all we want you to do is:
Navigate to the Late Delivery Refund service
Pick the courier with which you are experiencing the issue
Provide more details about your package and shipment
We will forward your claim to the courier automatically and save your time as completing these steps will take less than five minutes of your time!
Our vast knowledge base also provides excellent advice for dealing with: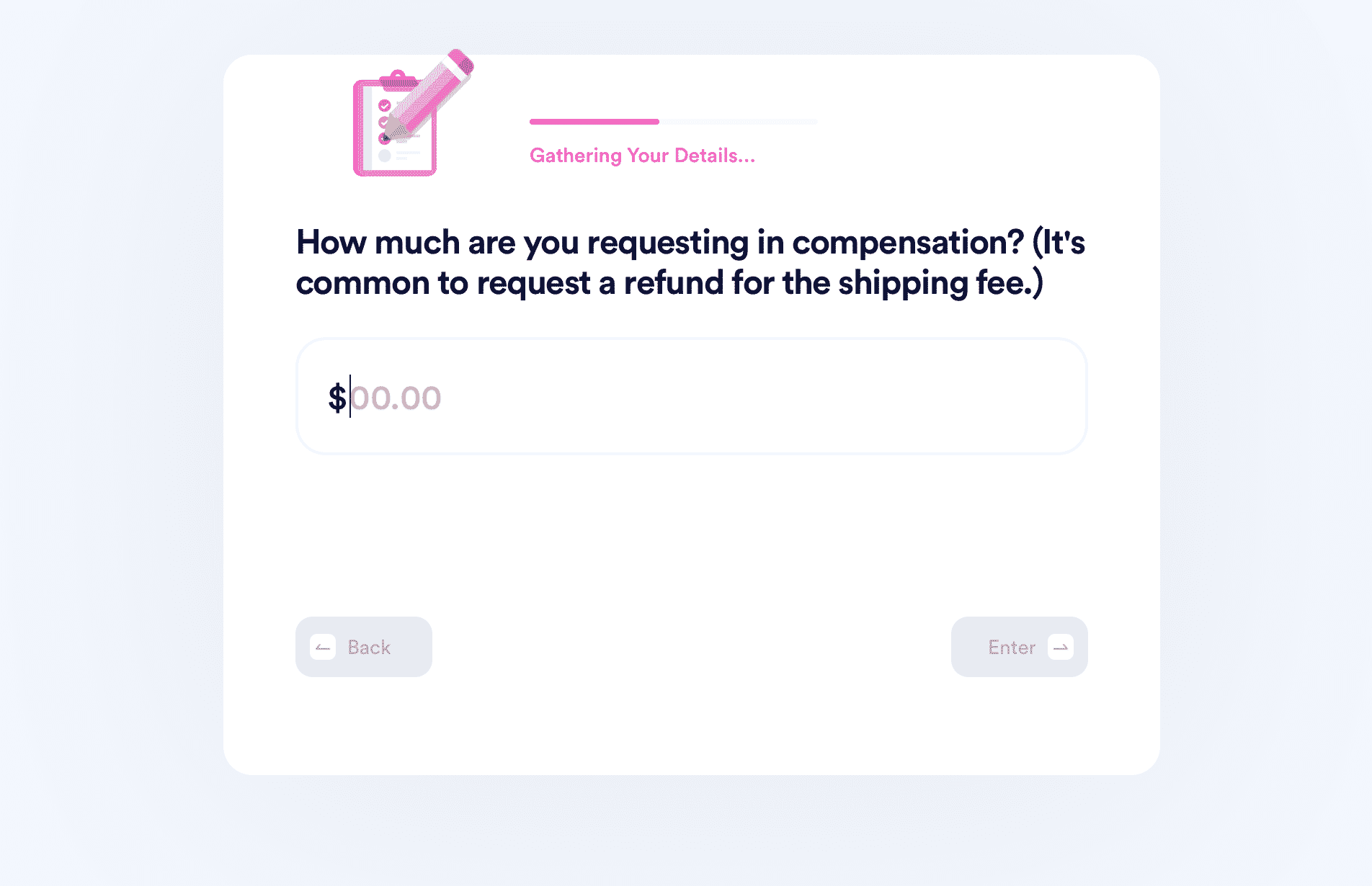 DoNotPay Has Your Back Every Step of Your Customer Journey
Helping you apply for a late, damaged, or missed delivery refund is only a fragment of what we can do for you. If you aren't satisfied with the service you've received or an item you've purchased, all you need to do is fire up your DoNotPay app.
We can bypass any company's customer service, draft a refund demand letter, or initiate a chargeback process in your stead. Our app can also digest the company's return policy and help you send the faulty product back. You won't have to lift a finger as our app does everything automatically after you answer several essential questions related to your purchase. If you decide to mail a letter to the company yourself, we'll tell you how you need to draft it to get exactly what you need.
It doesn't matter whether you bought a package for an incarcerated loved one, expected an insured mail delivery, or made a purchase to redeem a gift card but still have a few bucks left on it—we'll help you make the most of the situation. Our app can get your gift card cash back, file an insurance claim, and connect you with the loved one in jail.
How Far Do DoNotPay's Services Go?
Our app can prove handy in a variety of other situations, such as:
Reducing your property taxes

Writing legal documents and contracts
Visit our learning center for a full range of our services.