Understanding the Uniqlo Return Policy
A lot of retailers, Uniqlo included, tend to make up an unnecessarily large number of rules when it comes to filing a return request. They do so to get you to give up on requesting what's rightfully yours. The good news is, we're here to help! In this article, we'll go through the Uniqlo return policy and present it in a simpler way.
Aside from explaining how Uniqlo's policy works, DoNotPay can also help you file a return request with the company in no time. to learn how to deal with a wealth of companies, including Men's Wearhouse, Adidas, and Burlington.
Uniqlo Return Policy—How Does It Work?
According to their return policy, Uniqlo accepts only requests you make within 30 days of the shipping date. You can see the shipping date either on your packing slip or in the order confirmation email. For in-store purchases, the 30-day countdown starts from the day you buy the product in question.
There are no restrictions on which items you can return. The only exceptions are items labeled as "final sale" at the time of purchase.
They do have a restriction on the condition of the product. The item you wish to return has to be:
In its original packaging
In its original condition—unwashed, new, and unused
With all the tags still on
There are two ways you can make a return:
Online
In store
The way of returning a product depends on where you made the purchase.
| Ways To Make a Return | Online Shopping | In-Store Shopping |
| --- | --- | --- |
| Online | Yes | No |
| In Store | Yes | Yes |
Uniqlo Online Return Policy
To make a return request online, you have to complete the following five steps:
Visit their Returns page
Insert your order number and zip code
Select the products you want to return
Choose the shipping method
Print out a return form and put it inside the package
You can use Uniqlo's prepaid label to ship the item in question via USPS or FedEx. The prepaid label costs $7, and the company will deduct the amount from your potential refund.
The other option is to ship the item with a courier of your choosing. If you do so, Uniqlo will not charge you for the shipping. You will need to ship the product(s) to UNIQLO Returns, 9000 Rand Blvd. Building 7, Philipsburg, NJ 08865.
Uniqlo Returns Policy—In-Store Purchases
In-store returns are more straightforward—everything happens on the spot. You will have to go to the same store you've bought the item in.
In March 2021, Uniqlo closed over 50 stores across the U.S. due to COVID-19. If there's no longer a store at your convenience, you can ship your product. Do not ship the product to the warehouse the company uses for online returns. Instead, there's a list of stores that accept mail returns, and you should pick the one that's closest to you. You will have to cover the shipping costs. Before you ship the item, make sure you print out their customer return form and include it in your package.
Uniqlo Return Policy—Filing a Request Using DoNotPay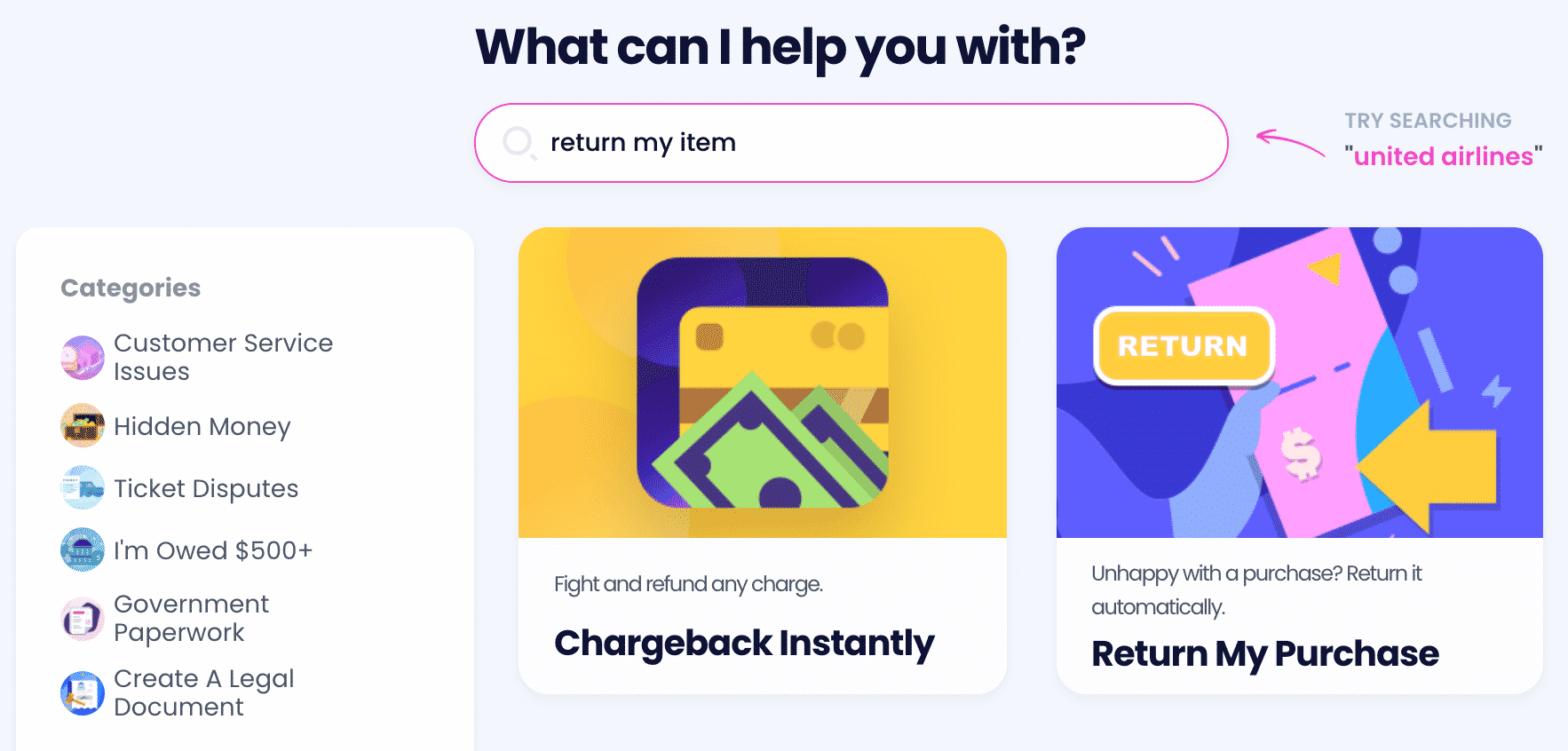 If you don't want to waste time filling out forms by yourself and communicating with Uniqlo, there's an easier way. DoNotPay will automate the process for you and deal with Uniqlo on your behalf. You can handle the whole process through our app in four steps:
using your browser
Navigate to the Item Return Request feature
Answer some questions about the product
Send the request
We will take care of your request. Your only task is to ship the product to Uniqlo, and we will be in direct communication with the company to make sure they uphold your customer rights.
Uniqlo Return Policy Online and In-Store—How Long Until You Get an Answer?
The waiting period depends on what method you've used to make the request. On the FAQ page, Uniqlo states it takes them up to 14 business days after the product reaches the warehouse to process your online return request.
If you choose to ship an item you've bought in store, the company needs two to four weeks to review your return request.
That's a lot of time to wait for a simple "yes or no" email. If you file your return request using DoNotPay, you can bypass this issue. With our app, you can specify the date by which you want Uniqlo to respond. When we contact the company, we will involve a deadline they will have to adhere to.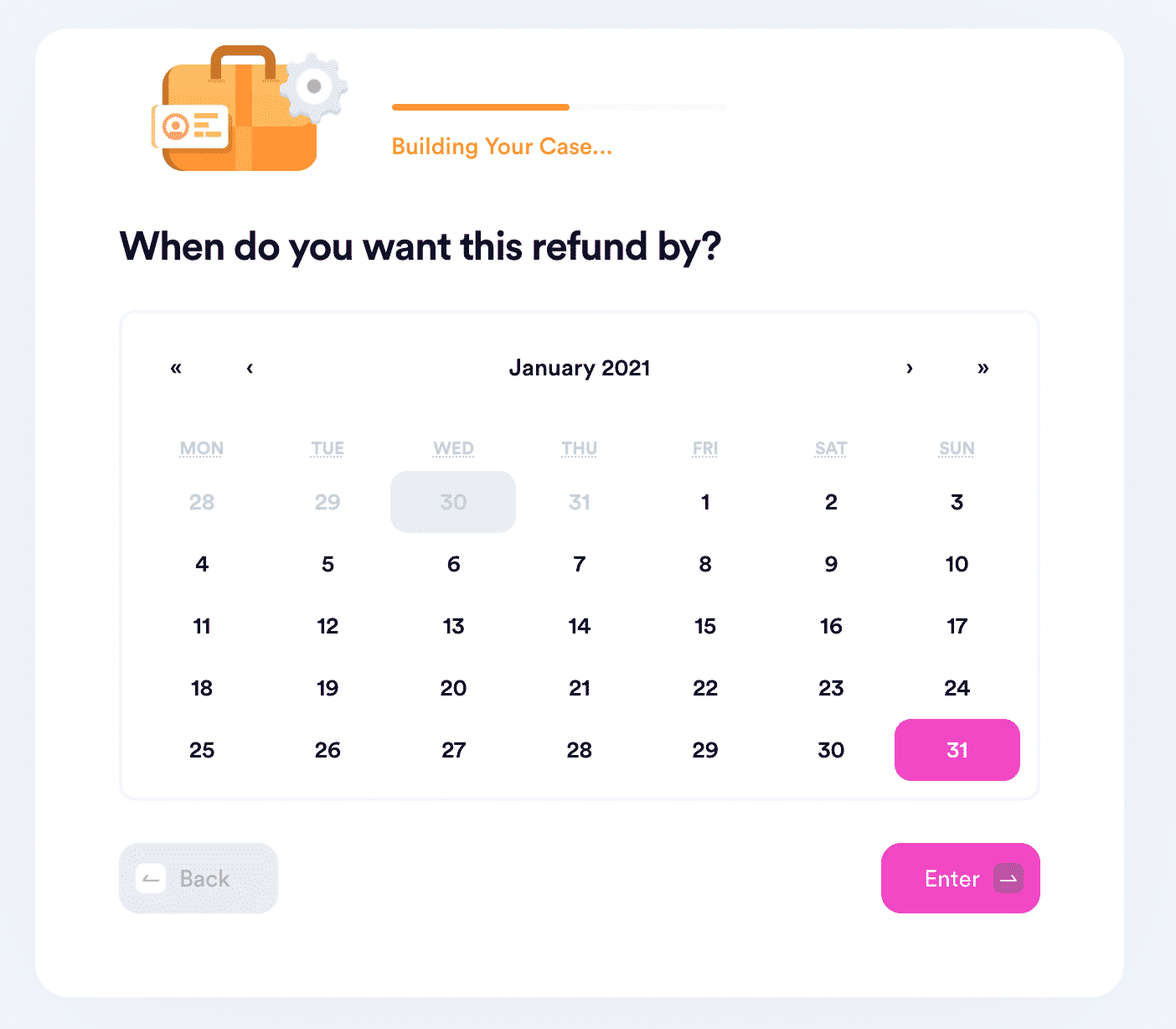 What Happens After Uniqlo Processes Your Request?
Should Uniqlo accept your request, the company will send you a refund to the bank account you've used to make the purchase. The funds can take three to five business days to show up in your account.
In case you wish to exchange the item in question for a different one with an online return request, Uniqlo will give you store credit, and you'll have to place another order. If you do so during an in-store return, you will be able to exchange items on the spot. Bear in mind that, if you want an exchange but don't have a receipt, you can only exchange it for the same product in a different color or size.
When returning an item bought using a gift card, you will receive a new gift card—a cash refund is not possible.
DoNotPay Can Handle Your Other Return Requests
If you're unhappy with a product from a different company, you can use our app to file a return request with them as well. We deal with hundreds of retailers across the U.S., including:
DoNotPay Offers More Than Swift Returns
Our AI-driven app has a plethora of products that can help you save time and money. Once you sign up for DoNotPay, you will be able to:
Check Out Our Full Product Range
There's so much more to DoNotPay than filing return requests. With our app, you can cancel any membership, sign up for a free trial risk-free, get a virtual credit card, sign up for a clinical trial, map sex offenders in your area, and demand a refund from any airline.
If you want to reduce your property taxes, get help paying your bills, enter raffles and sweepstakes, find your unclaimed funds, or prepare for a government test, DoNotPay is the only solution you need!
Sign up today to access all of our products!