The Complete Guide to the Tiffany Return Policy
Shopping at Tiffany & Co. is not for the faint of heart since their bar spoons can cost more than the monthly rent in some U.S. cities. That's why you need to know how to return a Tiffany item if something's wrong with it.
This guide will reveal all parts of the Tiffany return policy and tie them all together. You'll also learn how to take advantage of DoNotPay's Return My Purchase feature to make the return process as smooth as possible.
The High Points of Tiffany's Return Policy
Tiffany's return policy states that you can return or exchange most items. The following conditions apply:
The merchandise must be returned within 30 days of delivery
It must be returned with a sales receipt
It must still be in a like-new condition
Items with seal stickers—for example, fragrances—must be returned in their original packaging with the seal unbroken
Tiffany & Co. will not accept returns for items with any personalization—monogramming, engraving, etching, and embossing—but it offers complimentary shipping for all returns.
How To Return Your Tiffany & Co. Purchase by Yourself
To return your online purchase via mail, you can use the return label included in your package. If you don't have a return label, print one on the Tiffany's Returns page. Take the following steps:
Fill in your company name, if applicable
Input your contact name
Type in your address
Provide your state and postal code
Select United States of America from the Country drop-down menu
Provide your phone number and email address
Submit your order number
Select your reason for returning the merchandise from the Reason for Return/Exchange drop-down menu
Check the E-Mail Label box if you want to receive your return label via email
Click Process Shipment
You should include your return label with the Tiffany items you're returning and drop off the parcel at a UPS Access Point or FedEx location, depending on the return label you have.
The Tiffany and Co. return policy allows you to return your in-store or online purchases to any store as well. Use the Store Locator page to search for the nearest stores by mile radius, state, city, ZIP code, and store service.
For mail returns of merchandise purchased at a Tiffany retail store, you have to contact Tiffany's Client Care Center.
How Can You Contact Tiffany's Customer Support?
If you have any other questions about refunds, returns, and exchanges, you can reach out to Tiffany's customer support in several ways:
Contact Method
Instructions
Phone
Call Client Care Center at 1-800-843-3269. Business hours are:

8 a.m.–10 p.m. EST, Monday to Friday
9 a.m.–9 p.m. EST, Saturday
10 a.m.–9 p.m. EST, Sunday

In-store appointment
You can book an appointment at any Tiffany retail store using these steps:

Click the Book Appointment on the Contact Us page
Fill in the town, city, postcode, or store and click the search icon—alternatively, click on Use my current location
Select a store and follow the instructions to set up the appointment

Email
Click Email on the Contact Us page and fill in the form that pops up:

Select the reason for your email from the drop-down menu at the top of the form
Type in your message in the appropriate field
Choose a prefix for your name from the drop-down menu
Fill in your first and last names
Input your phone number—not compulsory
Provide your email address
Click Send
How Are Tiffany & Co. Returns Processed Under the Tiffany Return Policy?
Tiffany's return policy does not state how long a customer should wait for returns to be processed, but it does provide some insight into available refund methods.
If payment has been received for a gift purchase, the customer can request a refund from Tiffany, and they will honor it. If a gift item is returned, the gift recipient will be eligible for non-refundable merchandise credit. If you return your item to a Tiffany retail store, your return is not qualified for a cash refund.
Follow the instructions included in the package to return or exchange your gift items.
DoNotPay Is a Smoother and Easier Alternative for Handling Returns
If you need a solution to help you return unwanted items to any merchant, use DoNotPay's Return My Purchase service. Our AI bots need only a few details from you to draft and send a professional return request letter on your behalf. You merely need to:
Sign in to your DoNotPay account in a web browser
Select the Return My Purchase feature
Answer the chatbot's questions concerning your purchase
Submit your return
DoNotPay includes a deadline in your request letter to urge the merchant to treat your return as a priority and provides a free return label so you can save on shipping costs.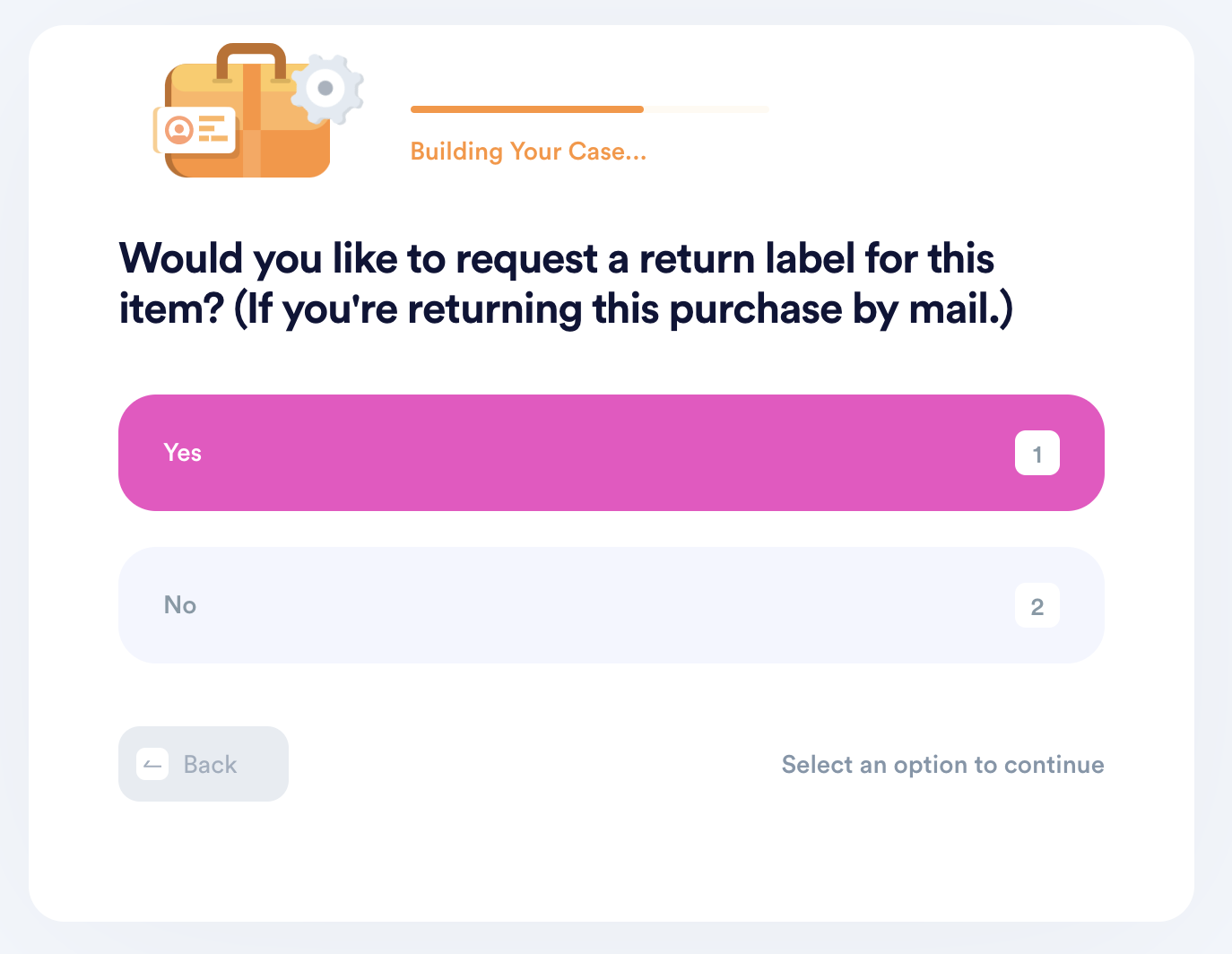 Our platform also has a massive learning center for readers to learn about the return policies of other brands:
Item Returns and Other Annoying Tasks Take but a Minute With DoNotPay
Looking into resolving other tedious bureaucratic tasks with the help of our app? Check out a fraction of our product range that can assist you with:
Don't Stop There—See How We Can Help You Even Further
You can count on our app's assistance if you need to cancel any subscription, demand a refund from a company or airline, get help with utility bills, reduce your property taxes, get a tourist visa, appeal banned accounts, contact embassies, or get cash back on gift cards.
Think you have some missing money? Claim it before the government does it in your stead! Need help preparing for a government test? Skim through our guides! Want to schedule a DMV appointment in a snap? We'll do it for you! Have any other obstacles? We'll get rid of them in the blink of an eye.