The Ins and Outs of the ThredUP Return Policy
Buying secondhand from ThredUP doesn't mean you have to settle with unsatisfactory products. Knowing how the ThredUP return policy works will help you navigate the time-consuming return process. If you don't want to bother handling the return by yourself, subscribe to DoNotPay, and we will help you send a return request in no time!
The ThredUP Return Policy Made Easy
If you decide that you don't like your ThreadUP purchase, you can return the item within two weeks of the delivery date. Note that you may have to comply with a different return timeframe if your order arrives in multiple shipments.
To qualify for a return, make sure that the products:
Are in pristine condition
Have their original tags intact (for New With Tags items)
If the company approves your return, you will have to pay $1.99 for a restocking fee.
How Will Your Payment Be Refunded?
ThredUp has three refund methods you can choose from:
| Refund Method | Description |
| --- | --- |
| ThredUP store credit | A free shipping label will be offered if you choose this refund method. The refund will be in the form of non-cashable ThredUP store credit. Transactions paid with ThredUP's store credit can only be refunded as store credit |
| Other payment methods with shipping labels | The money will be sent to your original payment method. ThredUP will deduct $8.99 from your refund as a fee for the shipping label |
| Other payment methods without shipping labels | You are responsible for your own return shipping cost and arrangement, so keep your receipt and the tracking number. The refund will be credited to your original payment method |
Store credit payments will be refunded to your account within 5–7 days of ThredUP receiving the item. For other payment methods, it may take additional 3–5 business days to receive a refund. Original shipping fees are non-refundable.
Keep in mind that items marked as Final Sale (such as handbags) can't be returned.
The ThredUP Return Policy on Goody Boxes
ThredUP has a special return policy for Goody Box purchases. If you see an item you don't want from the Goody Box, you have only one week after receiving the parcel to return it.
Ensure that your return arrives before the seventh day so that ThredUP can scan the goods before the deadline. Missing the timeframe can result in your Goody Box being charged in full. If this happens to you, contact ThreadUP's customer support and provide your order number.
If you need more time to return Goody Box merch, you can ask for a time extension from your Orders page before the deadline. Late returns are evaluated on a case-by-case basis, and you might be charged a $3 late fee for each item.
Keep in mind that Goody Box refunds are not guaranteed, and the initial $10 deposit is non-returnable.
The ThredUP Return Policy—How To Return an Item
The process of returning a ThredUP product differs depending on whether it's regular merch or a Goody Box.
The ThredUP Return Policy for Regular Items
Regular items don't come with a return label—you need to print one on your own. To initiate a return request with ThredUP, complete the following steps:
Log in to your account
Locate the Returns page
Choose the product you want to return
Pick the most appropriate return reason
Click on your preferred reimbursement method
Confirm your request
You will be able to download and print the return label. Once you obtain it, follow these steps:
Pack your item in a suitable packaging
Attach the shipping label to the box
Send the package to the appropriate address
If you notice an error in your return method, you can contact customer support and tell them your item details and return number.
The ThredUP Return Policy for Goody Boxes
Unlike regular items, Goody Boxes come with a return shipping label. If you lost one, you can print it by following the steps explained above.
Here are the steps you should follow to return a Goody Box item:
Pack the item you want to return
Place the shipping label on the box
Drop off your parcel at FedEx or USPS
Your Goody Box parcel may remain in transit for up to 14 days. Once ThredUP receives and processes your return, you will be notified via email and charged for the Goody Box items you decided to keep.
Tired of a Long-Winded Return Process? DoNotPay Is at Your Disposal!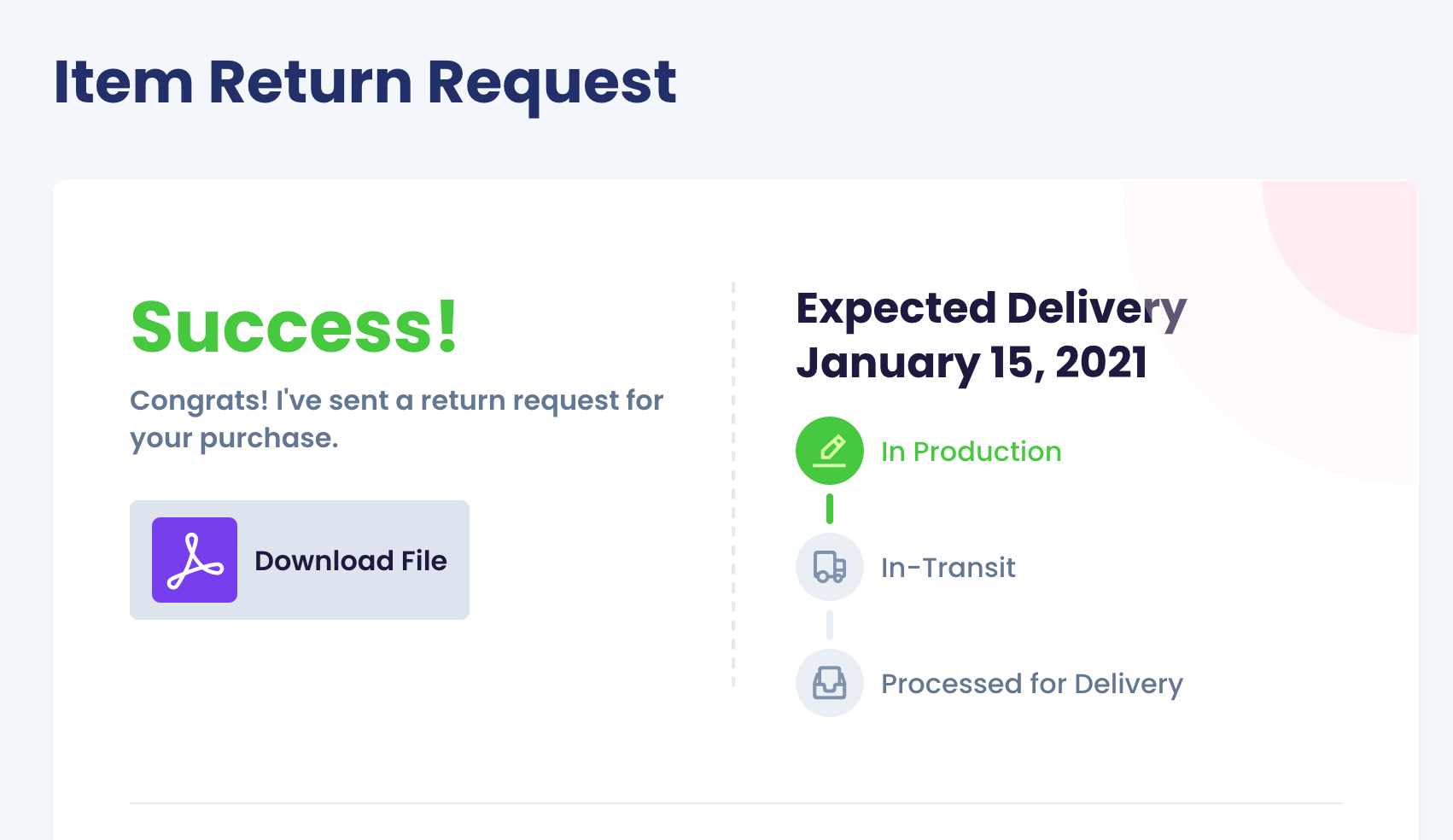 Filing a return request with any retailer, including ThredUP, can be a frustrating process. If you'd like to draft and send a return request letter without wasting too much time, you can count on DoNotPay to do the job in your stead. Here's how it works:
Access your DoNotPay account from any browser.
Navigate to the Return My Purchase product
Provide a few details about your order
Submit the form
Our app will draft a personalized return request letter and send it to the merchant in a matter of minutes. We will send you a shipping label you can use to send the items back free of charge.
DoNotPay Can Draft Item Return Request Letters for Other Stores, Too!
Our app can help if you wish to return items to other stores. Here are some of the most well-known companies our app can file return requests with:
Item Returns and Other Annoying Tasks Take but a Minute With DoNotPay
Looking into resolving other tedious bureaucratic tasks with the help of our app? Check out a fraction of our product range that can assist you with:
Don't Stop There—See How We Can Help You Even Further
You can count on our app's assistance if you need to cancel any subscription, demand a refund from a company or airline, get help with utility bills, reduce your property taxes, get a tourist visa, appeal banned accounts, contact embassies, or get cash back on gift cards.
Think you have some missing money? Claim it before the government does it in your stead! Need help preparing for a government test? Skim through our guides! Want to schedule a DMV appointment in a snap? We'll do it for you! Have any other obstacles? We'll get rid of them in the blink of an eye.