The Ordinary Return Policy Made Simple
While The Ordinary has a generous return policy, their return process is not always crystal-clear for everyone. If you want to return a product from The Ordinary, but you're not sure how, this is the right article for you.
DoNotPay will explain the ins and outs of The Ordinary return policy. We will also help you file a return request and get your money back fast with our app's Return My Purchase feature.
The Deciem Return Policy Explained
Since The Ordinary is one of the DECIEM brands, the standard DECIEM return policy also applies to The Ordinary products. You have the right to return unwanted products bought online and in stores within one year of purchase, provided that at least 50% of the product is unused.
Products purchased both online and in person must be returned to DECIEM stores or warehouses. If you bought a DECIEM product from a third-party seller, DECIEM won't refund it as the item will be subject to that seller's return policy.
Bundle purchases, such as The Ordinary No-Brainer Set, must be returned as such since the company doesn't offer partial refunds.
Make sure to keep your physical or digital receipts so DECIEM can track your item's order number. Keep in mind that shipping fees and Final Sale items are non-returnable.
Refunds are processed within 12 business days of return. It may take longer depending on how busy the company is. You'll receive a refund to the original payment method, and you will be notified of it via email. If you return a product in person to the closest store, your refund will be issued to PayPal.
DECIEM doesn't offer replacements.
If DECIEM suspects that you have been abusing the return policy, your return request will be rejected, and your account will be suspended.
The Deciem Return Policy for In-Store Returns During COVID-19
If your product return deadline is almost due, but you want to return the item in person, you will be able to do so within 30 days of the store's reopening.
How To Return Products According to the Deciem Return Policy
You can return The Ordinary or other DECIEM products:
Via mail
In person
Mail Returns
To return The Ordinary products via mail, do the following:
Pack your goods either in their original packaging or another container
Mail it to the following address: DECIEM USA LLC, ATTN: Return description, 75 Oxford Drive, Moonachie, New Jersey, 07074, USA
Type in the product's details, order number, and tracking information on the Return contact page
In-Store Returns
You can also visit a DECIEM store in person for a faster return process. Here's what you need to do:
Place your items in their original box
Go to the nearest DECIEM store in your area
Provide a salesperson with your order numbers and receipts
Be mindful of the COVID-19 return policy and safety protocol when returning items in person.
You Can Send a Return Request With DoNotPay in a Few Clicks
Do you find The Ordinary return process to be too complicated and time-consuming? You can send a return request letter to the company to communicate your dissatisfaction with their product formally.
If you're not sure what your letter should include, DoNotPay is here to help. Here's how you can use our app's Return My Purchase product and sent a return request letter in a snap:
Find the Return My Purchase feature
Give our chatbot a few details about your purchase
Sign and submit your letter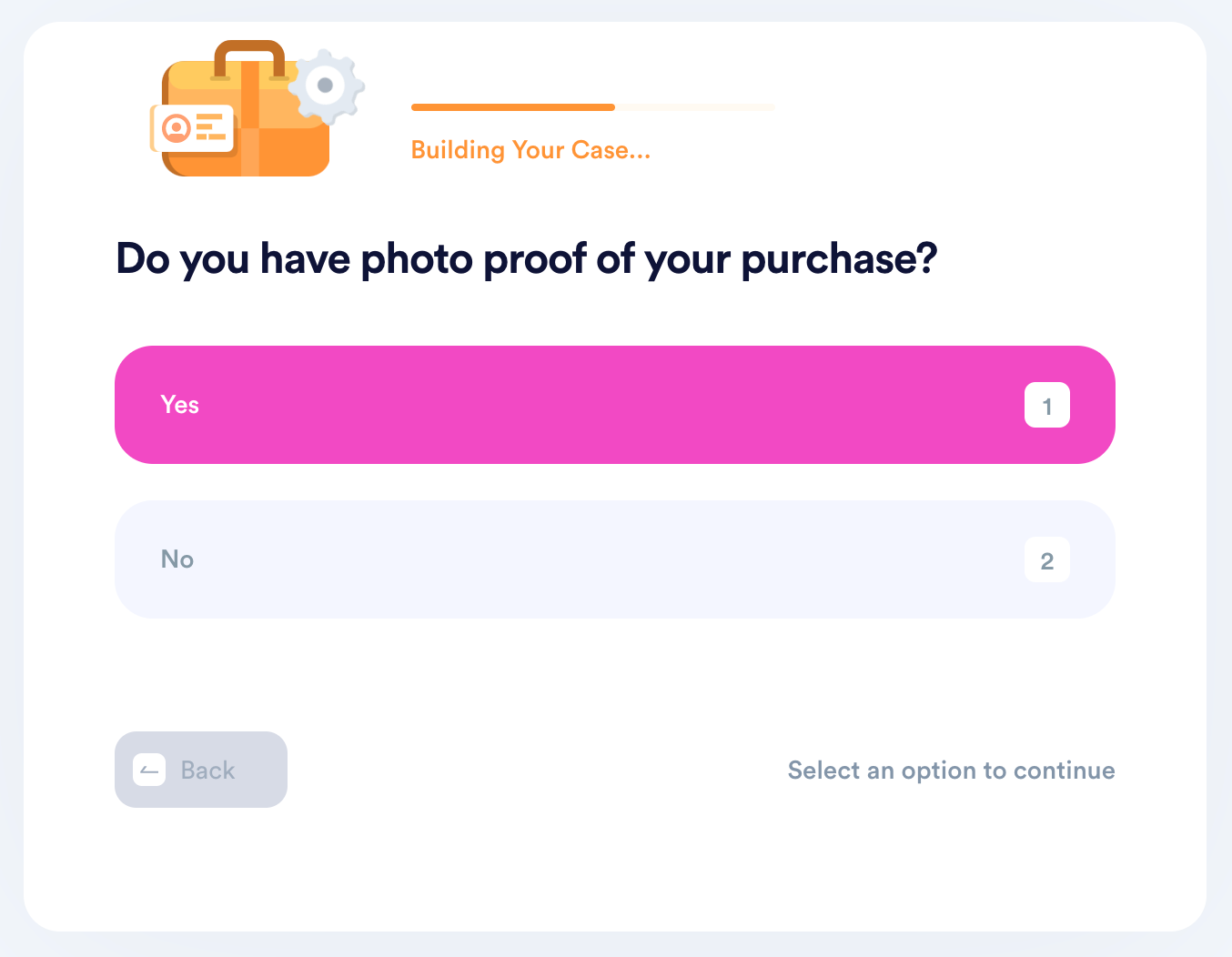 DoNotPay will generate a detailed return request letter in no time. It will contain:
Reason for your return
Solutions you expect
Return processing deadline for the merchant
You will also get a shipping label you can use to return items for free.
Demand a Refund Swiftly With DoNotPay's Help!
If your request for a refund is not accepted despite your item meeting all the requirements for one, you can take it one step further by sending a refund request letter to the company. DoNotPay makes it possible for you to create this document within a few clicks, as follows:
Find the Chargeback Instantly product
Select Get Protected
Answer a few questions about your purchase
Click on Sign and Submit
Has The Ordinary Wronged You? Sue Them in Small Claims Court With DoNotPay's Help!
As the world's first robot lawyer that was recognized by the American Bar Association, DoNotPay can help you sue The Ordinary in small claims court if you think it's necessary. Here are some tasks DoNotPay can help with:
Creating a demand letter
Completing all court forms
Preparing all of the necessary paperwork
Lodging your complaint
Writing a script with the most suitable argumentation you can use in court
Need To Send More Item Return Requests? Let Us Help!
Most companies have confusing return policies, which is why you should let us file a return request letter with any retailer, including:
Going Back and Forth With Companies Is a Thing of the Past
Have you been trying to contact the company you want to return your faulty item to with no success? No more—use DoNotPay's nifty product to jump the phone queue of any company's customer service line.
Waiting in any sort of line is dreadful, which is why we can also help you schedule a DMV appointment from the comfort of your home.
There are many more tiresome chores you no longer have to leave your bed to complete:
Make the Most of Your DoNotPay Subscription
Our app comes with a large selection of products—for one low monthly fee, you can use them all to complete dreadful admin tasks in a split second. Check out how you can: