Learn About The House Return Policy From the Ground Up
Do you regret buying all those bike accessories from The House? Check out DoNotPay's amazing services and get the full scoop on The House return and exchange policies with our comprehensive guide. With our AI-powered legal aid, you can make The House return policy work to your benefit and get your money back fast.
A Brief Overview of The House Return Policy
The House return policy provides customers with a hefty 90-day window for sending back unwanted or damaged goods.
Before you initiate a return, you have to make sure the item in question is:
Completely resellable (unworn, untorn, unused, and unwashed)
In the same condition as it was upon arrival if damaged
Packaged in the original box with all the accessories
Labeled with manufacturing tags
Bikes are the exception to the 90-day rule, as they should be sent back within 30 days after delivery.
The House Return Policy—How To Return a Product
If you've changed your mind about the purchase, you can return the item via mail. You will have to cover all shipping costs. The House will deduct the sum from your total refund amount.
To start the return, follow these steps:
Visit The House Returns & Exchanges portal
Use the link on their web page to create your FedEx return shipping label
Print the label out
Fill in The House Return Form and print it out
Pack the unwanted product following The House return policy guidelines (in the original box with all the accessories and appropriate labels)
Take the package to the nearest FedEx drop-off site
The House return policy provides customers residing in the lower 48 states with a discounted FedEx return label. If you live outside the contiguous United States, you'll have to employ a different shipping service. Depending on your location, you can consider UPS, USPS, DHL, or other non-C.O.D. (Cash on Delivery) methods.
After you've arranged for a carrier, address the package to:
The House
Attn Returns
200 S Owasso Blvd E
The House Rules for Bike Returns
The House return policy excludes bikes from the standard procedure. You will need to submit a return request within 30 days and provide photographic evidence of the product's condition.
You won't be able to initiate a return via mail—you'll have to follow these steps instead:
Reach out to The House via email
Take extensive photos of the entire bike with close-ups of any damaged parts
Attach the photos to the email
Include your contact information and order number in the message
It's important to remember that:
All bike returns are conditional
There's a 48–72 hours evaluation period
Once your request is approved, you can send the vehicle back and get a refund (minus shipping costs)
The House return policy doesn't provide reimbursement for assembly fees
Tired of Backpedalling? Get Your Money Back Fast With DoNotPay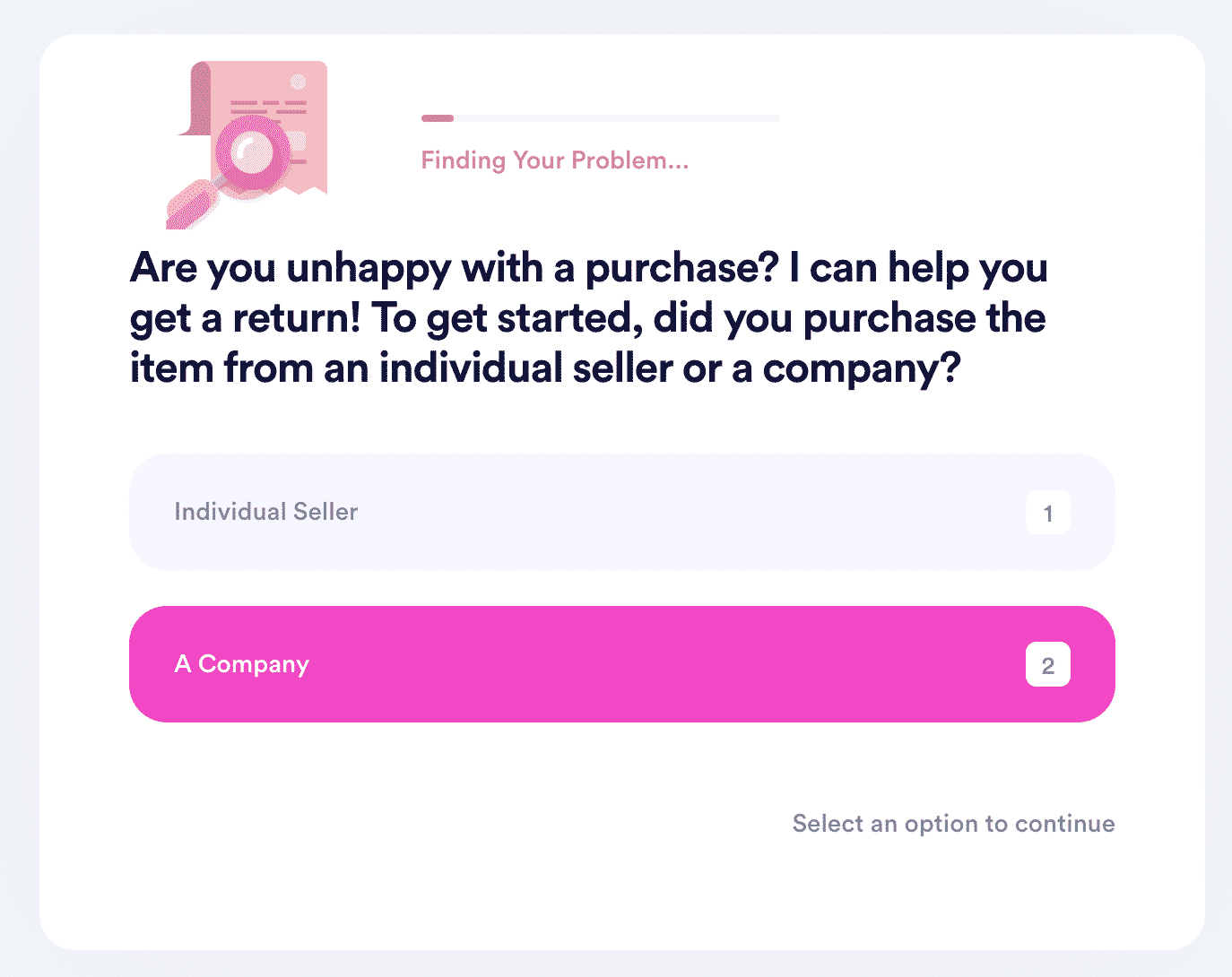 If you don't feel confident taking on The House return policy by yourself, try DoNotPay. Our Item Return Request feature will simplify the entire process, all while working in your favor.
Instead of being sent from pillar to post, DoNotPay presents a tried and true method of getting your money back in no time. To start a return with our user-friendly product, follow these steps:
Sign in to DoNotPay using your preferred browser
Find the Item Return Request tool and click on it
Answer the questions and attach photos where needed
Click Submit
The world's first robot lawyer will make sure your letter is processed in due time by setting a deadline for the evaluation. The House will receive all relevant information regarding the purchase. Once the request is cleared, DoNotPay will provide you with a return shipping label, sparing you the additional expenses.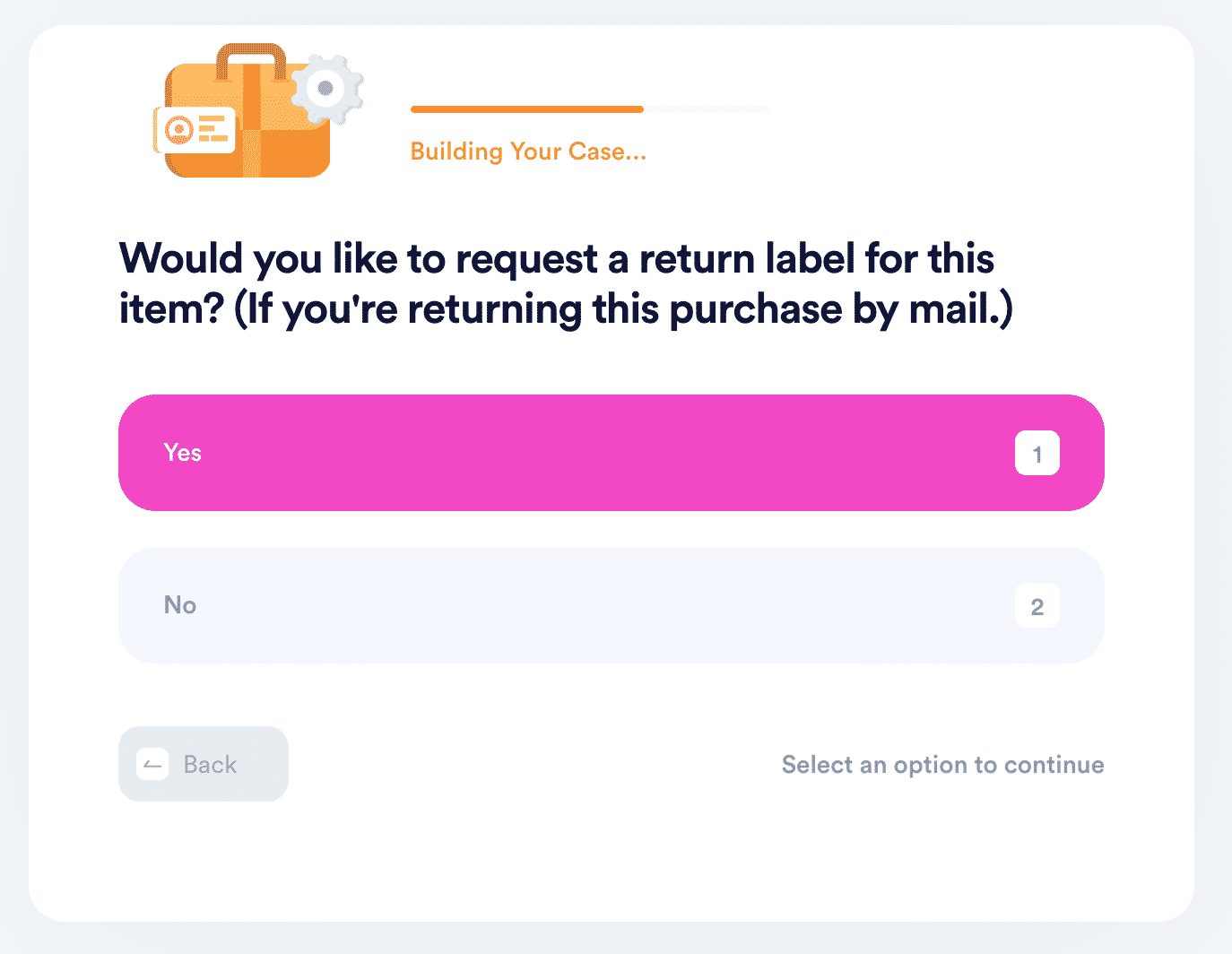 What Is The House's Refund and Exchange Policy?
The House return policy allows exchanges. It's best to place a new order as soon as you start the return to make sure the item is still in stock.
If you notice any quality issues with the item you wish to exchange, make sure to contact The House customer service first. You can reach them by calling 800-409-7669.
If you want to demand a refund instead of exchanging the item, make sure it's in proper condition (i.e., entirely resellable). After your return shipment is delivered, The House will reimburse you via the original payment method in 3-5 business days. The time it takes for your refund to be processed depends on the bank.
Demand a Refund for Any Damaged Goods With DoNotPay
If you feel like The House has wrongfully declined your request for a refund, DoNotPay can help. Sign in to your DoNotPay account and do the following:
Access the Chargeback Instantly product
Click on Get Protected
Proceed to answer some questions
Click Sign and Submit to finalize the request
DoNotPay will advocate for you when dealing with other businesses as well. The following are some of the companies our services cover:
DoNotPay Is a Master at Getting What's Rightfully Yours
Are you dealing with a company that refuses to approve your return? Once we submit a refund request in your stead, we can also prepare all the paperwork you need to sue the merchant in small claims court and win your case.
Need a legal document for the lawsuit? Draw it up with our handy tool. Want to get any document notarized and fax it to someone? We have products that can do that for you as well.
Has an airline rescheduled your flight, or is your package damaged or missing? Demand compensation with DoNotPay!
Do you believe that you may have some unclaimed assets? Count on us to find and get them for you.
It Doesn't End There!
Use DoNotPay whenever you need to tackle any sort of mundane task. If you're sick of wasting your time in long phone queues or the ones at the DMV, we'll help you skip them. Do you want to apply for a college fee waiver or clinical trial? Are you looking to enter a sweepstake or get a passport photo or a tourist visa? We'll do it all in your stead!
If you want to send a letter of warning to a persistent harasser or loud neighbor or want to get compensation for victims of crime, workplace discrimination, or robocalls, let us know and we'll tackle the issue momentarily.