The Company Store Returns From A to Z
The Company Store returns can take up so much of your time, especially if you don't understand how the policy works. If you'd like to handle your returns hassle-free, you've come to the right place! DoNotPay will tell you all you need to know about The Company Store return policy and show you .
The Company Store Return Policy Explained
You can return The Company Store products within three months of purchase, as long as they're undamaged. Some items are exempt from this policy and can't be returned. These include:
Custom orders (unless defective)
Monogrammed purchases
Clearance sales (price tags ending in $0.97)
Gift cards
Delivery and service fees
Exchanges are not allowed.
Furniture and rug items are subject to a different policy—you must return them within one month of purchase. You must also arrange a pick-up for the return within one week of the item delivery.
Shipping and handling fees are not returnable, and you must pay a restocking fee (15% of the item's price).
Refunds are sent back to the original payment method. The Company Store will deduct $2.93 as a processing fee for each returned item. Your refund will show up in your account 3–5 business days after The Company Store finishes inspecting your items. If you have any questions regarding your refund status, you can contact customer service via:
Phone

(Beddings)1-800-323-8000
(Furniture and rugs)1-800-289-8508

Email

CustServ@TheCompanyStore.com
The working hours of customer support agents are as follows:
Monday to Friday: 8 a.m. to 10 p.m.
Saturday and Sunday: 9.30 a.m. to 6 p.m.
If you want to return a gift bought from The Company Store without the other person knowing, you can reach out to customer support for that too.
The Company Store Return Policy—Lifetime Guarantee Program
You can return products with the Lifetime Guarantee labels even after three months of purchase have passed. These products can be distinguished by the checkmark logo on the tag or the packaging. You can also visit the Frequently Asked Questions page to see if your item is covered by this policy.
The Company Store Returns—How To Return an Item
The Company Store accepts mail returns.
Before sending an item back, you need to prepare the original tracking number. You can find it by checking your:
Item's original package
Shipping confirmation email
UPS email
Once you have the number ready, you need to obtain the shipping label. Here are the steps you should follow to do so:
Visit the UPS website
Enter your tracking number in the TRACK search window
Click on Return This Package
Print the label or choose to receive a digital copy via email or a barcode on your phone
After you prepare the label, complete the following steps to return your item:
Place the item inside its original container
Attach the return label to the box
Mail the parcel or drop it off at one of UPS's pick-up locations.
Can You Use Other Delivery Companies?
If you wish to use a free shipping label, you must mail your item via UPS. You don't need a UPS account to send your product, but having one will help you track your package.
If you wish to use a different shipping company, you are responsible for shipping plus the standard return fee. Don't forget to include the packing slip in the parcel and mail it to:
The Company Store
ATTN: RETURNS
3375 Joseph Martin Highway
Martinsville, VA 24112
No More Delay—Send a Return Request With DoNotPay in the Blink of an Eye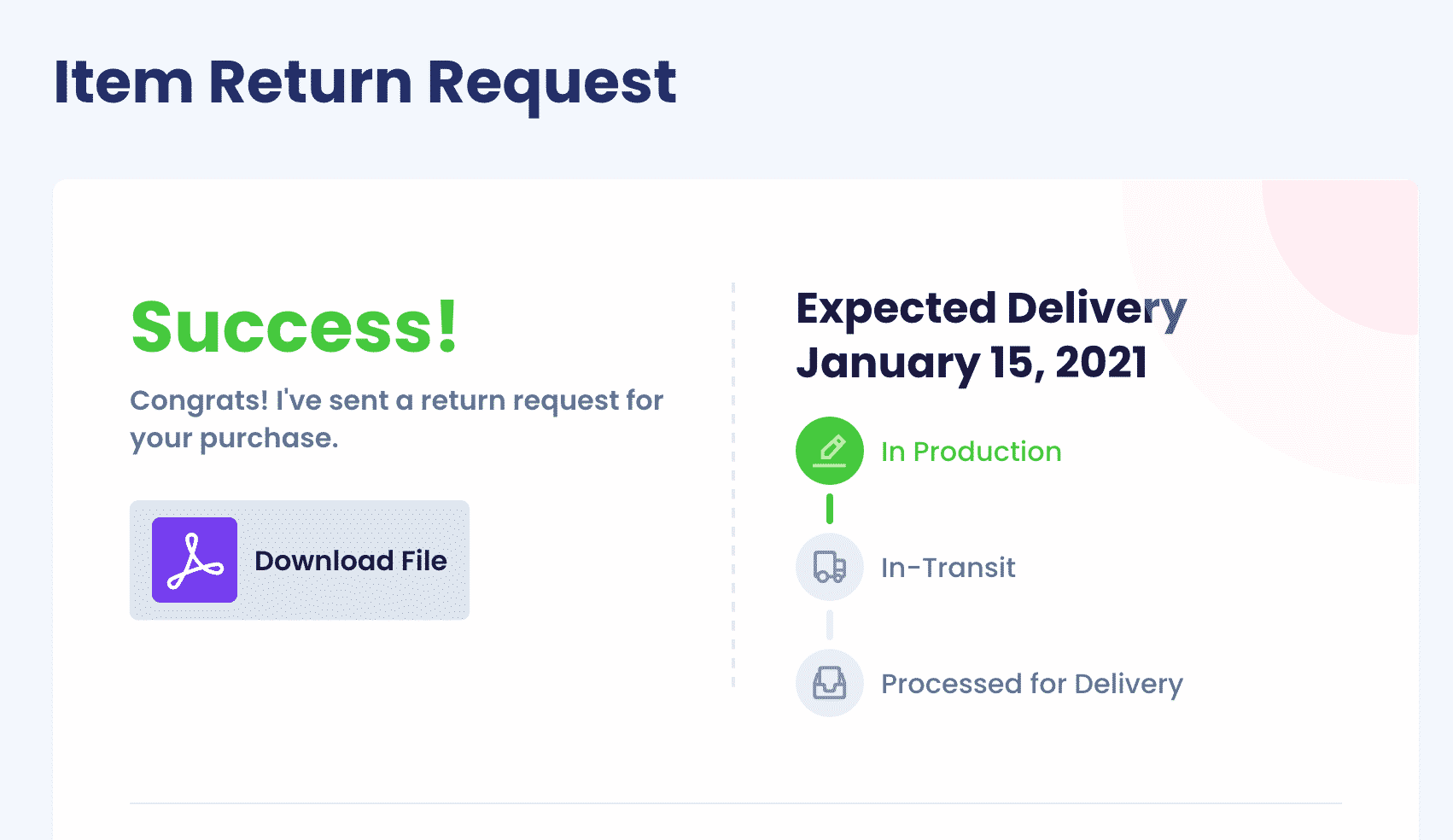 Filing a return request with The Company Store is a lengthy and tedious process. Do you want to skip the hassle and get your money as soon as possible? DoNotPay's Return My Purchase product can help you draft a return request letter and send it to The Company Store in no time. Here's how you can use it:
from your favorite browser
Navigate to the Return My Purchase product
Leave some information about your order
Sign and submit the request
We will take mere minutes to draft a return request letter that states your reason for returning and includes a request processing deadline for the merchant. The app will also generate a free shipping label.
Demanding a Refund No Longer Takes Long With DoNotPay
DoNotPay can help you send a refund request if The Company Store refuses to pay for items that you think meet the criteria for a refund. Here's what you should do:
Find the File a Chargeback product
Choose Get Protected
Answer a few questions
Proceed with Sign and Submit
Is Filing Return Requests With Other Companies Challenging? DoNotPay Offers Assistance!
Need to file a return request with another company? Our app has got you covered. Some of the companies that our app's Return My Purchase tool can help you with are:
DoNotPay Is a Master at Getting What's Rightfully Yours
Are you dealing with a company that refuses to approve your return? Once we submit a refund request in your stead, we can also prepare all the paperwork you need to sue the merchant in small claims court and win your case.
Need a legal document for the lawsuit? Draw it up with our handy tool. Want to get any document notarized and fax it to someone? We have products that can do that for you as well.
Has an airline rescheduled your flight, or is your package damaged or missing? Demand compensation with DoNotPay!
Do you believe that you may have some unclaimed assets? Count on us to find and get them for you.
It Doesn't End There!
Use DoNotPay whenever you need to tackle any sort of mundane task. If you're sick of wasting your time in long phone queues or the ones at the DMV, we'll help you skip them. Do you want to apply for a college fee waiver or clinical trial? Are you looking to enter a sweepstake or get a passport photo or a tourist visa? We'll do it all in your stead!
If you want to send a letter of warning to a persistent harasser or loud neighbor or want to get compensation for victims of crime, workplace discrimination, or robocalls, let us know and we'll tackle the issue momentarily.