The Best Way To Obtain Texas State Scholarships
Texas State University offers financial aid to students to help them overcome the costs that come with studying. In this article, we'll show you how Texas State scholarships and grants work, where you can find them, and how you can apply.
You will also learn how to use DoNotPay's handy Apply for Scholarships product to speed up the whole process.
Why Get a Texas State University Scholarship?
Tuition fees for colleges are high throughout the United States, and Texas State University is no exception. Check out this table to see the average costs of attendance per year for students at TXST:
| Student Residency | Cost of Attendance for Undergraduates | Cost of Attendance for Graduates |
| --- | --- | --- |
| Texas residents | $22,190–$27,000 | $18,590–$23,400 |
| Nonresidents | $34,430–$39,240 | $25,930–$30,740 |
These amounts are the reason why many students look for financial help. Federal and Texas governments and various organizations and companies offer scholarships to both college and graduate school students. Some even provide awards to high school seniors who intend to enroll at Texas State University.
How Texas State Scholarships Work
Texas State University scholarships are divided into two main types:
Need-based grants
Merit-based scholarships
Need-Based Texas State Scholarships
Need-based financial aid programs are aimed at students who don't necessarily show impressive academic results but need financial help to finish their studies.
Scholarship providers determine financial need based on family income and tax returns. To prove their financial status, U.S. students need to fill out the Free Application for Federal Student Aid (FAFSA) form or the College Scholarship Service (CSS) profile. TXST students who are residents of Texas but not U.S. citizens have to complete the Texas Application for State Financial Aid (TASFA) form as well.
Other eligibility requirements include:
Being enrolled or accepted for enrolment in an undergraduate program
Being enrolled at least half-time in courses for the degree (six hours for undergraduates, five for graduates)
Having a high school diploma or completion of high school in a homeschool setting
Fulfilling the Satisfactory Academic Progress (SAP) requirements
Not owing to another federal grant
Not having a federal student loan
Being registered with Selective Service
Having a valid Social Security number
Not having any drug-related convictions
Merit-Based Texas State Scholarships
Merit-based scholarships can come from TXST-affiliated organizations and private companies and donors. If you apply for both merit- and need-based programs, any awards you receive on merit will influence your financial status and lower potential need-based award amounts.
Companies often decide to focus on a certain student profile when they offer financial aid. You will find scholarships dedicated exclusively to:
Check out this table for more information on some merit-based TXST scholarships:
Scholarship Name
Requirements
Award
Texas State Distinguished Scholarship

Minimum SAT of 1060–1150 or ACT of 21–23
Top 25% in class

$4,000 per year
National Distinction Scholarship
$10,000 per year
Martha St. Clair Endowed Scholarship

Cumulative GPA of 3.0
Member of Phi Theta Kappa
Full-time enrollment

$1,000
Ralph and Callie Ingram Endowed Scholarship

Cumulative GPA of 3.5
Transfer student
Proven financial need
Full-time enrollment

$1,000
Eloise Crawford Endowed Scholarship

Cumulative GPA of 3.5
Transfer student
Full-time enrollment

$1,000
Where You Can Look for Texas State Scholarships
As there is no limit to how many scholarships you can get, you should do your research and find as many programs as possible. This can be a tedious task as it can take you a lot of time to search around the Internet for federal and private scholarships. To speed up the process, you can:
Visit the University's website—The financial aid section of the website will provide information on some of the available scholarships
Talk to a TXST financial aid officer—University's financial aid office will observe your financial status and academic performance and give you some examples of programs you're eligible for
Use DoNotPay—With our app, you can handle the entire research process in under five minutes. When you answer a few questions, we will give you a personalized list with all available scholarships you can apply for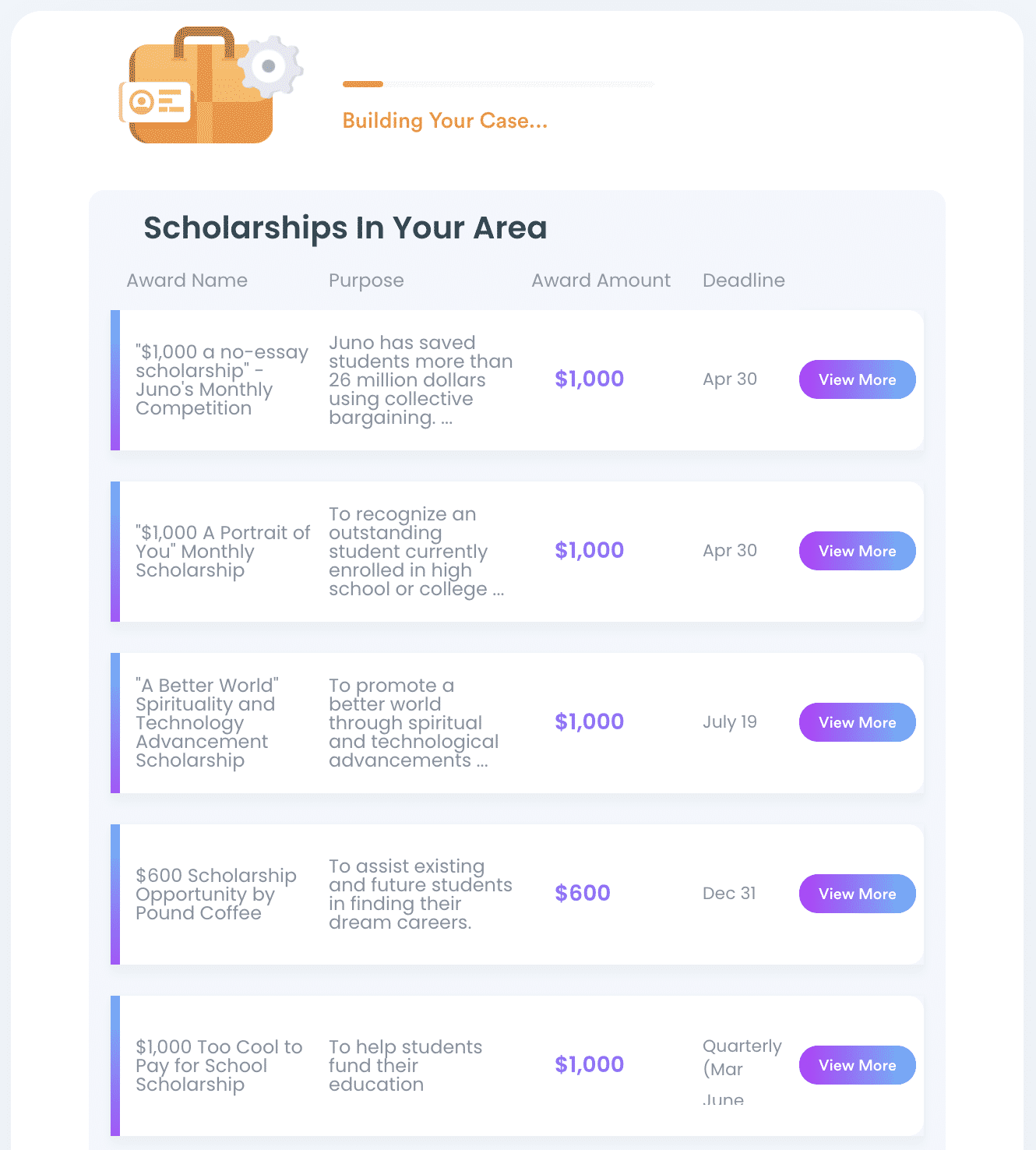 Texas State Scholarship Application Process
The application process is unique for each financial aid program, which is why you need to research the scholarship you're applying for before you start the process. Some aspects of each application are the same, such as:
Respecting the deadline
Checking your eligibility
Making sure you hand over all the required paperwork, including:

Transcripts
FAFSA or TASFA forms
How Can DoNotPay Help With Your Hunt for Texas State University Scholarships?
DoNotPay allows you to speed up the entire process of finding and applying for a Texas State scholarship. With our app, you can apply for no-essay scholarships automatically and learn about all scholarships that you're eligible for within minutes.
You only need to complete the following steps:
Click on the Apply for Scholarships feature
Answer a few questions
Choose the type of scholarship you're interested in
When you finish, we will give you a list of all available financial aid programs with the necessary information about them.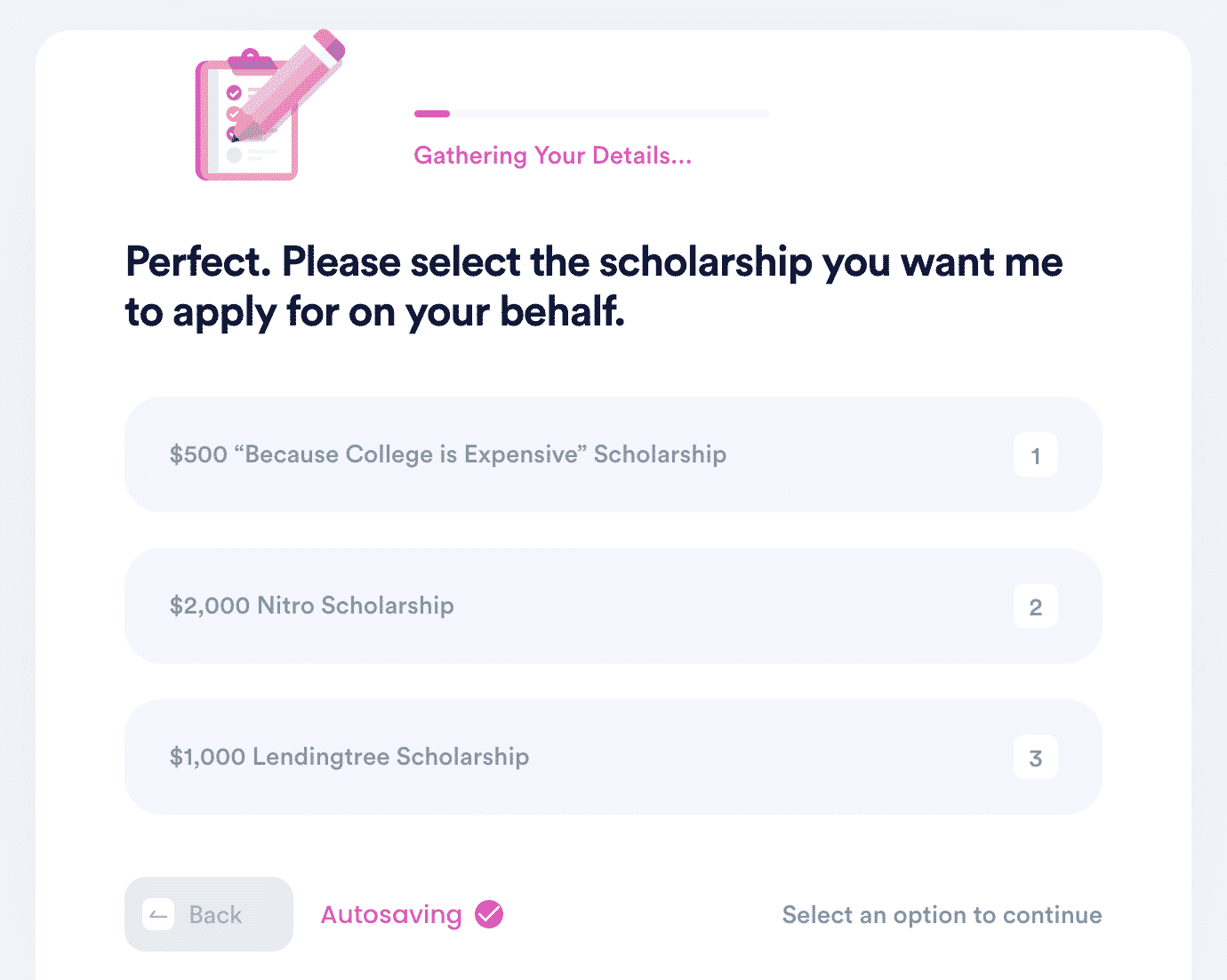 DoNotPay Turns Any Tiring Task Into a Piece of Cake
Are you tired of dealing with bureaucratic or legal matters on your own? You no longer have to—as soon as you subscribe to DoNotPay, we'll take any exhausting task off your plate.
Our app is capable of drawing up legal documents—including marital settlement agreements, child travel consent forms, powers of attorney, defamation demand letters, and affidavits to homeschool—getting them notarized remotely, filing complaints against companies, suing any individual or corporation in small claims court, sending FOIA requests, and so much more.
The World's First Robot Lawyer Offers So Much More
DoNotPay's capabilities don't end there—we can also: