Swappa Return Policy Explained—The Ultimate Guide
Swappa is a popular marketplace for gently used technology. All items sold on Swappa go through a listing review process to ensure they are usable and in good condition. If you received a device that isn't working properly despite passing the review, you can rely on our Swappa return policy guide to learn how to send it back.
The Swappa Return Policy Explained
Being a user-to-user marketplace, Swappa allows sellers to outline their own return policies. They must comply with the general terms and conditions Swappa determines, such as:
Buyers should be allowed to make returns if the items they received are not as described, and sellers should process the refund promptly
Swappa will refund any sale fees to buyers if the sale is voided by a Swappa seller's fault
Sellers are not obligated to accept returns if the item the buyer received is the same as advertised
Fees already charged by a Swappa seller will not be refunded if a buyer wants to return a product for no clear reason
A seller should offer reimbursement in the value of a device or replace it for a similar one if an item becomes blacklisted and it isn't the seller's fault
Note that if you wish to return an item because of buyer's remorse, the seller has no obligation to issue you a refund unless the return policy they set in place requires them to.
All sellers on Swappa can charge a restocking fee when you're returning a properly working device that you don't want. If the restocking fee wasn't mentioned in the seller's listing description, they can't charge you.
How To Initiate a Return to Swappa's Sellers
There are two ways you can ask for a return on Swappa:
Contact the seller
Reach out to Swappa customer support
Demanding a Return by Contacting the Seller
If you received an item that's not as described or it doesn't work properly, you can communicate directly with the seller by leaving a comment on the product page where you purchased your item. Sellers usually reply within 24 hours, while business sellers are given a full business day to follow up on your comment.
To avoid going back and forth with the seller, you should:
Provide all requested documentation
Attach photos of the products using the picture upload form on the sale page (if applicable)
Inform the seller you want a refund if the product doesn't meet your expectations
The seller should provide a return address, and it's your responsibility to mail the product back with tracking and insurance. If the item you're returning is in an unusable state, the seller will pay the return shipping costs. In case you're returning the item due to disagreement in the condition of the device (e.g., excellent vs. poor), the return shipping costs are your responsibility.
Requesting a Return With Swappa's Help
When a seller doesn't respond within the given timeframe, you can use the Help Form and send it to Swappa. Here's what you need to do:
Enter your email address
Select what your issue is about from the dropdown menu
Write a short message explaining how Swappa can help
Attach the link to the sale page associated with your purchase
You can also contact Swappa by email at help@swappa.com and let the company know that you need its assistance.
Request a Return the Easy Way—With DoNotPay
The return policies on Swappa vary from one seller to another, and it may take a lot of time for them to respond to your query. Emailing Swappa directly is easier, but there's no way of knowing when you'll hear back from it.
DoNotPay is the best option—we will set a deadline to ensure they process your request promptly and demand a refund or an exchange in your stead. To cut your expenses, we will provide you with a free return shipping label. All you have to do is and follow these three steps:
Locate our Item Return Request feature
Answer several questions and attach photos if needed
Click on Submit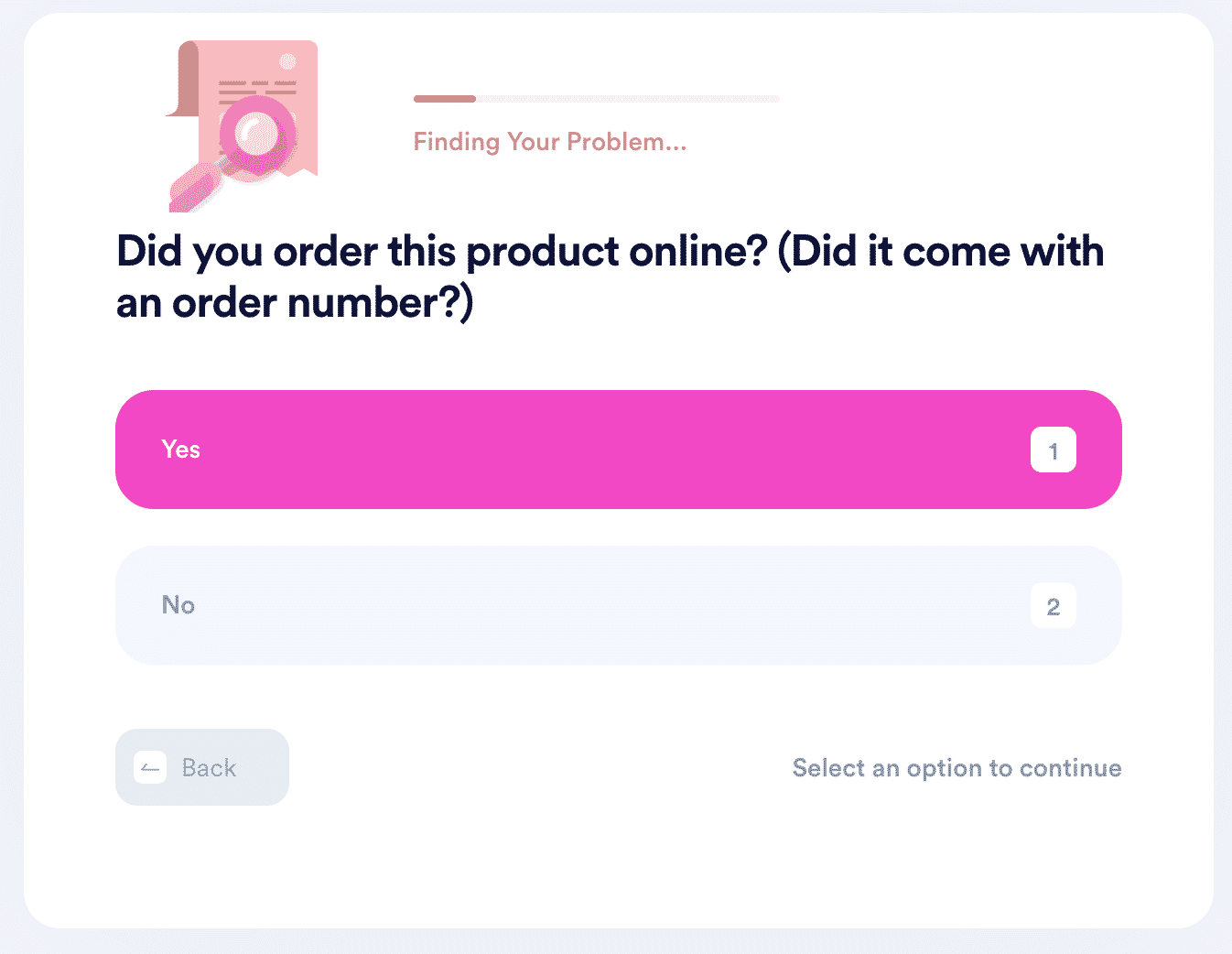 That's it! You will immediately receive an email confirming that the request has been successfully submitted.
Need help returning items to other companies? Check out our knowledge base for more useful guides!
Is Swappa Taking Too Long To Issue Your Refund? Let DoNotPay Handle It
You are entitled to a refund if the device you bought isn't what you expected. It's not unusual for customers to give up on getting their money back because of merchants taking too long or asking for additional documentation.
We ensure you won't be one of the victims— and get what is rightfully yours in a few simple steps. All you have to do is:
Navigate to the Chargeback Instantly product
Respond to our chatbot's questions
Click on Sign and Submit
Want To Save Money and Avoid Bad Purchases? Look No Further!
Aside from helping you send a return request to any company, DoNotPay can also assist you in getting a refund in a flash! We can also help you request a refund for any late, missing, or damaged delivery.
Do you want to stop wasting your money on useless services? Our app can help you cancel them and provide you with a virtual credit card that terminates free trials before companies get to charge you!
If you want to discover some forgotten assets you may have, we can help you find them in just a couple of minutes. With DoNotPay, you can both save money and earn it!
Once you sign up, you can report text and email spammers, annoying robocalls, and real-life stalkers and harassers and earn off them. We can also help you sue any company or individual in small claims court if you feel like they did you dirty.
Getting Rid of Bureaucratic Procedures Has Never Been Easier
The process of composing a return request letter is tiring, which is why you should turn to DoNotPay for help. Our app will assist you if you want to avoid similar bureaucratic hassles, such as:
Sign up for DoNotPay to utilize all of our nifty products!