The Ins and Outs of the Dillard's Return Policy
Did you receive the wrong item or choose the wrong size on the Dillard's website? If you have an event coming up soon and are running out of time, don't waste any of it trying to return your item without first being aware of the Dillard's return policy.
In this article, we will break down all you need to know about Dillard's returns. DoNotPay can help you return the item and avoid unnecessary headaches.
The ABCs of the Dillard's Return Policy
If you buy an item from Dillard's either online or at the store, you have 30 days to return it unless stated otherwise. You have the option of returning it either online or at the store as long as the following conditions are met:
The item is in its original and unused condition
You have the proof of purchase from Dillard's (the original Dillard's Receipt or the original Dillard's Proof of Purchase Label)
All tags on the item are still intact
Dillard's shoe return policy states that footwear must be returned in the original box
If your return is accepted, you will receive your refund based on the terms for your original form of payment:
| | |
| --- | --- |
| Payment Type | Terms for the Refund |
| Credit card | The amount will be reimbursed to the card you used |
| Check | There will be a ten-day waiting period before the refund is issued in cash or by check |
| Afterpay | Dillard's gift card will be issued |
| Gifts | Dillard's gift card or merchandise credit will be issued |
Items Not Accepted for Returns to Dillard's
You should know that some items are not returnable to Dillard's, including:
Clearance items that are marked down by or over 65%
Permanently reduced items with additional discounts
Personalized items
If you receive an item that is wrong, damaged, or defective, these rules will not apply.
Return Your Item to a Dillard's Store
If you prefer the traditional method of returning items to the store, here's what you should do:
Head down to your nearest Dillard's location
Bring the item along with the proof of purchase
Speak to customer service and tell them that you want to return their merchandise
Return Your Item to Dillard's by Mail
If you buy an item at a Dillard's store and want to return it by mail, you need to:
Open the Return Form in your web browser
Indicate whether or not you have your receipt
Fill in the required fields
Make sure to include the POP number that is found on your receipt or on the yellow tag of the item
Verify the information and print the return label
To initiate the return process for an item bought online, you should:
Open the page for Online Returns in your web browser
Enter the order number and billing phone number
Hit Online Order Lookup
Follow other prompts
Print the return label
It is important to note that you will be charged $9.95 for the use of the return label. If you have a cheaper option and wish to mail the item yourself, it would be smart to insure the item and get a tracking number. The returns should be mailed to Dillard's, 600 Carnahan Drive, Maumelle, AR 72113.
Shipping Your Item to Dillard's
Once you have the return label, it's time to say goodbye to that disappointing item:
Repack the item along with the proof of purchase (in the original box if possible)
Attach the return label and remove any previous labels
Drop off the parcel at a USPS location (or a carrier of your choice)
Your refund will be processed within 7–10 business days.
What if I Want a Replacement?
If you want to exchange your item, you can either head down to the store and pick a new product or ship the item back. In this case, your account will be credited so that you can purchase a new item. You will have to cover all of the shipping charges.
Return Your Items the Easy Way With DoNotPay
You don't have to follow Dillard's hard-and-fast rules, especially if there's a more convenient way to get returns. Save your time and use the DoNotPay app to return your item to Dillard's. The process is as simple as one, two, three:
Sign up for DoNotPay in your web browser and select Item Return Request
Chat with the bot, specifying the date, location, and method of purchase
Include photo proof of the item, give it a final check, and submit the request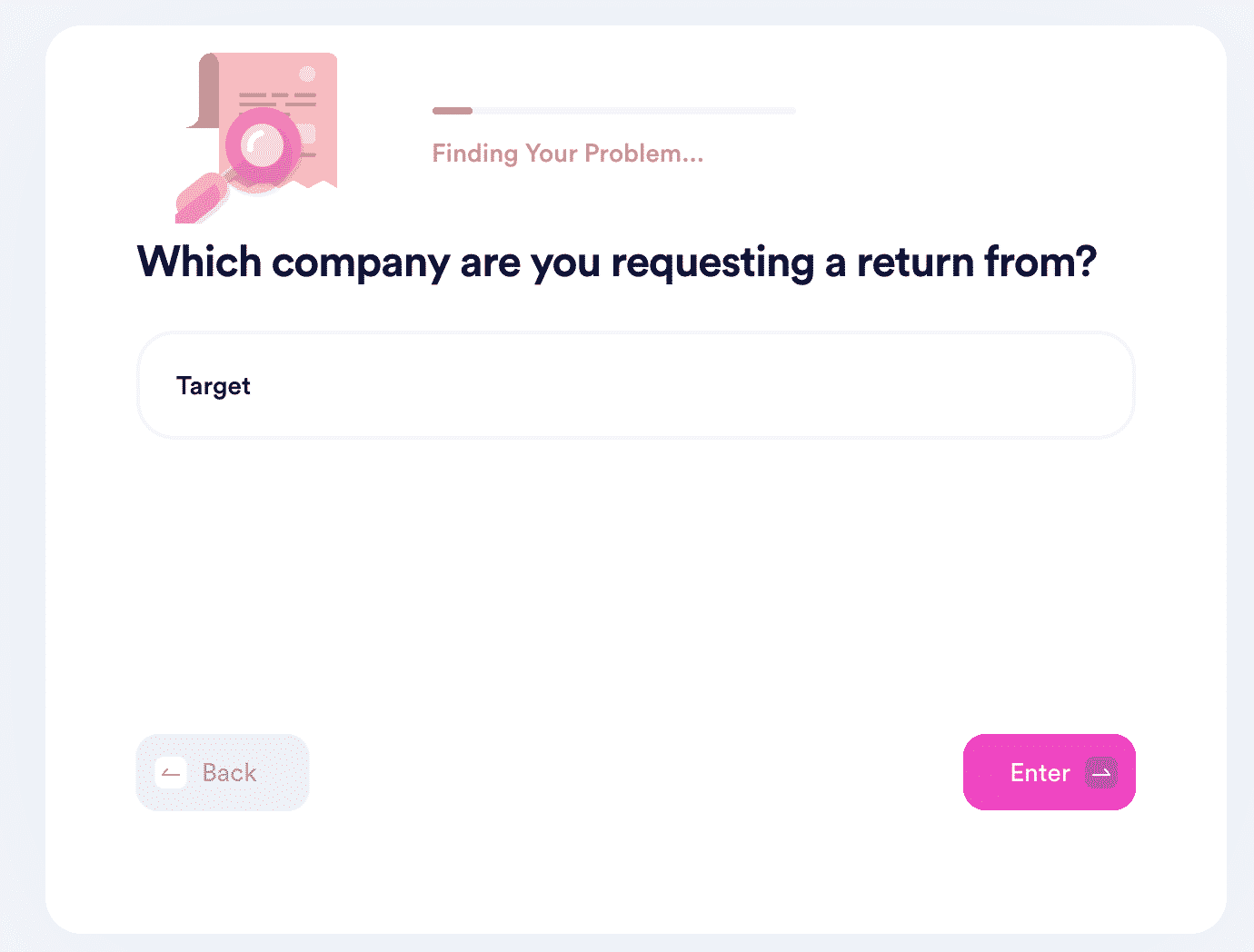 We will create a return request letter and mail it to Dillard's, indicating the deadline for processing your return. We will also send you a free shipping label, so you don't have to worry about spending any more money!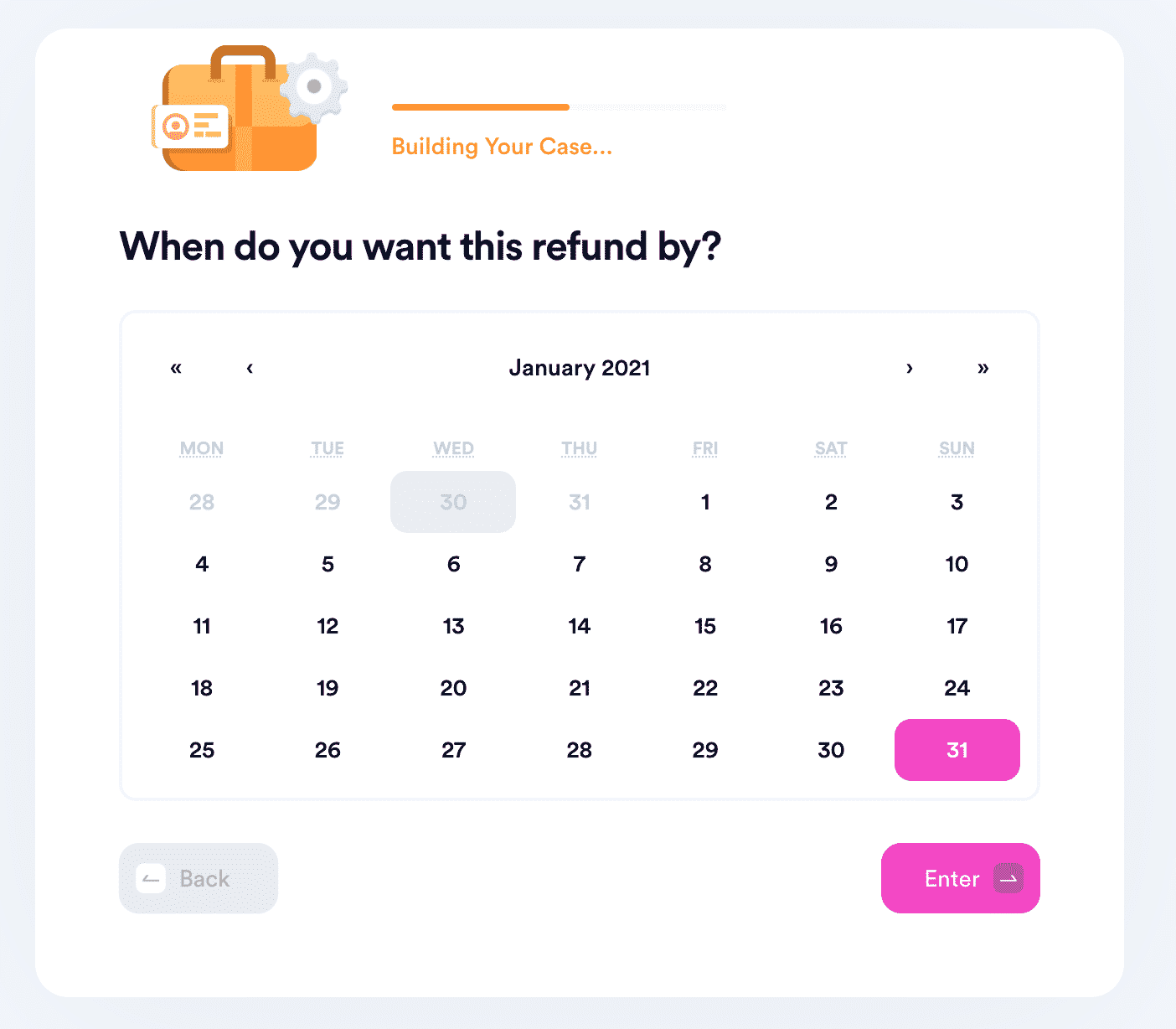 If you are an avid shopper, we can help you with the returns to the following merchants as well:
Don't Tolerate Corporate Attitudes—Request What's Rightfully Yours
DoNotPay is known for being the champion of customer advocacy because we help our users claim what's rightfully theirs, and we don't tolerate big corporations taking people's hard-earned money.
No matter if you want to request a refund, insurance, extended warranty, or compensation from airlines, our AI-powered lawyer will fight for your right.
If you feel like you're overpaying certain subscription services, we can help you cancel them. Also, if you want to test a subscription before you start paying money for it, don't connect your credit card to the free trial page! You can sign up for free trials using our virtual credit card. That way, companies won't be able to charge you auto-renewal fees because the card has no funds.
Wait! DoNotPay Can Help You in Many Other Ways
DoNotPay has many different areas of expertise—helping you return your faulty items is only one of them.
Check out how our app can assist you in: