The Meijer Return Policy From A to Z
Are you unhappy with your Meijer haul? This guide covers all aspects of the Meijer return policy, so you can learn when and how to submit a return request and get your money back.
so we can help you put an end to the unfortunate shopping experience. Check out other guides to big retailers' return policies, such as:
How Does the Meijer Return Policy Work?
Check out the general terms of the Meijer return policy:
Return period—You can return or exchange a product within 90 days of purchase
Catalina coupon-producing purchases—You don't need to bring the Catalina coupon when returning the products that produce the coupons. The company will deduce the coupon value from your refund amount
Promotional offers—The company reserves the right to deduct any promotional value of your refund if you return a product you bought during a promotional offer
Returns involving rewards—Meijer refunds mPerks Personalize Rewards and Meijer Credit Card Rewards
Damaged or incomplete order delivery—You can reach out to Meijer's customer support if you had any issues with your online purchase by dialing 1-877-363-4537
Exceptions to the Meijer Return Policy
Here is a table of all exceptions to the general Meijer return policy:
Product Category
Return Policy
You have 30 days to return these products. After that, the manufacturer warranty applies, which means you can't receive a refund, but you may be eligible for product servicing

Tents
Airbeds
Electronic media, like video games, CDs, and DVDs

These products are eligible for returns if they are unopened. If you opened them, you can exchange them for the same product
Items powered by flammable liquids or gas
You must return these products within 30 days of purchase. Meijer may charge you additional fees of up to $25

Ammunition
Tobacco products
Alcoholic beverages
Electronic cigarettes
Blood glucose monitors
Prepaid wireless phones
Nicotine-based products
Open packages of collectibles

These items are not eligible for returns at Meijer
Food
The company will issue a full refund regardless of whether you have a receipt as long as the products don't fall under state-approved WIC products
State-approved WIC products
Meijer doesn't allow returns of these products, but you can exchange them for an identical item
Meijer's Electronics Return Policy
Meijer differentiates two categories of electronics:
Electronics without data storage capabilities
Electronics with data storage capabilities
Returning Electronics Without Data Storage Capabilities to Meijer
You have 30 days to return electronics without data storage capabilities. After 30 days, the manufacturer warranty applies, which means you can't receive a refund, but you are eligible for product service if your product ceases to work properly.
Meijer's Return Policy for Electronics With Data Storage Capabilities
This category includes products such as:
Tablets
Computers
Cell phones
MP3 players
Game systems
Memory cards
You can return these products if you haven't opened them. Opened products are only eligible for exchanges for identical items.
Meijer's Return Policy on Returns Without a Receipt
You can return your products to Meijer without a receipt. If you used a credit card, debit card, EBT card, or a personal check to pay for your Meijer items, the company can search for your purchase in their database if you made it in the past 90 days.
How To Return Your Items to Meijer
Depending on your purchase method, there are two ways to initiate a return request to Meijer:
Return your items in store
Initiate a return request through Shipt
Make an In-Store Return to Meijer
To return your items to Meijer:
Prepare your products and proof of purchase if you have one
Locate and visit your nearest Meijer location
Approach a staff member and request a return
Provide details about your purchase as well as the reason for your return
Wait for the representative to complete the return process.
Initiate a Return Request to Meijer Using Shipt
To start the return process:
Open the Shipt app
Navigate to Your Orders
Locate the order with the products you want to return
Tap on the Any feedback on the items? button
Select the Issue button next to each item
Pick a response from the menu and write an additional note if necessary
Note that you have seven days to report an issue with your Meijer order. Both Meijer and Shipt will contact you via email within a day to offer a solution and further instructions.
Return Your Items to a Variety of Retailers With DoNotPay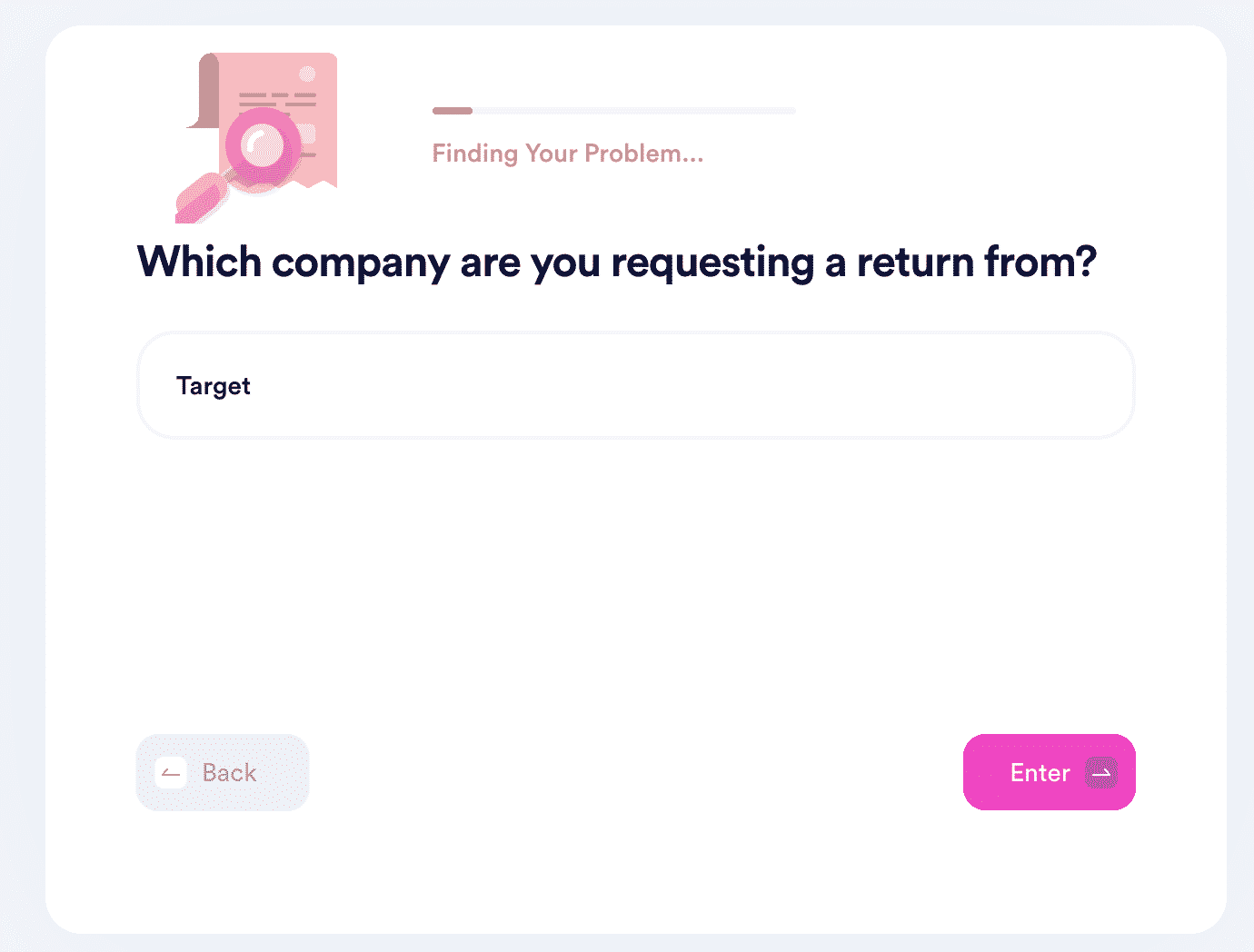 Did you go on a shopping spree only to come home, inspect your items, and notice some flaws on them that weren't visible at first? Return your products with DoNotPay the easy-breezy way by following these steps:
in your web browser
Select our Item Return Request product
Enter all of the vital information about your purchase, including the location and sum of your purchase and what kind of compensation you're seeking
Submit your request
Your pocket-sized assistant will then generate a return request letter and mail it directly to the retailer.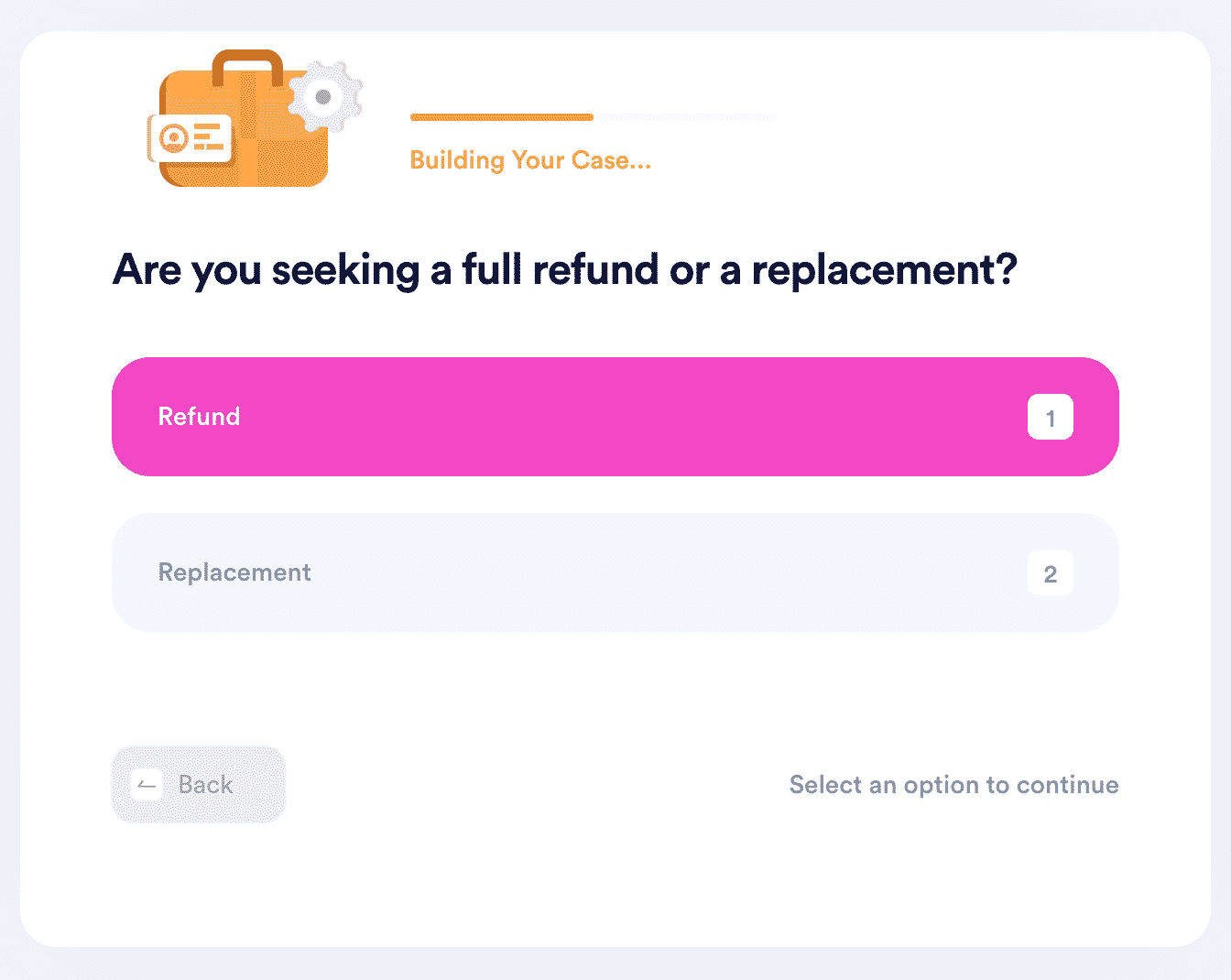 Check out more companies we can help you return your defective products to:
Returned Your Faulty Item? Discover Other Nifty DoNotPay Products!
Apart from being your shortcut through returning your faulty items to merchants, our app can do so much more! From helping you request a refund, get extended warranties, file insurance claims, and find clinical trials in your vicinity to assisting you in creating legal documents, notarizing them, and faxing them—DoNotPay can do it all.
Do you think you're eligible for a victims of crime compensation program? Our app can help you apply for it. Do you want to get revenge on persistent robocalls, report someone for stalking or harassment, or get your noisy neighbors to be quieter? We got your back!
You Don't Have To Waste Time in Endless Lines
Returning an item may require you to wait in endless lines, but if you sign up for our AI-driven app, you will be able to skip all kinds of queues! You won't have to spend ages waiting in lines at the DMV or in customer support phone queues because DoNotPay will provide an easier way to get what you need.
If you want to skip the hassle of waiting on the phone when canceling a service, requesting refunds or compensation from airlines, requesting a college fee waiver, or connecting with a loved one in prison, you can count on DoNotPay to provide easy solutions.