How Does the Shopbop Return Policy Work? DoNotPay Knows!
What is Shopbop's standpoint on returning items? Do you have to pay for shipping? What if you don't have the original security tag? These are some of the many questions that DoNotPay will answer.
If you've got an unwanted item on your hands, our simple guide on the Shopbop return policy will help you take care of it stress-free. Learn whether your item qualifies for a return, when you can request a refund, how you can get in touch with the customer service agents, and more.
In case you want to skip all the hassle, we have a solution for that as well—, and let our AI-powered app handle it.
All About the Shopbop Return Policy
Shopbop's return policy is detailed and straightforward, so you should make sure that your item is eligible. Most products can be sent back—unless they are:
Final sale products
Worn
Washed
Altered
Packed in a box that's not the original packaging
When returning footwear, the box needs to be in its original condition. You shouldn't send the shoes in that packaging, but place them in a different one for shipping. If the shoe box is damaged or you don't have it, Shopbop will charge a fee.
If you don't have the original security tag or you damaged it, your return request can be rejected, or the refund can be delayed.
Note that you can't exchange your items. Even if you want a different size, you first need to return the old product and order a new one. The same goes with goods that arrive damaged—send them back and get yourself a new item.
The company will reimburse the cost of the product only. If you paid for shipping, that amount won't be paid back to you.
Return Deadline for U.S. Customers
Buyers who purchased their product in the U.S. have 30 days of the receipt date to make the return. If you send the item within 15 days, you won't need to pay for the shipping.
For returns over that period—but within the 30-day limit—the company will charge you a $10 fee. You'll get a free prepaid shipping label in both cases.
If the deadline passes, you might get store credit if Shopbop reps allow it.
Return Deadline for International Customers
If you made an order from a country outside the U.S., you need to initiate the return within 30 days. The shipping cost is yours to cover. How much you'll have to pay depends on the country you reside in. International buyers don't get a prepaid label.
How To Request a Return From Shopbop
Want to know your options for initiating the return? Check out the table below:
| Can You Initiate a Return Via: | Yes/No |
| --- | --- |
| DoNotPay | Yes |
| Website | Yes |
| Email | No |
| Phone | No |
| In person | No |
To start the process, you should do the following:
Access the Shopbop website
Go to the My Account page
Click on the Order History button
Select Return Items
Choose the item you want to return
Print all the documents
Prepare the merchandise and box for shipping—cover or remove the past labels and/or carrier barcodes
Drop off your package to your chosen carrier
For international returns, you should follow the same steps and put the return form and customs document on the outside of your package.
If everything is in order, Shopbop will send you back the money within five business days. There can be some delays if the bank needs more time to process it.
How To Get In Touch With Shopbop Customer Service
In case you have any doubts or further questions, you can contact Shopbop reps in one of the following ways:
Phone
Email
Live Chat

U.S. and Canada: 1-877-746-7267
Other countries: 1-608-270-3930

service@shopbop.com
Available on the website
Can Shopbop Reject My Return?
The company has protected itself by mentioning in the policy that it can refuse your return request, assess fees, and even close your account if it finds it necessary. The reps monitor your order activity and return behavior and make their moves based on that as well.
You need to be polite and respectful when asking for a return, even if your item was damaged. If you want to avoid misunderstandings and save time—use the DoNotPay app. We'll make sure that your request is appropriate, and the best part is that you'll get it over with in less than three minutes!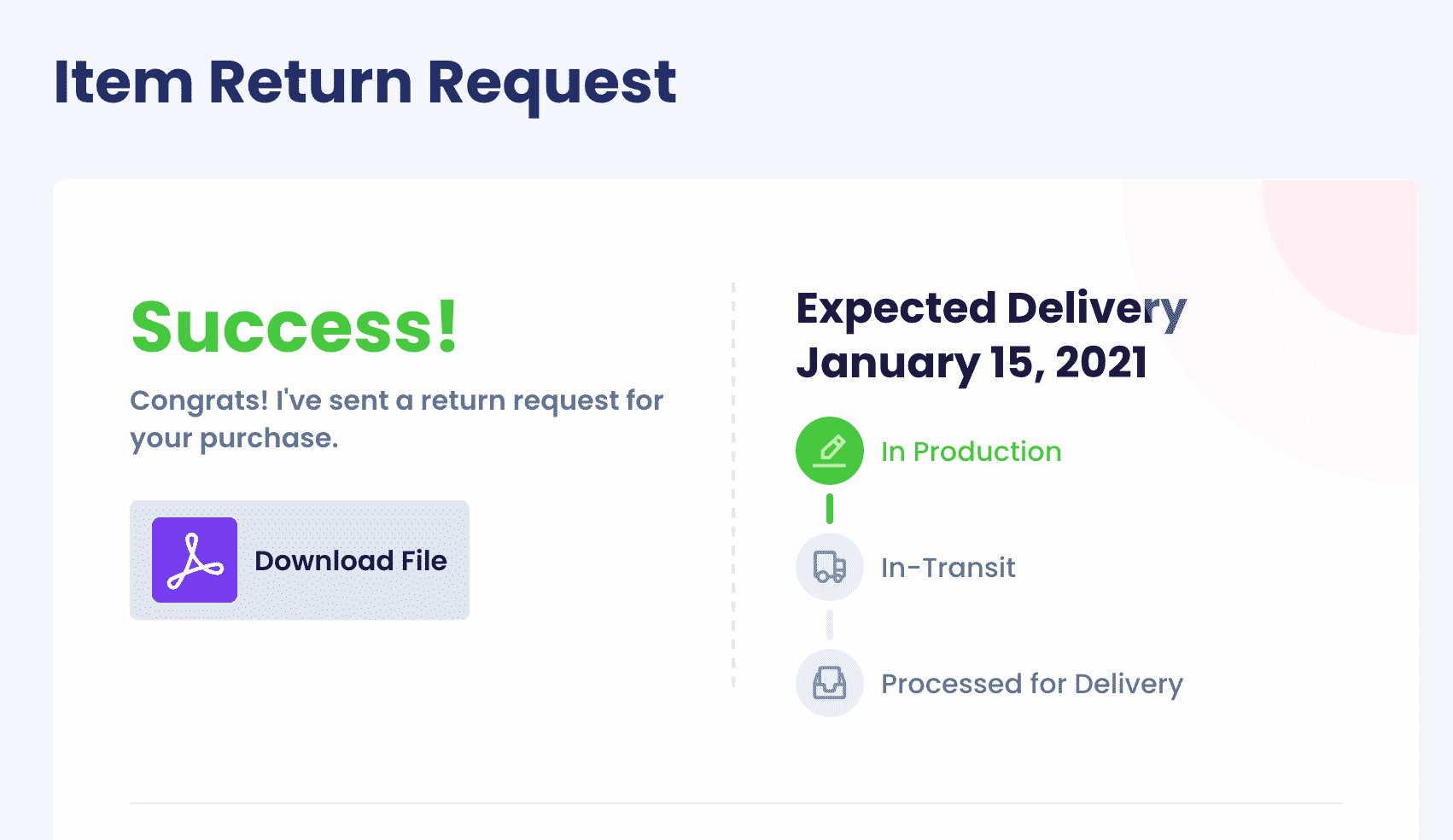 Request a Return in a Flash With DoNotPay
Don't waste your time on long phone calls and discussions with customer service agents—let DoNotPay handle the return in your stead. Our AI-powered app can generate a request in no time and send it to Shopbop or any other store.
How to get started? Follow these simple steps:
Choose the Item Return Request feature
Answer our chatbot's question about your return request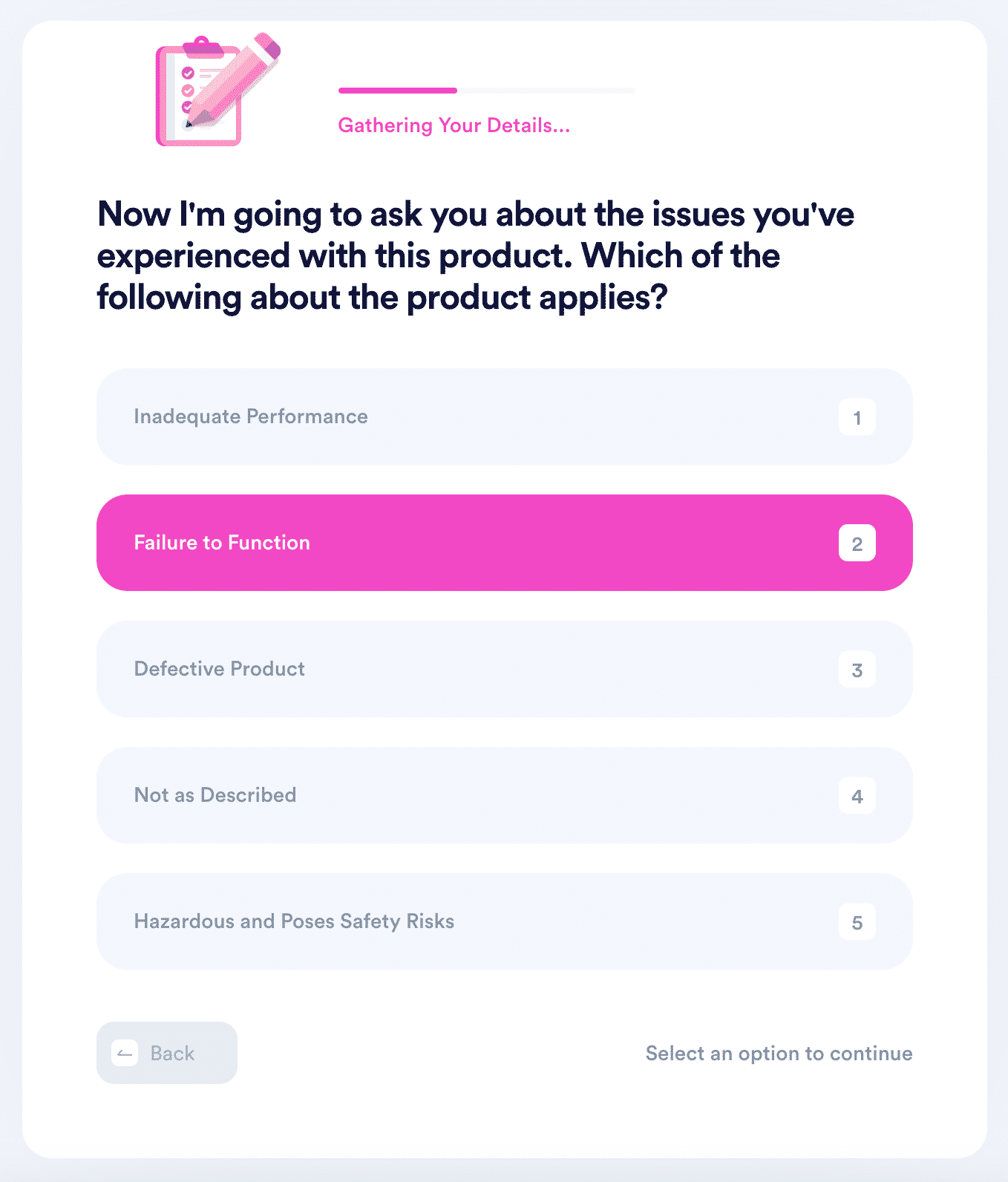 Your responsibilities end here. We will create a customized request and provide the retailer with a deadline for solving your issue.
If your shopping sprees result in a bunch of products you wish to return, DoNotPay can get you out of that mess. Get more info by checking out our guides to returning items to numerous U.S. companies—including:
Item Returns and Other Annoying Tasks Take but a Minute With DoNotPay
Looking into resolving other tedious bureaucratic tasks with the help of our app? Check out a fraction of our product range that can assist you with:
Don't Stop There—See How We Can Help You Even Further
You can count on our app's assistance if you need to cancel any subscription, demand a refund from a company or airline, get help with utility bills, reduce your property taxes, get a tourist visa, appeal banned accounts, contact embassies, or get cash back on gift cards.
Think you have some missing money? Claim it before the government does it in your stead! Need help preparing for a government test? Skim through our guides! Want to schedule a DMV appointment in a snap? We'll do it for you! Have any other obstacles? We'll get rid of them in the blink of an eye.