Breaking Down the Shoe Dept. Return Policy
Most retailers complicate their return policies so much so that you give up on the idea of filing a return request and asking for a refund. They usually don't make an effort to explain everything properly. That's why DoNotPay is here to help. In this article, we'll focus on the Shoe Dept. return policy and explain how it works.
Aside from that, we'll present you with an alternative, more efficient method of filing a return request—. With us, you can file a request with Shoe Dept. Encore, as well as a plethora of other companies—including Garmin, Shoes.com, and UGG—in no time.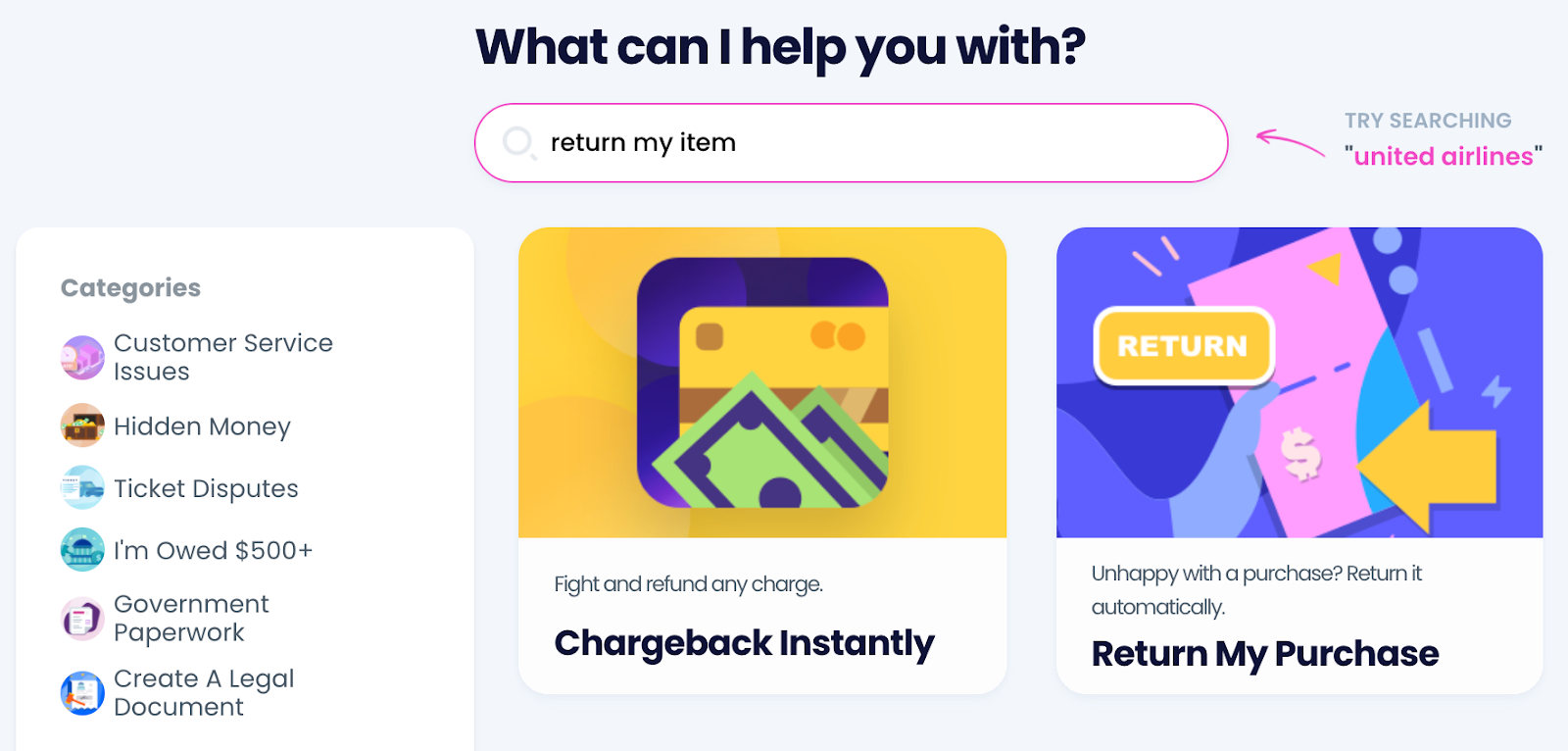 Shoe Dept. Return Policy—General Terms
You have to file a return request within 30 days of the day you receive your shipment. Otherwise, Shoe Dept. Encore will not review your request.
The exception to this rule is if you make a purchase during the holiday season. According to the company's return policy, any purchase made between November 1 and December 31 will be eligible for return until February 1.
Shoe Dept. Encore only accepts return requests for unworn merchandise that you send in the original box or packaging.
There are a few ways you can file a return request, as shown in the table below:
| Can You Initiate a Return Request Via | Yes/No |
| --- | --- |
| Email | No |
| Phone | Yes |
| Letter | No |
| Website | Yes |
| In person | Yes |
| DoNotPay | Yes |
File a Return Request With Shoe Dept. Encore via Phone
If you want to start the process via phone, you can contact the Shoe Dept. Encore customer support at 1-888-55-74637. A representative will walk you through the process.
File a Return Request With Shoe Dept. Encore Online
To file an online return request with Shoe Dept. Encore, you have to complete the following steps:
Log in to your Shoe Dept. Encore account or access the website as a guest
Print out the return form you receive after step one
Pack your item (and its original packaging) inside a strong carton box
Place the return form and the packing slip inside the box
Affix the postage to the outside of the box
Ship the box to SHOE SHOW, INC./Internet Administrator, 2201 Trinity Church Rd., Concord, NC, 28027
You will have to cover the shipping costs, as Shoe Dept. Encore won't accept any C.O.D. packages. The company will reimburse the shipping cost only in case of a faulty or incorrect product.
Shoe Dept. Encore states that it takes three to five business days from the day it receives your package to review your request. Once the company makes a decision, it will inform you of the outcome via email.
File a Return Request With Shoe Dept. Encore In-Store
To return your product in person, you will have to go to one of the Shoe Dept. Encore stores. You can find the nearest one using the Store Locator tool. Alongside the product you wish to return, you also need to provide the following:
ID or another document for identification
Phone number
A packing slip or a receipt
Shoe Dept. Encore will accept in-store returns regardless of whether you've made an online or in-store purchase.
Shoe Dept. Return Policy—How DoNotPay Can Help
Going to a store to file a return request can be annoying and time-consuming, especially during a pandemic. If you decide to do it online, Shoe Dept. Encore welcomes you with a lengthy process that will probably frustrate you.
Don't want to bother going through all this trouble? You can do so by using DoNotPay. With our app, you can avoid dealing with the hassle of completing paperwork and communicating with Shoe Dept. Encore.
All you have to do is complete the following four steps:
using any web browser
Select the Item Return Request product
Provide some information regarding your merchandise
Send the request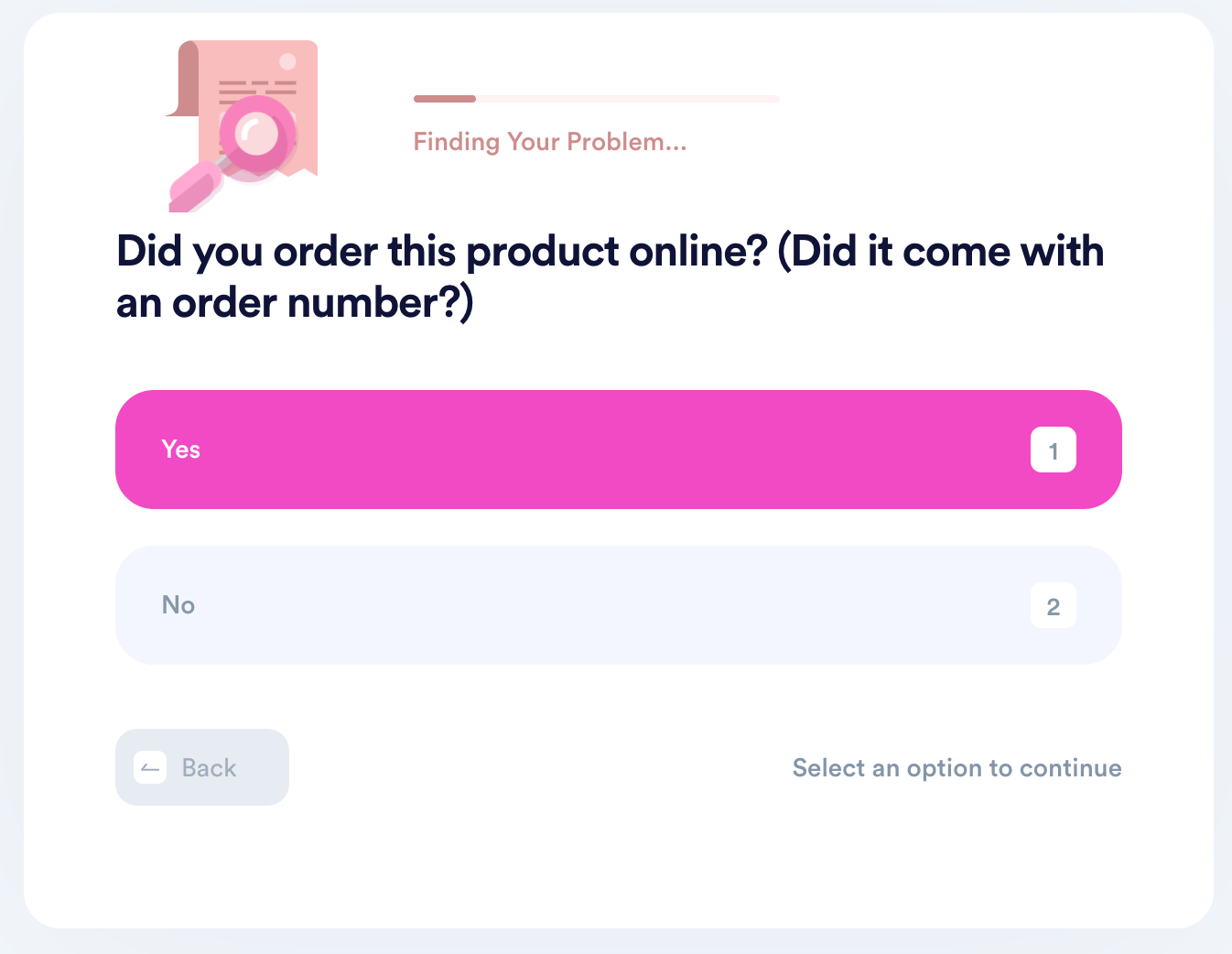 Leave the rest to us! All that's left on your side is to ship the product to Shoe Dept. Encore. DoNotPay will contact the company on your behalf and handle the whole process until completion. We will inform you once everything's done.
Shoe Department Return Policy—What Are the Possible Outcomes?
Shoe Dept. Encore doesn't offer any exchanges for the products you wish to return. Your only option is a refund, which it will pay in full if it decides your request was a valid one.
The company makes an exception to that rule for customers who used the store's Reward points to buy the product. In that case, there are two possible outcomes:
Full money refund—for in-store returns
Reward points sent to the account plus a refund for the difference (if you haven't paid fully in Reward points)—for returns to the distribution center
DoNotPay Can Help You Return Products to Other Companies
You can use DoNotPay to file a return request with other companies whose products didn't deliver, such as:
DoNotPay Offers More Than Swift Returns
Our AI-driven app has a plethora of products that can help you save time and money. Once you sign up for DoNotPay, you will be able to:
Check Out Our Full Product Range
There's so much more to DoNotPay than filing return requests. With our app, you can cancel any membership, sign up for a free trial risk-free, get a virtual credit card, sign up for a clinical trial, map sex offenders in your area, and demand a refund from any airline.
If you want to reduce your property taxes, get help paying your bills, enter raffles and sweepstakes, find your unclaimed funds, or prepare for a government test, DoNotPay is the only solution you need!
Sign up today to access all of our products!